It's nearly a month before the trade deadline and rumors are beginning to spread about certain players being available. The Tampa Bay Lightning will look to be buyers come February 26 as they sit at the top of the Eastern Conference. However, there have recently been rumors regarding the Lightning's defenseman Slater Koekkoek, who has drawn interest from around the league.
On a recent segment of Sportsnet's Saturday Headlines, Nick Kypreos mentioned that many teams called Tampa Bay earlier in the season for Koekkoek, with the most interest coming from the Boston Bruins and Ottawa Senators. Kypreos also states that a potential Cody Ceci for Koekkoek deal was on the table, but general manager Steve Yzerman refused to deal his 2012 first-round pick in case of an injury to a top defenseman.
With Victor Hedman out for roughly three-to-six weeks, it's unlikely Koekkoek is dealt before the Lightning get their best defenseman back. The 23-year-old is at the end of a one-year deal, so they will need to make a decision soon on whether or not they want to keep him moving forward. Having said that, let's take a look at why the Lightning may or may not keep Koekkoek.
Related: Hedman's Injury Stifling Lightning
Koekkoek Finally Gets His Opportunity
Koekkoek is finally going to be getting some more ice-time with Hedman out. The Lightning carried eight defensemen on their roster since the start of the season. While this has been convenient when needed to replace injured defensemen, it's been a bit difficult to manage as the team's seventh and eighth defensemen haven't received consistent playing time.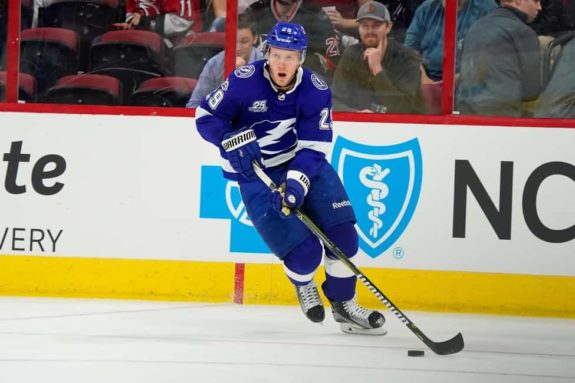 For instance, Koekkoek has looked better than most Lightning defenders at times but has not been treated as such. The 23-year-old has amassed four goals and seven points and only played in 24 games this season averaging just 11 minutes of ice-time. Despite those pretty reasonable numbers, Koekkoek hasn't been given the opportunity to move up in the Lightning's depth chart. Now, with an opening in the Lightning's defense, the 10th overall pick from 2012 can showcase his true abilities.
The Case for Keeping Koekkoek
Koekkoek is still early in his development. This being his first real NHL season, the Ontario-native has shown some promising aspects to his game. He fits the criteria of a modern-day defenseman: being able to skate the puck up the ice and create some offense while being good in his own zone. The 23-year-old can provide the Lightning with scoring from the blue line, something the team was lacking last season.
Slater Koekkoek lasers home a wrister and it's a one goal game! pic.twitter.com/rNtf9NhDeZ

— Hockey Daily 365 (@HockeyDaily365) January 7, 2018
His offensive instincts are noticeable and quite surprising given that he's never scored more than five goals in the AHL. Nonetheless, the former first-round pick could continue to improve his production and overall game if given the ice-time. Adding Koekkoek to complete the Lightning's trio of left-handed defensemen with Hedman and Mikhail Sergachev could be a solid group to have for years to come.
With a healthy lineup, that spot is normally occupied by Braydon Coburn. Coburn carries a $3.7 million cap hit until the end of next season. It would only be reasonable to keep Koekkoek if he is going to play every night. This means Coburn would be traded or demoted to the team's seventh defenseman between now and next season.
He May Never Reach Full Potential With Lightning
If Yzerman and the Lightning coaching staff don't see a fit for Koekkoek in the team's lineup, then the best thing to do is to trade him by the trade deadline. There's no use in keeping him as a depth defenseman beyond this season and there appears to be plenty of suitors for him around the league. Hedman is expected to return sometime in late February, which gives Koekkoek basically up until the trade deadline to show his value. If necessary, this would be the best time to give him a fresh start elsewhere.
Many believe Koekkoek could be a top-four defenseman in the NHL, but that would be difficult to attain with the Lightning — having Hedman and Sergachev on the left. If the former Peterborough Pete is to remain with the team that drafted him, he would have to accept being a bottom pair defender. In this case, it wouldn't be the worst thing for Yzerman to see what he can get for his 2012 first-round choice.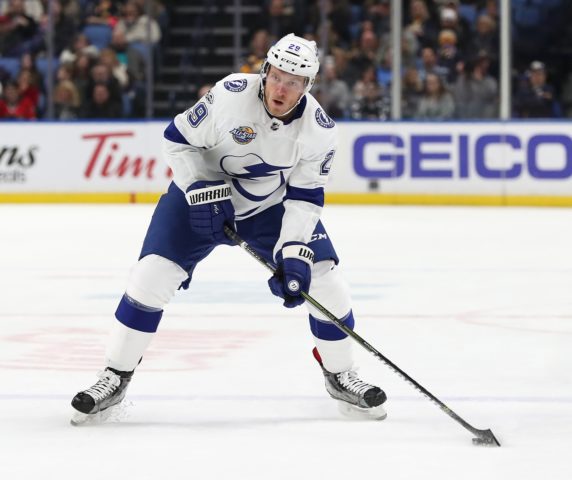 With teams showing interest in Koekkoek, Yzerman could use this opportunity to move his young defenseman for a potential need. One of Lightning's biggest needs is a top-four right-handed defenseman who can move the puck. The rumored Ceci for Koekkoek deal from earlier in the season gives us an idea of the type of trade that could go down.
Ceci is a right-handed defender whose name has been spread in various rumors of deals involving big named players. This means Koekkoek must carry some good value. If that's the case, Yzerman should be able to strike a deal where the Lightning get a good return.
It'll be interesting to see how this situation plays out over the next month. Whether or not you are in favor of keeping Koekkoek, there are reasonable arguments on both sides. At the end of the day, it's up to the man in the big GM chair that has to make the final decision and Lightning fans will have to trust him.
Tampa Bay Lightning Contributor for The Hockey Writers and Writer for TheSportster.