Dylan Larkin has taken a huge step forward from a drastic sophomore slump last season, but with the right linemates, he could be doing more.
Larkin has grown in nearly every aspect of the game since last April. He's establishing himself as a true center, scoring consistently, successfully killing penalties and driving play.
The 22-year-old has seven goals, 29 assists, and 36 points through 45 games with the Detroit Red Wings and is looking like the franchise player they desperately need.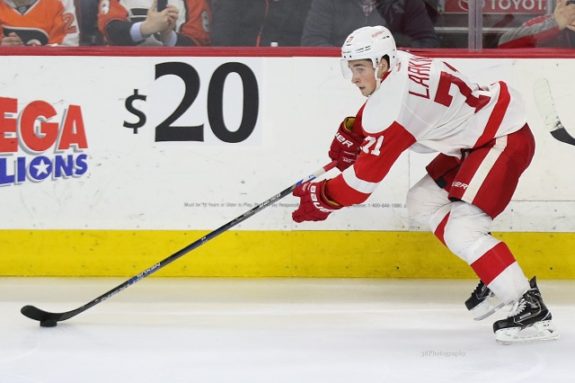 His current numbers put him on pace for 12 goals, 53 assists, and 65 points. A 60-point season should be considered an overall successful given the play of the Red Wings. The goals will eventually come as he continues to fire shots on net.
His career shooting percentage is 10.0%, but has dipped to 6.3% this season. The goals could start to come sooner should the coaching staff look to optimize his linemates.
Larkin's Linemates
According to Natural Stat Trick, Larkin's most consistent linemates at all strengths have been a combination of Tomas Tatar, Anthony Mantha and Andreas Athanasiou.
Tatar, 27, has posted four-straight 20-assist seasons, but has just eight through 45 games. He's on pace for just 21 goals and 14 assists, which would be the lowest totals of his career.
Tatar has spent north of 386 minutes alongside Larkin this season, but hasn't been the same factor he was over the past several seasons. He could still be adjusting from off-season shoulder surgery, but until his offense starts coming around, he's been more of a liability than a weapon with Larkin. The two have combined for a mere five goals.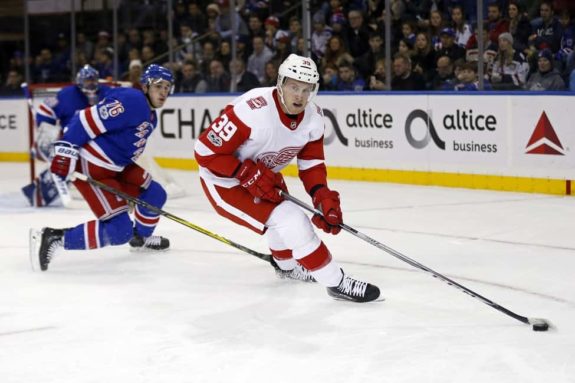 Mantha, 23, was a pure goal-scorer in juniors and while he's translated well to the NHL, inconsistency has hindered his production. He potted ten goals and 19 points through the first 20 games, but has just five goals and ten points over the last 24.
He has all the makings of a great power-forward, but is still learning the daily requirements of a true pro. He and Larkin have accumulated 347 minutes together, but have connected on just eight goals this season. The two will be cogs for the Red Wings in the future, but may be best on separate lines given the statistical lack of chemistry.
As for Athanasiou, a 23-year-old with perhaps more speed than Larkin, the chemistry is evident. Athanasiou has also struggled to find consistency, but when he's on his game he's dynamic.
In 303 minutes alongside Larkin, the pair has combined for 11 goals. Athanasiou has even been included on six of Larkin's last ten points. That's more applicable to a regular linemate and the best goal-to-ice time ratio of the three.
Third Man In?
Coach Jeff Blashill would be wise to give Larkin and Athanasiou a nice trial run, especially while Athanasiou is hot. A change from Tatar and Mantha as the third linemate could really help Larkin reach the potential he's showing.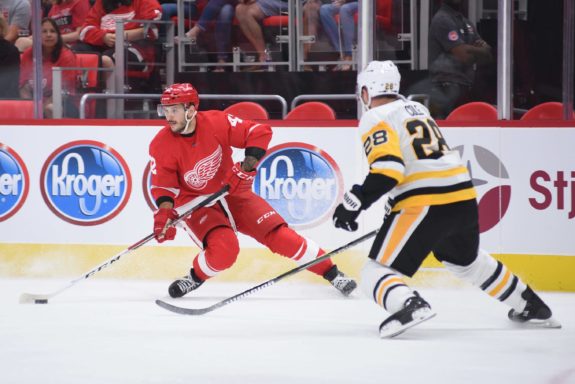 The speed between the pair is immense and a young, quick player should join them in order to keep up. Gustav Nyquist's 12 goals, Martin Frk's ridiculous shot or recent call-up Tyler Bertuzzi, who has made a big difference so far, could go a long way on the second line.
But numbers aren't everything. While analytics and percentages may argue Larkin could be better off without Tatar and/ or Mantha, an old school eye test could tell you there is true chemistry there and that puck luck is currently not on their side.
But after a large chunk of the season together, it would be foolish to argue a streak of bad luck has continued for two players for that long.
I offer opinions and insight on the Detroit Red Wings organization and its prospects.