In 2013, Ken Holland and the Detroit Red Wings took some heat for a second-round pick named Tyler Bertuzzi, who they "over-drafted" at 58th overall.
The gritty forward was coming off his second season with the OHL's Guelph Storm, but his offensive numbers didn't quite matchup with a typical second-round pick. Bertuzzi scored 13 goals and nine assists for 22 points through 43 games.
The organization liked him because he played on the edge, which helped him quickly climb the Red Wings depth chart.
Growth in Guelph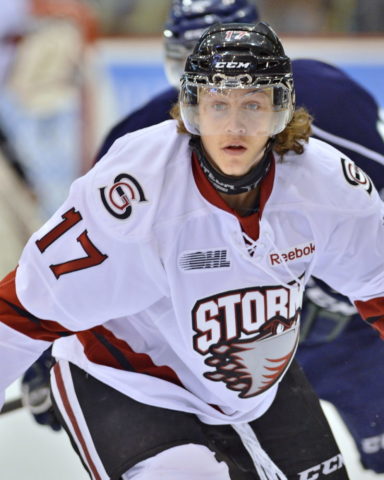 In his first campaign after the draft an injury limited Bertuzzi to just 29 games, but his offense showed growth with 10 goals and 25 assists for 35 points. In 18 playoff games, Bertuzzi chipped in another 10 goals and 17 points to help the Storm capture the OHL title.
Bertuzzi led the Memorial Cup with five goals in four games, but couldn't propel Guelph to another title, finishing as the runner-up. It would mark the beginning of his trend to rise to the occasion.
The next season, Bertuzzi burst onto the scene, scoring 43 goals and 98 points in 68 games. His 43 goals placed him sixth in the league while his 98 points were good enough for tenth. In nine playoff games, he added another six goals and eight points before graduating to the AHL.
More Big Game Heroics
Bertuzzi stuck to his game upon joining the AHL's Grand Rapids Griffins and finished with a goal in two regular season games before cementing himself in the playoffs.
In 14 postseason games, Bertuzzi scored seven goals and 12 points, which placed him second and third on the team, respectively.
Over the next two years, he laced up for 119 regular season games with the Griffins. In that time, the winger recorded 24 goals and 67 points.
While the numbers don't appear fantastic on the surface, 12 goals and 37 of those points came in 48 games last season. It earned him a seven-game stint with Detroit, where he was noticeably outmatched in his first taste of NHL action.
His stint ended when he suffered a high-ankle sprain, returning just in time for the Griffins' playoff run. He proved to be healthy and confident, as he scored nine goals and 19 points in as many games to lead the Griffins to the 2017 Calder Cup. Bertuzzi was named the playoff MVP.
Ladies and gentlemen, @tylerbertuzzi!!!!!! 🚨#GoGRG pic.twitter.com/9TruJzB4aM

— Grand Rapids Griffins (@griffinshockey) June 14, 2017
It was highly anticipated to earn a spot out of training camp this past fall, but a wrist sprain cut his camp short. When he was healthy, he returned to a slow-starting Griffins team.
Upon his return, Bertuzzi continued to his pace that earned him his MVP honor.
The 22-year-old scored nine points in 12 games and earned another call-up, which lasted a total of one game. He scored another five points in four games when he went back to the Griffins.
A New Set of Wings
Shortly before Christmas, THW teammate Griffin Schroeder wrote a piece on whether or not the third time would be a charm for Bertuzzi.
This time, a smoother transition has seen his Griffins wings molt into Red Wings. At the turno of the calendar year, the Red Wings brass told Bertuzzi to find a place to live — he was sticking around.
"He brings a lot of qualities that we don't have—he's hard and has skill," coach Jeff Blashill said of Bertuzzi during June's draft. "We've got a lot of guys with skill that might not be hard. We've got some guys that are hard that might not have as much skill. He's got a pretty good package in my opinion, as a fit on our team."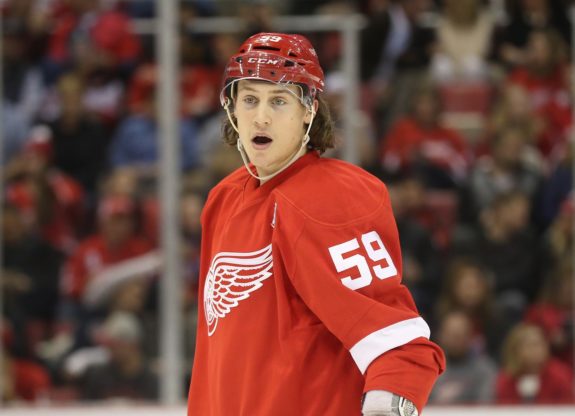 He's using all of that and then some to show he belongs. In ten games since his recall, Bertuzzi has chipped in his first career goal and added seven assists. He has three multi-point performances over his pasts seven outings, with the primary assist on both Detroit goals versus Dallas on Tuesday.
Bertuzzi seems to have chemistry with every line Blashill plays him with, but Gustav Nyquist and Henrik Zetterberg seem to stick out. Three of Nyquist's past four goals have come from some combination of assist from Bertuzzi and Zetterberg. He's proving to be an effective playmaker during his short career.
He's throwing the body and blocking shots to create room and chances with nine shots over his past four games. And, albeit in just 11 games, Bertuzzi leads the team with a plus-3 rating.
Consistency is key for Bertuzzi, but even if the offense starts to dry up, his determination and grit will remain a factor each game. His effort should start to rub off on some of the veterans and even the younger guys still getting a feel for the daily grind of the NHL.
I offer opinions and insight on the Detroit Red Wings organization and its prospects.