As the San Jose Sharks head to the second half of the season, there are some notable milestones recently achieved or are likely to occur soon. We'll cover some of these here.
Joe Thornton
The man who'll deliver the most milestones is Joe Thornton. The future Hall-of-Famer is moving up the all-time lists for points and assists. He recently passed Adam Oates to move into 17th place all-time in points. Thornton has 1,423 career points and shortly, he'll pass Bryan Trottier at 1,425. Its possible, albeit unlikely, he'll catch Teemu Selanne in 15th place with 1,457 late in the season. He'll need 34 points in 39 games, something a younger Thornton did routinely, but its a stretch this season.
On the all-time assists list, Thornton is ready to pass a series of legends. He sits at 1,028 assists. Five more and he ties Mario Lemieux for 11th place. A dozen more and he ties Marcel Dionne and enters the top ten. The man in the ninth spot, fittingly, is Gordie Howe. Thornton will need 21 more assists to get to Howe's spot. It is quite possible Thornton gets there this season.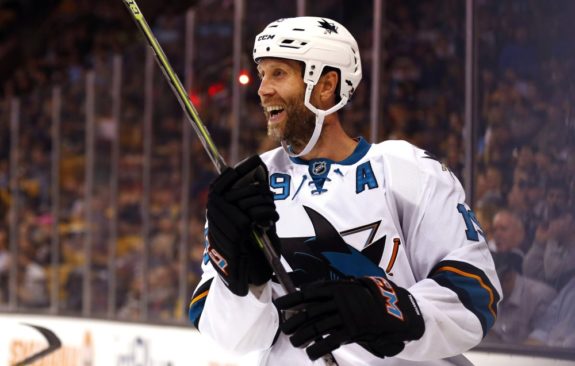 Thornton is also climbing the all-time games played list. Currently 21st with 1,489 games, Thornton gets to 19th overall when he hits the 1,500 game mark. He can also pass Steve Yzerman and Brendan Shanahan this season. If all goes well, game 1,500 will come at home against the Vegas Golden Knights on February 8.
A couple surprising milestones for Thornton come in the goals category. In the win over the Arizona Coyotes on Tuesday, Thornton entered the NHL's all-time top 100 goal scorers. He is now in a four-way tie for 98th overall with 395 goals. He'll pass Dave Keon and Paul Coffey on his way to 400 and (likely) 96th overall.
Passing Owen Nolan
Owen Nolan is ranked highly on several all-time Sharks lists, but he'll likely slip a peg in the not too distant future. Logan Couture has 196 goals as a Shark, he's just 10 behind Nolan for fourth place in team history. Nolan's 245 assists are also fourth in team history, but Brent Burns is only 17 away from catching the Nolan.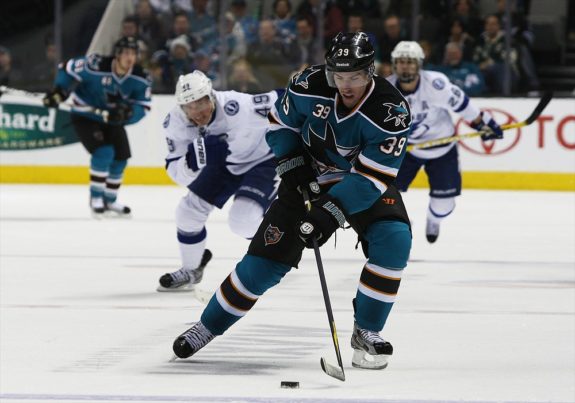 Consecutive Games
Alas, he's no longer a Shark, but given he wore teal for 20 years, its worth noting Patrick Marleau has the second longest active consecutive games streak at 670, just five behind Keith Yandle. Marleau's streak is ninth all-time. The first 624 came as a Shark. He'll likely pass Henrik Sedin at 679 to move into eighth place all-time.
Two Thousand
He has been a part of the San Jose Sharks since they began. Sharks radio announcer Dan Rusanowsky called his 2,000th regular season game in Arizona. Rusanowsky looks impossibly young to have been calling games for over 25 years. But it is a sweet milestone. He's missed less than 30 games, all coming as a result of a near fatal car accident in 2000. The hard-working and always gracious announcer will be honored in the Sharks next homestand.
Congrats @DanRusanowsky on calling your 2,000TH @SanJoseSharks game tonight! #Mr2K pic.twitter.com/7EeGEKi3Gz

— Brodie Brazil (@BrodieNBCS) January 17, 2018
Zeke's Notes
• In the season's first 26 games, the Sharks went past regulation just three times. In the 17 games since, San Jose has played extra hockey nine times. Three point games suit the Sharks, accumulating 18 points overall, one-third of their total on the season.
• The Sharks play the league's most condensed schedule in the second half of the season. This means there will be plenty of back-to-back games. Recently, the second game of back-to-backs has been not good. Specifically, the third period and overtime have not been good.
The Sharks blew a three-goal third period lead against Ottawa and lost in overtime. Against Arizona, they blew a one-goal lead and had to survive a penalty kill in overtime before winning in a shootout. The Sharks were badly outplayed in the third period of both games. Their opponents dominated puck possession and outshot San Jose 34-14 (including overtime).
The Sharks better understand the issues involved. How they perform in these games with limited rest may well determine their season.
• After a leave of absence beginning in November, Jamie Baker has returned to Sharks broadcasts, albeit only for the short term. The likeable Baker is calling games on the radio for a few games. One hopes he'll be back full-time, either on the radio or on television.
• An interesting article on how teams use their AHL franchises comes courtesy of Jeff Veillette. He looks at the age distribution of the AHL rosters in trying to determine which teams are attempting to develop sustainable pipelines by developing younger players. The Sharks AHL franchise, the San Jose Barracuda, fares well in this analysis.
The Barracuda are a very young team with only a few players over age 25. Among those are goalie Troy Grosenick, team captain John McCarthy and two players known for fighting in the NHL, Brandon Mashinter and Brandon Bollig. Paul Martin is also with the Barracuda, but this is likely a short-term assignment while he gets back to NHL form.
ZEKE is a native of the DC area where he witnessed the birth of the Capitals franchise. After graduating from Cornell University, which had seen hockey glory before he arrived, he moved west to San Jose. There he witnessed the birth of the Sharks franchise. His wait to witness a Championship from any of these teams finally ended in 2018.