We're well past the halfway point of the 2022-23 NHL season and now is the time that many hockey fans turn to the upcoming draft, especially fans of NHL teams who are well outside of the playoff race. If your team isn't going to be much fun to watch on the ice for the final 30 games or so, the least you can do is have some fun dreaming of the great prospects they could land in the 2023 Draft.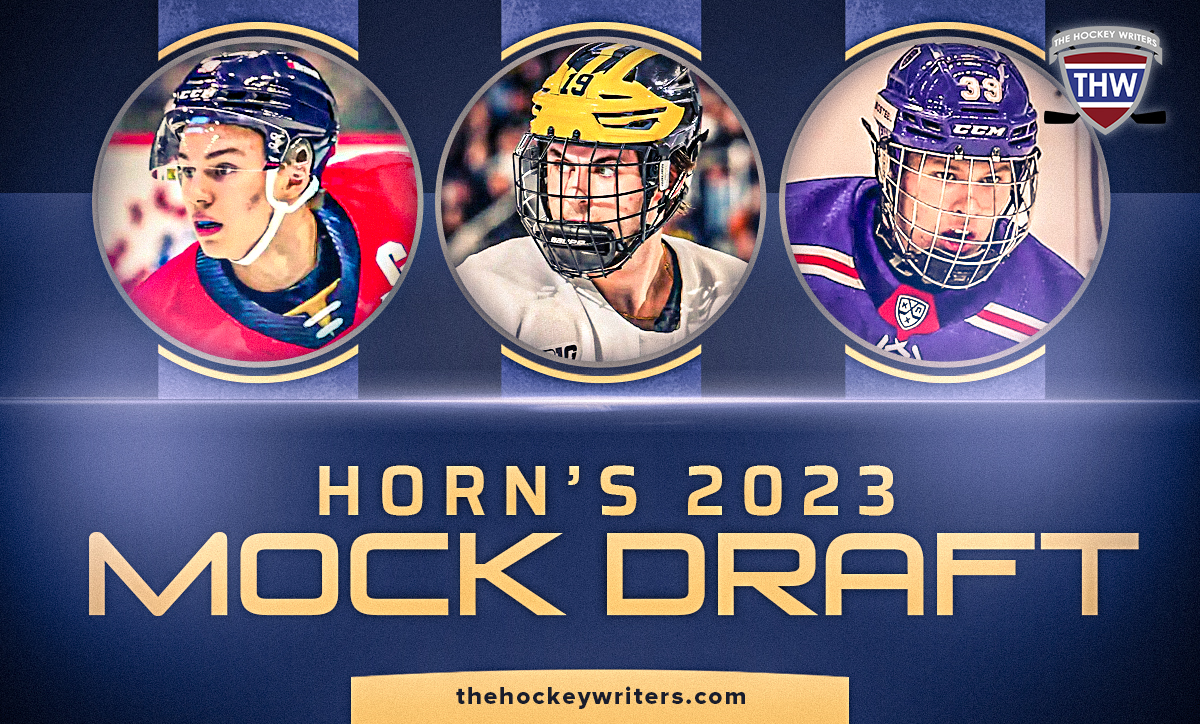 On February 2nd I simulated the NHL draft lottery based on the current NHL standings using Tankathon's lottery generator, and then I took that draft order and tried my hand at drafting the best possible player for each team at their draft position. The biggest thing I looked at was which remaining prospect is the best player, although I did take into account some teams who have a tendency to act certain ways on draft day. Don't worry, I didn't come up with anything quite as outrageous as Jesperi Kotkaniemi going third overall back in the 2019 Draft to the Montreal Canadiens, but I hoped to capture the spirit of some teams' amateur scouting groups. 
Related: NHL Draft Rankings – Horn's Top 64 for January
With that out of the way, let's get into the meat of the mock draft, beginning with the team who earned the right to select Connor Bedard first overall and finishing with the 32nd overall pick at the end of the first round.
1. Columbus Blue Jackets: Connor Bedard, C, Regina Pats (WHL) 
The Columbus Blue Jackets currently have the best odds of winning the first overall pick and were lucky enough to win the first overall pick without even winning the lottery (you'll see how in the next two entries). The Jackets are one of the few teams in the bottom of the NHL standings who weren't intending to tank when the season began, but a rough start and then the worst injury luck imaginable has put them in this position.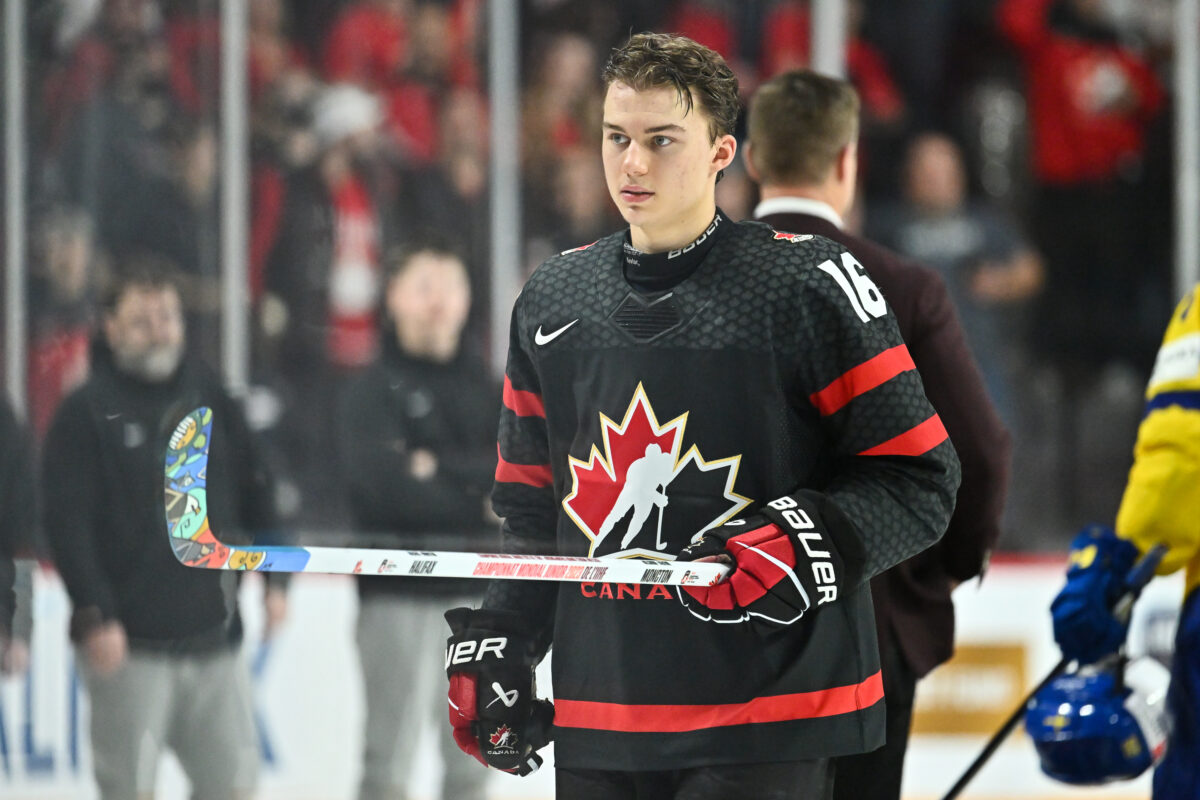 It would be a truly remarkable stretch if they added Johnny Gaudreau and Connor Bedard in about 11 months' time, two of the most talented players that the franchise has ever seen. Bedard would fit in nicely in the Blue Jackets' top-six forward group within a year or so and could help them realize the playoff aspirations that they had coming into this season.
2. St. Louis Blues: Adam Fantilli, C, University of Michigan (NCAA) (+6)
The St. Louis Blues were the first lottery winners, landing the second overall pick with the eighth best odds. Assuming that captain Ryan O'Reilly is traded or at least not extended this season, Adam Fantilli would be an excellent replacement at center with a very real chance to be an excellent top line center to complement the Blues' bevy of talented young wingers like Jordan Kyrou, Jake Neighbours, and Robert Thomas. Fantilli could likely be an impact player in the NHL as soon as next year, though I wouldn't be surprised to see him take another season in the NCAA for his development just like Luke Hughes and Cale Makar did. 
3. Detroit Red Wings: Leo Carlsson, C/LW, Örebro HK (SHL) (+9)
The Detroit Red Wings were the second lottery winners in my simulation, jumping nine spots from the 12th best odds to land at third overall. Remember, they could only jump nine or 10 spots in the lottery and the spot 10 positions ahead was already won by the Blues so we've got two lottery winners who didn't win first overall. I don't think the Red Wings would be too upset though, as any amount of lottery luck would be more than welcome at this point. Leo Carlsson feels like a quintessential Red Wings selection as a powerful and mature Swedish center who has been remarkable in the Swedish Hockey League (SHL) this year as a teenager. Carlsson would give Detroit a formidable center group of Dylan Larkin, Carlsson, and 2022 draft pick Marco Kasper. 
4. Chicago Blackhawks: Matvei Michkov, RW, Sochi (KHL)
Matvei Michkov could very well fall further than this on draft day due to his contract status and the continued uncertainty surrounding all players currently competing in Russia, but I don't think I could pass him up at fourth overall if I were the Chicago Blackhawks. This isn't a team does not labor under the delusion that they will be good anytime soon, in fact they made sure of that fact last offseason.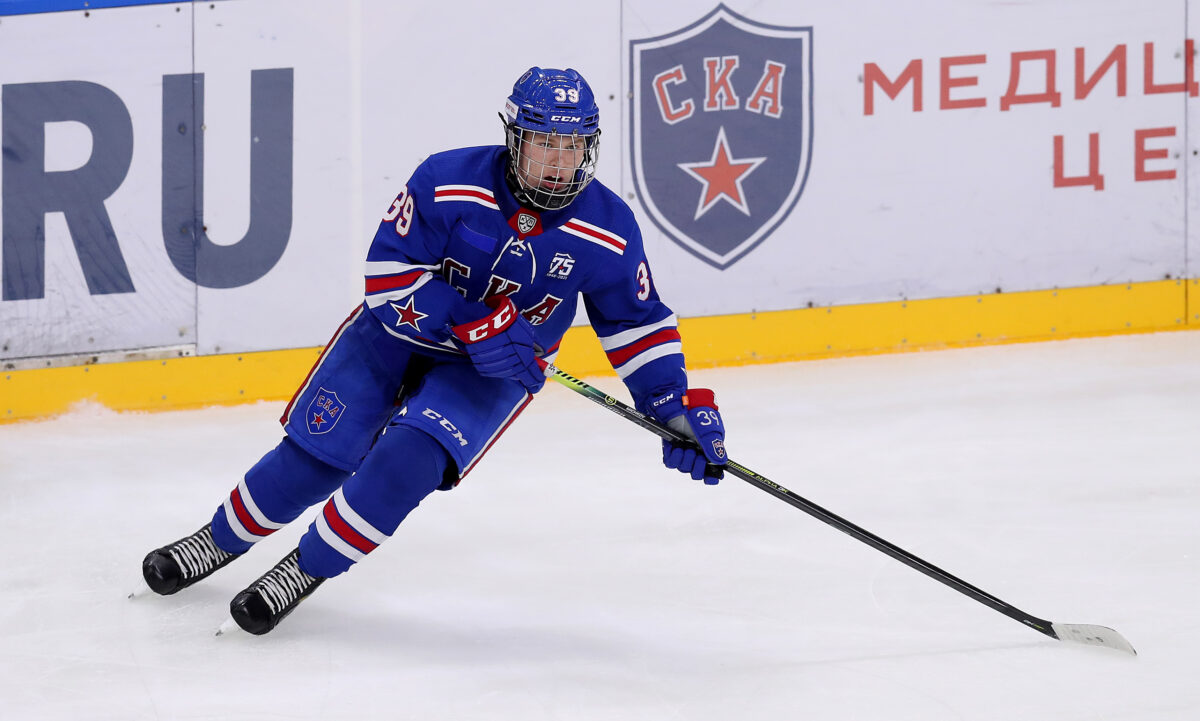 Chicago will likely lose franchise legends Patrick Kane and Jonathan Toews in the next few months, giving them a chance to be even worse next year. My point is, Chicago is likely going to be competing for first overall for the next two or three drafts as well, so adding an incredible prospect in Michkov who won't so much as touch the North American ice surface for another three years is a bonus because they get to watch him develop without worrying about him ruining their tanking chances. 
5. Anaheim Ducks: Zach Benson, LW, Winnipeg Ice (WHL)
The Anaheim Ducks have an unbelievable group of young players, with three great centremen in Trevor Zegras, Mason McTavish, and Nathan Gaucher, as well as a hoard of excellent defensemen like Jamie Drysdale, Pavel Mintyukov, and Olen Zellweger. There's a chance that they could pick a center here and move Zegras to the wing, but I think they'd be better off adding a winger here. That's where Zach Benson comes in. Benson is an incredibly hard-working winger with great offensive awareness and the motor to keep the puck moving in the offensive zone for extended periods of time. He would be an excellent top-six winger for the next era of the Ducks which is looking more and more formidable each year.  
6. Arizona Coyotes: Will Smith, C, USA U-18 (NTDP)
After adding Logan Cooley from the National Team Development Program (NTDP) in the 2022 Draft, I see the Arizona Coyotes going back to the NTDP with this pick, selecting centerman Will Smith. Cooley already looks like a potential top-line NHL center so the Coyotes would be shoring up their center depth for the next decade, the perfect addition to a young team with great wingers like Dylan Guenther and Clayton Keller. Smith is a very crafty player with excellent skating and skill, who attracts so much attention from defenders before making great plays to open teammates. 
7. San Jose Sharks: Eduard Sale, RW, HC Kometa Brno (Czechia)
The San Jose Sharks are still at a bit of an awkward point in their rebuild where they're not good enough to make a run at the playoffs, but not bad enough to properly tank either. Whether they commit to a full tear-down (by trading Timo Meier and others), or try to shuffle a few pieces and build a team capable of competing in the Pacific Division in the near future, Eduard Sale would be a great fit.
Related: NHL's Top 100 Prospects – Midseason Update
Sale has been excellent in the top professional league in Czechia this year, and I wouldn't be surprised if he made the NHL in the next season or two, so he could fit in with the Sharks' timeline whether they decide to commit to a rebuild or not.
8. Montreal Canadiens: Nate Danielson, C, Brandon Wheat Kings (WHL)
Nate Danielson might be the most well-rounded center in the 2023 Draft, with the motor and defensive positioning to be a great two-way center in the NHL. This might be a little early for Danielson to go in the draft (part of Montreal's recent draft track record), but I don't think it's that much of a reach. I wasn't entirely sold on his offensive skills coming into this season, but Danielson has taken a massive leap in production, with his ability to charge the middle of the ice standing out to me.
9. Vancouver Canucks: Oliver Moore, C, USA U-18 (NTDP)
After trading away their captain Bo Horvat, the Canucks are on the hunt for a top-six quality centerman to lineup behind Elias Pettersson. Moore has quickly shot up my personal draft board this year and the first thing you notice when you watch him play is his skating. Moore is such a good skater that the only player on the Canucks who could match his pace is Quinn Hughes who is one of the most technically skilled skaters in the NHL. Moore also has great hands and a shot that would make him a real threat on the powerplay. 
10. Philadelphia Flyers: Colby Barlow, LW, Owen Sound Attack (OHL)
Colby Barlow is one of the most pro-ready prospects in this draft, with a large frame and a wicked wrist shot that he has used to terrorize the Ontario Hockey League (OHL) this year. Barlow was named captain of the Owen Sound Attack this year as a 17-year-old, and his maturity is clear through any interviews you can find.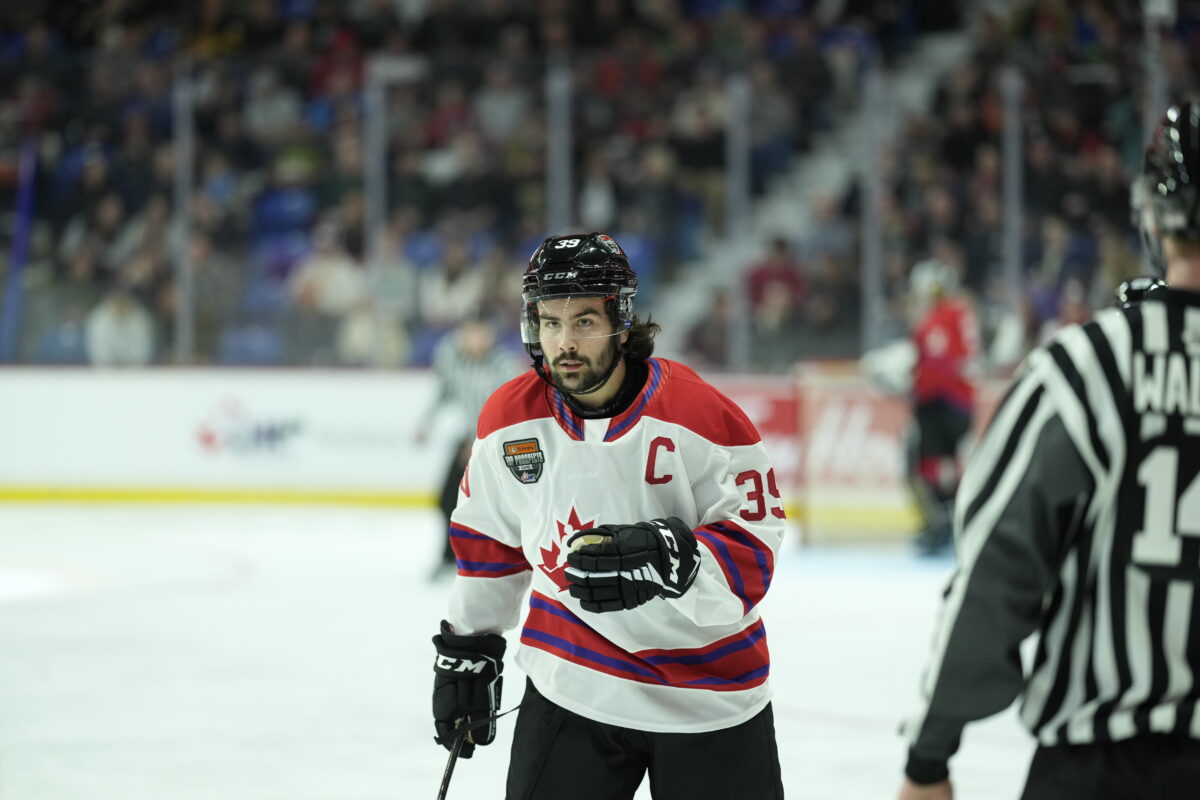 He is clearly a smart kid with a great grasp of what he does well and how he can support the players around him. Barlow is an excellent two-way winger who regularly kills penalties in juniors when he's not scoring an obscene number of goals. 
11. Ottawa Senators: Ryan Leonard, RW, USA U-18 (NTDP)
The Senators have selected more than their fair share of players from the U.S. National Team Development Program over the last five or six drafts, and I've got them continuing that trend with another excellent NTDP player, Ryan Leonard. Leonard is a great skater and his hands will allow him to make a ton of controlled zone entries in the NHL. He competes hard on every shift and will likely be a fixture on both special teams someday, providing as much value on defense as he does on offense. Leonard's playmaking and shot are simply average, but his puck skills at high speed is spectacular.
12. Montreal Canadiens (via Florida Panthers): Dalibor Dvorsky, C, AIK (Allsvenskan)
After landing Danielson with their first pick, I have the Canadiens adding Slovakian centerman Dalibor Dvorsky. Dvorsky has been playing in Allsvenskan this year, the second-tier of professional hockey in Sweden but his game has shone the most this year at the World Juniors where his puck skills stood out. He will need to work on his footspeed if he wants to be a no-doubt top-six center in the NHL, but his shot, skill, and physical presence will likely make him a formidable player regardless of skating development.
13. Vancouver Canucks (via New York Islanders): David Reinbacher, RD, EHC Kloten
Over the last few months, the Canucks' management group has talked about the need to add another good young center and a top-four defenseman. I've got them adding that center in Moore at ninth overall so here's a defenseman in David Reinbacher. Reinbacher has been playing in the top professional league in Switzerland this year to great success.
Related: NHL's Best Farm Systems Ranked – Midseason Update
He is a remarkably good defender for a teenager playing against grown men, and his size, skating, and ability to shut down plays with his stick makes it hard to tell he's so much younger than his competition. I see Reinbacher as a sturdy two-way defender (with a defensive tilt) who could jump into the AHL next year and be successful right away, much like David Jiricek but with a lower offensive ceiling. 
14. Buffalo Sabres: Axel Sandin Pellikka, RD, Skellefteå J20 (J20 Nationell)
I have the Buffalo Sabres selecting the second of the two defenders that I expect to see in the top-20 of the 2023 Draft, Axel Sandin Pellika. After playing well in a small role for his SHL club, Sandin Pellikka did a lot to boost his draft stock at the 2023 World Juniors where he started off as an extra defender before working his way into more and more icetime as the tournament went on.
He has a ton of offensive potential, with the playmaking vision to be a legit powerplay quarterback type of guy with a clear path to being a top-four offensive defenseman in the NHL. The biggest question is how good his defending will be in the NHL and if his offense will be dynamic enough to offset his lack of a physical defensive game. 
15. Nashville Predators: Andrew Cristall, LW, Kelowna Rockets (WHL)
The Nashville Predators have found themselves in the NHL's feared "Mushy Middle", not good enough to truly compete for the Stanley Cup, and not nearly bad enough to bottom out and rebuild. However, that hasn't stopped them from adding some excellent talent in the draft recently, with Joakim Kemell sliding all the way to them at 17th overall in the 2022 Draft. I have them again snagging an electrifying winger in Andrew Cristall who is one of the best offensive talents in the entire draft whose lack of size and his skating deficiencies will likely scare off a few teams in the draft. Cristall is one of the WHL's leading scorers with excellent puck skills, playmaking, and an under-appreciated shot. If he can make a few strides (pun intended) in his skating ability, I see a clear path to being an incredibly productive top-six winger for Cristall. 
16. Calgary Flames: Brayden Yager, C, Moose Jaw Warriors (WHL)
The Calgary Flames love their CHL prospects when it comes to the draft (like Connor Zary, Dustin Wolf, and Jakob Pelletier), so I see them going back to that well with sniping centerman Brayden Yager. Yager hasn't had the most prolific offensive season this year, but he still has many fans in scouting circles because of his high energy and the speed with which he plays. He's got an NHL-caliber shot and I could see him lining up behind Nazem Kadri and Elias Linholm at the center spot in the near future. 
17. Washinton Capitals: Danil But, LW, Loko Yaroslavl (MHL)
I have a feeling that there will be a team in the NHL who jumps at the chance to add Danil But a bit early than expected and I honestly can't blame them. I've come around a bit on But since the start of the year and I see a strong, goal scoring winger with a massive frame (6-foot-5, 203 pounds) and good enough skating to be a legit power forward. While it takes But a while to get up to speed on the rush, he's nearly impossible to stop once he gets going, plowing through defenders on his way to the net. 
18. Pittsburgh Penguins: Gabriel Perreault, RW, USA U-18 (NTDP)
Gabriel Perreault has been excellent offensively this year for the NTDP, currently leading them is scoring after Smith missed a few games while at Team USA's World Junior selection camp. Perrault has a ton of skill and plays very hard, both of which help offset the fact that he lacks ideal NHL size and skating. He's a very smart playmaker and I believe he'll be a great power play asset in the NHL someday, though his five-on-five impact will be a bit more up in the air. Regardless, his production this year is tantalizing and I think he'd be a good fit with the Pitsburgh Penguins who could use just about any kind of prospect in their prospect pool. 
19. Colorado Avalanche: Riley Heidt, C, Prince George Cougars (WHL)
Riley Heidt is an excellent skater and playmaker who I think is being a bit overlooked this year despite sitting 10th in WHL scoring at the time of writing. He is a threat whenever he's got the puck and is a great transition player who I see as a really good second line center in the NHL.
Heidt might not have the most dynamic offensive toolkit, but his vision, smarts, and passing ability are all great and should make him a reliable offensive contributor, while his defensive game and effort on the backcheck should make him an NHL center despite not having the ideal size for the position. The Colorado Avalanche have excellent scouting teams at both the pro and amateur level so I don't think they'll be scared off by his size here.
20. Los Angeles Kings: Matthew Wood, C/LW, University of Connecticut (NCAA)
The Los Angeles Kings clearly have a type when it comes to centermen, and that is a tall player who can either skate or shoot well. We've seen it with Anze Kopitar, Quinton Byfield, and Gabriel Villardi, and now I have them taking another in Matthew Wood. Wood is the youngest player in the NCAA this year and he has shown promising offense with an NHL quality frame and shot. His skating is a bit lack-luster, but hopefully he can add that element to his game, though he will be an effective offensive player even if his skating never truly blossoms. 
21. Edmonton Oilers: Samuel Honzek, LW, Vancouver Giants (WHL)
Samuel Honzek has been one of the most surprising players in the 2023 class so far this year, going from a virtually unknown Slovakian prospect to one of the top scorers in the WHL. His size and skill are excellent, plus his high effort level makes him an effective player all over the ice. Honzek's a great skater with a real power forward game (unlike many tall players who are drafted to be power forwards) and would likely be a great complementary winger for one of the Connor McDavid/Leon Draisaitl duo with his scoring instincts and two-way diligence.
22. Minnesota Wild: Otto Stenberg, C/LW, Frölunda HK J20 (J20 Nationell)
Otto Stenberg was seen by many as a potential top-10 pick coming into this season after a wicked performance at the Hlinka Gretzky cup for Team Sweden. However, he hasn't exactly lived up to those expectations in his SHL play so far this year, leading to him dropping back down most draft boards to the 30-40th overall range.
Related: World Junior Championship All Time Leading Scorers
I see the Minnesota Wild as a team not fooled by short term struggles, seeing the remarkable player behind the lack of production. Stenberg is a very hard worker with a shot that projects to beat NHL goaltenders with regularity and I think he probably has more than a couple fans in NHL scouting groups. 
23. Vegas Golden Knights: Quentin Musty, LW, Sudbury Wolves (OHL)
Next I have the Vegas Golden Knights selecting Quentin Musty with the 23rd overall pick. Musty is an offensive winger who has been great in the OHL this year, creating offense at will with his stickhandling and creative playmaking. His skating isn't as good as you'd like, and it limits his value on the rush and in the defensive zone, though he is still likely to be a very valuable offensive player especially on the power play. 
24. Winnipeg Jets: Lukas Dragicevic, RD, Tri-City Americans (USHL)
Lukas Dragicevic is just the third defenseman off the board here at 24th overall where I have the Winnipeg Jets selecting him. Dragicevic has been tearing up the WHL this year, scoring points at a ridiculous rate for a draft-year defender, with 56 points in his first 47 games.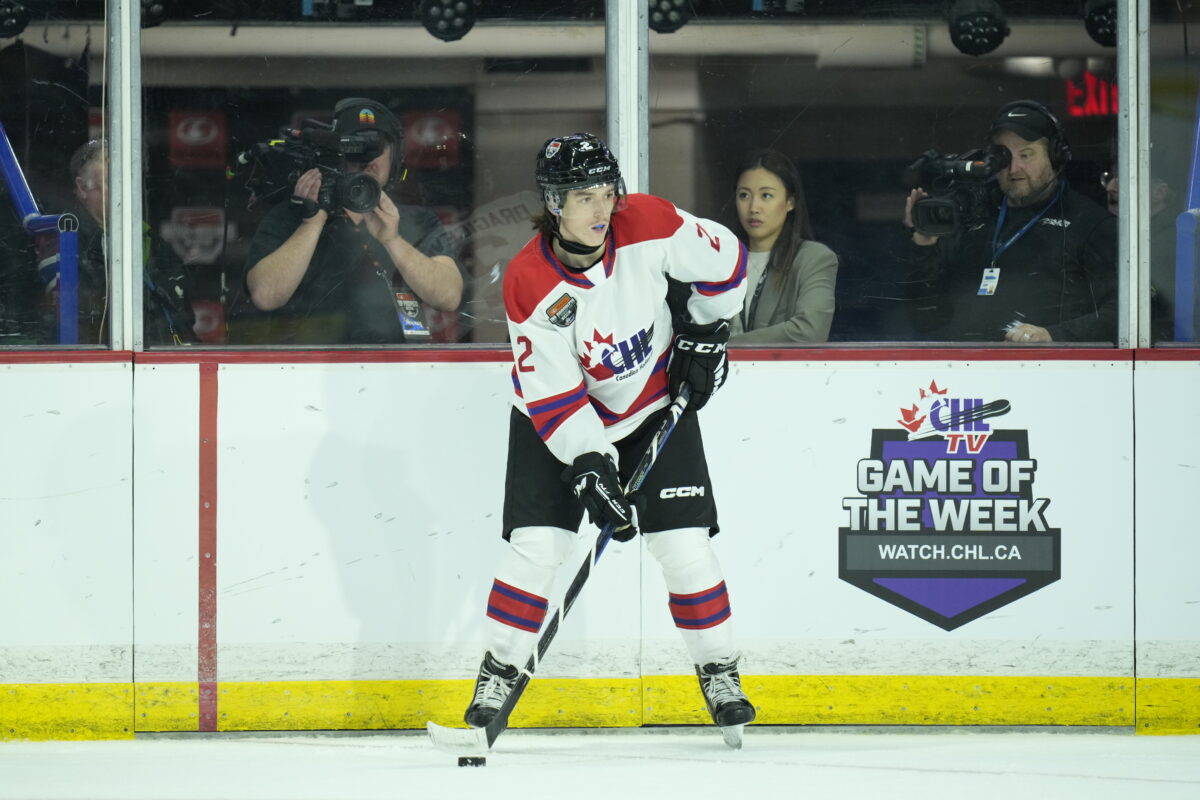 His vision, creativity, and poise are what makes him a difference maker on offense, though his skating isn't quite at the level of the typical top-pairing offensive defenseman, leading me to see him more as a second pairing guy who could run either power play unit. Dragicevic fights hard and has decent defensive instincts, though his ultimate defensive potential will be decided by his skating development. 
25. New York Rangers: Calum Ritchie, C, Oshawa Generals (OHL)
At the beginning of the season, Ritchie was seen as a potential top-16 pick in the draft, but he's had a bit of a strange year which has hurt his draft stock considerably. He's a big centerman who can skate and has a solid playmaking game, though there have been entire games in the OHL this year where he seems a bit invisible. However, there are other games where he looks excellent and fights hard to make things happen on both ends of the ice. Consistency will be the name of the game for him going forward, but I think he will be a long-term NHL center with time, something the Rangers should be able to afford.
26. Toronto Maple Leafs: Dmitri Simashev, LD, Yaroslavl (KHL)
The Toronto Maple Leafs are such a well-built team with some good young talent still on the way (Matthew Knies and Nick Robertson) that I think they could be willing to take a bit of a longer-term project type prospect in Dmitri Simashev. Simashev has the highest defensive potential in this entire class in my opinion, with the size, skating, and stick skills to be a top-four shutdown defender who doesn't contribute all that much in the way of offense.
Related: Each NHL Team's Best Prospect – Midseason Update
Think something like Chris Tanev who doesn't stand out much on the ice except for when he's locking down the opposing team's best players with relative ease. Simashev made the KHL this year at 17 years old and has played quite well defensively for a teenager. 
27. Chicago Blackhawks (via. Tampa Bay Lightning): Koehn Ziemmer, RW, Prince George Cougars (WHL)
After selecting Michkov fourth overall, an undersized winger with immense potential, the Blackhawks will go in a different direction with their second first round pick adding Koehn Ziemmer. Ziemmer has a pro-ready frame and a high skill floor, meaning he should at very least be a middle-six winger who provides a good amount of value on the power play. He's got a great wrist shot, more because of his quick release than the power of his shot. 
28. New Jersey Devils: Jayden Perron, RW, Chicago Steel (USHL)
The New Jersey Devils have one of the best young defensive groups between their NHL team and their prospect pool, and they also have their top-six center spots all set with Jack Hughes and Nico Hischier so I have them going for a great winger here in Jayden Perron. Though he may fall a bit on draft day because he lacks ideal NHL size (5-foot-8, 157 pounds), Perron has a ton of potential as a play-driving winger in the NHL.
Perron is incredibly intelligent and has a really complete package of skills (skating, shot, playmaking, effort, etc.), so his ability to gaina bit of strength and handle the physicality of the NHL game will ultimately determine his NHL performance.
29. Seattle Kraken: Mikhail Gulyayev, LD, Omskie (KHL)
The Seattle Kraken have taken a massive step this year, going from 30th in the NHL last year to being a legit playoff team. In doing so, there is a chance that their prospect pool is a bit stunted with only two years of them selecting near the top of the draft before sliding back to the late 20s. However, this year has a ton of high-potential picks at the end of the first round and into the second so Seattle will have tons of chances to add future difference makers. I think Mikhail Gulyayev would be a great addition to the Kraken's prospect pool. Gulyayev is one of the best skating defensemen in this draft and has the potential to be a Quinn Hughes-lite type of defender who lacks a strong defensive game but makes up for it with tons of offensive value. 
30. Carolina Hurricanes: Ethan Gauthier, RW, Sherbrooke Phoenix (QMJHL)
Ethan Gauthier is a bit undersized, but he's one of the most competitive players in the entire draft and I see him as exactly the kind of prospect the Carolina Hurricanes covet. The only thing holding him back from going a dozen picks earlier is his skating, which will always limit his value on the rush and on defense if he doesn't improve it enough. There's no reason to believe he can't improve it enough to be a great second-liner in Carolina, but I need to see it before I believe it. Gauthier's high compete level and his offensive IQ will make him a good NHL player, but some development in his skating would put him over the edge as a great NHL player.
31. New York Rangers (via. Dallas Stars): Charlie Stramel, C, University of Wisconsin (NCAA)
Charlie Stramel is a bit of a polarizing prospect, with some thinking he's overrated because of his large frame and others thinking he's underrated because he's had a bit of poor offensive luck as an NCAA freshman. I think his size and skating combo will make him just a little bit too exciting to pass on for the Rangers here at the end of the first round.
Stramel is incredibly competitive and that leads to a lot of successful board battles where his strength and tenacity really shine. He's got good hands but hasn't been able to create much offense yet in the NCAA, though expect he'll take some steps in that regard as he gets used to the increased competition. 
32. Boston Bruins: Bradly Nadeau, LW, Penticton Vees (BCHL)
Bradley Nadeau is going to be a bit of a wild card in this year's draft, mainly due to the nature of the league he plays in. The British Columbia Hockey League (BCHL), is in Canada's Junior-A circuit, a step below the CHL. It has become a bit more attractive of an option because prospects can go from Junior-A straight to pro hockey or to the NCAA without dealing with any of the strange rules of the CHL-NHL agreement. Nadeau has the numbers to be a top 20ish pick, leading the entire league in scoring as a draft eligible player, but he could also fall into the second round due to the uncertainty around the quality of that league. Regardless, I think the Bruins should take the chance on him because he has a ton of offensive potential and has already committed to the NCAA route with the University of Maine in the 2023-24 season.