As the boys from the big club (apart from Nazem Kadri) take time off for the NHL All-Star Break, there is a great opportunity for Calgary Flames fans to quickly check in on the team's future hopefuls. The American Hockey League's (AHL) Calgary Wranglers are rolling right now; they have the most points (62) and goals for (162) in the entire league through 43 games. Because they share a rink, one doesn't have to look far to see their levels of success, both team and individual. Especially after the relatively successful NHL call-up and four-game audition for top prospect Jakob Pelletier this year, fans have much to look forward to. Matthew Phillips also had a cup of coffee earlier this year, though he was noticeably not afforded the same opportunities with the Flames as Pelletier.
Related: 3 Calgary Wranglers That Should Be Exciting Flames Fans
There are big changes, including both favourable and disadvantageous circumstances, coming for the Flames this season and before the next. Some notable names will be without a contract at the conclusion of 2022-23, like Milan Lucic, Trevor Lewis, Brett Ritchie and Michael Stone. This will potentially provide young up-and-comers some more chances to switch the flaming W's on their jerseys to flaming C's and perhaps add some zeroes to their contract dollar amounts.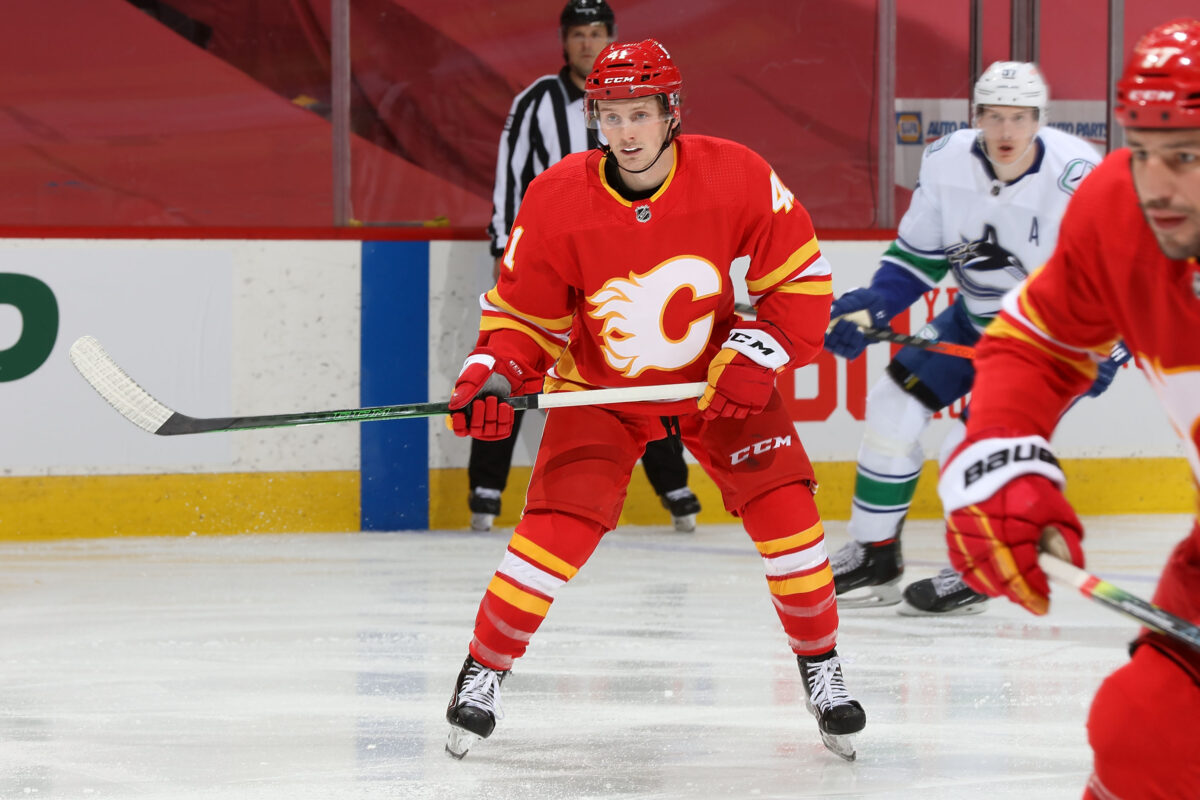 However, AHL standouts like Phillips, Walker Duehr, Radim Zohorna, and Ben Jones will all be free agents who will be gauging said chances to see if it will be worth re-signing with the organization. Their presence or absence will have an effect on the remaining prospects. Let's have a look at some Flames prospects signed beyond this season who are experiencing positive progressions and could be with the big club very soon.
Connor Zary
What a difference a year can make. Saskatoon native and centre Connor Zary is a perfect example of this sentiment. He was selected with the Flames' first pick in the 2020 NHL Draft, 24th overall, after a stellar junior hockey career with the Kamloops Blazers. After playing his overage season with the Blazers in 2020-21, he was thrust into professional action for the 2021-22 season with the Flames' then-AHL team, the Stockton Heat. Unfortunately, for many fans and likely himself, he underperformed to the tune of just 13 goals and 25 points in 53 games. He followed that up with a discouraging two points in 13 playoff games for the Heat. This was especially tough given the success other young players such as Pelletier had (62 points in 66 games for the Heat that season).
---
Latest News & Highlights
---
Fast forward to 2022-23, and it almost seems like a tale of two players. Zary has essentially completed a full 180 and is morphing into who the Flames thought he could be. After 44 AHL contests, he has almost doubled his output from last year with 14 goals and 42 points. His current point total sits him at 16th in the league and second on the Wranglers behind Phillips. The team has entrusted him with the duty of top-line centre, and he has demonstrated solid two-way play and faceoff skills. While the Flames seem pretty set at centre with Elias Lindholm, Nazem Kadri, and Mikael Backlund, the fourth-line centre job could be up for grabs for 2023-24 with the departure of Trevor Lewis. He will be competing with the likes of Jones (if re-signed) and Kevin Rooney, among others.
Matt Coronato
Next up is the Flames' 13th overall pick from the 2021 NHL Draft. American forward Matt Coronato was a United States Hockey League (USHL) standout, scoring 125 points in 96 games for the Chicago Steel. This led the Flames to grab him with their highest draft pick since Matthew Tkachuk at sixth overall back in 2016. Next, Coronato decided to take his talents to the NCAA and suit up for the Harvard University Crimson. In his first season (2021-22), his strong play earned him ECAC All-Rookie Team honours alongside his team winning its conference and a spot in the NCAA National Tournament. His 36 points in 34 games were tied for third amongst freshman forwards that year.
This season as a sophomore for the Crimson, Coronato has stepped up his game even more. Through 22 contests, he's up to 14 goals and 25 points. He's formed a formidable top line with Montreal Canadiens pick Sean Farrell and Alex Laferriere, who was picked by the Los Angeles Kings in 2020. The dynamic forward was recently named as one of Harvard's three nominees for the Hobey Baker Award given annually to the best men's college hockey player. Theoretically, after the conclusion of this season, Coronato could sign with the Flames and get into some game action with them or the Wranglers. However, he could elect to stay at Harvard for two more years to get his degree and also become a free agent. His story will be an interesting one to keep an eye on if you're a Flames fan.
Dustin Wolf
Last, but not least is American goalie Dustin Wolf. Arguably the best professional goaltender not in the NHL, he has a huge resume of individual success at the age of just 21. He was the Canadian Hockey League's Goaltender of the League back in 2019-20 and won a gold medal with Team USA at the 2021 World Juniors. His success followed him to the AHL where he won the Aldege "Baz" Bastien Memorial Award as the league's best goalie in his rookie season of 2021-22. He posted an impressive 33 wins in 47 appearances to go along with a 2.35 goals-against average (GAA) and a .924 save percentage (SV%). The young man also earned himself a spot on the AHL All-Rookie Team alongside teammate Pelletier.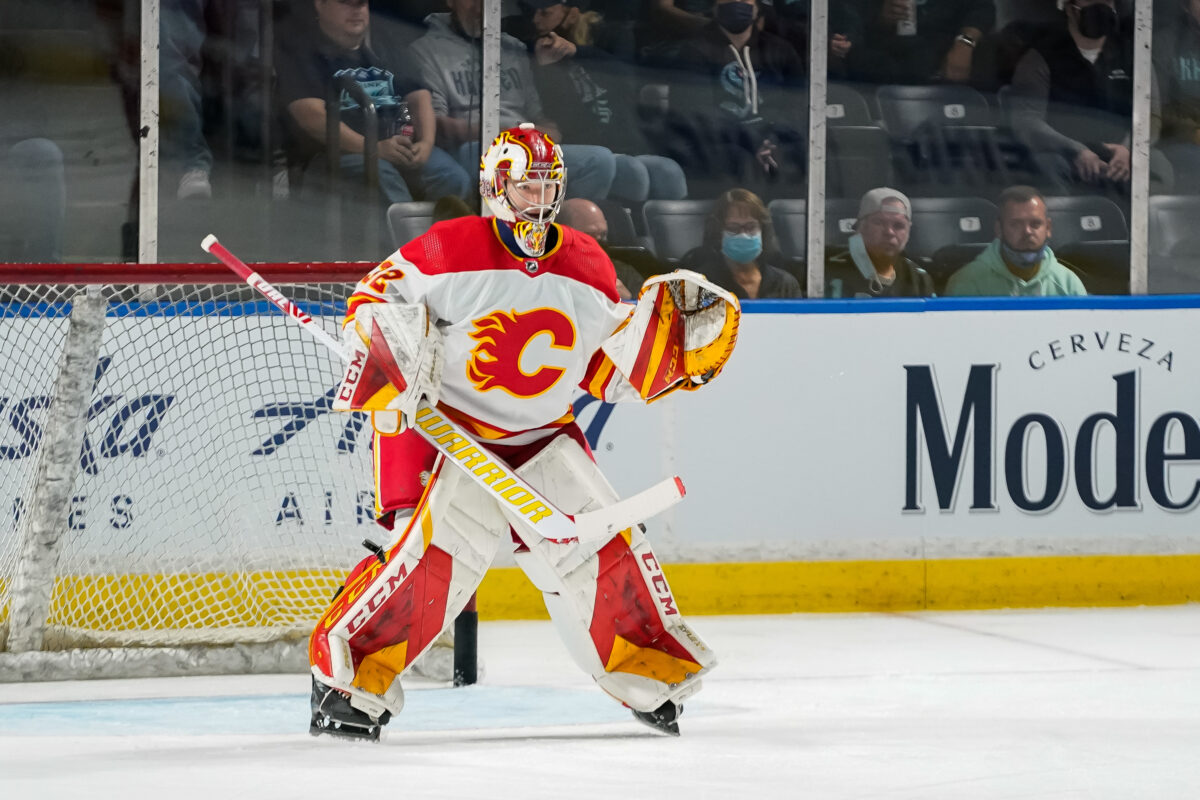 Now in his second tour of duty with the Flames' farm team, Wolf has not regressed one bit. If anything, he is even better. After 34 games, he already has 26 wins and four shutouts, figures that lead the entire AHL. His 2.19 GAA and .928 SV% both rank second league-wide, though the goalies ahead of him in those categories have played almost half of the games Wolf has. In fact, his 34 games lead the league and illustrate how significant he is to the Wranglers' success. Backup Oscar Dansk has just five wins in 12 appearances in 2022-23 for comparison. Wolf's issue is that his path to the NHL is crowded. While he's demonstrated that he is likely ready for the next level of competition, he has Jacob Markstrom and Dan Vladar firmly entrenched in the Flames crease. Both men are signed until the end of 2024-25 when Vladar becomes a free agent.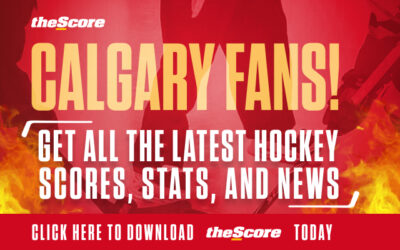 All in all, Flames management has many decisions to make. First, they need to sign Coronato to an entry-level deal as it would be disappointing if he were to leave in two years for nothing. Next, they need to evaluate the players they want to keep for the big club and then work their way down to the Wranglers. The aforementioned AHLers need new deals and paths for success. Head coach Darryl Sutter has been noted as being tough on youngsters, which is meant to push them to play better but it also may make it difficult for others to reach their potential faster. This could lead them to look for hope in a different organization.