When it comes to questions about the demand for certain names at the NHL Trade Deadline, competition tends to heat up for players who have: 1) a good dollar value attached to their contract 2) some term remaining on their deal 3) unique skills that are hard to find at a good price. It doesn't necessarily have to be in that order that teams will prioritize the skill set of a possible deadline addition, but in the case of Sam Lafferty of the Chicago Blackhawks, he's got all three of these things attached to his name and that has Stanley Cup contending teams salivating.
At the cost of $1.15 million for this season and next, Lafferty is drawing attention. Saying he offers speed, physicality, and penalty-killing ability, Frank Seravalli writes in a recent deep dive look at the forward:
Lafferty brings elements that a savvy, complete and veteran team could use on their fourth line. He isn't perfect, lacking sense and his motor wanes during stretches, but the second year always seems to entice certain teams giving them cost certainty heading into the offseason. His contract coupled with his raw physical ability might make a team eager to try to pull a complete game out of him while harnessing what he already does well.
What Teams Are Looking at Lafferty?
THW's own Connor Smith suggested the Toronto Maple Leafs, Minnesota Wild, and New York Rangers might be a fit. Those are all solid, logical choices. Seravalli includes the Maple Leafs in his list as well, but also adds the Tampa Bay Lightning, Edmonton Oilers, and Boston Bruins to that list. Why Seravalli's list is so intriguing is because all four of these teams are and/or were considered Stanley Cup chasers with a unique window to go for it now.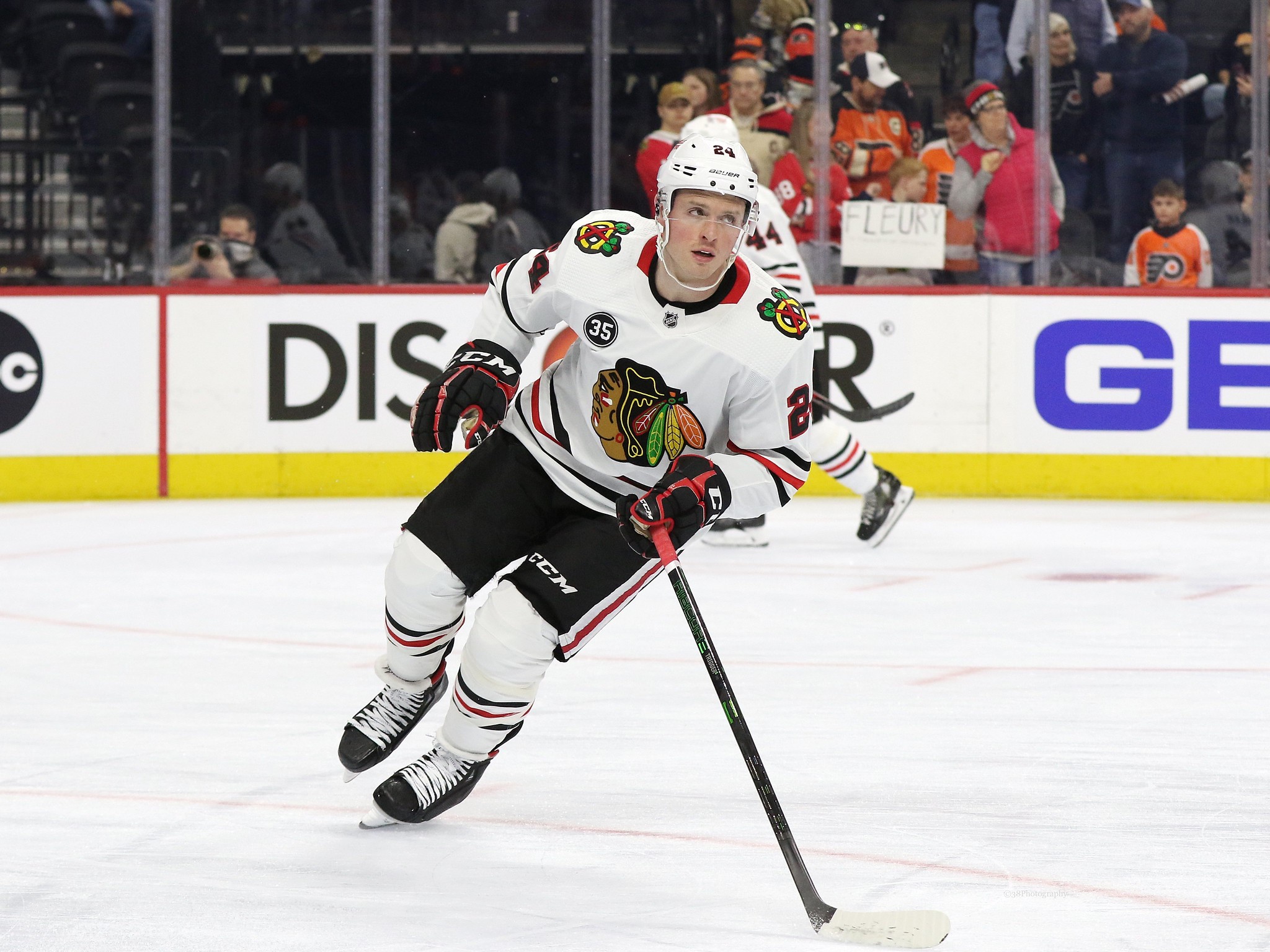 Chicago has a history of dealing with Tampa, having sent Brandon Hagel there in the past. Seravalli suggests Lafferty would fit well in their bottom six. The Oilers have dealt with Chicago too, grabbing Duncan Keith from their roster before he retired. Edmonton could use some penalty-killing help. Meanwhile, Lafferty could form a solid duo with Alex Kerfoot on Toronto's second penalty-killing unit, while Boston might want to add some insurance as they make a push during a season where they seem to be the team to beat.
Only one team can acquire Lafferty, while the other three will miss out. Who wants it most?
Assets, Need, and Cap Hit Will Play a Major Factor
When looking at which of these four contending teams might make a push to acquire Lafferty, cap space and need should be heavily factored into this. Of the four teams mentioned, Boston has the most cap space, followed by Toronto. For the Oilers and Lightning, every move needs to be made with precision and with the likelihood another player must go back to the Blackhawks in exchange. It's known the Blackhawks are willing to take on other teams' contracts for a sweetener, but it's not clear how open the Blackhawks are to retaining salary on Lafferty if another team can make the deal without retention required.
---
Latest News & Highlights
---
Assuming it won't cost a first-round pick to land Lafferty, as for what these four teams can send back to Chicago, the Leafs don't have their second, fourth, or fifth-rounders in this season's NHL Draft. That could hurt their potential to outbid other teams. The Bruins don't have their second-round pick, the Lightning doesn't have a first or a second-rounder and the Oilers have all but their fourth-round selection in 2023. The edge potentially goes to Edmonton if it takes a second rounder to get this done.
As for need, the Bruins likely need him the least. They could use a high-end offensive weapon or a left-shot defenseman. So too, the Maple Leafs might be focused on a defenseman. The Lightning and the Oilers might both like the idea of Lafferty a lot and the Oilers have identified a physical depth winger as a need for some time.
Who Is Willing to Step Up?
Considering all of the above, all of these teams have pros and cons that come with pushing in hard for Lafferty and trying to outbid another team if they see him as the player that makes the most sense for them. The Oilers might have the biggest need and the picks to make the deal, but do they have the cap space? The Bruins don't want to mess up their chemistry, but they have the cap room to give Lafferty a look. Toronto might not be willing to move what little they have left in draft picks. If the Lightning moves their third-round pick, they won't have picks in the first three rounds. That's a big ask.
There is no obvious option here. He makes sense for every team, but there are also reasons not to heavily pursue this, especially if the demand for the players starts to exceed the value he could bring.