February is going to be a critical month for Tyler Bertuzzi and the Detroit Red Wings.
The 27-year-old forward has only played 17 games thus far and is scheduled to become an unrestricted free agent this summer. Detroit's next 13 games will serve as an evaluation period for his future – is he worth a long-term contract extension or should the Red Wings trade him before the deadline.
But at the moment, Bertuzzi's stock is at rock bottom.
Related: Red Wings' Larkin & Bertuzzi Represent Best & Worst Cases in Contract Talks
It's a bit of a conundrum really – a player's trade value and negotiating leverage are positively correlated. Both are currently low in Bertuzzi's case. A big February will change that, though.
Why is Bertuzzi's Value So Low?
Simply put, it's been a rough season for Bertuzzi. Three separate injuries have caused the winger to miss time. And when he has been in the lineup, he hasn't been very effective.
Coming off of a 30-goal, 62-point campaign a year ago, expectations were sky high for Bertuzzi. But so far, he only has five points—including one goal—in 17 games – not what you'd want to see from a top-six forward.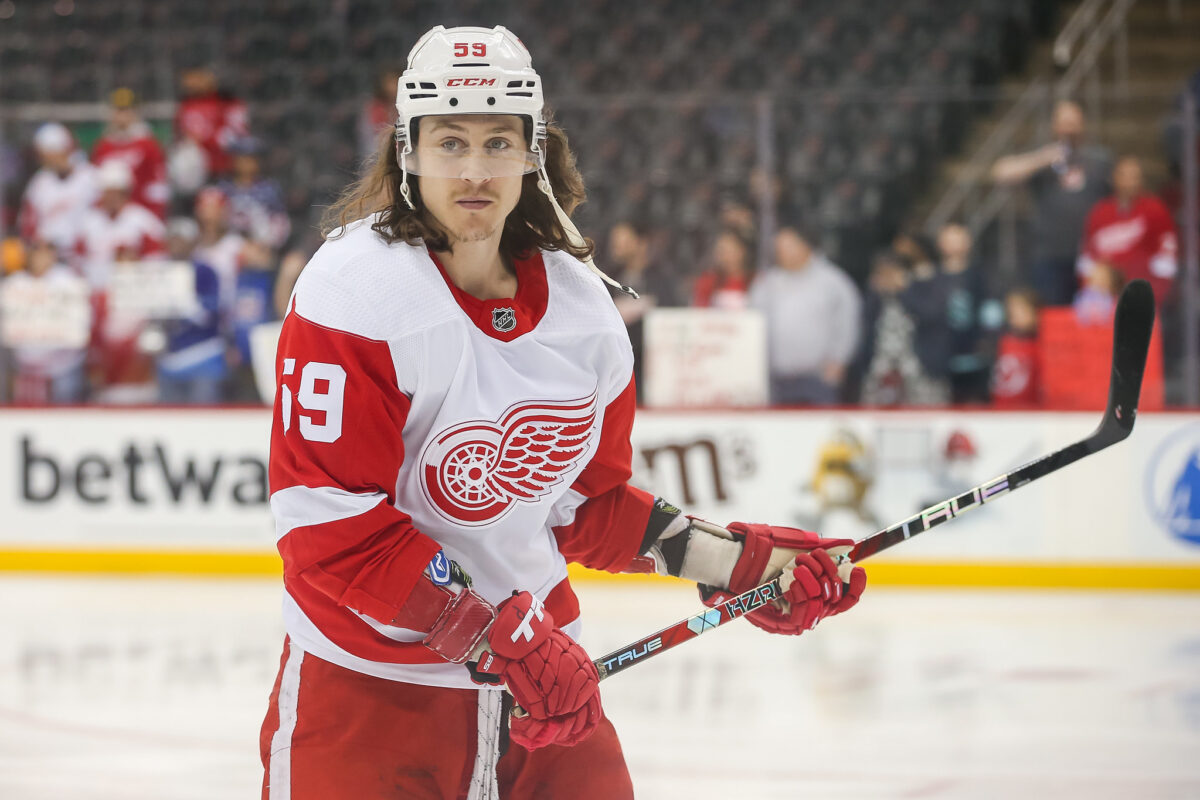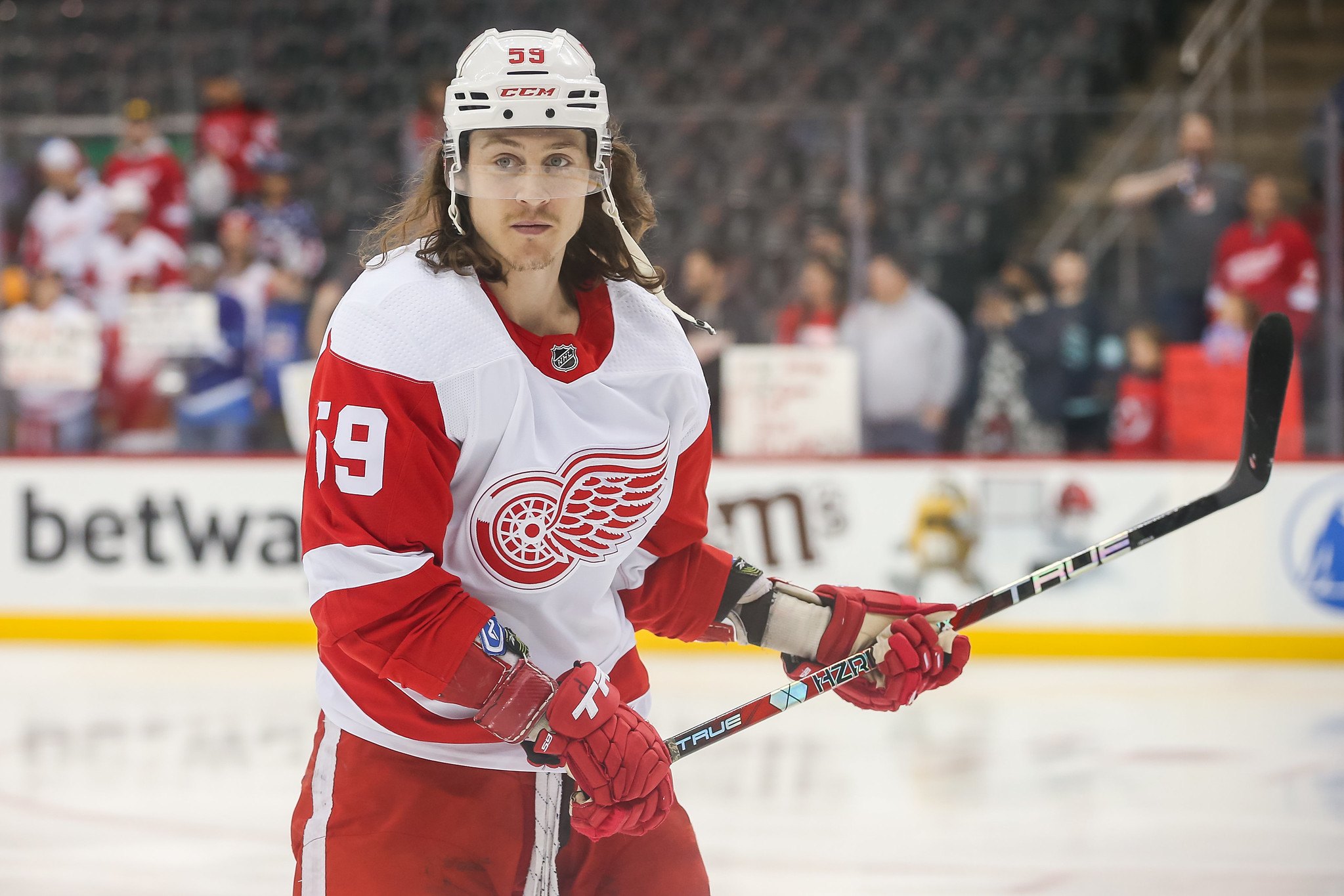 His possession and expected stats have been fine. At five-on-five, Bertuzzi's Corsi-for per 60 (61.74) leads the team, but is only slightly above-average when compared to the rest of the NHL. His expected goals-for per 60 (2.57) and scoring chances-for per 60 (27.47) also rank highly among his teammates. Still, these numbers aren't overly impressive in the grand scheme of things.
Given the injuries and lack of production, interested teams won't want to pay top dollar to acquire Bertuzzi. He may still be appealing based on his past performance, but if you're expecting to see an Anthony Mantha-type of return, you're mistaken. 
Similarly, it's difficult for the Red Wings to justify a long-term, high AAV contract extension – the difference between today's Bertuzzi and the player he was last season is just too drastic. That dissonance is a huge problem for those involved in contract negotiations.
---
Latest News & Highlights
---
Boosting Bertuzzi's Value in February
Obviously, continued underperformance won't help Bertuzzi or the Red Wings. So with that in mind, Detroit should do everything in their power to put the forward in a position to succeed this month.
For starters, the Red Wings could hand-pick Bertuzzi's linemates based on past performance. He's had above-average chemistry with Dylan Larkin, David Perron, Michael Rasmussen, and Robby Fabbri this season. On the other hand, Bertuzzi just hasn't jived with Pius Suter or Andrew Copp – both from a possession and expected goals-for standpoint.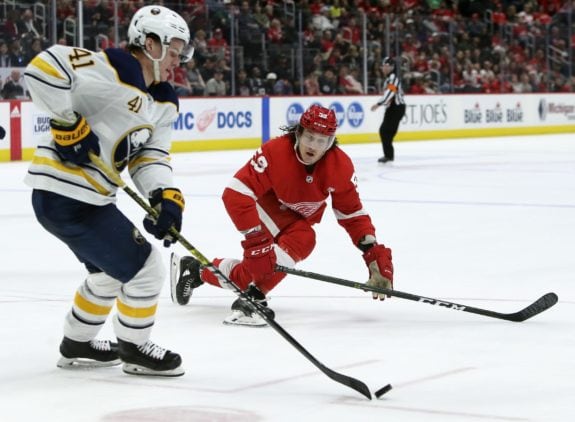 Two options come to mind. First, Derek Lalonde could deploy Bertuzzi on the top line alongside Larkin and either Perron or Lucas Raymond. Larkin, Bertuzzi, and Raymond were outstanding last year and additional time together (which appears to be the plan) could help them rediscover their chemistry on the ice.
The other option would be for Bertuzzi to play in the middle six with Rasmussen at center and either Perron or Fabbri on the opposite wing. This would allow the Red Wings to utilize Bertuzzi's line in more favorable spots (instead of seeing top competition on Larkin's wing).
Hopefully, playing on one of these two lines will get Bertuzzi back on track. But if it doesn't, and the Red Wings decide to move on, there are ways to inflate his trade value.
First, Detroit could take back a negative-value contract as part of a deal for Bertuzzi. They did something similar when they dealt Nick Leddy to the St. Louis Blues, who had very little cap space to begin with. By taking back Jake Walman—who has been a revelation next to Moritz Seider on Detroit's blue line—and Oskar Sundqvist, the dollars just about evened out, allowing the Red Wings to extract a second-round pick from St. Louis. Denis Gurianov of the Dallas Stars and Warren Foegele of the Edmonton Oilers are two players who could be targeted in this regard as the deadline draws nearer.
In addition, the Red Wings could retain part of Bertuzzi's salary in a trade – a $2.375 million cap hit is a lot more appealing than a $4.75 million cap hit, after all. This would allow the Red Wings to focus less on cap space in trade talks and instead push the narrative around his high upside.
Related: Red Wings & Rangers Could Help Each Other at Trade Deadline
There's also less risk for interested teams. With a cap hit that low, Bertuzzi could be one of a few deadline deals for a contending team – diversifying their acquisitions in a sense.
Final Word
At this point, Bertuzzi's future is in his hands. He could play himself into a long-term extension with the Red Wings or a trade to a playoff contender. Or he could continue at his current pace and see neither come to fruition.
If Detroit opts to re-sign Bertuzzi, there's a good chance it'll be for less than he could have expected last summer. My preseason projection of a six-year, $6.17 million AAV deal seems like a massive overpayment now. But a big February can help Bertuzzi make up some ground and secure a solid financial future – either in Detroit or somewhere else.
Stats courtesy of Natural Stat Trick and NHL.com.