Coming out of the 2023 NHL Trade Deadline, there were two main discussion points for the Seattle Kraken. One, how general manager (GM) Ron Francis stood pat and didn't make any moves on March 3, 2023, and two, how the stretch of games for the Kraken, starting with their victory last Sunday, March 5, versus the Colorado Avalanche was huge in determining if this club would make the playoffs. So far, they are passing with flying colors and doing so by committee – as they have done all season.
---
---
Sitting In a Good Spot
For comparison, last season, entering play on March 10, 2022, the Kraken sat last in the Pacific Division with a record of 17-37-5 with 39 points. But they weren't last overall in the NHL. That dubious distinction went to the Montreal Canadiens who had 37 points. Seattle was averaging 2.57 goals-per-game (GPG) while allowing 3.60 GPG. Heading into action on Friday, March 10, 2023, it's a much different story.
Related: Kraken's Matty Beniers Worth of Winning The Calder Trophy
---
Latest News & Highlights
---
The Kraken sit third in the division with a record of 37-22-6, good for 80 points and a 41-point improvement from a year ago. Yes, Seattle has played five more games to this point in the season than last year at this time, but you get the point – it's much better. The club is four points behind the Vegas Golden Knights and Los Angeles Kings for the division lead and are tied in points with the Edmonton Oilers, but hold down the third spot in the division thanks to one more regulation win. The Oilers sit first in the wild-card race in the ever-changing Western Conference. Seattle is in a good position, but there is much work to be done.
Production By Committee
The sexy thing in the NHL is to have that flashy top line, full of All-Stars and league-leading scorers, and a similar second line as well (if you're lucky). For example, look at the Toronto Maple Leafs, Boston Bruins and New York Rangers – all three boast a solid top-six. But that's not the Kraken, and it may never be, as long as Francis remains the general manager. What they do have is consistency and strong balance all the way down their lineup. Players like Jordan Eberle, Jared McCann and Matty Beniers lead the way offensively, but production is coming from others as well, as 13 players have at least 10 goals including Alex Wennberg, Brandon Tanev, and Ryan Donato.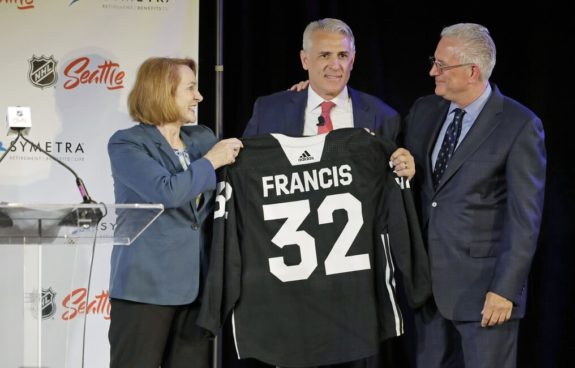 Even look at the latter three's shooting percentage (S%), they don't take as many shots as say Connor McDavid or Nikita Kucherov, but they are effective when they do. Wennberg's S% is 14.5, Tanev's 13.0, and Donato is at 12.9. It is this production that will be key for the Kraken as they make this late-season push toward the playoffs.
Sturdy Defensively
You can't put a price on size, together with production in the NHL, but in Seattle's case, their price is right when talking about their defense. First, the Kraken's blue line is one of the biggest in the league. Jamie Oleksiak, Will Borgen, Carson Soucy and Adam Larsson are on average 6-foot-5 and 219 pounds. Second, they put up points, led by Vince Dunn's 51, and as a unit has combined for 151 of Seattle's total point production of 615 which equals 25 percent. Third, along with Justin Schultz, their top-six is on average a plus-13 plus/minus rating. All six are also minute eaters, averaging 19:32 minutes per game. Dunn tops the list at 23:42.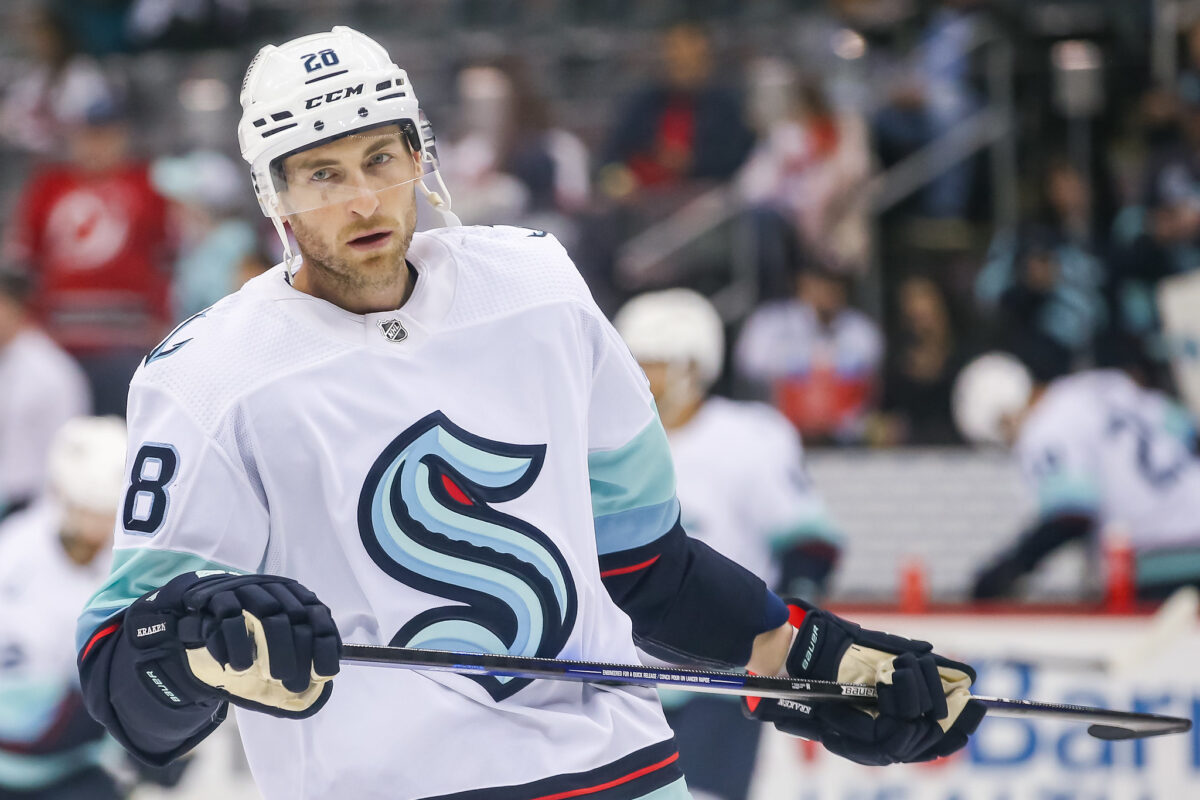 No Kraken defenseman is going to win the Norris Trophy this season as the top blueliner in the league, although Dunn has put up some fine numbers. It looks like the top-five candidates at this point are San Jose Sharks Erik Karlsson, Cale Makar of the Colorado Avalanche, the Buffalo Sabres Rasmus Dahlin, Josh Morrisey of the Winnipeg Jets, and New York Rangers Adam Fox. But you know what? That's fine with Seattle. Their defensive corps has been solid and has bought into the coaching tactics of one Dave Hakstol and his assistants Dave Lowry, Jay Leach, and Paul McFarland. If it ain't broke don't fix it. If it's strong and steady, ride with it.
March Madness?
The Kraken saw their five-game winning streak come to an end on March 9 in a tough 5-4 loss to the Ottawa Senators. They now have 17 games left in the regular season and nine remaining in March. It starts this Saturday, March 11, with back-to-back home games against the Central Division-leading Dallas Stars (the back end being played Monday, March 13). Then, they go on the road on March 16 versus the Sharks before heading back home for a date with the Oilers on March 18. The biggest stretch of this nine-game run is four straight on the road: March 21 in Dallas, then another set of back-to-backs, this time in Nashville on March 23 and 25 before wrapping it up in Minnesota on March 27.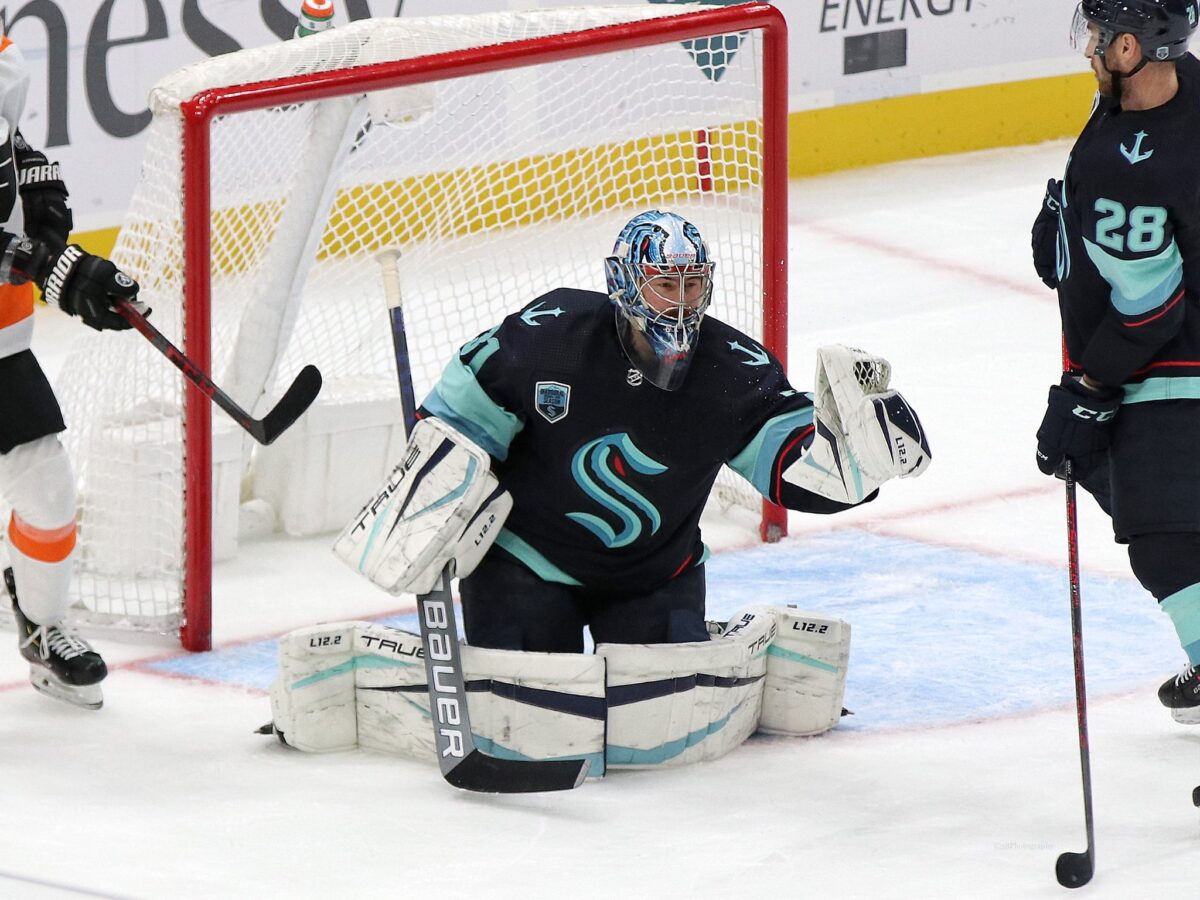 The Kraken end the month with a game against the Anaheim Ducks on March 30. To recap, nine games, five against teams already in playoff spots (Edmonton, Minnesota and Dallas), two versus the Predators who are playing desperate hockey in their chase for a postseason berth, and singles against the Sharks and Ducks. The most intriguing ones here are the three they have against the Stars as this will be the first time they have faced each other all season. And with three games in 11 nights, they will no doubt become quite familiar with one another after the last one.
This month will be challenging for Seattle. There are some tough games ahead. But if the Kraken continue to make waves, not ripples which they have done all season, a playoff spot will get that much closer to becoming a reality.