The trade deadline is in the dust, and the Seattle Kraken are entering the home stretch of the 2022-23 regular season. This is a team that doesn't necessarily have one player you can look at for their success; they've been winning by committee. 16 players have scored at least 20 points, and 10 have at least 30. In addition, a baker's dozen players have scored at least 10 goals.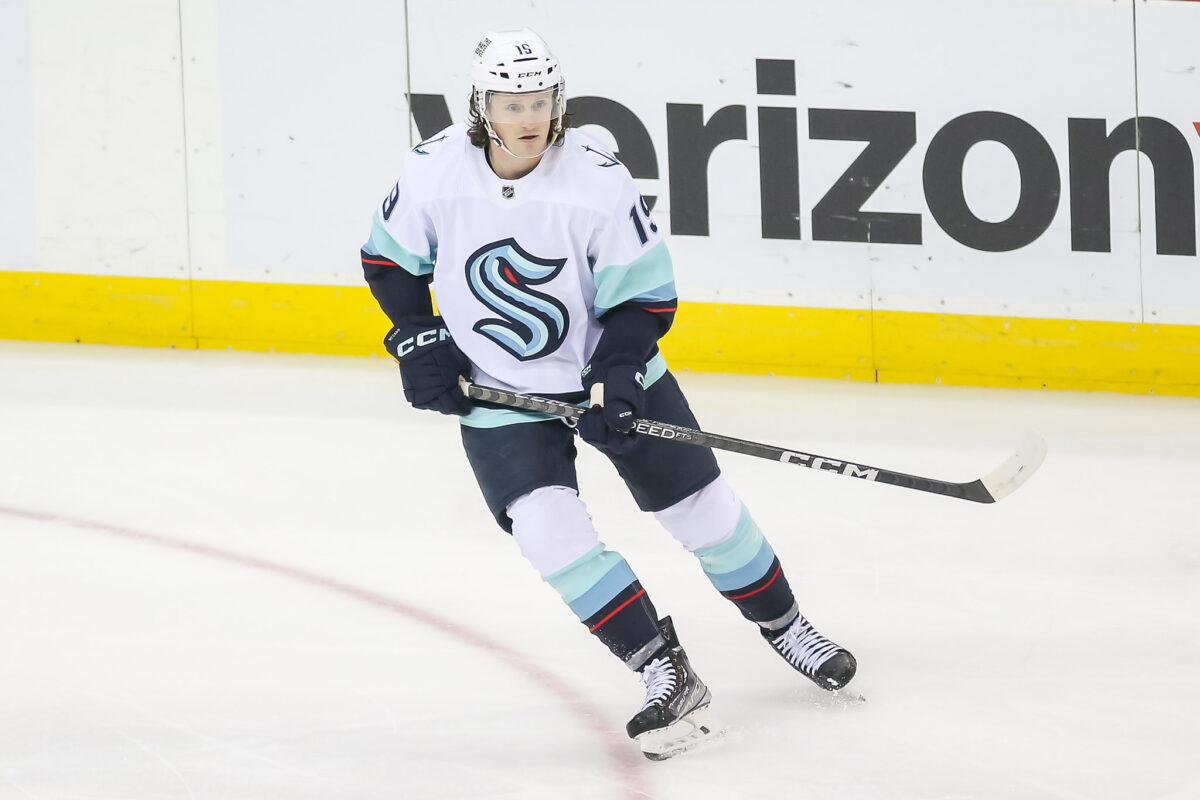 I think it's about time we take a look at the race for the Kraken's Most Valuable Player award. I'm going to look at three players who aren't just leading the team offensively, but who all share one common trait that should excite Kraken fans; they're young. These players all came into the season with different storylines shaping the context around their season, and they're finding success nonetheless. Let's get into it.
Jared McCann the 30-Goal Scorer
Jared McCann had been trending in the right direction ever since the 2019-20 NHL season. His goals per 60 minutes (G/60) went from .8 to 1.9 over that span, including this season. Along those lines, his goals per game rose from .21 to .50. The six-foot-one winger started to heat up during his time with the Pittsburgh Penguins and has exploded in Seattle. 
He followed up his 27-goal performance last season by hitting the 30-goal mark in just 60 games. He's now the first player in Kraken history to score 30 goals. Add his 18 assists, and he's on pace to surpass last season's career highs across the board. 
McCann is looking like a future bargain for the Kraken, as he'll carry a $5 million cap hit through the 2026-27 season. Honestly, it feels weird to say this, but he's doing so almost under the radar. His 30 goals tie him for 18th in the NHL. He's not the biggest named player, but he's playing like one. He's played in all situations, even has a shorthanded goal to his credit, and is turning into a leader on this team. The Kraken have him locked up for years to come and can focus on having their prospects learn from him instead of having to look to the trade market or free agency for their sniper. It will help increase their depth even more.
To bring it back to this season, he's been a goalscoring machine which is exactly what the Kraken need from him. He's someone that the Kraken will look to rely on in big moments, especially down the final stretch of the season and into (presumably) their first Stanley Cup Playoffs berth. He's led the way all year, and could definitely win this award as a result.
Vince Dunn's Offensive Outburst Fuels Blue Line Scoring
Ah, Vince Dunn. I've been talking about him fairly regularly since this past offseason when I declared that he needed to step up offensively or be dealt; he didn't step up, he lept. His 37 assists and 48 points are career highs, and his 11 goals will likely surpass his career high of 12 by the end of the season. He currently sits 10th in the NHL in scoring amongst defensemen, and of the 146 points scored by Kraken defensemen, Dunn has contributed 32.9%.
Related: Kraken Are in a Win-Win Situation with Vince Dunn
---
Latest News & Highlights
---
Dunn's offensive explosion is important for a few reasons. The first is that it'll likely raise the value of his next contract; he's an arbitration-eligible restricted free agent (RFA) this offseason. The second is for himself, obviously, as he's become the offensive focal point of the team's defense. Though what I'd argue is most important is that he kept his numbers and defensive play up despite Justin Schultz missing some time to injury. 
I always viewed the addition of Schultz as adding someone who would be able to help shoulder the offensive responsibility if Dunn started to struggle. Dunn hasn't struggled, and Schultz is having his best year since the 2016-17 season.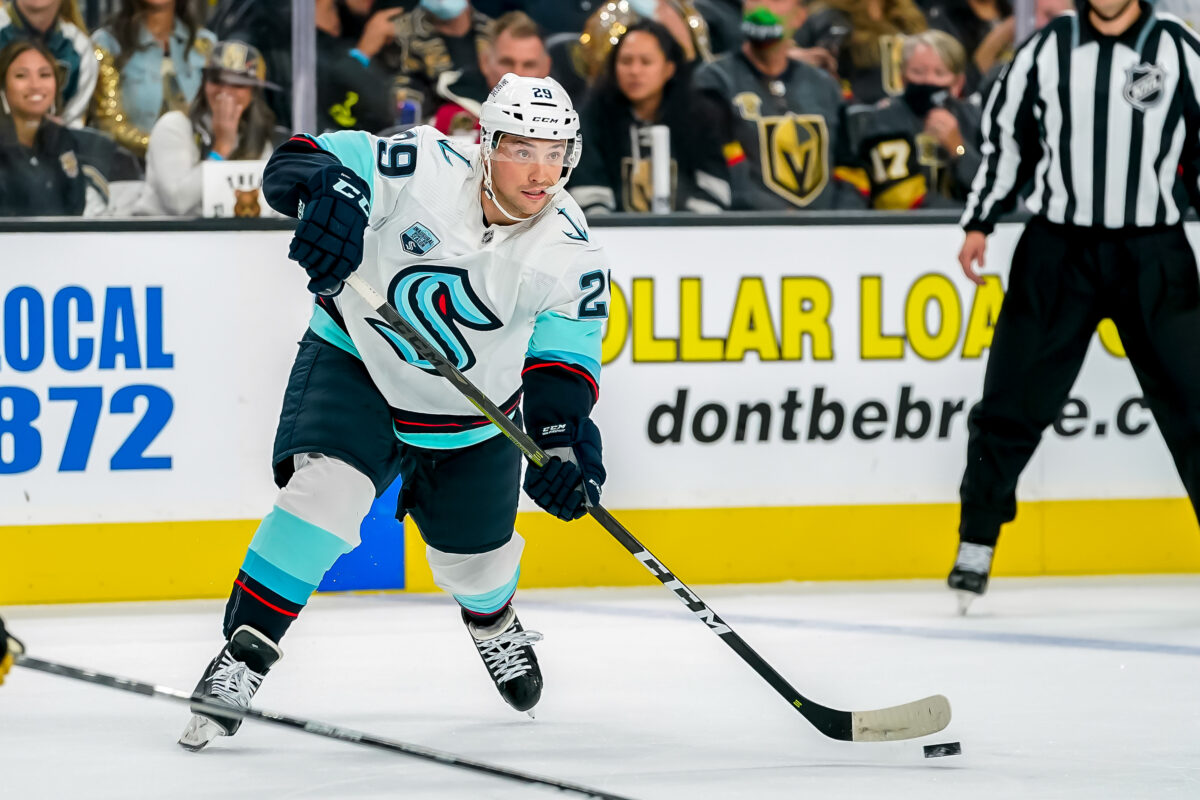 The icing on the cake is that Dunn has been playing in all situations, seeing career-high penalty-killing time this season. While the penalty kill has struggled, it's actually risen in the rankings and now sits at 26th in the NHL. Dunn could win this award, not just for his offensive outburst, but because he's also continued to round his game to someone the Kraken can use in any situation and who has shown that he can carry his regular season performance into the postseason (see 2018-19 St. Louis Blues). 
Calder Memorial, Team MVP, Why Not Both?
Matty Beniers has more than just team MVP waiting on the horizon as he's a top candidate for the Calder Memorial Trophy as rookie of the year. He has 19 goals and 45 points in 61 games and just a lone minor penalty to his name. We love a kid who can stay out of the box. 
He's spent well over 140 minutes on the power play, and while he's seen under 20 minutes killing penalties, it's still a good sign that he's seen some time shorthanded. He's averaging 17 minutes per game and is shooting 16.8%. One of my favorite things is that he's engaged physically. He's blocked 41 shots and has 68 hits. He has a plus-8 takeaways to giveaways ratio, and I feel like his physicality is definitely a part of that.
Beniers is the NHL's rookie leader in goals, points and points per game, as well as tied for first in assists among rookies who've played at least 30 games. He's even had a bit of adversity to overcome following an injury against the Vancouver Canucks. 
Given the hype surrounding his rookie year, which was accentuated by his 10-game stint at the end of last season, his year thus far is even more impressive. He isn't just a second-overall selection, but the first-ever draft pick and presumed cornerstone of an entire NHL franchise. That's the nose, and he hasn't heard it one bit. While it's hard to argue against an established veteran for this award, especially considering the seasons that McCann and Dunn are having, I wouldn't be surprised for him to win this award.
Look to These Players Down the Stretch
It's always hard to narrow down lists like this. I'm sure some players definitely could have arguments for Team MVP that I didn't mention, and those are conversations for a different day. As the Kraken draw closer to the postseason, these three players are key factors in their success or failure. If it's the former, Team MVP is likely on the horizon.
---
---