Please "Click Here" for "Notes Up Front" and the "Legend" for various topics covered below in my "Live Updated" NHL 2011 Draft Preview article – The Next Ones.
Tomas Jurco
Date of Birth: December 28, 1993
Place of Birth: Kosice, Slovakia
Ht: 6-2 Wt: 193
Shoots: Left
Position: Right Winger
NHL Draft Eligibility: 2011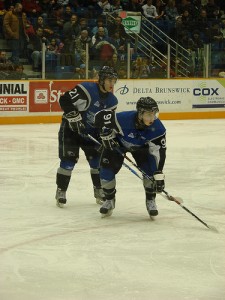 One Timer:
Tomas Jurco is more than just those fancy stick skills. Possessing legitimate offensive upside, Jurco is looking like a solid late round pick, for a team looking boom or bust. And if Jurco booms, he will be a very dangerous hockey player.
Honing his skills with the Saint John's Sea Dogs, Jurco showed top offensive ability. He went on to win the Memorial Cup this season, and was a strong contributor during Saint John's run. Mostly playing on the second line throughout the season he will still able to post very strong numbers in the QMJHL.
Jurco however needs to work on the defensive aspects of his game. He is not very strong in a checking role and unfortunately that has held him back this year from being a top prospect going into the draft. His plus 46 rating this year is more indicative of being a member of the best team in the CHL this year.
Consistency is another large issue for Jurco. He can be seen as a little bit of a floater at times, and struggles to make his presence felt on every single play. Despite these issues however, he posses top flight stick skills, and may have some of the most elite hands in his class.
At worst he could be a very important shootout specialist, and borderline second or third offensive force. If he can work on his consistency and defensive game, he could be a real special prospect.
Top Prospects Game
Tomas Jurco played for Team Cherry in a losing effort and failed to make any sort of impact on the game.
Statistics

Scout's Honor
"He's a very good skater with size and excellent puck skills. He has all the tools of a first-round draft pick."
–Central Scouting's Chris Bordeleau
"He does different things at practice some guys would view it as being cocky, but Tomas does it because he wants to score a goal doing it. I just tell him to do what he feels comfortable doing. We're not here to show up anybody, but if that's the move you think you could score a goal with, do it. He's done pretty well in shootouts … he has stick handling and eye coordination to make those great plays. He's a big-bodied guy with a great skill level and competes really hard."
–Saint John's Head Coach Gerard Gallant
"His puckhandling skills border on the obscene. If there was some kind of unearthly substance that had a magnetic effect on rubber, we'd think that Jurco was the one who discovered it. He can dangle with the absolute best of them….He has a quick burst and some deceptive speed with the agility to turn defenders and make opponents look silly…..Jurco's defensive game is subpar and his compete levels uneven. He scored 31 goals on a stacked team, but was streaky with long stretches of unproductive play……Medium risk player but high reward if he can raise the consistency. He's going to go higher than where we have him because of the sick hands and upside."
-Kirk Luedeke of Bruins Draft Watch
Bio/Interview(s)/Link(s):
Hockey Sense Interview
Bruins Draft Watch Interview
International Tournaments:
Recorded one goal in six games for Slovakia at the WJC this year.
ETA= 3/4 years
Risk-Reward Analysis:
Risk – 3/5 Reward – 4/5
NHL Potential:
Boom or Bust prospect. First line scoring winger, or shootout specialist.
Strengths:
*See "One Timer" Section Above
Good size
Dynamic stick skills
Dangerous with the puck
Above average shot
Tape to tape passes he has no business making
Incredibly agile
Flaws/Aspects He Needs to Work On:
Consistancy
Fore-checking
Back-checking
Lackluster defensive positioning
Fantasy Hockey Potential: Offensive = 8.5/10 Defensive = 6.5/10
NHL Player(s) Comparisons:
–At Best: Datsyuk-like offensive ability (definitely not his defensive play)… More likely: Erik Christensen
Video(s)
Off The Iron (Interesting Notes):
Won the Memorial Cup this year.
Drafted in the 6th round of the KHL Draft.
Youtube sensation.
THW's The Next Ones prospect profile template design architect: Chris Ralph