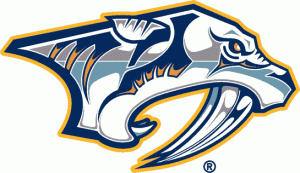 by Jas Faulkner, Nashville Correspondent
The waiting, the waiting…
At the postseason press gathering in May, Shea Weber was quoted as saying something to the effect that he wanted to get things settled very soon, hopefully by Friday of that week. At the time it was Wednesday.    It was also nearly a month ago and nothing has been decided about Weber's future with the Predators just yet. When Weber said that, people nodded but almost as a hive mind, the Nashville sports media had to be thinking, "He's so young."
Intimidating size and on-ice ferocity aside, Weber is a sweet kid and someone who has a big heart to go along with the big brain that netted him the 'C'  on his sweater last Summer.  There's no question that he feels a great deal of loyalty to the organisation that drafted and developed him into the world-class player he is today.  Still, he has a lot to think about.  Nashville's history-making run makes the usual off-season questions even more pressing than they have been in the past. The Predators' strengths have gained the attention of the NHL community and it has put Weber as well as many other members of the staff and roster in an interesting position to consider their options.
It would be wise for the Boys (and Girls) at 501 Broad to come to an understanding with The Cannon and His People.   No official word may mean that other members of the team will continue to take a wait and see position.  His departure could mean the ascendancy of some of Nashville's new supporting players.  It could also cause a domino effect that leads to a talent drain as other players see different and possibly more appealing sets of opportunities with other clubs.  Weber's loyalty may very well be tested by the desire to move into a bigger market and something even more compelling: his roots and sense of and identification with place.  In interviews, he still refers to British Columbia as "home".  Could his strong family ties, loyalty to his home country and the fact that he's not your typical NashVegas flash guy lead him to consider a spot on a roster north of the US border?
What could keep Weber here?  An equal and more immediate loyalty to the organisation and Nashville's fan base will figure heavily into this.  The presence of childhood friend Cody Franson offers him a strong tie to home.  In Nashville he wears the 'C', which does afford him a higher degree of professional currency.  Ryan Suter, the quiet man to Weber's firepower on the ice in spite of his own tremendous strength as a player, offers him the chance to be on a D-line that is so perfectly matched and so elegantly coordinated in-game that finding that kind of combination with anyone else could take years of trial and error.  Then there's the coaching staff…
David Poile's announcement that Brent Peterson's health had precipitated the decision to work in another capacity with the Predators Organisation led to speculation about who would be stepping into his postion.   Chatter placed conditioning coaches, a couple of emeritus favorites and Steve Sullivan behind the bench in '11-'12.  In the meantime, the discourse about Peterson's unfulfilled dream of being an NHL head coach had to weigh heavily on assistant coach Peter Horachek. 
An excellent coach in his own right with an impressive minor league CV,  Horachek may very well have taken what was said about Peterson's aspirations to heart.  In light of the media attention on Nashville's other major coaching moves:  the re-signing of Goalie Guru, Mitch Korn and the announcement that Milkwaukee Admirals former head coach, Lane Lambert would be stepping into Peterson's position; the question of Horachek's place in the organisation or if he will even be a part of the Predators coaching team is now getting some play.  While he did not snag the head coach berth at Gainesville, he is still in the running for the same position in Dallas. 
In a telephonic press conference yesterday, Predators Head Coach, Barry Trotz observed that Dallas would probably want to name a head coach before the draft starts on the 24th.  He went on to say that the thought of someone moving on from an assistant postion to a head coaching position somewhere else in the NHL made him proud.  When asked about filling Horachek's place, Trotz disclosed that he was inundated with requests for consideration.  Without naming names, he expressed surprise and pleasure at the calibre of people expressing an interest in coming to Nashville. However, his response to them and to the local hockey community was that Nashville perferred to promote from within. 
No specific candidates have been mentioned.  Should Horachek leave, it is almost certain that Trotz and Predators GM, David Poile, will carefully consider who would be the best fit in terms of temperament, skill and the character profile that is the cornerstone of the organisation.   Tradition will figure heavily into this process.  With tradition comes a degree of comfort in the certainty of what can be expected and it may just be this sense of tradition that puts the right man on the other side of Barry Trotz.  Tradition informs the knowledge that the team is in good hands and this might what it takes to make Weber want to sign another contract with Nashville.   Tradition is a powerful thing and it could very well shape the way the rest of the summer goes for the Big Cats.
This is Jas Faulkner, who is waiting and watching along with the rest of Predsnation.  I'll be seeing you at the 'Plex and the 'Stone and online at Facebook and Twitter.
Jas Faulkner is a minimally socialised writer and artist who lives and works in Nashville, Tennessee. She hearts her attitude problem.