Jim Neveau, NHL Correspondent
During this late stage of the NHL calendar, there has been plenty of news both on and off the ice to keep computer keyboards active and eyes busy with reading. You've had the Stanley Cup playoffs rolling along, the Atlanta Thrashers' finally ending 15 years of frustration in Winnipeg by announcing they will be moving to Canada, and the league has begun life post-Colin Campbell. All of things are great and definitely worthy of the attention they have received, but with all that serious stuff going on, there is plenty of room for something fun to provide a distraction.
EA Sports will be doing just that, announcing on Thursday that the player who will grace the cover of their NHL 12 title will be announced at the NHL Awards in Las Vegas on June 22nd. The person will follow in the sizable footsteps of several notable players, including Eric Lindros (1999), Mario Lemieux (2002), and Alex Ovechkin (2007). It may not be as important career-wise as All-Star appearances and other individual honors, but appearing on the cover of the flagship video game for the sport certainly carries with it some unique bragging rights.
So whose name will be revealed in two weeks as the latest cover athlete in this series? Here are several potential options, and while this list certainly isn't exhaustive, everyone featured does deserve to be "the face of the game", so to speak.
Honorable Mentions:
Patrick Sharp, C/LW, Chicago Blackhawks
With the last two editions of the game featuring Hawks' stars Jonathan Toews and Patrick Kane, there had to be at least one member of the team mentioned, and Sharp seems to be an ideal candidate. He is an offensive stalwart for the club, and while Toews and Kane were both high draft picks (3rd and 1st overall, respectively), Sharp is more of a rags-to-riches story, and would make an intriguing cover choice.
Pavel Datsyuk, C/LW, Detroit Red Wings
Going from one Original Six team to another, Datsyuk would be a great candidate to be the first Red Wing to appear on the cover since Steve Yzerman shared the honors with Scott Stevens of the Devils in 1996. He is arguably the most fun player to maneuver on the ice in the game, and his two-way approach to the game make him a very attractive candidate to a game that prides itself on capturing the essence of hockey on both sides of the ice.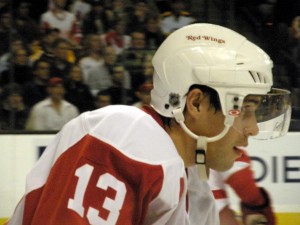 Henrik and Daniel Sedin, C/LW, Vancouver Canucks
Of all the Canadian teams, including the Nordiques and Jets, that have been featured in the NHL series, only the Canucks have landed players on the cover, with Kirk McLean and Markus Naslund each getting cover duties. The Sedin twins are an interesting candidate for the spot because of their combined successes over the past few seasons, with both brothers being nominated for the Hart Trophy in that span.
Shea Weber, D, Nashville Predators
It would be a neat honor for the Nashville franchise to land its first player on the cover in the first season that they advanced past the first round of the playoffs, and Weber would be very worthy of that spot. He is one of the top blue liners in the game, and featuring a team with a solid fanbase from a non-traditional market would be a great change of pace.
Ryan Miller, G, Buffalo Sabres
You could call this one "fixing an oversight," because last year would have been a tremendous opportunity to have Miller on the cover. He played a pivotal role on the US team that won a silver medal at the Vancouver Olympics, and he also helped the Sabres to a Northeast Division title. Both of those things could very well have made him the first goalie since John Vanbiesbrouck in 1997 to be featured on the cover, and even a year later he is still a very viable candidate for the spot.
Top Three Cover Candidates:
Third Place: Alex Ovechkin/Sidney Crosby
It may seem ludicrous to pair a guy who's already been on an NHL cover (Ovechkin in 2007) with a guy who missed half of the season with a concussion (Crosby), but from a marketing perspective it makes sense. NHL fans may be tired of the Ovie/Sid storyline, but the reality is that the duo combined to make this year's Winter Classic memorable, and with one of the game's features being a playable Winter Classic at Heinz Field, it would make sense to feature them in their WC garb on the cover.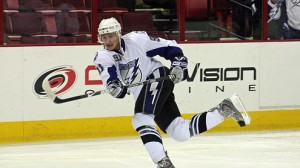 Second Place: Steven Stamkos, C, Tampa Bay Lightning
Perhaps no young player in the game is more deserving of some increased exposure than Stamkos, who has helped turn the Tampa Bay Lightning around from being a doormat franchise to one that made the Eastern Conference Finals this season. Stamkos is an incredibly gifted goal scorer, and he has a bright future in the game, so it is a virtual certainty that he will eventually make the cover of an NHL game.
First Place: Tim Thomas, G, Boston Bruins
Thomas is coming off of one of the most spectacular seasons for a goalie that we have seen in recent memory, and he is currently two wins away from his first career Stanley Cup. His hard-scrabble upbringing makes for a fascinating rags-to-riches story, and with the game's emphasis on making the goalies a part of the action (including goalie fights), wouldn't it be great to end the 15 year-run of skaters with someone as talented and unique as Thomas?