| | | | |
| --- | --- | --- | --- |
| Born: | June 7, 1951 | Draft: | 1971 Bruins, 14th Overall |
| Hometown: | Niagara Falls, Ontario | Position: | Right Wing |
| Known For: | Stanley Cup Champion (1972) | Shoots: | Right |
| National Team: | Canada | Current Status: | Retired |
Terry O'Reilly (born June 7, 1951) is a retired Canadian ice hockey player, having played his final year in the NHL with the Boston Bruins during the 1984-85 season. Drafted 14th overall by the Bruins in the 1971 entry draft, O'Reilly played in his first and only game of the 1971-72 season, scoring one goal, and spent the remainder of the season with their AHL affiliate Boston Braves. The following season, O'Reilly became an NHL regular, made a reputation for himself as a tough, hard-nosed player that picked up over 2,000 penalty minutes over the course of his career. O'Reilly had a scoring touch to his game as well, registering four 20-goal seasons during his 13 years with the Bruins, and career-high 90 points (29 goals, 61 assists) in 71 games in the 1977-78 season. He currently sits in a tie with Al Secord for 45th on the NHL's all-time penalty-minute leaders with 2,095.
Perhaps the most infamous moment of O'Reilly's career comes in 1979, during a game against the New York Rangers in Madison Square Garden. During a scrum that ensued after a game, a fan assaulted Stan Jonathan with a rolled-up newspaper, drawing blood, before wielding a stick as a weapon. O'Reilly, along with a few others, climbed the glass to confront the fan, while other fans attempted to hold the players back. O'Reilly was suspended eight games for his part in the incident.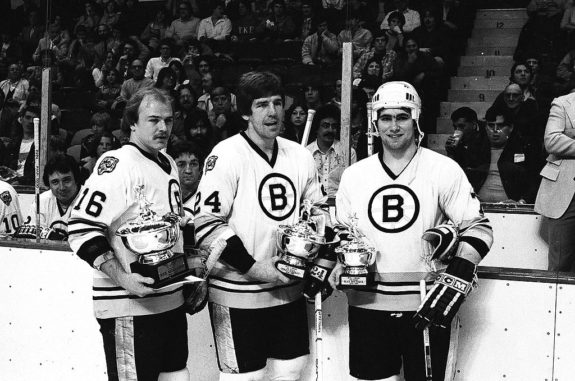 O'Reilly was named captain of the Bruins in the 1983-84 season, playing two full seasons as the team's leader, before his retirement at the conclusion of the 1984-85 season. Having played solely for Boston, he joins an exclusive list alongside 16 other players to achieve this feat and is one of four Bruins players to finish their career with over 1,000 penalty minutes. O'Reilly is also a proud member of the Oshawa Sports Hall of Fame, inducted in 1990.
Terry O'Reilly Statistics
Staff History
Achievements
NHL Stanley Cup Champion (1972)
2x NHL All-Star Game (1975, 1976)
Sources