| | | | |
| --- | --- | --- | --- |
| Born: | April 9, 1964 | Draft: | 1983 Flyers, #121 Overall |
| Hometown: | Scarborough, Ontario | Position: | Right Wing |
| Known For: | 3x Stanley Cup | Shoots: | Right |
| National Team: | Canada | Current Team: | Vancouver Canucks (Head Coach) |
Richard "Rick" Tocchet is a former Canadian hockey player and current head coach of the Vancouver Canucks. He previously coached the Arizona Coyotes and Tampa Bay Lightning. Prior to coaching, he played 18 years in the NHL.
Tocchet was born in Scarborough, ON. He played for the Sault Ste. Marie Greyhounds at OHL level, and he was selected by the Philadelphia Flyers in the sixth round of the 1983 Entry Draft. He was called up to the Flyers' roster one year later and played in the 1985 Stanley Cup Final, with the Flyers losing to the Edmonton Oilers. Tocchet gained a reputation as a fighter and a power forward during his time with the Flyers.
He was traded to the Pittsburgh Penguins in 1992, scoring 19 points in 14 playoff games and winning the Stanley Cup. He remained in Pittsburgh until he was traded to the Los Angeles Kings during the 1994-95 season. Tocchet also played for the Boston Bruins, the Washington Capitals, and the Phoenix Coyotes. He rejoined the Philadelphia Flyers in 2000 and played a second stint with them until his retirement in 2002, and he joined the Colorado Avalanche as an assistant coach.
Tocchet joined the Phoenix Coyotes in 2005 as an assistant to Wayne Gretzky. Tocchet took temporary charge in December 2005 following the death of Gretzky's mother, and Tocchet remained with Phoenix for three more years. He left to join the Tampa Bay Lightning in 2008, initially as an assistant coach, and he became full-time head coach after the 2008-09 season.
Tocchet was fired as Tampa Bay head coach in 2010 after new owners took control of the franchise. He returned to work four years later as an assistant coach for the Pittsburgh Penguins, winning back-to-back Stanley Cups. After the Penguins won the Cup in 2017, he moved back to Arizona to be named the head coach of the Coyotes, until they mutually parted ways after the 2020-21 season ended. Then, after serving as an analyst on TNT, he was hired by the Vancouver Canucks to become their new head coach after Bruce Boudreau was fired on Jan. 22, 2023.
Years as a NHL player: 1984-2002
Years as a NHL coach: 2002-2021; 2023-present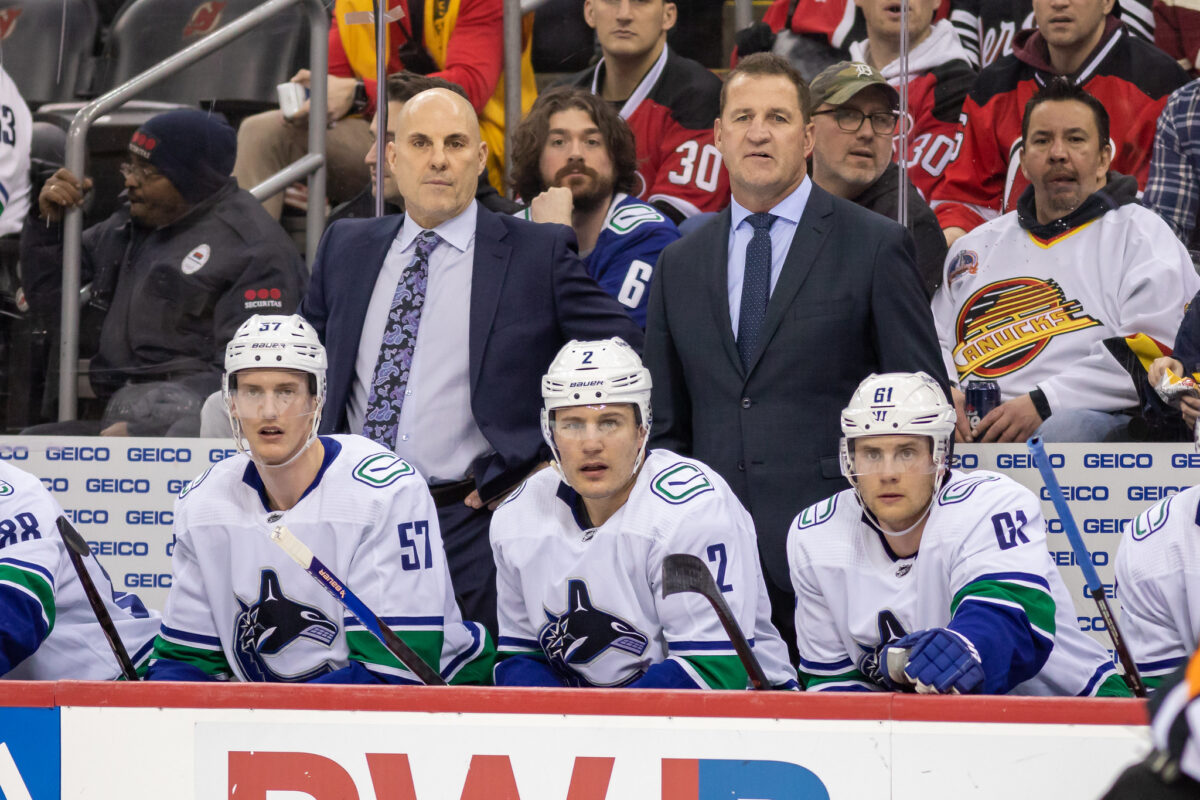 Rick Tocchet Statistics
Deeper Dive
Coaching History
Achievements
As Player
As Coach
Sources