The Toronto Maple Leafs waltzed into Madison Square Garden in New York City last night and completely decimated the Rangers in one of two scheduled National Hockey League games.  The Leafs walloped the Rangers 6-0 in a game that left absolutely no doubt about which is the better team.  In the other contest, Chicago made it two in a row over the Red Wings, claiming a narrow 3-2 win at home.
Horton, Pulford lead offence
Toronto extended its unbeaten streak to five games (four wins and a tie) in its most dominant performance of the season.  Bob Pulford and Tim Horton led the Toronto attack with two goals each.  Ron Stewart and Frank Mahovlich each added a single.  Goaltender Johnny Bower made 27 save for his first white wash of the year.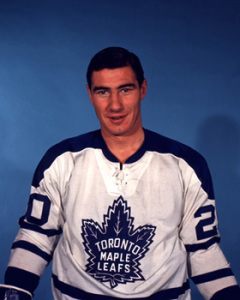 The Leafs were without three regulars, Andy Bathgate, Ron Ellis and George Armstrong.  Dave Keon and Eddie Shack were on the bench, but each saw only one shift.  Keon is still recovering from a bad gash on his left leg, while Shack's inactivity was due to coach Punch Imlach's reticence to use him.  Shack didn't make an appearance until late in the third period when the issue was no longer in doubt.
Rangers were also decimated by injury, but on this night, that made little difference.  Defenceman Jim Nielson and winger Don Marshall were injured Saturday night in Montreal and missed the game, while rookie Rod Seiling took a stiff check from Pete Stemkowski and retired early in the match.
Ranger goalie Jacques Plante faced 43 Maple Leaf shots and had little chance on four of the goals.
Former Maple Leaf coach and general manager Howie Meeker was on hand for the game and provided this assessment of Toronto's play: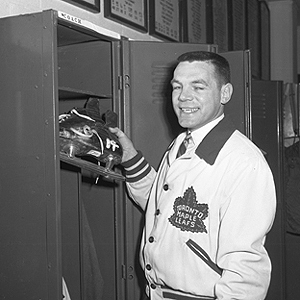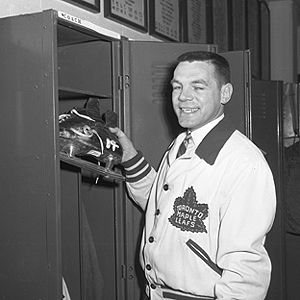 "Leafs killed them with positional hockey.  They stayed in position, feasted on Ranger mistakes, and that New York defence was non-existent."
Hawks jump into first
The Chicago Black Hawks moved into first place with their 3-2 win over Detroit.  The Red Wings, 7-4 losers the afternoon before at home in Detroit, provided much stiffer resistance to the Hawks at Chicago Stadium.  Unfortunately for the Wings, that didn't begin until Chicago had built a 3-0 first period lead.  It was a classic case of too little, too late.
The Black Hawks fashioned an early 2-0 lead on goals just over six minutes apart by defencman Pierre Pilote.  Both  Pilote's markers came with the Red Wings enjoying a man advantage.  Less than a minute later, Dennis Hull upped the margin to three with his sixth goal.
Detroit got back into the game in the second period, cashing in on a couple of power play opportunities.  Gordie Howe had a big part in both goals, setting up Ron Murphy for his 11th of the year, before scoring himself, his 12th of the campaign.
Although the final frame was scoreless, it was the most entertaining of the three.  The Red Wings enjoyed two manpower advantages and outshot the Hawks 8-4. However, they were unable to find a chink in the armour of Chicago netminder Glenn Hall, who was making his first appearance in six games.
The Wings' Eddie Joyal actually did get a shot past Hall, but referee John Ashley ruled that he had blown the whistle prior to the puck entering the Chicago goal.  Ashely had called the play dead due to a fight at centre ice between the Wings' Larry Jeffrey and Al MacNeil of Chicago.
Detroit defenceman Bill Gadsby was so upset with Ashley's call that he protested to the extent that Ashley tagged him with a ten-minute misconduct.  Gadsby followed Ashely to the timekeeper's bench and continued his verbal assault on the official.   That earned Gadsby a further game misconduct, sending the Wings' defender to an early shower and costing him a $75 fine.
Nats want Cullen, can't have him
Former National Hockey League star Brian Cullen, out of pro hockey for almost two years, wants to play for Canada's national hockey team.  The national team wants Brian Cullen to play for them.  The problem is, Cullen can't play for the Nats, at least not yet.
Cullen, 31, has made it clear he no longer wishes to make a living playing hockey.  He is employed in an executive position with a Toronto automotive firm and has no need to seek employment in the professional hockey ranks.  However, under present regulations, Cullen must be reinstated as an amateur before he can suit up with the nationals.
The team that holds Cullen's professional rights, the Buffalo Bisons of the American Hockey League, has no objection to Cullen's return to the amateur ranks.  However, waivers must be obtained from all other professional clubs for this to take place.  The Bisons have informed Cullen that they have not been able to secure the necessary waivers.  In other words, some team somewhere is blocking Cullen's attempt to revert to amateur status, even though he has made it abundantly clear he has no interest in playing for pay ever again.
Until the situation can be resolved, Cullen will remain in limbo.  He has been keeping in shape by playing exhibition games with the NHL Oldtimers, and has also been working out with the Toronto Marlboro junior A team.
Cullen scored 20 goals for the Maple Leafs in 57-58, and had 81 points for Buffalo in 61-62.
Score-fest in OHA
There were two games played yesterday in the OHA Junior A Series.  The Niagara Falls Flyers increased their first-place lead over Toronto to three points by thrashing the St. Catharines Black Hawks 7-2, while the Marlboros battled to a wild 6-6 draw with Peterborough.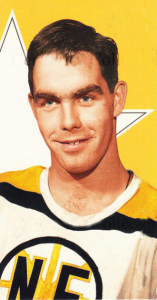 Ted Snell was the top shooter for Niagara against the Black Hawks with a pair of goals.  Other Flyers scorers were Jean Pronovost, Bud Debrody, Derek Sanderson, Dave Woodley and Rosaire Paiement.  Tom Reid and Mickey Cherevaty had the St. Catharines markers.
League leading scorer Andre Lacroix held the hot hand for Peterbrough against Toronto.  Lacroix fired four goals and added an assist for a five-point night.  Danny Grant and Jim Patterson also scored for the Petes.  Six players shared in the Toronto goals, with one each netted by Jim McKenney, Jack Chipchase, Mike Corrigan, Paul Laurent, Al Osborne and Neil Clarke.
Chadwick hangs in for AHL shut out
Buffalo Bisons goaltender Ed Chadwick recorded his league-leading fourth shut out of the American Hockey League season last night as the Bisons blanked the Quebec Aces 6-0 at Memorial Auditorium in Buffalo.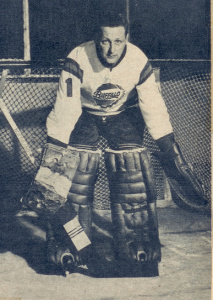 The game was no cakewalk for Chadwick, who made 25 saves, many of them spectacularly.  With only 2:34 to play, the Buffalo netminder was struck on the cheek with a hard shot and had to head to the dressing room for repairs.  After a quick stitching job and the application of smelling salts, Chadwick returned to the Buffalo goal and completed the game.