Detroit Red Wings rookie goalie Roger Crozier's splendid second half of the National Hockey League season was enough for voters to name him to the NHL First All-Star team, which was announced yesterday.  Crozier, who was named to the second team after the first half of the season, passed Montreal goalie Charlie Hodge for the first-team nod.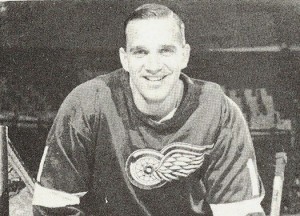 Crozier received the maximum 90 points in second-half voting, which amounts to a unanimous selection.  He finished with 157 points to 79 for Hodge.
Norm Ullman of Detroit was the top vote-getter with 159 points, which garnered him the centre spot on the first team.  Other  first team members are Pierre Pilote (Chicago) and Jacques Laperriere (Montreal) on defence, Claude Provost (Montreal) on the right wing and Bobby Hull (Chicago) on the left side.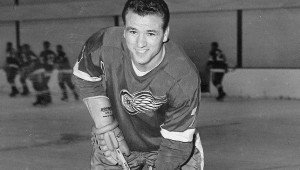 Besides Hodge, the second team featured Stan Mikita (Chicago) at centre, Frank Mahovlich (Toronto) on left wing and Gordie Howe (Detroit) on the right.  Bill Gadsby (Detroit) and Carl Brewer (Toronto) were the defencemen.
Each team member for the first squad receives $1000 while second team members get $500.
This is the 16th time Howe has been named to an all-star team, with half of those being first-team.  For Gadsby, it was his sixth all-star nomination.  Mikita made his fourth all-star team, while it was the fifth time for team mates Hull and Pilote.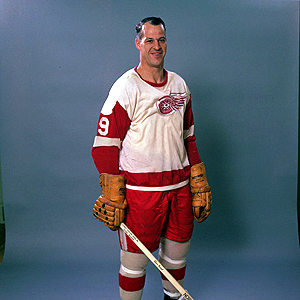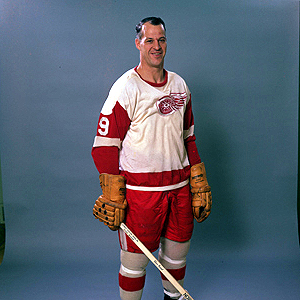 Flyers up by two over Oil Kings
The Edmonton Oil Kings employed their three extra recruits last night against the Niagara Falls Flyers in their best-of-seven Memorial Cup final game at Edmonton.  The ploy was to no avail as the Flyers skated to a convincing 5-1 win over the host Western Canada champs.
Wayne Stephenson of Winnipeg was the goalkeeper for the second straight game, as regular Edmonton netminder Gary Simmons still hasn't recovered from a knee injury.  Also joining the Edmonton lineup were centre Fran Huck of Regina and defenceman Jim Cardiff of Weyburn.
Besides Simmons, centre Greg Tomalty was also unable to suit up for the Oil Kings.
Niagara Falls jumped out to a 2-0 first-period lead on goals by Derek Sanderson and Bud Debrody.  After Huck narrowed the score to 2-1 early in the second period, Debrody restored the two-goal Niagara lead and the Flyers never looked back.  Bill Goldsworthy and defenceman John Arbour rounded out the scoring for the visitors in the final frame.
Niagara Falls goalie Bernie Parent was very steady for the winners with 22 saves.  Stephenson faced 31 Flyer drives and could not be faulted for the loss.
Andre Lacroix wins Red Tilson Trophy
Centre Andre Lacroix of the Peterborough Petes has been named the winner of the Red Tilson Trophy, which is awarded to the most valuable player in the Ontario Hockey Association Junior A series.  Red Tilson was an outstanding junior hockey player in Regina and Ottawa who lost his life in the Second World War.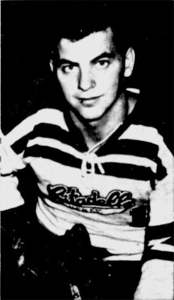 Lacroix had a spectacular season for the Petes.  Playing in 49 games, he scored 45 goals, adding 74 assists for 119 points.  At 19 years of age, he has another year of junior eligibility.  Lacroix is property of the Montreal Canadiens and many feel the parent club will have him in their lineup next season.  He did make a one-game appearance with the Quebec Aces of the American Hockey League as well this season .
The only knock on the smooth skater with  pinpoint passing skills is his lack of size.  Lacroix stands only five foot-eight inches tall and weighs in at 167 pounds.
Other former Tilson winners include George Armstrong and Frank Mahovlich of the Toronto Maple Leafs, and Stan Mikita and Glenn Hall of the Chicago Black Hawks, Murray Oliver of Boston, Rod Gilbert of the Rangers and Pit Martin of Detroit.
Replacing Ref-in-chief tough task
National Hockey League president Clarence Campbell says it has been a very difficult job to find a suitable replacement for outgoing referee-in-chief Carl Voss.  It's a problem Campbell must solve before next season.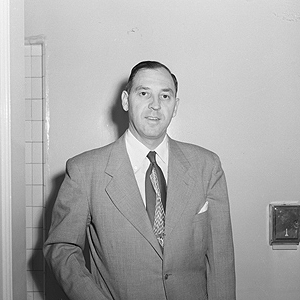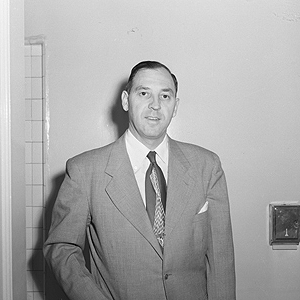 "It's simply a lack of suitable candidates.  Maybe we're shooting for too much.  But what we are shooting for is a man of Voss' capability.  That's awfully high and what we might have to do in the end is to modify our sights."
Campbell said that the eventual appointment might not please everyone, but that they do have to get someone into the position sooner than later.  One possible candidate is present NHL referee Frank Udvari.
Voss notified the NHL of his impending retirement last fall.  He has just finished 15 years as the head of the NHL's officiating staff.