Hockey fans, there is a terrific new quarterly magazine on the way. Barn is the name. They have a Kickstarter project to support the magazine, please take a second to check it out. The article below was written by Eric McErlain for Barn and offered to THW by the project's creators.
---
On an unseasonably warm night in January 2016, Alex Ovechkin, Washington Capitals winger, prolific scorer, hockey Rorschach test, Canadian media whipping boy, the most dangerous Russian living in America since Philip and Elizabeth Jennings and the only love our nation's capital and Moscow have in common, joyously answered questions during an on-ice post-game interview.
In the preceding game, he scored the 500th and 501st goals of his spectacular career, becoming the 43rd player in the history of the league, but only the first Russian-born NHLer to reach that milestone.
Watching him answer with his trademark gap-toothed smile brought me back to his rookie season when I spoke with him a few days before his first NHL game. On an AOL Sports podcast, Ovechkin struggled mightily with his English as he answered my question about which NHL defenseman he thought would present the greatest challenge (Montreal's Andrei Markov). He soldiered through the interview, answering as best he could and embracing the challenge with the same bulldog attitude that he uses to lay out an opponent with a devastating check.
Ovechkin's Trophy Case Needs a Second Wing
The young and promising Ovechkin of that interview has given way to a gregarious, albeit battle-scarred Ovi, his trophy case filled to the point of near bursting, a tangible manifestation of his glory to date. There's the 2005 Calder Trophy from his rookie season; three Hart Trophies as league MVP; another three trophies bestowed by his peers naming him the best in the league; six Rocket Richard trophies as the NHL's top scorer.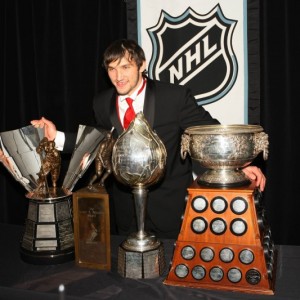 While most players would kill for one signature moment, the Ovechkin highlight reel seems endless. There was "the goal," a tumbling backhand shot that left the "Great" Gretzky astonished as he watched from the opposing bench; the night when the Habs broke his nose, split his lip and left a cut under his left eye, yet still couldn't stop him from scoring four goals including the overtime winner; and then the epic clash with Sidney Crosby in the 2009 playoffs, albeit one that ended with a whimper instead of a bang as Washington lost yet another Game Seven.
Please visit: Barn magazine on Kickstarter and help support them.
The two milestone goals were classic Ovechkin. His 500th came on the power play, and from his left wing faceoff circle office. Whether a one-timed slapper or that night's rocket wrister, neither Ken Dryden nor Dominick Hasek in their prime could have kept an Ovi missile from the back of the net when everything falls into place. The script is familiar to anyone who has ever seen him at work: the defense collapses toward the puck carrier on the right wing, and somehow, yet inevitably, they seem to forget Ovechkin is alone on the weak side waiting to pounce . Ovechkin could continue ripping shots home from there on the power play past age 40 if he were so inclined.
Whew. Wrapping up a wild week1 of Barn b4 the weekend games. MAJOR thanks to all who helped! Sooo close to 5K!! https://t.co/cCR2x9cGT3

— Barn Magazine (@BarnMagazine) October 28, 2016
Ovechkin's 501st goal was a direct rebuke to his critics who have crowed since Washington's 2010 Game 7 loss to Montreal that the league had figured out his patented move: streaking alone over the red line along the left wing boards before making an ankle-breaking cut into the slot and putting the puck in the net, like he did on that night against Norris Trophy-winning defenseman, Erik Karlsson.
Despite all this, he'll never be able to dog comparisons to his nemesis in Pittsburgh until he wins more — a Stanley Cup, an Olympic gold medal, anything of substance. Since the latest postseason failure against Pittsburgh, the sense of desperation in Washington has ballooned. Ovechkin is still great, but now past his 31 st birthday, how much time does he really have left to win a big one?
It's one thing to have your heart broken. It's another entirely to have it ripped from your chest every Spring, still beating, like the victim in a homicidal Aztec sacrifice. How much more can Ovechkin and Washington hockey fans endure?
If it all seems unfair, that's because it is. What-have- you-done- lately culture makes it hard to remember just how desperate the hockey in the district was before Ovechkin arrived – and just how hopeless it might be today had he decamped somewhere else.
***
Jaromir Jagr was supposed to be Ovechkin before No. 8 came to Washington.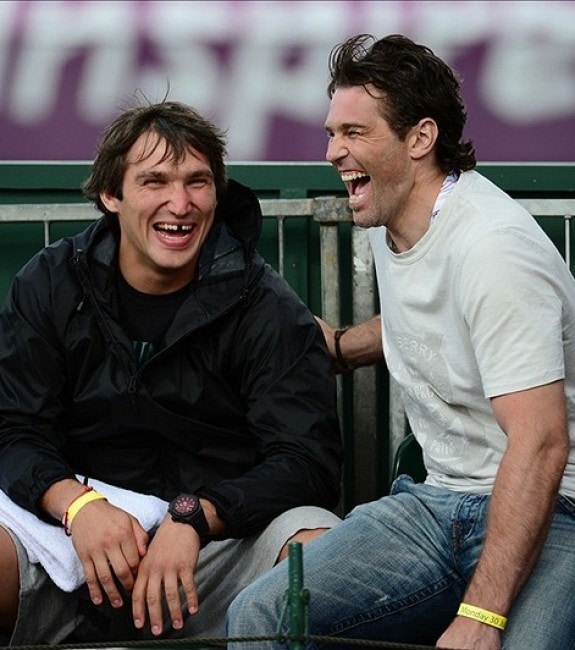 The Caps acquired the in-his-prime superstar from the rival Pittsburgh Penguins with high hopes in the Summer of 2001 only for the experiment to result in an absolute disaster. Lionized today as a happy hockey warrior defying the dying of the light, Jagr left sour memories here. In Washington, fans knocked him for being sullen, temperamental, and, his cardinal sin, the greatest underachiever in team history. Fans are so bitter, that when the possibility of a trade to bring him back for the 2015 Stanley Cup Playoffs was floated, Peter Hassett of the Capitals blog Russian Machine Never Breaks simply posted an image of Jagr with a giant red "no" symbol accompanied by the words 'on principle.'
Mr. Jagr Goes to Washington
If he seemed slow while a Cap, it was probably the weight of his $11 million per year contract and the burden of expectations that dragged him down like a 500-pound tire on each shift.
Worse, the Caps saw this coming. Capitals General Manager George McPhee and President Dick Patrick wanted nothing to do with Jagr when spats with Pittsburgh management made him available on the trade market. McPhee and Patrick knew better than to tack on an expensive piece to a roster that reached its ceiling. They recognized the time to rebuild.
But sports are a funny business; one where the cocktail of money mixed with passion and ego drives decisions over hard-headed analysis. In the slowing skates of Jagr, Owner Ted Leonsis saw an opportunity to add a superstar that might transform his franchise. The hockey minds were overruled and Jagr arrived in exchange for a mess of marginal prospects.
For Pittsburgh, it was addition by subtraction. In the capital, Leonsis' hunch would turn out to be right, but not before the Jagr booby trap devastated the franchise.
Jagr's first season in Washington was a big swing and a miss of the playoffs. In year two, coaching neophyte Bruce Cassidy – he of the Jacksonville Lizard Kings, Indianapolis Ice and Grand Rapids Griffins — steered the team back to the playoffs, only to see them crash out in spectacular fashion once again, this time against a rising Tampa Bay Lightning team.
In line with Washington's checkered postseason history, this loss to Tampa was another spectacular choke job. After Washington took a 2-0 series lead on the road, Tampa Bay, led by then newbies Vincent Lecavalier, Martin St. Louis and Brad Richards, ripped off four straight wins, including the coup de grace — a triple overtime winner in Washington.
http://gty.im/50937512
All but one of the Washington losses came by a single goal, with two in overtime, each more shattering than its predecessor. Game Three ended with two Capitals in the penalty box, the first 5-on- 3 overtime power play in the NHL playoffs since the Great Depression.
When the 2003-04 season sputtered at the start line losing seven of ten games, Leonsis decided he'd seen enough from Jagr. Capitals management put the rebuilding plan into motion with a vengeance. Jagr and his contract hopped the Amtrak bound for New York in January, but he wasn't alone. By the time the trade deadline had come and gone, it seemed the only assets worth holding on to at the rink were copper wire and plumbing fixtures.
Washington Hits Rock Bottom
Bereft of NHL talent, Washington tied the Chicago Blackhawks for the second-worst record in the league with just 59 points, a measly point ahead of the hated Pittsburgh Penguins (cheer up Toronto, Columbus and Edmonton fans! Times do change…).
Unlike a few years earlier, the plan all came together when the team won the draft lottery and the right to select Ovechkin with the first overall pick.
Which of course begs the question: what would have happened had Leonsis listened to his hockey brain trust back in 2001 and resisted the urge to trade for Jagr? What if the rebuild hadn't been delayed, and Ovechkin, instead of being ticketed to help revive fortunes in Washington would have ended up scoring 500 goals someplace else? What if the foundation of the rebuild turned out to be Rick Nash or Marc-Andre Fleury? Or how about this nightmare scenario: what if Pittsburgh won the draft lottery, ticketing Ovechkin to skate on Sidney Crosby's wing?
Were the Jagr-bombed years and subsequent re-build worth the next decade-plus of the Great Eight?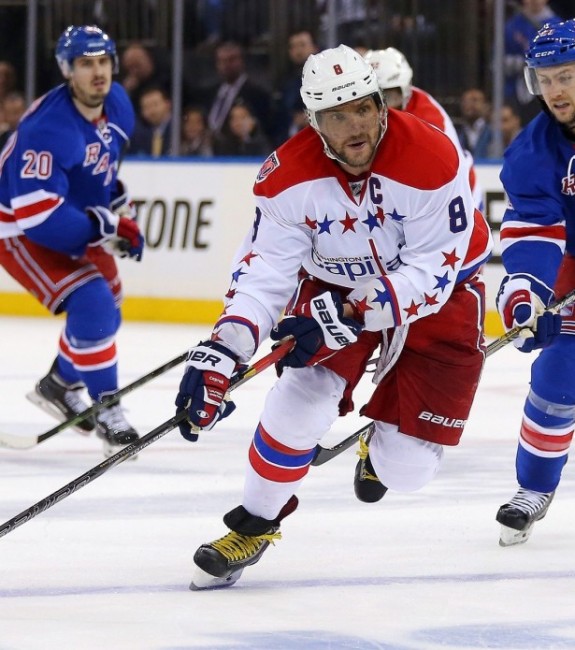 While hearts are still heavy in town after the latest playoff failure at the hands of the Penguins, Caps fans take solace knowing Alfred Lord Tennyson had Ovechkin in mind when he said "to have loved and lost is better than to have never loved at all." Once a one-sport town, Washington has found room beside its football team and become transfixed by Ovi & the Caps. A team that held a season ticket telethon in the 1980s just to survive now regularly packs the Verizon Center to the gills with sellouts upon sellouts.
A Decade in Washington
In Ovechkin's 11 years, Washington has embraced him without reservation, as thousands of kids in the DMV have taken to the ice inspired by his joyous style of play. We're probably only just a few years away from a postgame interview with a young NHL player telling Pierre McGuire that he always dreamed about how he could play in the NHL like his hometown hero. Without Ovechkin, none of it ever happens.
***
With armfuls of individual accolades, his place in hockey history secured and status as a regional legend, Ovechkin will spend the back nine of his career trying to collect those elusive championships. We should not forget that he owns four gold medals in international competition, one from the 2003 World Juniors and another three from the IIHF World Championships – titles that carry more weight back in Russia than they do in North America.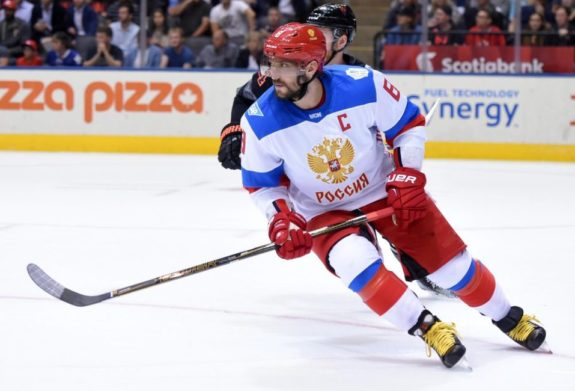 But the window for more widely regarding titles may soon close. Ovechkin seemed to regard the World Cup of Hockey as a distraction even before Team Russia fell to Canada in the semifinals. His next shot at the Winter Olympics comes in 2018 when the games are held in South Korea. Ovechkin has already said that he's going whether the NHL wants to or not, and Leonsis will likely back him. Ovechkin will be 32 by then, and it could very well be his last chance to win Russia its first Olympic gold medal since the post-Cold War Unified Team won it all in Albertville.
Still Looking for a Cup
But without a Stanley Cup or Olympic gold, those other medals have to seem like cold comfort. Frustration stemming from his oh-fer in championships has led to tags that he's a "coach killer," and an empty sweater of stats. The better way to consider Ovechkin's success is against other great stars who failed to hoist the Stanley Cup before breaking through with a supporting cast of Hall of Fame caliber talents.
Bossy had Trottier, Gillies, Potvin and Smith. Gretzky had Messier, Kurri, Coffey, Anderson and Fuhr. Yzerman had Fedorov, Shanahan, Fetisov, Larionov, and Lidstrom. And even that crew didn't win it all until it had Scotty Bowman behind the bench in 1997 when Stevie Y was 32 and past his offensive peak.
The sobering reality reminds us that last season was the first in Ovechkin's career in which he didn't lead the Capitals in points. By no means an old man at 31, younguns like Auston Matthews in Toronto and Jack Eichel in Buffalo represent an emerging threat in the Eastern Conference and a potent reminder that youth must be served.
Capitals General Manager Brian MacLellan has spent the better part of two seasons buttressing Washington's lineup for a deep playoff run but still hasn't been able to break out of the second round, even with Vezina-winner Braden Holtby in goal. Last February, MacLellan said that the team had a two-year window to win the Cup before it was time to re-evaluate the franchise. Whatever happens this season, with contracts expiring on 10 players after this season, including T.J. Oshie and Justin Williams, the Capitals will have to make some difficult decisions, perhaps signaling another rebuild of the sort the team considered back in the Summer of 2001.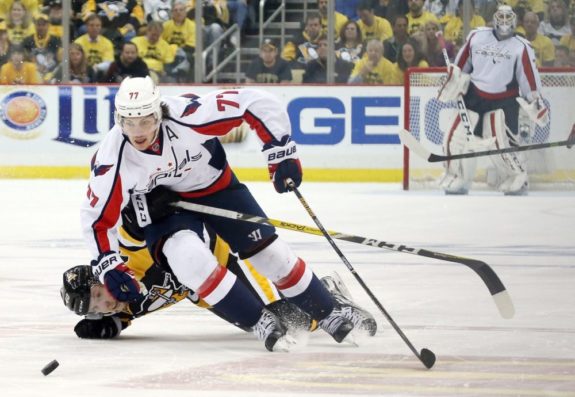 It's impossible to imagine Ovechkin being traded as part of an overhaul due to his massive contract (everything old is new again, my friends), and in any case, Leonsis has said that he'll never trade him. The only reasonable scenario for Ovechkin departing is if he asks out of Washington because a cup contender came calling. If the other option is aging gracefully in the midst of a rebuild, it's not a possibility that can be completely discounted. Neither can a victory lap in the KHL, like fellow Russians Ilya Kovalchuk and Pavel Datsyuk.
In the meantime, Washington still has another regular season, and another 82 games with the greatest goal scorer of the 21 st century. Local hockey fans should enjoy it all while they still can. Whether Ovechkin's tenure in D.C. ends thanks to a trade, retirement or a coda in his homeland with his beloved Dynamo, it's almost a certainty that what comes next won't be anywhere as entertaining and exciting as what they have now. Savor it, for a talent like his is unlikely to ever pass this way again, championships or not.
———————
Eric McErlain first started blogging about the Washington Capitals in 2001. In 2006, he became the first blogger in the Capitals press box, eventually helping the team write a policy governing blogger access to the team. He's also written for The Washington Post, The Washington Times, NBC Sports, The Sporting News, FanHouse.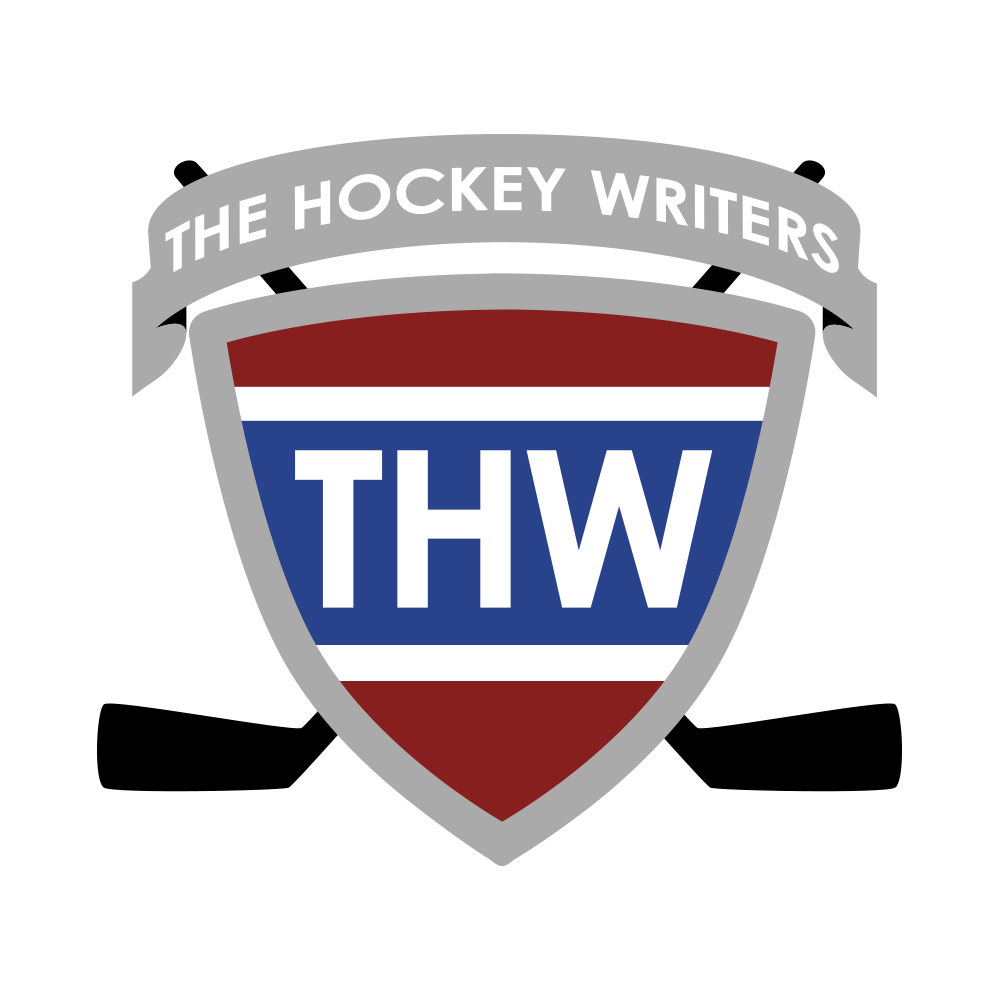 The Hockey Writers is:
1) A top-tier hockey media company delivering a top-notch, in-depth look at the NHL
2) A collective of some of the best hockey writers anywhere
3) A multimedia provider with daily podcasts and YouTube shows
4) Well-respected and widely-cited NHL prospect and draft resource