The 2022-23 season for the Columbus Blue Jackets has been nothing short of crazy. From their rash of injuries to the play on the ice, they have had a lot of crazy things happen.
From top-to-bottom, frustration has been experienced all throughout the team. The excitement of landing Johnny Gaudreau in free agency quickly faded away as the Blue Jackets kept dropping in the standings. Injury after injury piled on and seemed never ending. It even got head coach Brad Larsen dreading the sight of Head Athletic Trainer Mike Vogt. Seeing him meant more bad news was forthcoming.
This season has been mostly bad news. Outside of a couple of performances here and there, this has been a season to forget for the Blue Jackets. Not only do they need to turn the page, they have a lot of work ahead of them.
---
Latest News & Highlights
---
This week in Part 1 of our Blue Jackets' Long Read, President of Hockey Operations John Davidson stopped by for a Q&A. We discuss many topics including the frustration of this season and the work that lies ahead. He was brutally honest with his assessment of the situation. The one thing you can count on is that there is no one more frustrated about the state of things than management.
Davidson Q&A
MS: You've been through so much just based on what you've seen this season. Is this among the most frustrating seasons in terms of everything you've seen from injuries to what you've seen on the ice and everything that you've seen in your career?
Davidson: "I'd say yes, I'd say for a number of different reasons. And when you add them all up, it's something that's been very difficult for everyone to go through. The support that we've gotten from our fans has been remarkable. There's an understanding that we did have a slow start. We started with the injuries and it came in Game 1 when (Patrik) Laine was banged up. And it hasn't stopped. That's one thing. I'm a no-excuse guy. I don't believe in excuses, but there's reality involved, and that's had a hindrance on our group from Cleveland through Columbus. It's been difficult for everybody."
"It's also provided some opportunity. And with that opportunity, it's been some things that have happened. Kent Johnson's had a lot of ice time. (Kirill) Marchenko's had a lot of ice time. They've made the best of it. Some of the young defensemen have played more than probably would've played at this level. It's made us think about their futures. So there's been a lot of bad. There's been some good, it hasn't been enjoyable, but that's life. Can we deal with it?"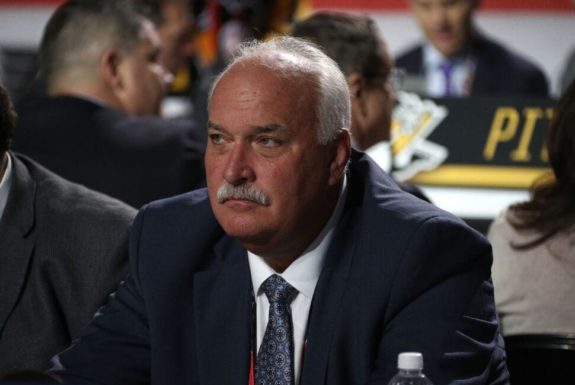 MS: When trying to evaluate a season like this, you can't ignore injuries. And you said that you're a no-excuse guy. But I just wonder what the fine line is between saying that injuries had an impact versus what work needs to be done? How do you find the fine balance there?
Davidson: "Because it's reality in both worlds, so you deal with both worlds. The idea of the injuries which we've looked hard into, there's been no constant. There's been no common denominator as to what the injuries are. Could we have avoided them? It's just too many different ones. When you lose Zach Werenski to a shoulder surgery very early in the season, he's your number one defenseman. That would affect anybody. So there's reality there and we deal with that. We will continue to look at every aspect of conditioning, every aspect of off-season programs etc. That's just what we do. We know we've got work to do. There's no question. When you go from A and you want to get to Z and Z's at the top, it's not a straight line. It's a line that goes up and down. It's almost like a wave. As long as you move along, continue to, if you do take a step downward or backwards, then you go forward. And that's generally what happens when you have a lot of young people too."
"We didn't expect (Jake) Voracek to have the issues he had, Werenski to have the issues he's had. Our goaltending never had a great season until (Joonas) Korpisalo got it going a little bit. There's just a number of different things. We evaluate, we look at and we continue. It's just what it is. It's been a very sobering season. It's been a season that's been unpredictable in every area. I mean, just every area. We've led the league by far with injuries of players that would be playing, not injuries of players that are put on long-term injured reserve. We need the league by a mile. It's just a fact of life. And we got to deal with it."
MS: You alluded to him a little bit earlier, about the goaltending. It's now on Elvis Merzlikins. Do you expect him back soon (from Latvia) and then talk about the chance he has to be a number one for your team moving forward.
Davidson: "Yeah, he'll be back shortly. It's his job to recapture. It's his job to have a good summer. It's his job to finish the season positively. We've committed to him. He is committed to us. It's his job to play better than what he has been. It's that simple. He's not had a good season. He's better than this. We all know that. It's up to him to find himself in a position where he plays to his capabilities. He's had a tough year."
"And there's been a lot of things there that have played into that too. But you have to fight through things. It's all part of the business, no matter who it is. Everybody goes through issues in their lives and some are tougher than others. But he's a competitive guy, so he's got to refocus, re-energize and get going."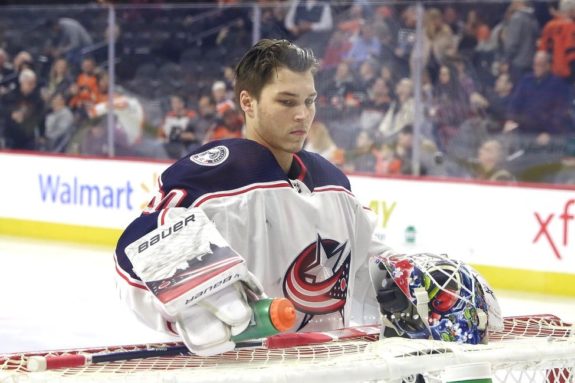 MS: You want to make sure that you build things the right way. And there comes a certain level of patience that goes along with that. Where's the fine line then between patience and building the right way and making the playoffs? Do you feel any pressure that you have to make the playoffs next year? Or is it more stick the course?
Davidson: "Stick the course, stick the course, stick the course. If we make the playoffs, it'll be a great thing. We don't know if our team would've (this season.) We were in tough to make the playoffs this year, but we weren't certainly thinking that we'd be in last place. Everything is pointed in that direction from what's happened. We're a better team than our standings are if we're reasonably healthy. So we get back at it."
"Laine's a young player. Johnny Gaudreau is not an old player. He's got plenty of high-quality years left. That's one of the main reasons why we signed him. Now, when you go through the process of building a team, it takes time. That's just the facts of life. If you look at anybody, look at Steve Yzerman in Detroit, what he's going through and what he's done. There's zero magic bullets. You might make the odd trade that really benefits, but there's no magic bullets. You've got to draft well. You have to develop well. You have to have leadership. There's a lot of different things. And that's what we're right in the middle of. That's just a fact of life."
You Might Also Like
MS: Brad Larson's been put in a situation where he is had to navigate a lot of difficulties this year. He seems to keep things as even keel as possible. Is that the way you see it too?
Davidson: "Yeah, but he's not alone. It's everybody. It's the whole group. He has a lot of coaches that he works with. He has a lot of leadership on the club that he works with. And it's a hard thing when you get nailed like we got nailed. Then you sense that, okay, we have no shot now. Then you lose hope. But I think that all in all, with the support of what we've had at Nationwide, it's been remarkable. And most nights we play hard."
"I was talking to people at the NHL the other day, and the first word out of one guy's office was, wow, you guys compete, don't you? I said, yeah, we do. Most nights we compete. And that's what we want. And when we're in this situation you can't just phone it in. You can't do that. So I don't think anybody has (phoned it in), from our coaches, through our players. It can be frustrating. And it has been frustrating and is frustrating. But that's where we are and that's what we have to fight through. And it's hopefully a blip in time as we continue to try to get better."
MS: There are some really exciting prospects throughout the team at different levels. I was in Cleveland Thursday. I saw Corson Ceulemans really turn it on in the third period after some early jitters. Jordan Dumais is having an amazing season in Halifax. David Jiricek is having an amazing season in Cleveland so far…
Davidson: "That's the thing when you talk about the building. We're talking about young people. For Ceulemans, that was his first game in his pro life. He got comfortable as the game went on, and you could see some things. Jiricek has had an outstanding year for a young man in his first (season in North America.) He's playing in a man's league and he's young. We've got (Dmitri) Voronkov coming over from Russia who's a gritty forward. We're going to have a great draft, we hope. And that'll certainly be beneficial. We've got a number of young defensemen besides Jiricek and Ceulemans, when you think of (Denton) Mateychuk too amongst others. We have a lot of wingers. We have to really analyze the center ice position and keep working at it. We'll see where it goes in the draft."
"But this is just as we grow. I've said it in years past. But we need people to grow with us. This is what it's about right now. We've hired some good people. We're going to add to that list with development coaching. It's highly important for us right now to develop these kids as we move along. When you have Rick Nash working with that, along with Derek Dorsett and Jarkko Ruutu over at Finland, he (works with) the European kids. It's just a hard thing that takes time, but it's just what it is. And there's no, zero, zippo, no magical moment that turns a franchise around. It's continuous hard work. It's continuous improvement. It's continuous development. It's scouting, scouting, scouting, scouting."
MS: In these last 14 games, winning is obviously important, but so is development and so is growing. What would a successful last 14 games look like to you? Is it to see the the team just continue on the path to grow together?
Davidson: "I think so. It's provided opportunity for some players and we just have to make sure that we continue to push them to continue. It's not only just in games. It's in the weight room, It's nutrition. It's everything. Just because we're in a position as to where we are, we can't stop all that. It's, even more of a workload to push everyone to get to where they want to go. The character of the player will be tested. The character of the coaches and management will all be tested. It's natural."
"It's been a tough year. It's been tough, but we have to fight and fight and fight. We just, there's no other answer right now. The trade deadline's come and gone. We did what we did. We're aligning ourselves for the college free agents. We're aligning ourselves for the draft. We're aligning ourselves for free agency, the trade business, looking to improve areas of our club. That sometimes is difficult because you've got players coming. So you've got to balance that fact. Who you bring in and how long their contracts are. We've got to work with Elvis to get his game back going like he can play, but we got a lot of work to do. Just the honesty is we have a lot of work to do."
MS: Last one. Next season, you expect that guys will take the next step. Injuries hopefully won't be as much of a factor for you. But there's a lot of gap to make up in the standings. Just how much work is there to do? You just alluded to it. It seems like that there's a ton of work to do ultimately to get to where you want to go.
Davidson: "We look at where we are. We know that we've had some reality hit us, but we know where we are in the standings. We've got a lot of work to do in all areas of our franchise, a lot of work to do. Just because there's 14 games left and the season ends doesn't mean the work ends. It's working on the ice. It's working off the ice. It's working with our scouts. It's working. The world of hockey is work, work, work. So that's the only way out of this thing, draft, develop, work, believe, get healthy and then we'll see where we are."