During his tenure as Boston Bruins general manager (GM), Don Sweeney has overseen eight NHL Entry Drafts. Drafting has not been a big strong point for Sweeney, a case in point is the 2015 botched three first-round picks where only Jake DeBrusk of the three has made an impact, while Zach Senyshyn requested a trade after spending a majority of his career in the minor leagues and Jakub Zboril has battled injuries as he tries to carve out a role on the Black and Gold's defense.
Related: Bruins' Zboril Extension Signals Roster Turnover on Defense Is Coming
One year after the 2015 Draft, Sweeney and the Bruins had two more first-round selections and six overall in 2016. The results from that draft class have been a little bit better for Boston and one has quickly become the unquestionable leader of the defense not only in the present, but also in the future. Here is a look back at the 2016 Draft selections and where they are now.
First Round, No. 14 – Charlie McAvoy
It's safe to say that Sweeney hit it out of the park with his first pick of that draft with Charlie McAvoy, who has become the leader of the defense. Selected 14th overall, McAvoy wasted little time in making his way to the NHL after his collegiate career at Boston University and found himself in the 2017 playoffs against the Ottawa Senators in a series the Bruins were eliminated in six games. He had three assists in the series.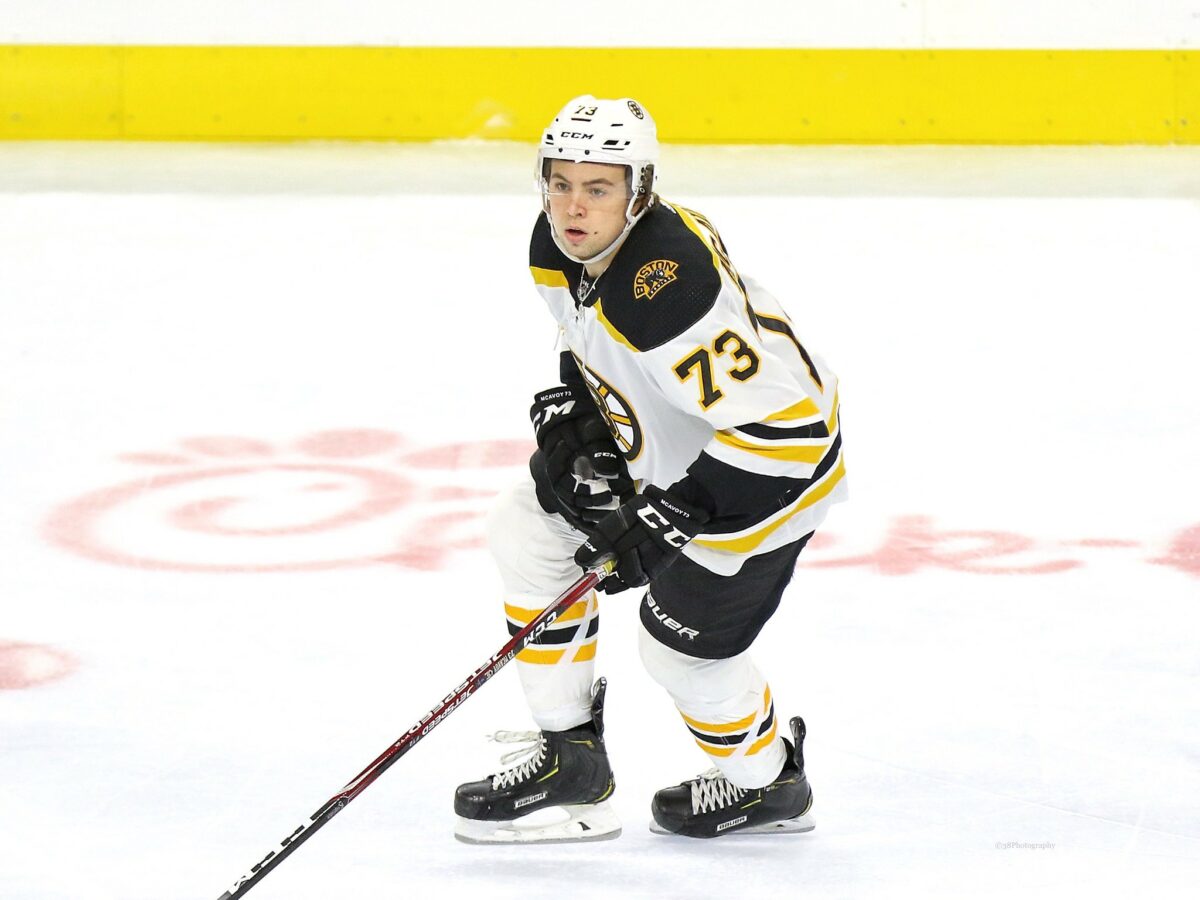 Since that series, McAvoy has been a staple in the lineup and played in a career-high 78 games in 2021-22 with 10 goals and a career-high 46 assists. In 313 career games, he has 34 goals and 114 assists. After Torey Krug and Zdeno Chara left following the 2019-20 season, McAvoy was thought of as the new leader on defense and the 24-year-old has not disappointed. 
Prior to last season, the Bruins locked up McAvoy on an eight-year, $76 million contract extension. At the trade deadline in March, Sweeney acquired Hampus Lindholm from the Anaheim Ducks as a top-pairing left-shot with McAvoy, then signed him to an eight-year, $52 million contract to partner with McAvoy in front of promising goalie Jeremy Swayman.
First Round, No. 29 – Trent Frederic
With his second first-round selection, Sweeney went a little off the board in picking center Trent Frederic. Most boards had him as a second or third-round pick, but there was something there that Boston's front office saw to take him in the first round.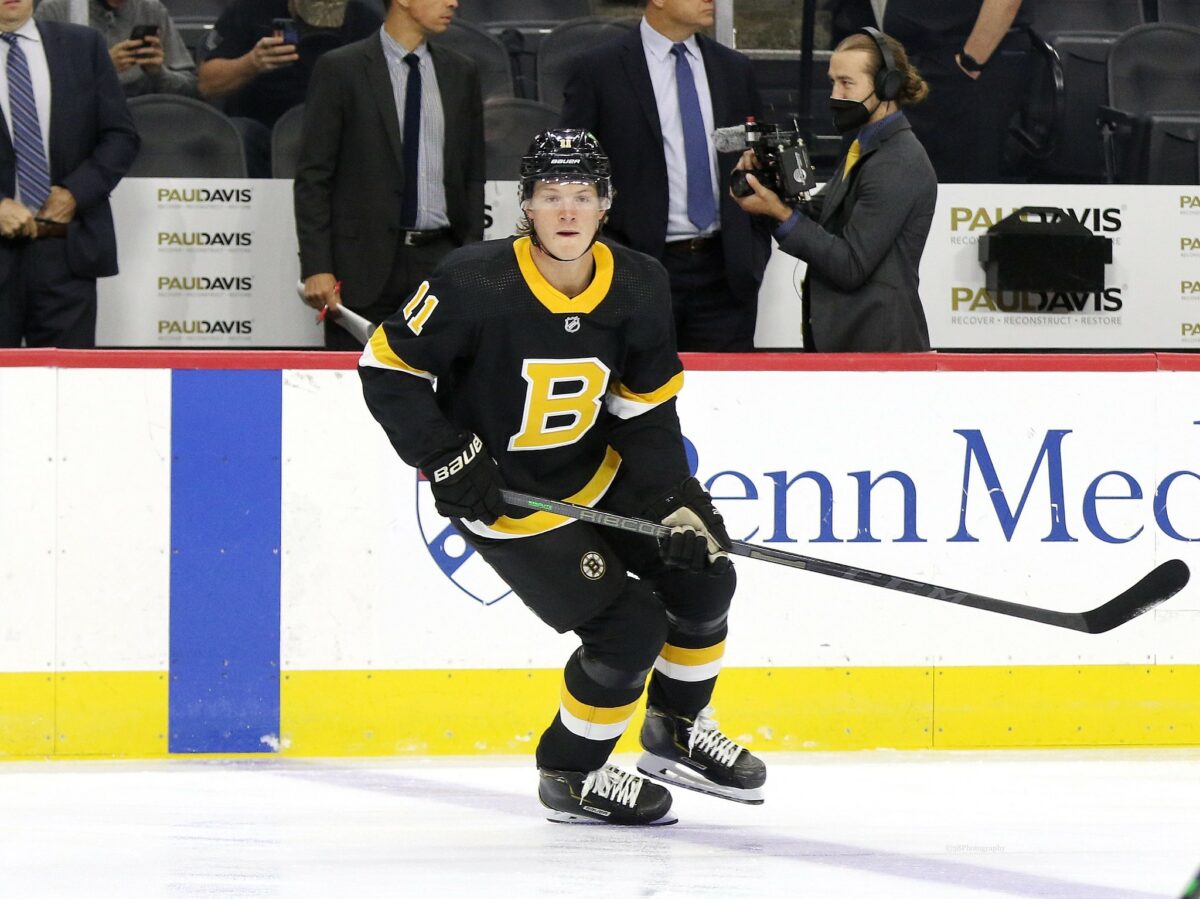 After his career at the University of Wisconsin where he had 32 goals and 43 assists in two seasons for the Badgers, Frederic spent two-plus seasons with the Providence Bruins in the American Hockey League (AHL) before making the NHL roster in Boston out of training camp in the 56-game shortened 2020-21 season. In 42 games, he had four goals and five points primarily on the fourth line, but he showed that he was not going to back down from some of the tougher players in the league.
In the 2021-22 season, he carved out a bigger role for the Bruins with eight goals and 18 points in 60 regular-season games. He found a home on the third line with Charlie Coyle and Craig Smith after Jan. 1, but despite having his moments where you thought he was finally getting an understanding of being a middle-six player in the NHL, he had his setbacks and found himself as a healthy scratch late in the regular-season and in the playoffs.
It is understandable that the Bruins could be getting frustrated with Frederic's development to date, but there is a lot of pressure on him because of being a first-round pick, something he had no control over.
Second Round, No. 49 – Ryan Lindgren
With their lone second-round pick, the Bruins selected their second defenseman when they drafted Ryan Lindgren 49th overall. His stay in the Bruins organization lasted just two seasons as he was traded to the New York Rangers on Feb. 25, 2018, as part of a deal that brought the Black and Gold Rick Nash.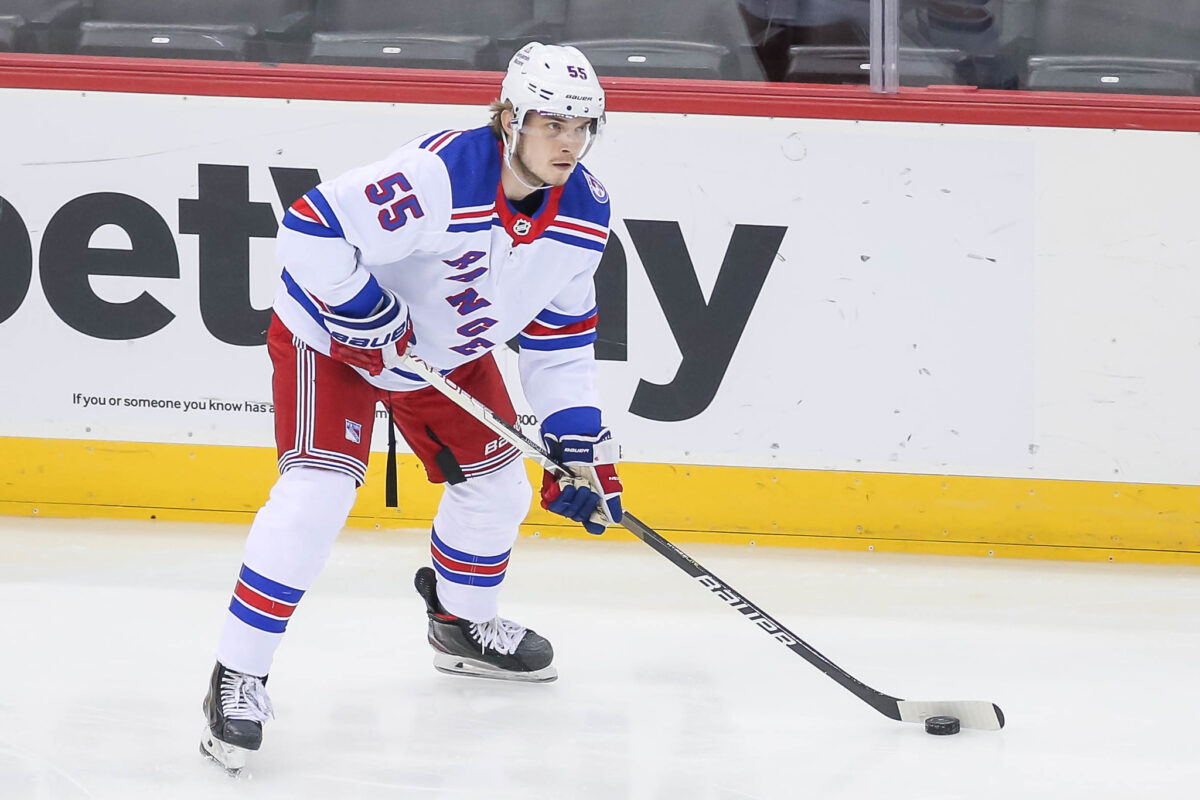 The 6-foot-1, 191-pound Lindgren just completed his third season for the Rangers in the NHL with four goals and 15 points. The left-shot 24-year-old has become a key piece of the Rangers blueline and played a big role with his physicality in helping them reach the Eastern Conference Final before losing in six games to the Tampa Bay Lightning. Boston's loss has been New York's gain.
Fifth Round, 135th overall – Joona Koppanen
It has been six years since the Bruins drafted Joona Koppanen 135th overall and he is no closer to finding his way to the NHL than he was on draft day. In five seasons with Providence, he has 27 goals and 31 assists in 181 AHL games. His best season was in 2021-22 when he had 11 goals and 19 assists with a plus/minus of plus-21.
The 6-foot-5, 210-pound center and left wing has good size, but in the big picture does not project to make much of an impact in the NHL. In June the Bruins re-signed Koppanen to a one-year, two-way, $750,000 contract, with the opportunity to make the NHL roster in training camp. It's going to take a lot of things to happen if he's going to find himself in Boston at some point this season.
Fifth Round, 136th overall – Cameron Clarke
In a bit of strange doing, the Bruins had back-to-back fifth-round picks, and one selection after Koppanen, they selected Cameron Clarke. The year Sweeney drafted Clarke, he had nine goals and 41 assists for the Lone Star Brahmas in Tier 2 North American Hockey League. The Bruins scouts might have liked the big defensemen's game, but it never translated to his college career at Ferris State University.
After he completed his struggling college career with the Bulldogs, the Bruins and Clarke could not come to an agreement on an entry-level contract, and the 6-foot-2, 190-pound blueliner signed with the Wichita Thunder of the ECHL, a minor league affiliate of the Edmonton Oilers.
Sixth Round, No. 165 – Oskar Steen
The final pick of the 2016 Draft for the Bruins was Oskar Steen and Boston got an up-close look at their sixth-round pick multiple times in 2021-22. After making his way to the Black and Gold's lineup three times in the 56-game shortened 2020-21 season, he played in 20 games last season with two goals and six points, which included his first career NHL goal against the New Jersey Devils on Jan. 4 in a 5-3 win.
Not only did Steen play well in Boston last season, but he had a breakout season with the P-Bruins in which he had 15 goals and 20 assists in 49 games. The 5-foot-9, 199-pound right wing is just 24 years old, but he is knocking on the door of an NHL spot. This season might be tough with the current state of the roster, but after this upcoming season, he could find himself in a third or fourth-line role for new coach Jim Montgomery.
The top half of the 2016 Draft has netted the Bruins some foundation pieces, but the middle appears to end up being a miss, while Steen offers a glimmer of hope as the final selection. After the first-round miss in 2015, Sweeney needed to make his second draft as GM a better one, something that he appears to have done so far.
---
---
---
Latest News & Highlight
---