By Mike Miccoli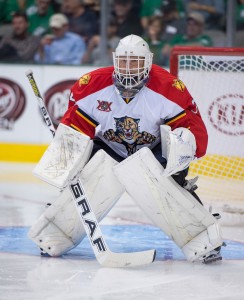 It's just another game–at least that's what I keep thinking to myself. If I'm being honest, if you told me last month at this time that I would be saying the words, "I can't go out, I'm going to live blog the Bruins/Panthers game–yes, even though it's in Florida" as much as I have in the last 48 hours, I probably would have laughed while Googling menus and beer lists.
But here we are, on the sixth game of the young 2013-14 season for the Boston Bruins against new division rivals, the Florida Panthers. And here I am, on a Thursday night in October, sitting on my couch in my apartment, ready to document what could be one of the strangest games the Bruins have had in quite some time. Of course on the other hand, it is just a game, one of 82 for the Bruins in a season filled with storylines.
This season alone, the Bruins will face an absurd amount of former teammates from their 2011 Stanley Cup Championship run. The Bruins will host Tyler Seguin and Rich Peverley when the Dallas Stars visit Boston on November 5. The Bruins could possibly see Nathan Horton in a Blue Jackets jersey, if he's healthy and ready to play, when Columbus travels to Boston on November 30. Then, the Bruins will play against Oilers' captain Andrew Ference for the first time in Edmonton on December 12. All former teammates who switched jerseys this past offseason after playing a crucial role in the Bruins' success in winning their first Stanley Cup in 39 years.
However no matter what anyone says, there's no bigger contest than tonight when the Bruins play against the Florida Panthers, anchored by goaltender Tim Thomas, the most important piece of the 2011 Bruins' Championship team.
After signing a one-year deal with the Panthers late in the offseason (like September 26th-late), Thomas has started three games for Florida, before being pulled due to a lower-body injury in his most recent outing, an eventual 2-1 loss against the Flyers last Wednesday. In his first game, Thomas was solid, stopping 25 of 27 shots in a 4-2 win over the Stars. Since then, Thomas has allowed seven goals on 33 shots against, an uncanny amount for a goaltender who twice boasted the top save percentage in the NHL during the regular season.
None of that really matters now. In his first game back from injury, Thomas will have the chance to play against his former team and attempt to do what he has done best throughout his entire career: prove everyone wrong. Thomas is getting the Bruins at the perfect time, too. The team has been struggling to score and has only recorded five goals in their last three games. Across the ice from the goaltender who he once stole the starting role from (and then lost it, only to get it back again), Bruins' goaltender Tuukka Rask has been one of the most solid players on the team. After allowing one goal in his first four starts, Rask let up three against Detroit and is looking to prove that it's he, not Thomas, who is the better goaltender.
So, holy storylines! Right?
Nah. It's just another game. Sort of.
7:15 pm: What's the over/under on the number of Stanley Cup  Championship montage highlights tonight on NESN? Setting the over/under on 5.5. Go.
7:20 pm: That's one highlight. Sidenote: this is weird. Really weird. It was obvious that this day would come, but seeing all of the fanfare with Thomas on a Bruins broadcast and not having Tank wearing black and gold is just strange. Even stranger? Thomas' obsession with the last greatest Panthers goalie, John Vanbiesbrouck. Thomas is wearing #34, Breezer's old number, and will soon be wearing a mask awful similar to the Panthers' first ever netminder.
7:27 pm: Comic Sans on NESN! Comic Sans on NESN! (Drop the puck, please.)
20:00, 1st: Adam McQuaid the healthy scratch for the Bruins with Dougie Hamilton and Matt Bartkowski in for Boston. Florida's lineup looks like the land of misfit toys in the sense that no other NHL team's roster will make you say, "Oh, I didn't know he played for them!" Example: Tom Gilbert and Matt Gilroy. I didn't know that they played for them!
17:32, 1st: Prediction time. Jarome Iginla will score his first goal of the season tonight. It will also be the first goal of the game. Further? It will be a one-timer that catches Tim Thomas ridiculously out of position.
16:12, 1st: Diamond Danny Paille scores against Tim Thomas. Scratch my predictions. Predictions are stupid. 1-0, Bruins.
12:22, 1st: Things that I've been thinking that might be cool: Danny Paille throwing up the Diamond Cutter ala Diamond Dallas Page every time he scores the goal. But that would be disrespecting the game and we wouldn't want that. Also, all Bruins so far. This has the potential to be one of those one-sided games, especially if they can get another one past Thomas early. Another thought? Thomas isn't at 100%. You'd be silly to think Thomas didn't come back ahead of schedule from his injury so that he could play against the Bruins. Sometimes it's more than just a hockey game.
7:13, 1st: Thomas had no chance with Zdeno Chara screening him in front during the power-play. A rocket from Hamilton gets past Thomas almost seamlessly. 2-0, Bruins, with Thomas' head on a swivel.
0:00, 1st: Really solid period from the Bruins who look like they're playing an AHL team so far. The Panthers are not very good and Thomas isn't exactly bailing them out like he used to when the Bruins would play poorly in front of him. Someone said it's almost like watching a rock star try to perform past their prime. Maybe. It's really like watching someone who took a year off from hockey and rushed back to play for a subpar team.
18:42, 2nd: I just remembered how much of an anxiety attack it was watching Tim Thomas play net. You forget how many chances and liberties Thomas takes as a goalie. Frustrating to watch when he's on your team, but even more frustrating when the opponents can't capitalize on all of that open net when Thomas over-commits or plays outside of his crease.
14:23, 2nd: Just how sloppy are the Bruins playing in their own zone? Incredibly sloppy. A ton of bad giveaways, whiffs, and takeaways from Boston, giving the Panthers some chances in the offensive zone. One of the more promising takeaways from this game is watching the chemistry between Aleksander Barkov and Jonathan Huberdeau develop. It's a young season, but these two have potential to really grow as players together and become the one-two scoring threat that Florida so desperately needs.
7:28, 2nd: All of this sloppy play was going to catch up to the Bruins, as former Bruin Kris Versteeg (hey, remember him?) deflects a Huberdeau shot past Rask as Florida was about to go on the man-advantage. Florida is starting to generate momentum, battling off of the Bruins' miscues while Boston is unable to finish their chances. Whatever it was that was hindering them in the first period is gone. The Panthers have awoken.
0:00, 2nd: Not a great period for Boston, who started the session just like they ended it: scattered around their own zone. Thomas has settled down immensely and seems to have regained some composure, stopping 24 of the Bruins' 26 shots so far. The Bruins will have to continue to drive to the net and capitalize on Thomas' long rebounds (because he's been giving up a ton) if they want to put up another insurance goal against the Panthers.
13:36, 3rd: The Bruins will go back on the power-play after converting in their first attempt. One thing that will be interesting to watch is how Thomas will respond with Chara in from of the net. Didn't work out so well in the first attempt. Also, I can't believe how much Thomas looks like a high school goaltender.
9:35, 3rd: A tad frustrating if you were hoping for a Bruins power-play goal just then.  
7:12, 3rd: Reilly Smith has gone from having a really great game and playing with a purpose to having a pretty frustrating outing. After his penalty in the second period, he has almost looked hesitant to make a play, not putting his entire body into hits, and worst, not shooting the puck.
6:00, 3rd: "Jesse Winchester scores his first goal since December of 2011," said Jack Edwards. Bruins fans probably said something else. Now, Florida has tied the game at two, and Tim Thomas looks as solid as ever. What world are we living in?
3:23, 3rd: The Bruins need one of those "Tim Thomas is out of position goals" more than ever. What a drastic change for a team that came out flying in the first period.
0:58, 3rd: Reilly Smith with his first goal as a Bruin. He went 110% on his last shift and looked incredibly hungry. Great example of turning your game around at the last minute…literally.
0:00, 3rd: A lot closer than it should have been, but the Bruins squeak out the win. Tim Thomas vs Tuukka Rask ended up being a lot more about the team's performances than the reliance on their goaltenders. Go figure, right? Still, you better believe that all of this will be back again on November 5 when Thomas returns to Boston for the first time since the overtime loss in Game 7 of the Eastern Conference Quarterfinals against the Washington Capitals.
Follow Mike on Twitter for more Bruins updates, news, and commentary.
Mike Miccoli covers the Boston Bruins for The Hockey Writers and has been a credentialed member of the media for all Bruins' home games for the past five years. As a former player, coach and official, Miccoli has been around the game of hockey since the age of three. Along with his work on THW, Miccoli has also been published in the New England Hockey Journal, Improper Bostonian magazine and on BostInno.