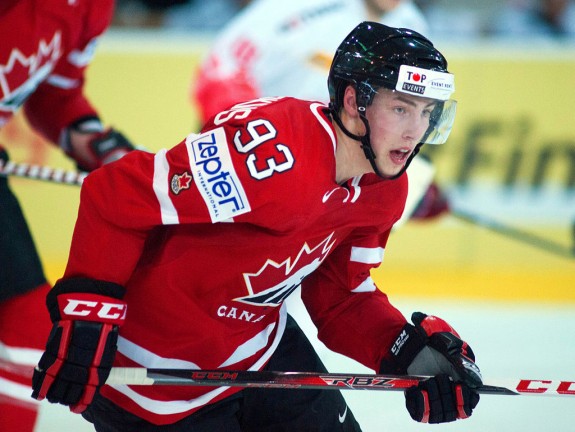 Canada's roster for the World Junior Championships was announced last week and has named the 23 junior players that will travel to Ufa, Russia over  Christmas.
As with every year there is rampant speculation about who would or should be included or excluded leading up to the announcement.  There were some surprises but no earth-shattering cuts or head scratching inclusions.
Mathew Dumba was perhaps the biggest surprise cut, but the fact is there was considerable depth to choose from and he was far from the only talented 1st round draft pick vying for a spot.  His camp wasn't bad but it simply wasn't good enough.
It's hard to go wrong with the kind of talent assembled, and here we take a closer look at those players who were selected.
FORWARDS
The strength of Canada's team this year, there is impressive talent and depth.  Especially up the middle, so much so that last year's top pivot, Barrie's Mark Scheifele, has moved to right wing.  Part of that reason was to accommodate the arrival of the Oilers Ryan Nugent-Hopkins.  The NHL star will wear the "C" and centre the team's top line.  He will be flanked by other (soon to be) NHL talents in Saint John's Jonathan Huberdeau and Scheifele on the team's top line.  Huberdeau will also wear an "A".
Returnee and OHL leading scorer Ryan Strome of Niagara will centre the team's second line in a deadly one-two punch.  Riding shotgun on his right side will be IceDogs teammate and 27 goal scorer Brett Ritchie, who has been on a tear to start this year's season.  Starting on their left side looks like it will be either Chicoutimi's Charles Hudon or 17 year old Jonathan Drouin of the Halifax Mooseheads.  Hudon looked like the early favourite of coach Steve Spott, but reports indicate that the slick hands of Drouin may get the first crack at it.
The other will play left wing on a line centred by yet another returnee in Oshawa's Boone Jenner, a high energy player who can score, and opposite Portland sniper Ty Rattie on the right side for a very dangerous third line.
Fourth line looks like it will be made up of Victoriaville's Phillip Danault up the middle with Barrie's Anthony Camara and Kamloops undrafted 19 year old JC Lipon.
Nathan MacKinnon, another Moosehead's 17 year old is pencilled in as the 13th forward to start, but don't be surprised if he ends up taking on a bigger role as the tournament progresses.
As with most tournaments, line combinations rarely stay the same start to finish.  Injuries, pleasant and disappointing surprises and other circumstances lead to juggling, although it's hard to go wrong with the kind of depth and talent this year's team has to offer.
DEFENCE
The loss of Everett defenseman Ryan Murray cannot be understated, as he would have been a top pairing defenseman for sure.  However, there is also quite a bit of depth here too, albeit somewhat inexperienced, to compensate for his loss.
That starts with Niagara's Dougie Hamilton, who will go in as Canada's top defenseman.  He will be counted on to log considerable minutes and play in all situations.
Morgan Rielly looks as though he will be given the opportunity to take Murray's place on the top pairing.  Playing great hockey for Moose Jaw this year, he was paired with Hamilton in the selection camp and looked good, and could be primed for a big tournament.
The second pairing and potential shutdown pair, at least to start, looks like returnee and assistant captain Scott Harrington of the London Knights and the Armada's Xavier Ouellet.  Both are very mobile and play a smart, responsible game and will be relied on against the other team's top players.
Kitchener's Ryan Murphy makes the team in his third try and on top of playing powerplay minutes, could be paired with Edmonton's Griffin Reinhart, a big physical defenseman who is solid and positionally sound.  He could also allow Murphy to jump into the rush more and use his elite offensive instincts.
Tyler Wotherspoon of Portland slots in as the 7th defenseman and plays a solid, steady game, but could play a much bigger role depending on the performance of some.
GOALTENDERS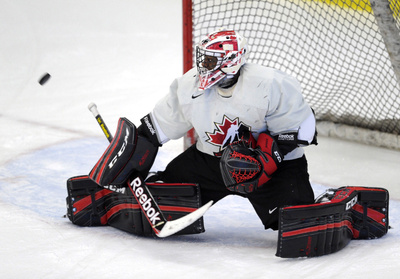 One of the big debates throughout the selection camp around who would be the one goaltender eliminated and where would the remaining three be slotted.  Belleville Bulls stopper Malcolm Subban was thought have the #1 job to lose going into camp and that could still be the case.  Jordan Binnington from Owen Sound will compete with Subban for the top spot and who gets to start the tournament. Saginaw's Jake Paterson will be the alternate third goalie taken to Russia, and played himself onto the team with a spectacular camp.
Subban will likely get first crack, even though he had a subpar camp, and the coaches will see how he fares in the pre-tournament games, but he is the most talented of the group and was stellar in the summer Canada-Russia series.  He's also 5 for 5 in shootout wins this year.
KEY PLAYER(S):  Ryan Nugent-Hopkins.  It's his team.  He will centre the top line and the top PP unit and be an offensive catalyst.  No other team can boast a player of RNH's calibre and a number one NHL centre to boot.  He joins Patrice Bergeron as the only player to play a full NHL season and in the Men's World Championships prior to playing in the World Juniors.
If he's on, Canada will be extremely hard to stop, especially with a top line that is NHL calibre in itself.  Huberdeau, Nugent-Hopkins and Scheifele have the ability to control and dominate a game.  If they are as good as expected, they will give opposing defensemen nightmares.
Dougie Hamilton.  Arguably Canada's top defenseman even with Murray in the fold, Hamilton has the ability to be a dominating force on Canada's blueline.  He has all the tools and will play in every situation.  If there are any lapses, he can cover up many mistakes.
BIGGEST QUESTION MARK:  Goaltending.  There is certainly enough talent at the position, but with no returning goaltender it becomes somewhat of an unknown. Subban is expected to take the starter's role and run with it, but with a subpar camp that raises questions and opens the door a crack for Binnington. Canada's goaltending doesn't have to win games they just have to be able to not lose games for the team.
BREAKOUT PLAYER:  Morgan Rielly.  It was considered a risk forToronto to take him as high as fifth overall in the past draft.  A great talent, but coming off a significant injury amongst other question marks.  No one is questioning that pick now, as Rielly has played outstanding hockey for Moose Jaw this year and has been arguably one of the best junior defensemen in the country over the first half.  With Ryan Murray out, he's the leading candidate to take over the bulk of those minutes and will be given every opportunity to do so.  An exceptional skater, his game could translate well to the big ice in Russia.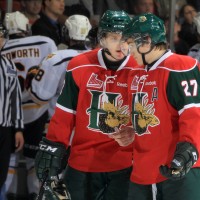 PLAYER(S) WHO COULD HAVE UNEXPECTED IMPACT:  Jonathan Drouin & Nathan MacKinnon.  The last 17 year old duo that made the team was Steven Stamkos and John Tavares.  Goes to show how rare a situation this is.  Also gives you an indication of the type of talent these two are.  Drouin has had his stock rising all year and may get a chance to start in the top six.  He's an elite puckhandler with great hands.
MacKinnon may be down as the 13th forward, but he was very explosive in camp and is as talented as anyone on the roster.  The potential #1 draft pick has been impressive in every opportunity he's been provided.  If he's given a chance, he could impress and take on a larger role.
UNSUNG HERO:  Scott Harrington.  The only player last year not to be asked for any interviews, he didn't get asked for a whole lot more this year.  Odd considering he's a returning player and assistant captain.  Just how he likes it.  To most, his game flies under the radar.  Not to his coaches though, he is the type of player every coach absolutely loves.  A defensive defenseman, he's low maintenance and as steady as it gets.
Harrington is one of the best shutdown defenders in junior hockey and will be valuable this year playing against the other team's top line. With all of the flash and attention that's gone with this year's team, Harrington's quiet, rock solid presence could be one of the keys to success.
PLAYER WITH MOST TO PROVE:  Ryan Murphy.  He narrowly avoided being named with Dan Cleary as the only player to be cut three consecutive times from Team Canada.  A surprise cut from last year's team after starting the season in the NHL with the Carolina Hurricanes, Murphy was not deemed a fit for that group.  This year, chosen by his Rangers coach Steve Spott he will get a chance to prove he is worthy of being picked.
One of the most prolific offensive defensemen in junior hockey, he will be given plenty of PP time and his skating and puck-moving ability should be a good fit with the big ice in Ufa.
FINAL PREDICTION:  Gold.  It may not be the dream team of the last NHL lockout, but it is still an impressive collection of talent and far deeper than any other team in the tournament.  No other team has a player like Nugent-Hopkins or a Dougie Hamilton on defence.  No other team can boast a third line with a player who leads their league in goal scoring (Jenner) and a 50 goal scorer (Rattie).
Russia may be the closest competition and could be the only team to match their offence, with snipers Nail Yakupov, Mikhail Grigorenko and Alexander Khoklachev, and strong goaltending with Andrei Vasilevski, but they don't have the same team depth.
The loss of Ryan Murray will hurt, but other top teams also have issues to deal with as well. USA loses Stefan Noesen due to ineligibility and Sweden loses top defensemen Jonas Brodin and Oscar Klefbom to injury for example.
There is depth and top end talent at all positions and assuming the NHL will not be starting back before the tournament ends, no other team matches up with Canada.
That, however, is why they play the games, and stranger things have happened in a single game showdown.
The action starts Boxing Day.