If the Edmonton Oilers are finally going break their 11-year playoff drought, they'll need to make some key additions. The Oilers apparent interest in Tampa Bay Lightning forward Brian Boyle has been heavily speculated. Edmonton general manager Peter Chiarelli was seen at the Lightning and Minnesota Wild game this weekend and the rumour has been reported by Nick Kypreos and Elliotte Friedman.
That said the Oilers are sliding right now, going 5-4-1 in their last ten and 1-4-0 in their last five. If the Oilers are going to make the playoffs and possibly a deep playoff run, they'll need to make some key additions. The Oilers offense is slumping outside of Connor McDavid and Leon Draisaitl. If the team wants to solidify its playoff position Chiarelli will need to shore up the offense, particularly the third-line options — something where adding Boyle would help.
Oilers Lacking Secondary Production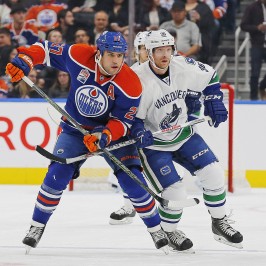 Despite all their success this season, several Oilers are having the worst years of their careers. Benoit Pouliot is on pace for just 16 points and making $4 million to do so. Jordan Eberle has gone through several goal scoring droughts and is on pace for just 16 goals and 47 points.
Ryan Nugent-Hopkins is pointless in last six games and projects for 38 points. Milan Lucic started the year with 27 points in 43 games (paced for 52) but has struggled with just a goal and two assists in his last 13 games. Suddenly the Oilers supporting cast isn't doing much supporting around McDavid and Draisaitl.
Head coach Todd McLellan has thrown the lineup into a blender at times trying to spark his club, but after a hot first half, the Oilers are a few pieces away from sustaining success. Chiarelli will have to look at the trade market to shore up this roster.
EDMONTON OILERS FORWARD LINES WITH BRIAN BOYLE

Patrick Maroon

Connor McDavid

Leon Draisaitl

Milan Lucic

Ryan Nugent-Hopkins

Jordan Eberle

Benoit Pouliot

Brian Boyle

Drake Caggiula

Anton Slepyshev

Mark Letestu

Zack Kassian
Chiarelli will have to look at the trade market to shore up this roster. Adding Boyle would give the Oilers and McLellan some versatility at forward. Edmonton has always been known as a smaller team and through the last decade have lost more puck battles because of it. You can't win a hockey game if you never get the puck, nor can you score goals. Chiarelli has gone out and addressed that with additions to the backend and upfront. Lucic, Patrick Maroon and Zack Kassian were all brought in to address that size issue.
Does Adding Boyle Truly Help the Oilers?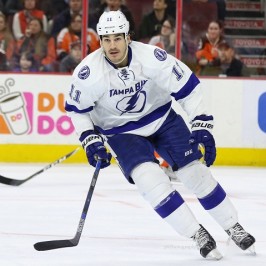 At 6-foot 7-inches, 245-pounds, the lumbering forward adds more size to that group, especially one that is smaller at the center position. Edmonton hasn't been overly strong at faceoffs either — in fact just two of the Oilers five centers are above 50% in the circle (Mark Letestu, Anton Lander). Boyle is currently winning 52.3 FO% of his draws through 50 games and a 58.5 GF%.
Acquiring Boyle would allow McLellan to move Caggiula over to the wing, which would help the rookie's pro-development. The 32-year-old Boyle has already matched his point totals from last season and is on pace for 20 goals and 31 points this year. An unrestricted free agent (UFA) this summer, Boyle carries a relatively cheap $2 million cap hit that wouldn't break the bank.
BRIAN BOYLE STATS LAST 3 SEASONS

YEAR
TEAM
GP
G
A
PTS
+/-
PIM
TOI
S
PTSPG

2016-17

TBL

50

13

7

20

7

48

13:45

98

0.40

2015-16

TBL

76

13

7

20

-7

57

12:54

117

0.26

2014-15

TBL

82

15

9

24

3

54

12:59

140

0.29
Chiarelli's building this team eerily similar to that of the 2011 Stanley Cup Champion Boston Bruins. Size, tenacity, character and a balanced lineup. Boyle's been a proven playoff commodity in his career with several deep playoffs runs with the Lightning and New York Rangers. With 26 points in 100 playoff games, he's a great fit — but it'll be costly.
What Will Boyle Cost the Oilers?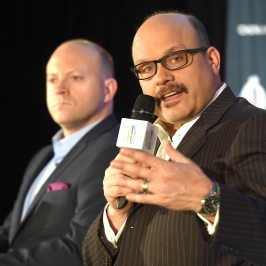 I'm told right now that the feeling was the price was too high from Steve Yzerman, maybe as much as a first-round pick. Saying that, the price may drop.

– Nick Kypreos, Sportsnet
Giving up a first round pick for Boyle is a steep price. It's a considerable value when you consider fewer and fewer teams are wanting to part with first rounders for deadline acquisitions.
Only the Chicago Blackhawks gave up a first round pick at last year's trade deadline, and that was for a package built around Andrew Ladd. It isn't 2012, when the Nashville Predators traded a first-round pick to the Buffalo Sabres for a third-line center in Paul Gaustad. These picks are valuable when you know how to draft.
For argument's sake, based off the standings, the Oilers are projected to pick around 21st overall. That pick can yield some talented players as seen below. Would you want to give up one of these guys for a third-line center rental?
21ST OVERALL PICKS – LAST 3 YEARS

YEAR
PLAYER
TEAM
PROJECTION

2016

F Julien Gauthier

Carolina Hurricanes

Top Six Winger

2015

F Colin White

Ottawa Senators

Top Six Center

2014

F Rob Fabbri

St. Louis Blues

Top Six Winger
Yzerman might think he can get a first-round pick for Boyle, but when the Arizona Coyotes are also having similar problems for a much better player like Martin Hanzal, you know that price has to come down.
As Sportsnet's Luke Fox puts it, Tampa will be the most interesting team at the trade deadline. With a projected $73 million salary cap, the Lightning will have just $13.7 million in cap space to re-sign Tyler Johnson, Ondrej Palat, Jonathan Drouin, Andrej Sustr and Boyle. That's not including Ben Bishop who is most likely to be moved or left unprotected at the expansion draft.
Tampa Bay's Cap Troubles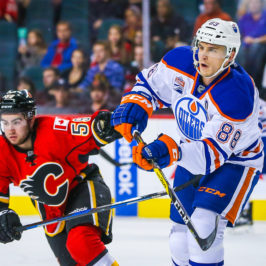 Tampa has $16.8 million tied up in just four defensemen next season. Both Jason Garrison ($4.6 million) and Braydon Coburn ($3.7 million) are trending downwards and will need to be replaced. Garrison, 32, has just seven points in 52 games and may be a buyout candidate this summer. Coburn, 31, has just six points in 54 games and has seen his ice-time drop to 16:01 per game (sixth on team).
You would imagine that the Lightning will look to buy out one or both this summer, creating a roster void for young defenders like Jake Dotchin (22), Slater Koekkoek (22), Luke Witkowski (26) or Dominik Masin (21). Wouldn't the Lightning want to add a more established NHL defender?
It might not be a popular choice among fans, but the Oilers might have to look at moving Brandon Davidson to Tampa Bay. The 25-year-old has one more year remaining at a cap-friendly $1.4 million — he'll likely be left unprotected for the expansion draft. Looking at the makeup of the Tampa Bay roster, the Lightning would have a higher chance of retaining Davidson. If you were Vegas Golden Knights GM George McPhee, would you rather have Bishop or Davidson?
Davidson is finding himself expendable because of the forward strides other defensemen in the Oilers system like Matt Benning, Darnell Nurse and Jordan Oesterle have taken this year. There's been talk about re-signing Kris Russell which also further complicates Davidson's place in Edmonton.
At the end of the day, the Lightning will have to make some moves. One scenario could see the Oilers trade Davidson and a combination of middle-round picks for Boyle. This would give the Oilers added depth at forward with a cheap rental they could re-sign in the summer on a short-term deal. For the Lightning, this trade scenario would give them a defenseman signed to a cap-friendly deal through next season. It would further allow the Lightning to then buyout or expose a Garrison or Coburn this summer and have an NHL ready defenseman able to take one of those spots, instead of throwing two youngsters into the bottom-pairing.
This might not be the exact scenario both teams are looking for, but it's a trade that makes sense for both the Lightning and Oilers.