Retool or rebuild? Win immediately or build for the future?
Two years ago the Boston Bruins were in dire straits. Peter Chiarelli had a colorful and well-documented series of transactions that sent the franchise into decline. The current Oilers GM seemed to have no grasp of the franchise's direction. The wrong players were signed or acquired for too much money. The most talented and promising prospects didn't fit with the team.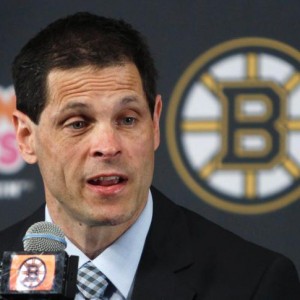 Now Don Sweeney is general manager and the Bruins are on the heels of a first-round playoff exit. In a passionate sports town like Boston, first round exits are a disappointment, not good enough to soothe local puck fans. The front office should feel a little better knowing that the Ottawa Senators came within a win of the Cup Finals. Sweeney is in a pivotal period of time where he can make or break the future depending on his roster decisions.
For the first time in recent memory, management has the luxury of having multiple, highly skilled young prospects. David Pastrnak is only 20 years old and totaled 70 points this season. He is skilled and has speed to match. His biggest deficiency is size. If he becomes stronger on the puck he could become one of the best forwards in the NHL.
This summer Pastrnak, Noel Acciari, Tim Schaller, Ryan Spooner and Joe Morrow become restricted free agents. Dominic Moore, J-M Liles and Drew Stafford are unrestricted free agents. Sweeney will look to make the right decisions and earn his paycheck this July during the FA period.
Bruins Restricted Free Agents
David Pastrnak, Noel Acciari, Tim Schaller, Ryan Spooner, Joe Morrow
Neely: David Pastrnak Wants To Stay In Boston Long-Term https://t.co/F7z1UBlblb pic.twitter.com/fejruN8jLg

— Zesty Boston Bruins (@zesty_bruins) May 2, 2017
Pasta's name obviously stands out among this group. He's shown that he can compete (3 seasons, 123 pts, 172 gm, $925k, 20 y/o) and be a scoring leader for an NHL club and will likely command a sizeable contract. He's also become a fan favorite and it is unlikely he ends up anywhere other than Boston. It's rumored that he will command around $6 million on a multiyear deal and it is well worth the dough.
Ryan Spooner @RSpooner2376 today saying Claude Julien did not like him as a player #Bruins #WBZ pic.twitter.com/rFp6TD6Nm1

— Joe Giza (@JoeGiza) February 28, 2017
Ryan Spooner (5 seasons, 117 pts, 214 gm, $800k, 25 y/o) is the second most prominent name on the RFA list. There has been some turbulence during his time in Boston. He publicly threw shade upon Claude Julien after he was fired, and was also a healthy scratch during the Senators series. One year ago, he looked like one of the most promising young forwards. Now, he could be heading out of town via trade or free agency.
Noel Acciari (2nd season, 6 pts, 38 gm, $211,334, 25 y/o) and Tim Schaller (1st season, 14 pts, 59 gm, $600k, 26 y/o) are hard-working and likable players. They aren't prolific goalscorers nor highly talented but they find a way to make an impact on the game most nights. Right now, it seems probable that one or both of them return next year. Acciari is a good depth piece and would do well bouncing between Providence and Boston as needed. Schaller is a little more of a wildcard. I'd expect the B's to keep Acciari but potentially lose Schaller.
This brings me to Joe Morrow, the forgotten piece in the Seguin trade to the Dallas Stars. He is also the least impactful part of the trade, struggling to gain traction at this point in his career. Morrow (4th season, 9 pts, 65 gm, $800k, 24 y/o) has never fit in well or played well for that matter. I don't expect to seem him back in Boston. Personally, I hope they move on from him as his ceiling is pretty low.
Unrestricted Free Agents
Dominic Moore, Drew Stafford, J-M Liles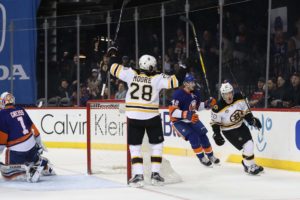 Dominic Moore (1st season, 25 pts, 82 gm, $900k, 36 y/o) should be a slam dunk. He played his heart and soul out in 82 games for the Bruins and should have won the 7th player award. I'm still baffled in what world Pastrnak is considered to be your 7th. Moore embodied the definition of a Bruins 7th player in 2016-17. He provides consistency, leadership, experience and depth to a team's lower half. He was also earning $900k this year. Look for him to return to the Bruins.
John-Michael Liles (2nd season, 11 pts, 53 gm, $2m, 36 y/o)  is one of the most interesting UFAs to consider, depending on how you look at his time in Boston. He hasn't been really good or bad, he's been average. About what you would expect from a middle-of-the-pack veteran defenseman. Some have trashed him, but I'm not sure why. When he was dressed this season, he got the job done. He was God compared to Joe Morrow. He made $2 million this season and is worth between $1-2 million realistically. Liles returning is a toss up at this point and I'll lean toward the Bruins letting him go.
Drew Stafford (acquired via trade, 8 pts, 18 gm, $4.3m, 31 y/o) was one of the first trade deadline moves that worked out for the Bruins in a long time. He's not a tremendously talented forward, but he finds ways to score. Fans saw this first hand in several big games down the stretch into and toward the playoffs. He seemed to really enjoy his time with the team but needs to take a pay cut in order to stay. Stafford is far from his 2010-11 form when he totaled 52 points. He made a total of $4.3 million last year, $250k less than Brad Marchand. Stafford is clearly not worth the same price. Hopefully, Sweeney and Stafford can see eye to eye on a contract.