The Bruins went into the all-star break on a hot streak with points in 13 of their past 15 games. Although they still sit in the 8th and final playoff spot in the Eastern Conference, they are only eight points out of the top seed and if they can continue their strong play, they can certainly make a push for the top. Here are a few things that could make or break the B's as they head toward the home stretch of the season.
Will Rask play like a Vezina winner?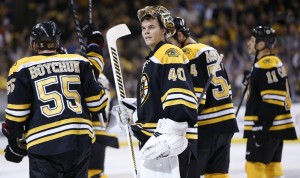 The Bruins have had solid net-minding so far from the former best goaltender in the league, but we need to see more consistency from Tuukka Rask going forward. His .919% save percentage puts him right in the middle of the league, but his $7 million cap hit requires more out of him.
Rask's season has looked like an EKG reading and each month for him has varied greatly. He started out rough in October with a SV% of .899% and since then, has gone .935%, .896%, and .946% month by month.
Last year, Rask never had a month where he posted a sub-.900 SV% and he already has two this year. Hopefully the all-star break does him well and he can continue his current play into February because the Bruins can't afford to have another down month from their starting goalie.
Will Chara and Seidenberg play their best?
With Johnny Boychuk dealt right before the season started, more weight fell on the shoulders of the Bruins top two blue-liners- Zdeno Chara and Dennis Seidenberg. With by far the most experience on the team, these two needed to be consistent because younger players like Torey Krug, Dougie Hamilton, and Kevan Miller are expected to have their off-nights.
However, Seidenberg was coming off a major injury himself and, of course, Chara goes down with an injury himself just weeks into the season.
They are both back now and presumably fully healthy, but they have both showed rust that we haven't seen in the past. They have both progressed and should continue to do so, especially Chara who appears to just be getting back to his A-game.
Towards the end of last season, it looked as if Chara was run-down and tired, and he had some issues keeping up with some of the Red Wings and Canadiens' faster skaters in the playoffs. Hopefully, his time on the shelf along with the all-star break has him fresh for another postseason run.
What will Chiarelli end up doing?
A month ago, it looked like the Bruins core was going to be broken up in the midst of what new Bruins CEO Charlie Jacobs called a "complete failure" of a season. That appeared to light a fire under several of the players, especially those whose names had been linked to trade rumors. [tweetthis]Before their disappointing playoff runs of 2012 and 2014, Chiarelli took a passive approach and it didn't pay off.[/tweetthis]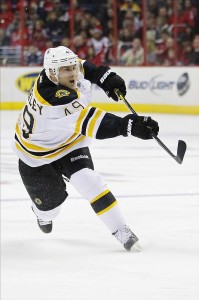 Just because the Bruins have been hot as of late doesn't mean they are ready for a Stanley Cup run. And they're not. GM Peter Chiarelli still has his work cut out for him and needs to figure out how to make this team a true contender.
The year the Bruins won the cup, Chiarelli made three major moves by acquiring Rich Peverley, Chris Kelly, and Tomas Kaberle before the trade deadline. The year the Bruins lost the cup, Chiarelli sent a 2nd round pick to Dallas to acquire Jaromir Jagr. All four of those players filled a need and played major roles down the stretch.
Before the Bruins disappointing playoff runs of 2012 and 2014, Chiarelli took more of a passive approach and it didn't pay off. At the 2012 deadline, he traded for Brian Rolston, Greg Zanon, and Mike Mottau- depth players that could never be difference-makers on a playoff team.
Last year, we watched as the Bruins were linked to big names such as Jack Johnson, Marian Gaborik, and Alex Edler, but instead, ended up with Andrej Meszaros who only cracked the lineup in four playoff games.
This year, the Bruins cannot end up with a Zanon or Meszaros at the deadline. Trade assets may come at a premium when this year's deadline comes around on March 2nd, so Chiarelli may need to make some hard choices. The Bruins need to make that next step, though, and Chiarelli has the power to make it happen. The Bruins play throughout the next month could have major implications on what this team looks like going forward.
The Bruins finally return to action tomorrow night in New York against their old friend Boychuk and the Islanders.