The Canucks only have amassed eight wins through their first 22 games of 2015-16, highlighted by some brilliant games but a lot of inconsistency.
The good is that the Canucks play in the Pacific Division, and their 22 points in 22 games has them in third place; the Kings lead the Pacific with only 26 points. Currently, the Canucks would sit in sixth in the Atlantic or Metropolitan, and would be seventh in the Central.
The bad is that very few players have fit into the roles they were expected to in the lineup. From as early as the preseason when Linden Vey and Frank Corrado lost their presumed spots in the lineup, nothing has really gone as planned for Vancouver's roster. While it's not all bad, there seem to be glaring issues in the output of a number of players because they aren't being utilized properly.
The ugly is that in close games, Vancouver has very seldom found ways to tighten up and fight for extra points. Nothing echos as loud in the first quarter of this season that the Canucks are 0-6 in overtime, and of their 14 losses, 12 have come by one goal – a combined minus-17 goal differential in those 14 games.
Sedins Still Leading the Pack in Vancouver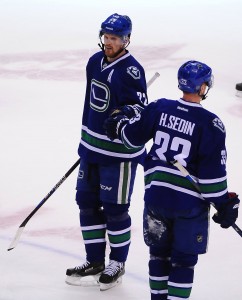 The Canucks are averaging 2.86 goals per game thus far, and their 63 GF is good for fifth in the NHL. Their offense clearly is getting enough results, but this hasn't always been evident because next to no players have produced consistently.
No players, that is, apart from who else but Daniel and Henrik Sedin, who have a combined 44 points in the team's 22 games. Regardless if it has been Brandon Sutter, Alex Burrows, Radim Vrbata or Jannik Hansen on their wing, the Sedin's have steadily continued to make Vancouver's top line an offensive powerhouse in the league. Now at 35 years old, Daniel is on paced for 86 points and Henrik is aimed for 78. Those totals would be a combined 15 points better for the Sedin's compared to 2014-15, when Daniel and Henrik had 76 and 73, respectively.
There have been other bright spots in the lineup, such as the emergence of Jannik Hansen arguably as a top six forward, or the often strong play of top defense pairing Chris Tanev and Alex Edler. However, the light continues to shine on the Canucks' roster inefficiencies, putting coaching staff and management in the forefront of their issues.
Frequent Changes Proving Not to Work in Canucks Lineup
In 2014-15, even with key roster and personnel changes and mild expectations, the Canucks players often seemed to fit into roles in the lineup well with rookie coach Willie Desjardins manning the ship. However, right out of training camp this season, many players have bounced up and down Vancouver's lineup which has affected the team's chemistry.
Radim Vrbata was acquired in the summer of 2014 with a $5 million cap hit and an expectation that he would play next to Daniel and Henrik. Vrbata did just that for most of 2014, but this season Desjardins has inexplicably not played him there often. At this rate, Vrbata is on pace for only 16 goals, which would be significantly worse than the 31 goals he scored a year ago.
Prior to the start of the season, Vrbata expected to play with the Sedins, just as Dan Hamhuis had expected to play with Yannick Weber, who he was commonly paired with in 2014-15. Hamhuis has instead played next to Matt Bartkowski for most of the season and the pair has looked completely out of sync at times. Weber has a mere three points and a minus-seven rating in 15 games, and seven times has been a healthy scratch.
And likely nothing threw the Canucks forwards out of sorts more than Desjardins starting Brandon Sutter as a right winger on the team's top line. Sutter was expected to be the team's second line center when he was acquired, according to GM Jim Benning, but this hasn't entirely materialized.
Since #Canucks Brandon Sutter injury team is 1-4-1, also more pressure on young centres https://t.co/AmI0gnX89Mpic.twitter.com/VbSTatkZVF

— ᔖkyone (@CanuckSyko) November 23, 2015
Not having Sutter down the middle, who now is out with an injury, puts far too much expectations on Bo Horvat, Jared McCann and Adam Cracknell to fill the void.
While Horvat has the potential to be the future first or second line center in Vancouver, at 20 years old he's simply not ready for this role. Horvat played on the fourth line in 2014-15 and had 13 goals and 12 assists, and faced some of the weakest competition of Canucks forwards last year. This season, 20 year-old Horvat is being asked to often play as a second line center and take regular shifts on the powerplay and penalty kill. He's simply being asked to do too much for this Canucks team, and his offensive numbers of two goals, eight points and a minus-10 rating in 22 games speak largely to this.
McCann, meanwhile, has shown he has proven offensive NHL talent, but at 19 years old he, like Horvat, isn't yet able to fill the third-line center void. And the 30 year-old Cracknell, who only had 82 NHL games under his belt before this season, hasn't disappointed on the fourth line, besides having a brutal 38.1 faceoff win percentage. McCann, for the record, is sitting at only 34.9% in the faceoff dot.
Canucks Dropping Too Many Close Games
A year ago, the Canucks team that finished with 101 points was 22-4-5 in one goal games. Thus far in 2015-16, Vancouver is an atrocious 2-6-6 in one goal games, and already have more combined losses when leading after two periods (five) than all of last year (four).
And for whatever reason, the Canucks can't seem to play in the new three-on-three overtime. At 0-6 so far, Benning has publicly stated that he knows it could directly affect Vancouver's playoff hopes:
"It could be a big part of defining our season… Last year, in games that went to overtime and the shootout we were (12-5). That's the difference between making the playoffs and not making the playoffs" – Jim Benning.
Despite their mere eight wins on the season, Vancouver has been inches away from at least having 14. They've been criticized for the need to use their younger and faster players in overtime, because while the Sedin's have been rock steady in terms of their production, their pace and style of play isn't suited for the amount of open ice.
A fair bit of scrutiny to hand out at the quarter mark of the NHL season, but it's clear the Canucks are finding ways to lose too often and coaching and management hasn't properly utilized most of the team's assets since game one of the season. What's promising is the fact that they've been competitive in every game, and thanks to playing in a weak Pacific Division, Vancouver still has a great opportunity to grab a hold of their 2015-16 season.
Canucks contributor for The Hockey Writers. Maple Ridge, BC native. Contact: coltondavies95@gmail.com or @ColtonnDavies on Twitter.