Now firmly into his third season as a head coach in the NHL, Bill Peters, coach of the Carolina Hurricanes, has a lot of work in front of him to get this team into post-season contention. Through his first two years with the organization, Peters is still yet to participate in the playoffs. In fact, it has been seven years since Carolina last saw the playoffs.
Peters' current lack of post-season success shouldn't be an immediate point of concern, as he came into the team during a major decline in terms of the team's talent. Most notably offensive stars Alexander Semin and Eric Staal both had major drops in terms of point production during Peters' first two seasons, both seeing their way out of Carolina.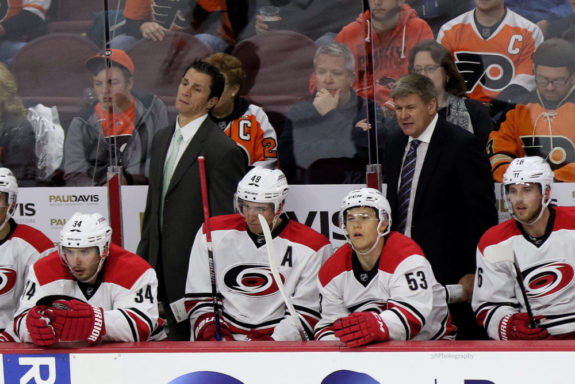 It appears though, for this season, the pieces are beginning to fall into place for Peters' vision of this team. Their level of play over the past few games has been as high as it has ever been in recent years, as the whole team is able to play effectively in all ends.
This quick turnaround time shouldn't come as a shock to anyone given Bill Peters outstanding performances behind the bench for other teams.
Spokane Chiefs
Bill Peters' first major coaching job came in Major Junior as an assistant coach for the Spokane Chiefs of the WHL. The Three Hills, Alberta native would serve there as an assistant under then head coach, and current Toronto head coach Mike Babcock from 1996 to 2000, helping Spokane reach a 100 point season and playoff final appearance in Babcock's final season with the team.
Peters' time as assistant coach would come to end in 2000 but he would return in 2005, this time taking control over the team as their new head coach. Bill would become one of the most successful head coaches in Spokane's franchise history in only three years. Peters earned a franchise record of 107 points in a single season, as well as Spokane's first and only Ed Chynoweth and Memorial Cup victories.
Rockford IceHogs
After Spokane, Peters would be signed on as the second-ever head coach for the Chicago Blackhawks AHL affiliate team, the Rockford IceHogs. Peters helped give the new team early success with two playoff appearances in his three-year stay there.
While Peters found on-ice success in Rockford, his real successes came in terms of player development. Multiple players would leave Rockford to find NHL. Included among these players are Bryan Bickell, Corey Crawford, Ben Smith, Nick Leddy, Niklas Hjalmarsson, Jordan Hendry, Troy Brouwer, Brandon Bollig, and Antti Niemi, all of which would graduate from Peters' system and win a Stanley Cup with Chicago.
International Hockey
Peters' success hasn't only stayed in North America as he has won gold representing Canada three times in international tournaments. His first gold medal came when he coached the Canadian U-18 team in the Ivan Hlinka Memorial Tournament in Piešťany, Slovakia, where pre-NHL versions of Taylor Hall, Ryan O'Reilly, Ryan Ellis, and Matt Duchene would go on to beat Russia 6-3.
His second gold medal would come in 2015 when he would once again work under Mike Babcock as an assistant coach for the IIHF World Championship. Here he would work with all-star caliber players such as Sidney Crosby, Brent Burns and once again Taylor Hall.
http://gty.im/460898584
His third and final gold while representing Canada came in 2016 when Peters was asked to once again represent Team Canada at the IIHF World Championship, but this time as head coach. It was Canada's 26th time winning the tournament in its 80-year lifespan. The team consisted of returning international veterans such as Taylor Hall, Ryan O'Reilly and Corey Perry, as well as young superstars Morgan Reilly, Sam Reinhart and Connor McDavid.
Detroit Red Wings
In 2011 Bill Peters would find his first coaching job in the NHL with the Detroit Red Wings, once again serving under Mike Babcock. Peters role within the organization was to work primarily with Detroit's defense and penalty killing units. Peters would stay with the organization for three years, in which every year they made the playoffs.
Carolina Hurricanes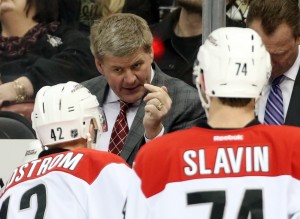 Now currently the head coach of Carolina, Peters has been with the team since the beginning of the 2014-15 season. Peters came into the team during a transitionary period and was tasked with the development of an almost entirely new roster. It was a tall task for the first time NHL head coach but it appears that he has pulled it off masterfully.
In 2015, Bill Peters used his defensive system and developmental expertise to excel a defensive core half composed of rookies into being one of the top defensive cores in the NHL. This year virtually that same exact defensive group has resulted in a league-best penalty kill percentage of 92.31, and almost 100 shots against less than league average.
While a few aspects of Carolina's game still need refinement, the work that Bill Peters has put into this team is enormous. Currently signed through to the 2018-19 season Peters has ample time to perfect this roster into one that is a legitimate playoff contender.