Conn Smythe for Leadership
It was seven years to the day, Sidney Crosby and the Penguins hoisted the Stanley Cup, his first, and what he hoped would be the first of many. But the seasons that followed were a far cry from the magical last seconds in Detroit, when Marc-Andre Fleury lunged to make a save on Nick Lidstrom, securing the victory. The Penguins dynasty was not to be, as two consecutive trips to the Final would become a distant memory.
Winning the Cup is the most difficult of accomplishments, something young Crosby perhaps took for granted. But his demeanor was distinctly different in 2016 than it was in 2009. His celebration was calm, his reaction deliberate. He was going to savor every last second of this victory. The road to glory for the Crosby and the Pens has been an arduous journey, but adversity is life's greatest journey, something that the Pens used to motivate them.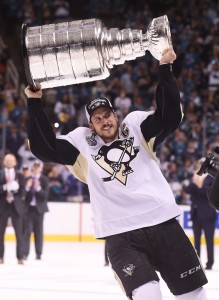 Sidney was the game's best player. He was dominating his way through the league. He scored the Golden Goal for Canada at the Olympics. He was well on his way to cleaning up at the NHL awards. That is, until an errant elbow at the 2011 Winter Classic put his career on hold. We were robbed of watching a generational talent in his prime, and Crosby himself was robbed of living his dream for what seemed like an eternity. Injuries happen to every player, so don't expect Sid to look for sympathy.
As for his team, they found themselves scuffling through the playoffs, from one disappointing series to another. In 2010, their bid to defend the title was foiled by a hot goalie whose magic eventually wore out one round later. In 2011, both Crosby and Malkin were on the sidelines, watching their mates blow a 3-1 series lead. In 2012, with Crosby still working his way back into game shape, the Flyers exposed and embarrassed the Pens, leaving them in shambles with seemingly no answers.
But in 2013, it looked as though things were turning around. The Penguins loaded up at the trade deadline, and promptly found themselves in the Conference Final. But the offence went ice-cold, Crosby's recovery from a broken jaw caught up to him, and the Pens were swept at the hands of the Bruins. In 2014, they blew another 3-1 lead, this time to the Rangers, and bowed out again to New York in 2015, but as the clearly inferior opponent.
2016 started out as bad as you could imagine. Pascal Dupuis was forced to retire. Crosby was a shell of his former self. Injuries continued to plague the team and they had no choice but to make a coaching change. Sometimes, a new voice behind the bench is all you need. It worked for them in 2009, though not much longer after that. This time, however, it wasn't just a different voice. It was complete overhaul in philosophy. Mike Sullivan won't win the Jack Adams award, but he truly is the best coach in the NHL. To say the Pens had a turnaround would be an understatement.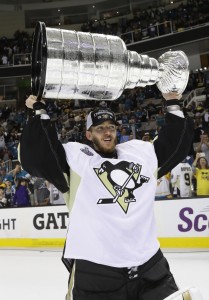 But dragging themselves back into contention was only part of the journey. Fleury and Evgeni Malkin were lost to injury. Rookie goalie Matt Murray was thrown into the fire. Key acquisitions by GM Jim Rutherford brought new life to the team as well, and they went on a run, but it wasn't like before. Something was different about this team. They responded to every challenge thrown their way. They played their best when facing the most difficult of tests. And leading the charge was Sidney Crosby, a new and improved captain, whose maturity was evident.
In 2009, he was criticized for not getting to the handshake line quick enough. This time, he was the first one there. He didn't let the Sharks get under his skin. No, 2016 is a far cry from the Flyers debacle four years ago, when he and his teammates completely melted down. Yet despite how far they came, an article emerged when they found themselves down 3-2 to the Lightning. It stated that Crosby wasn't a sufficient leader, and they wouldn't be able to win with him in charge. I don't know if he read that article or not, because the day after, he stepped up like we've never seen, and didn't look back.
From Uncoachable to Champion
When Jim Rutherford traded a couple of promising young players and a first round pick to the Maple Leafs for the much-maligned Phil Kessel, it was met with some reservation. The Penguins weren't deep on defence, and had stripped the prospect cupboard bare. They were all in, as if we didn't know before, but that trade cemented it. Once the dust settled, the idea of Kessel scoring 40 goals on Crosby's wing was tantalizing. Maybe this was a genius move. But things didn't go to plan, at least not at first.
Kessel had no chemistry with Crosby or Malkin, and his struggles reflected that of the team as a whole. They didn't look like contenders, and the trade looked more and more ill-advised. But the coaching change didn't just revitalize Crosby. It also seemed to give Kessel new life. He eventually found linemates that worked, and he chipped in down the stretch in a big way, right when they needed him most.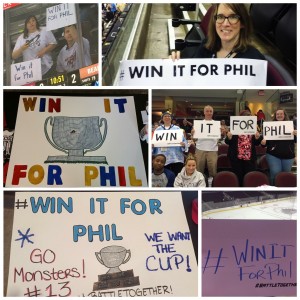 Rutherford understood something about Kessel that Brian Burke clearly didn't. He is a highly skilled player, but not the kind you build around. Kessel is at his best when he's a complimentary piece, when he doesn't have to be the star or the leader, or answer the hard questions. His game didn't change. His surroundings did. Some called him a coach killer, and claimed that no team could win with him. But when he hoisted the Stanley Cup over his head, all of those notions went right out the window. Kessel has found a home, and he contributed in the exact way they needed him to.
Phil wouldn't have been able to win the Cup with the Leafs. Not because there was something wrong with him, but because he simply wasn't surrounded with the right kind of players. They felt that in order to build properly, they needed to start over. It wasn't easy to be in that losing environment, to score as many goals as he did yet still be cast as the problem. It's been said that not everyone in the room liked him. I'd encourage you to check out the video and watch the joy on his teammates faces when he took his spin with the Cup. I guess Kessel really is the example of a much-needed change of scenery.
It's All About the Team
For as much as certain players will get the attention, this was a team win. The blocked shots, the contributions from depth players, the swarming defence. The Pens didn't need their star players to fill the net. Everyone on that roster bought in. Every time it looked like the ride was over, they'd find a way. Sullivan gave this team a new identity, something they had lacked for years. The Penguins celebrated their Cup-winning anniversary with another Championship, something that probably has never been done before.
They were truly a team of destiny, whether you like them or not. A hot goalie wasn't going to beat them this time. To overcome as much as they did; the injuries, the coaching change, the doubters and the naysayers. To essentially dominate the series from start to finish, holding the Sharks to TWO shots on goal in the third period. To beat the President's Trophy winners. To ride on the shoulders of a 22 year-old goaltender. They simply weren't going to be denied. They are the champions.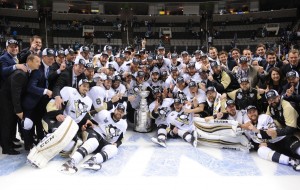 Marcy, a former hockey player, is a hockey correspondent on CTV News and TSN radio. She began her career as a Sports Journalist in 2009 and has been part of The Hockey Writers since 2010, where she is currently a senior writer and editor.