(Originally published Sep. 20, 2018)
Joe Veleno entered the 2018 NHL Draft as a consensus top-15 pick, and since falling to the Detroit Red Wings at No. 30, has been the team's top prospect.
"It just motivates me knowing they didn't want me," Veleno said of other teams following the draft.
That motivation made him arguably the Red Wings' best player at the Traverse City Prospects Tournament, where he led the team with seven points (two goals, five assists) in four games as the team's top line center. He ranks just behind Filip Zadina as the top prospect for the Red Wings, but has outplayed his 2018 draft colleague this fall. Zadina is battling for a roster spot, but Veleno has shown he has a bright future in Detroit.
Veleno's Maturation
The 18-year-old already has three years of junior hockey under his belt — he was granted "exceptional status" which enabled him to join the Canadian Hockey league (CHL) at age 15. Other recent players to have been granted the same include John Tavares in 2005, Aaron Ekblad in 2011, Connor McDavid in 2012, and Sean Day in 2013.
Drafted first overall in 2015 by the Saint John Sea Dogs of the Quebec Major Junior Hockey League (QMJHL), the Montreal native posted 43 points (13 goals, 30 assists) in 62 games, finishing 10th in scoring among rookies while showing his exceptional skill.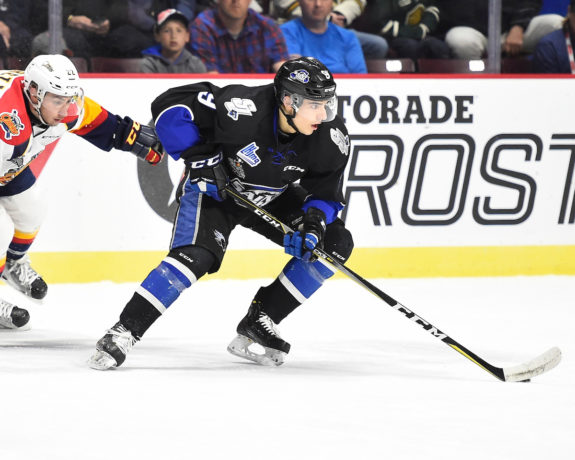 In 2016-17, he took a step forward and posted another 13 goals and 40 points — in 17 fewer games. Veleno added 11 points in 18 playoff games, and his eight goals tied for fourth on the team during their QMJHL Championship run.
Veleno was named Sea Dogs' captain ahead of the 2017-18 season, but as the team fell down the standings, they traded Veleno to the Drummondville Voltigeurs. With the Sea Dogs, he posted six goals and 31 points in as many games, but found another gear following the trade. He scored 16 goals and 48 points in 33 games with the Voltigeurs, finishing the regular season with a career-high 22 goals and 79 points in 64 games — ranking tenth in league scoring. He added 11 more points (five goals, six assists) in 10 playoff games.
While Veleno has impressed more consistently than Zadina or Michael Rasmussen this fall, he is set to return to Drummondville for a fourth junior season, though he will likely be one of Detroit's final cuts from camp.
A Path to Detroit
Veleno was all over the ice during the Red Wings' 3-2 overtime win against the Pittsburgh Penguins on Wednesday night. His smooth skating, impeccable defensive plays, and drive to be the best were evident. The experience gained from his first NHL training camp, and playing in a few more preseason games before returning to his junior club, will go a long way in helping Veleno learn what is expected of prospects in terms of nutrition, exercise, and his game.
Blashill talks Joe Veleno, developing young players and more ahead of our first preseason game tonight. 👇 | #PITvsDET pic.twitter.com/96LZrhOFHT

— Detroit Red Wings (@DetroitRedWings) September 19, 2018
A motivated and maturing Veleno will take it all in stride as he returns to the Voltigeurs to fine-tune his game. While he offers tremendous upside, he's already been knocked in terms of his shot, and consequently, his offensive upside. NHL prospects connoisseur, The Red Line Report, stated that Veleno, "has a very poor shot and will not score on NHL netminders." They added that Veleno telegraphs his shot and will need to improve his power and release before earning an NHL role.
Even as a play-maker, a return to juniors will help Veleno work on his weaknesses over the next year, as the 6-foot-1 center adds to his 192-pound frame and puts more muscle behind his shot. He has drawn comparisons to St. Louis Blues center Ryan O'Reilly for his all-around game, while the Red Wings consider him another Dylan Larkin. Veleno has the makings to be on the team's second line, possibly as soon as 2019-20, as he continues to improve and develop.
I offer opinions and insight on the Detroit Red Wings organization and its prospects.