There's no doubt that New York Rangers fans were disappointed with the team's first round exit in the playoffs, but truth be told many were expecting it. Many held out hope and stuck by the team until the very last game where the new champs closed the door on them.
Fast forward to July and we still haven't seen many changes, despite the glaring need for them. This has led to speculation that the team is on a downward spiral and won't make the playoffs this year. This couldn't be further from the truth, and there are plenty of reasons why.
Defensive Struggles
One of the main issues that the team has to address this off-season is the struggling defense. If you read up on social media, you'll see two names consistently pop up: Dan Girardi and Mark Staal, two long-term defensemen who have become the scapegoats. While there is no doubt that there needs to be changes, bias gets in the way.
Put aside Corsi stats for one minute and look at the numbers in terms of blocked shots for Girardi alone: 1,525 with 195 of them occurring in the 2015-16 season. This is a man that wouldn't quit on his team, struggled through injury after injury, deep playoff run after deep playoff run. Simply put, his body shut down and anyone's would with that type of grinding. Is there a chance he can bounce back? Having the extra time off to rehab and heal certainly can't hurt.
If the Rangers don't buy him out this summer, he'll have the chance to prove himself all over again next season. It would also be nice to see Dylan McIlrath get some more playing time. He was pretty much wasted last year, being a healthy scratch for so many games. Of course, this all depends on how the arbitration hearings pan out.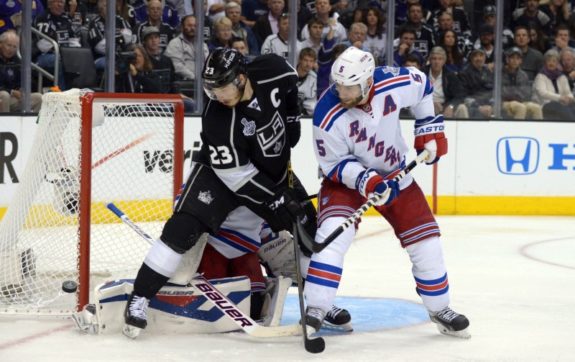 But what about Keith Yandle? I hear you, loud and clear, I hear you. The problem is with the cap space, they couldn't afford him and with Yandle wanting a no movement clause, it wasn't likely to happen anyway. The defense already has two painful NMC contracts and the Rangers were likely not looking to adopt another one.
That doesn't mean they don't have a good defensive group. With Ulf Samuelsson gone, the Rangers have hired Jeff Beukeboom in his place. Beukeboom's history with the team needs no introduction, and he's no stranger to the defensive side of hockey. Is he the be-all, end-all? Simply put, no. What he can do, however, is bring a new approach and help build the existing setup, because it's clear what was instilled last year didn't work. His hiring alone makes me a bit excited for the upcoming season.
Build on the Core
If there's one thing the Rangers have going for them, it's that they have a very solid core of forwards. Derek Stepan, Derick Brassard, Mats Zuccarello and Rick Nash are all excellent players in their own right, each with a unique set of skills that contributes to the team's success. Add in the youngsters: Jesper Fast, Chris Kreider and J.T. Miller, pending the latter two re-signing, and you have a dynamic setup. Pavel Buchnevich and the addition of Nathan Gerbe and Michael Grabner bring enough to the table that it might just be enough.
The one thing the team is missing is the dynamic forward, but truth be told with a couple of 30-goal players, they really don't need one. This is a team that likes to spread the love around, and as much as it can frustrate spectators to watch the pass-first approach, it really does work for them. Add in the bonus of having one of the league's most elite goalies in the net, and the recipe for a Stanley Cup Championship is there.
Are there concerns? Yes, absolutely, yes. Especially when you consider the immense amount of talent and how it all fell apart last year. The problem is, as with any spectator sport, we're speculating. It could've been a number of factors: coaching, injuries, lack of chemistry with the lines changing so often. Sometimes bad things happen to good teams, and this could've been their off year.
No matter which way you want to swing the pendulum, there's two things that I refuse to believe: I refuse to believe they're going to be a bottom team in the league before the season's begun; and I refuse to believe that a team with this much talent is going to come out and fall apart again. They have too much pride and talent that it just simply won't happen. Now, is it October yet?!