By the summer of 1970, the Maple Leafs were a team that had fallen quickly from the pinnacle of NHL success. The Stanley Cup in 1967 was followed by playoff misses in 1968 and 1970, and a first round exit in 1969. John Bower retired following the 1969-70 season, George Armstrong followed the year after, and other veterans Bob Pulford and Tim Horton had moved on. Still, the Maple Leafs had some players with experience who were still young in Ron Ellis and Mike Walton, a still-developing defence corps featuring 6 players under 25, and had added 2 exciting youngsters in Darryl Sittler and Brian 'Spinner' Spencer. GM Jim Gregory also had veterans Dave Keon, Paul Henderson and Norm Ullman with the team, and added Jacques Plante in net, who was still a very decent goalie at age 42. Gregory found a way to use his draft picks to augment his team going forward.
Part III – 1971-72
1971 – #9 Selection (Pierre Plante RW), plus Mike 'Shakey' Walton C and Bruce Gamble G traded to PHI in return for #22 Selection (Rick Kehoe F), plus Bernie Parent G. For the first time, Gregory made use of the 1968 change to the draft that allowed picks to be traded among teams. On February 1, 1971, Gregory sent his first round pick, along with 26 year old Walton and 32 year old Gamble to Philadelphia in return for Philly's second round pick in the 1971 draft, and 25 year old Bernie Parent.
The package sent away was not a collection of throwaways. Walton had been a former 30 goal man, but his time in Toronto was complicated by the fact he'd married Conn Smythe's granddaughter, he'd been benched by coaches Imlach and John McLellan, and he was experiencing depression. He'd regain his form after leaving Toronto, peaking in 1973-74 with 57 goals and 117 points playing for WHA Minnesota. Gamble was an adequate NHL backup, who played the majority of his career with the Leafs, mostly as third string to Bower and Sawchuk. Sadly, he was forced to retire by an on-ice heart attack suffered just 1 year after he was traded from Toronto. With the #9 selection, Philly took Pierre Plante, a rugged winger with some offensive flair. Pierre Plante played 599 NHL games, amassing 297 points, He'd have his best years in St. Louis in the late 1970s.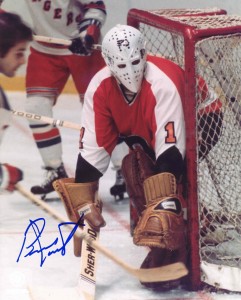 In return, Leafs got Bernie Parent to tandem with Jacques Plante. He was not yet the Bernie Parent who would win 2 Stanley Cups in Philadelphia. In fact, Parent's numbers were somewhat unspectacular, arriving with a career mark of 70-113-52 with 11 shutouts, and his career best GAA had been 2.48. Parent went 24-25-12 with the Leafs, but his game improved under the tutelage of his hero Plante. Sadly for Leaf fans, Bernie would be gone before he could be his most successful, as he was the first player to jump to the WHA from Toronto in a contract dispute, signing for $750,000 over 5 years with Miami. As Miami's team never got off the ground, Parent went to WHA Philadelphia for $600,00 per year. The WHA would have trouble with franchise stability and meeting payroll, and Parent soon left the WHA. However, his anger with the Leafs remained, demanding a trade, which sent him back to the Flyers.
With the second round pick (#22), the Leafs selected Rick Kehoe. Kehoe played 184 games for the Leafs, scoring 59 goals and 72 assists. His best season with the club came in 1972-73, playing with Darryl Sittler when he managed 33 goals and 75 points. But, his numbers dropped as the lineup shuffled, and unhappy he asked to be traded. He would play the rest of his career in Pittsburgh, totaling 906 games and 767 points, even though his career was cut short by injury in 1984.
Verdict: Jim Gregory was able to move Walton, an unhappy winger who'd lost his game, and Gamble, a career back-up goalie, plus his pick, and in return gained a young goalie who eventually found greatness, and drafted a skilled forward. Though by trading their first round pick, the Leafs missed the chance to draft Terry O'Reilly, Larry Robinson or Craig Ramsay, the deal gave Toronto 2 players who could have been big contributors. As with much of the Maple Leaf history though, these 2 players found themselves embroiled in squabbles with management, which saw them leave town before they reached their potential. Parent's trade out of Toronto will be featured later. Kehoe's trade in 1974 yielded another good young sniper in Blaine Stoughton (also lost to the WHA shortly after, who would return to the NHL and score 50 goals in a season), and PIT's 1977 first round selection.
1972 – #11 George Ferguson F. From the Toronto Marlboros, the Leafs chose George Ferguson. Ferguson began his career with Toronto playing at right wing, dropped into a lineup which had thinned due to the WHA's raid on the Leafs. He managed 23 points in his first season, but spent much of 1973-74 in the CHL. He made the Leafs as a regular the following season, but moving back to his natural centre position, he now found himself behind Keon, Sittler and later Stan Weir. Even upon Keon's exit in 1975, Ferguson was charged with playing a defensive, checking line role for Toronto, one George did not particularly enjoy. He was included in the 1978 trade that sent Randy Carlyle to the Penguins for Dave Burrows. Freed from the defensive shackles, Ferguson would immediately post 4 consecutive 20+ goal seasons with Pittsburgh. He finished his career with 797 games, 160 goals and 238 assists for 398 points.
Verdict: George Ferguson proved he was a very good offensive forward if given the chance. In Toronto he was simply stuck too far down the depth chart to get that chance. For Toronto, the trade of Ferguson and Carlyle would rank among the worst for the franchise. While Ferguson became an offensive contributor, Carlyle would go on to win a Norris Trophy with the Penguins. Both would play key role in Pittsburgh, joined by former Leaf Rick Kehoe. Dave Burrows was acquired to be a shutdown defenseman, something the Leafs needed behind Borje Salming and Ian Turnbull. It just did not work out that way, and Burrows played just 2 seasons with Toronto before being traded back to PIT with Paul Gardner in return for Kim Davis and Paul Marshall (Davis and Marshall would play just 25 combined games for Toronto).
It will be a recurring theme that on draft day, the franchise has had some success. Jim Gregory used these 2 first round draft selections to acquire 2 very competent forwards who proved they could score in the NHL of the 1970s, as well as a goalie who blossomed into a Hall of Fame cornerstone of a powerhouse franchise. And while it may have gone off the rails in later years, Gregory was doing his best to assemble a competitive Maple Leaf squad.