For the second year in a row, EA Sports has brought back the "Ask EA Sports NHL" section of its website. The section allows fans to ask members of the production and development staff questions about NHL 17, and get answers straight from the team.
The first batch of questions and answers have been released, and they include information about the game's first trailer — which comes on June 22 at the NHL Awards — as well as the game's features like EASHL, Ultimate Team and Gameplay. You can check out the questions and answers below.
NHL 17 releases on Xbox One and PlayStation 4 this fall. For full coverage of NHL 17, including all of the latest screenshots, check out the official Gaming page of THW.
How has skating been improved? 
Skating has been improved in a lot of ways. We looked at responsiveness in pivots, ability to interrupt a pivot when it physically makes sense, ensuring that proper momentum and acceleration is consistent across all turning (deking, protecting the puck, etc.) which makes the puck carrier's agility more realistic. We also worked a lot on facing angles and the control you have on defense to angle puck carriers, specifically looking at the angles and speeds you can take cross overs at before having to rotate your hips. You will also notice that you can step out and accelerate in a new direction like you can from a stop at speeds that makes it physically possible, rather than having to take a longer pivot out to convert your momentum like you do at high speeds.
Will new Goalie AI accompany the new animations?
Yes. In adding new blocking saves, the goalies save mechanics have been updated as well, so goalies will move their body into shots rather than making a limb based save which ultimately made them more vulnerable to be beat. They also know to stay tighter to their posts when the puck is down low and passes and shots are coming in tight to the net.
Can you talk about crease battles and cross crease goals from last year?
Yes. When we looked at one of the main issues for defenders it was the ability to tightly mark a player in front of the net or on the weak side. Last year, there was a big focus on getting defensive deflections and interceptions right but this year, we really wanted to focus on that close defending of a player. With net battles and extended stick lifts, you are given tools to tie up a player in front of the net so that you can take the goal side position and move them out from screening your goalie, tie up their stick, or simply just get in the way of them making a play.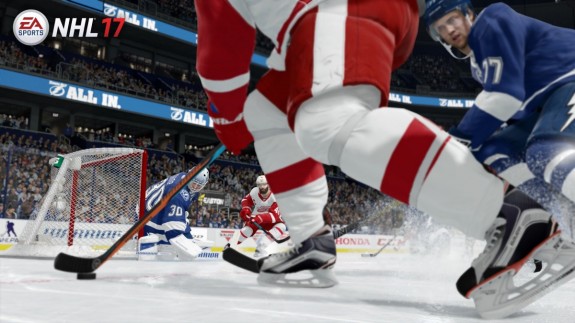 What are you most excited for about NHL 17?
In my role, I'm actually most excited about the complete package that we're delivering. Seeing all of the individual features that started off as designs on paper and come to life the way that they have is what really excites me. That said, if I had to pick one thing, aside from gameplay, the amount of customization options that we've added this year is probably the thing that I'm most excited about.
I know cross-ice passes work in the NHL, but this past year it seemed a little on the ridiculous side within the NHL 16 series. Will there be an enhancement with the AI to stop a better number of cross ice passes? given of course their stats warrant good defensive behavior. Thank you again for everything your team does, I look forward to the new enhancements coming this year!
Great to hear! We are also excited for everyone to get their hands on the new game. We have focused both on the new mechanics for Net Battles and Defensive AI assignments away from the puck to tighten up coverage against players parked in front of the net or on the weak side.
Will there be a defensive skill stick?
No, there won't be a defensive skill stick for this year. Knowing that we needed a way to tightly mark a player in front, we focused on the addition of Net Battles and extended stick tie ups. Through discussions with the community, the GameChangers and internally, there were ideas on how a defensive skill stick could work but at this point there isn't a plan on how it wouldn't compromise other controls in one way or another. In theory, having more control is always better but we want to ensure if we go down that path, it is ultimately able to achieve that goal without taking control away elsewhere.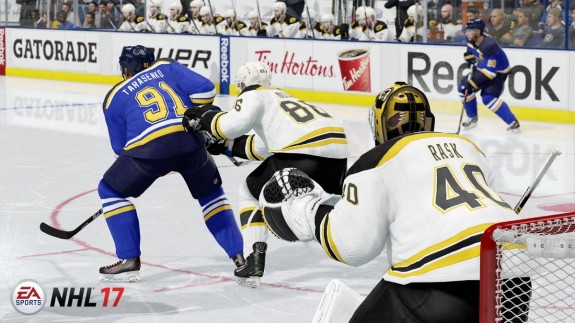 Any new leagues? (KHL, ECHL, etc) 
NHL 17 will have the inclusion of the ECHL in the game and we are very excited to have them be a part of the NHL Franchise.
Will there be GM Connected in NHL 17?
GM Connected will not be in NHL 17.
Is there going to be authentic jerseys for the national teams in NHL17?
With the addition of the World Cup of Hockey, we're very excited to have the authentic international jerseys (and all of the players) fully playable in NHL17.
What are the cities we can select in the create-a-team and relocation feature?
We have 15+ locations for our relocation feature that you can choose as potential new homes for your franchise. For Create A Team there are hundreds of cities/countries you can choose from when creating a team.
Will NHL 17 be coming for PC?
NHL 17 will not be coming to PC.
Can you create your own team in NHL17?
Yes. You can create a team in NHL 17 leveraging the most robust customization package that we've ever had.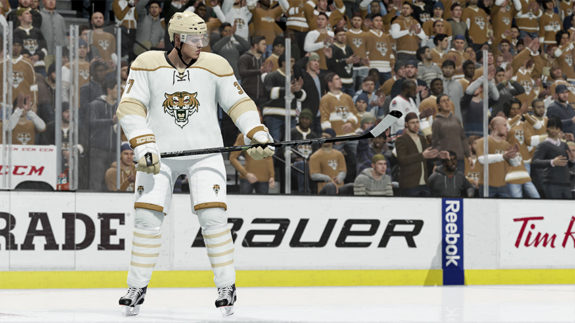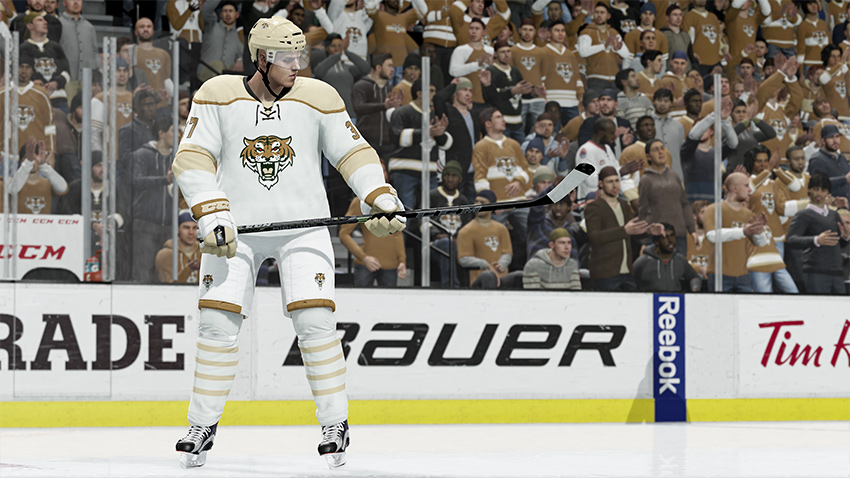 Will there be some kind of mode dealing with expansion?
Hello Brandon, we will not have any modes that deal with expansion. As it is on every hockey fans mind we are looking forward to see what the NHL does in terms of expansion for the league and then will proceed from there with our NHL partners.
Is there anyway you can bring back custom logos and custom jerseys for EASHL. I miss making my club unique compared to others
Yes, we are really excited for people to get in and try out our new Creation Zone features. EASHL progression opens up the ability to really customize your teams brand and identity with a wide variety of logos and jersey, pant and sock styles. The customization doesn't stop there though; this year we also give the ability to customize your arena — everything from the color of your board trim all the way to the goal song and spot light effects that take over the arena when you score. We are all going to see a lot of unique team identities this year with all that customization has to offer.
Will there be mid season negotiations with players?
You will not be able to negotiate mid-season with players. This is something that we are looking into for future iterations.
Are there going to be better ways to earn coins in HUT this year? Like solo challenges or better set completion awards?
For NHL 17 we took a look at gameplay rewards and made some changes that should increase the amount of coins the average player earns. In addition the new Dynamic Sets feature in HUT will allow you to trade in unneeded items in your collection.
Will EASHL have custom goal horns/songs/chants?
EASHL will have a large library of goal horns to choose from as well as goal songs. Chants is something we have thought about but hasn't made its way into NHL 17.
Looks like NHL17 has relocation! (pumped!) Do users get to customize jerseys, colors, names etc or are the location cities already have team suggestions with jerseys and logos?
Players will get to fully customize their jerseys, colors, names and more at the new city that they relocate to. We are excited to see the different designs and looks that our players create.
Will we get coaches challenges in the game this year?
Hey Joey. There will not be coaches challenges in the game but it's something we'll look at moving forward. To properly execute coach challenges as a feature, we would essentially need to fabricate 'wrong' or 'missed' calls which fans would then need to recognize. We'll need to get more feedback from fans on this before adding it.
Have you improved Be a GM this year? I feel the game mode hasn't seen significant improvements for multiple installments.
This year we have added a lot to Franchise Mode with the inclusion of unique team owners and the ability to control finances. You can change ticket prices, budgets, perform arena upgrades/repairs, set marketing promotions, and relocate your franchise. We have also added Owner goals that are based on your owner's personality which makes every team feel different.
Will there be any unlockable stat boosts or equipment for playing on EASHL? The rank system wasn't enough to keep me playing.
There won't be stat boosts in EASHL for NHL 17 – The mode is based around a balanced player class system where your skills with the controller and how you play as a team are the prime differentiator in who wins games. However, with the amount of customization options you can unlock, there are a lot of items that will allow you to show off how far you and your team has progressed and the accomplishments you have marked along the way.
FIFA just announced they're going to Frostbite, is NHL?
No. NHL isn't on the Frostbite engine this year, but we're always sharing technology, tools and learnings across EA to ensure we deliver the best experiences for our players. Frostbite is an incredible engine and I'd expect to see more of it in EA games in the future.
How long, on average, does it take to make an NHL game? Do you start it from scratch each year or do you build it upon from previous versions?
We continue to build on the previous iteration each year. Knowing that the game will come out every year is an aggressive cycle so we typically start on the next version months prior to the launch of the current version so we give ourselves as much time as possible to build features.