It's June, and thus there's going to be a ton of draft content. The Edmonton Oilers are well into their draft discussions and will be finalizing their draft lists over the next few weeks. The 2018 NHL Draft takes place on June 22-23 from Dallas, and the Oilers will be looking to build off the momentum of last year's crop.
In 2017, Oilers general manager Peter Chiarelli and his scouting group, led by Keith Gretzky and Bob Green, came away with a reasonable prospect group. That class was highlighted by Kailer Yamamoto (22nd), Stuart Skinner (78th), Dmitri Samourkov (84th), Ostap Safin (115th), and Kirill Maksimov (146th).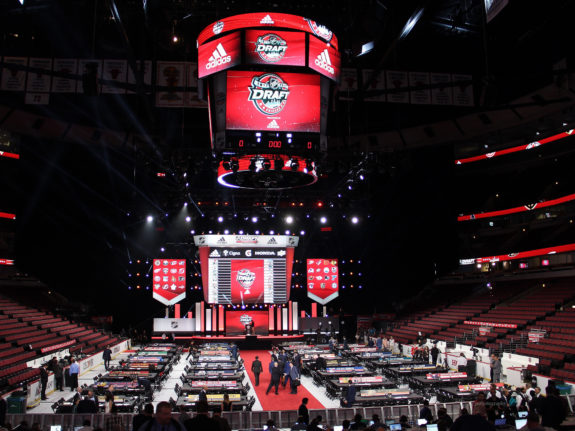 Chiarelli and company will look to do the same once again in 2018. They'll have plenty of options this year and will likely get an astute piece with their 10th overall pick. Earlier, I highlighted Edmonton's choices with their second-round pick. This time, we'll look into their third-round options.
Related: Oilers Best 2nd Round Options
The names on this list will come off of NHL Central Scouting's final draft rankings, Craig Button's final list, and a combination of THW's Larry Fisher's Top 100, and his complete mock draft. Here are five options for Edmonton with their 71st selection in the 2018 NHL Draft.
Related: Larry Fisher's 2018 NHL Mock Draft – 3rd Round Picks
Justin Almeida – Moose Jaw Warriors (WHL)
Position: C | 2017-18 Stats: 72 GP  – 43 G – 55 A – 98 PTS
This one is a bit of a sleeper and could be available to the Oilers with that 71st pick for two reasons. One – teams are scared off by the size factor, and he's just 5-foot-9 and 158 pounds (similar to Kailer Yamamoto). Two – he came out of nowhere and now sits 88th on Central Scouting's North American (NA) list. He's also 66th on Button's list.
Almeida's 43 goals in 2017-18 make him the highest-scoring draft-eligible player in the WHL. He's got tremendous breakaway speed, finds himself in scoring areas, and he isn't afraid to go into the dirty areas to get the puck. He breaks the mold for small players, and the league's shift towards speed and skill should be in his favor. He'll also likely shift to the wing in the pros as most drafted center prospects do.
Related: Best Players Available for Oilers at 10th
He's needing to get bigger, like Yamamoto, but finds himself in a position to be one of the best point producers in the WHL next season. He could be anywhere from Tyler Johnson, Derek Ryan, or Braden Christoffer. It's all a matter of how he progresses and how he can adapt to the pros. Almeida's high-end projection is as a top-nine scoring option.
Pavel Gogolev – Peterborough Petes (OHL)
Position: RW | 2017-18 Stats: 66 GP  – 30 G – 17 A – 47 PTS
Since coming to the Oilers in time for the 2015 NHL Draft, Chiarelli and his scouting staff have selected five OHL players. They've got some promise with that group, and if they go back to the OHL well, Gogolev could be a nice addition. Fisher chose the rangy Russian with his third-round pick in his mock draft.
Similar to the OHL Russian the Oilers selected in the fifth round last year (Kirill Maksimov), Gogolev has shown year-after-year improvement and is trending upwards. He's a pure goal-scorer who totaled 30 on the third-worst team in the OHL with no scoring support. Imagine what he could do with better players around him.
The 6-foot tall, 165-pounder is ranked 79th on Central Scouting's NA list, and the best case scenario could see him having middle-six upside. Consistency has been a work in progress, but the improvement he made in his draft year indicates he's well on his way. Could be one of the more consistent pure goal-scorers in the OHL next year.
Adam Mascherin – Kitchener Rangers (OHL)
Position: RW | 2017-18 Stats: 67 GP  – 40 G – 46 A – 86 PTS
The Florida Panthers couldn't come to terms with Mascherin (their 2016 second-round pick). He is eligible to re-enter the NHL Draft and could be selected anywhere from the third to fifth rounds. It's a unique scenario because he's a 20-year-old who can jump right into the AHL next season.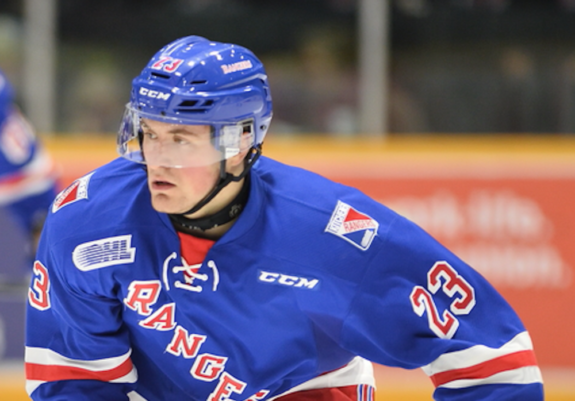 Chiarelli likes prospects who are further along in their development, hence deals like acquiring Cooper Marody and Pontus Aberg. Mascherin has registered at least 35 goals in three consecutive seasons in the OHL and has put up at least 80 points in those years as well. He's seen as a hardworking scoring forward with tons of speed and maturity.
Related: Adam Mascherin – 2016 NHL Draft Prospect Profile
His shot might be his best asset, and for a club that is so starved for pure scorers, Mascherin could fit that need for the Oilers. It'll be interesting to see if he's still available. He projects as a second-line scoring forward at best. It will be hard to pass on him if he's available with the 71st pick.
Olivier Rodrigue – Drummondville Voltigeurs (QMJHL)
Position: G | 2017-18 Stats: 53 GP  – 2.54 GAA – .903 SV%
The Oilers already have a stud goaltending prospect in Stuart Skinner from their 2017 class. They've also got Dylan Wells from their 2016 class.  Both will be turning pro next year and are the top two goaltending prospects within the organization. So why would they use their second on another goalie?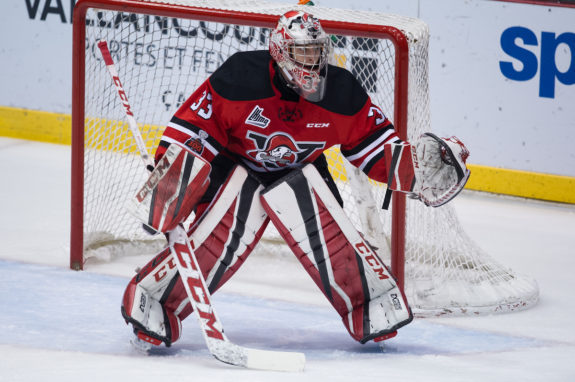 This is a very weak draft when it comes to goaltenders. There's no guaranteed first-round pick like Jake Oettinger (2017), Ilya Samsonov (2015), Andrei Vasilevskiy (2012), or Malcolm Subban (2012). Most often the best goaltender available will go in the second-round. If Chiarelli, Gretzky, and Green want a netminder, they'll have an opportunity to draft one in the second with Rodrigue.
Related: Olivier Rodrigue – 2018 NHL Draft Prospect Profile
Fisher might not be too high on him as he's got him sitting 100th on his list, but he's largely seen as one of the best goalies in the QMJHL and the top goaltending prospect available in 2018. His showing at the U-18 Hlinka Memorial with Canada left a great impression. He was also a workhorse No. 1 for Drummondville, plays bigger than he is, and has NHL upside as a potential No. 1.
Milos Roman – Vancouver Giants (WHL)
Position: C | 2017-18 Stats: 39 GP  – 10  G – 22 A – 32 PTS
Milos Roman is a guy who might slip past a couple of teams because he missed so much time due to injuries in his draft year. Roman, when healthy, was an excellent scoring option for the Vancouver Giants and put up 32 points in 39 games. He followed that up with six points in their seven-game loss in the first-round of the WHL playoffs.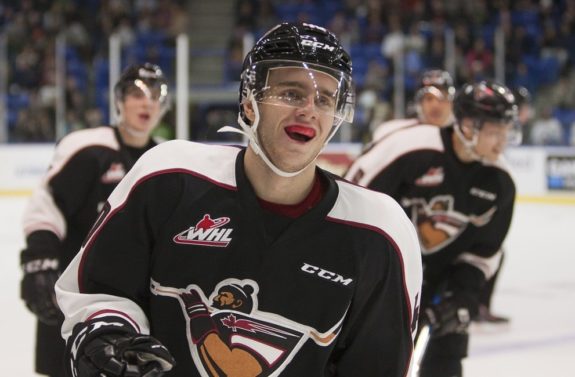 Roman is a playmaking center coming off his first season in North America after being the sixth overall pick in the CHL Import Draft. The Giants will be losing the likes of Tyler Benson and Ty Ronning next season, so Roman and James Malm will get starring roles in 2018-19.
Related: Milos Roman – 2018 NHL Draft Prospect Profile
He's a bit of a sleeper, and in Fisher's mock draft Roman went 68th to the Canucks. He's also ranked 66th by Future Considerations, and 41st among Central Scouting's NA skaters. So Roman is within the Oilers wheelhouse in the third-round. Keep an eye on this guy who could likely double his point totals in his draft-plus-one year.
Do you agree or disagree? Can you think of any better options for the Oilers with their 71st option, or would you trade it all together? Let us know your thoughts in the comment section below and be sure to check out all your Oilers draft content via THW's 2018 NHL Draft Guide.