If the reports are accurate, it appears newly acquired defensemen Chris Wideman will make his debut for the Edmonton Oilers on Sunday night when the Oil take on the Los Angeles Kings. Picked up from the Ottawa Senators for a conditional 6th-round pick in the 2020 NHL Draft, Edmonton wanted to add puck-moving ability and speed to their defensive core. It sounds like new coach Ken Hitchcock wants to see that potential offensive prowess in action.
The #Oilers have acquired defenceman Chris Wideman from the Ottawa Senators in exchange for a 2020 conditional 6th round draft pick. pic.twitter.com/Yyk8DPLJpP

— Edmonton Oilers (@EdmontonOilers) November 22, 2018
Wideman played only 19 games in Ottawa before being moved this past Thursday. A young player who was in and out of the lineup, he's also had his early season mired in a bit of controversy. For those that haven't seen it, he was one of the many Senators players featured in a viral Uber video knocking his former assistant coach. There's been no word on if that video had anything to do with the trade, but it appears Wideman's time in Ottawa had just sort of run its course.
Considered a virtually risk-free trade by Edmonton, what is Edmonton getting in Wideman? How will he contribute tonight and where will he slot against the Kings?
Related: NHL Rumors: Nylander, Puljujarvi, Coaching Jobs, More
Wideman's History This Season
Not long ago, Peter Chiarelli said the Oilers didn't have any defensemen with a knack for being strong puck movers. That comment stirred up some interesting debate considering the Oilers traded Taylor Hall and Jordan Eberle in what was supposed to be an effort to help build a better blueline. Regardless, this is where the Oilers are. A couple superstars, below-average defense and few blueliners to get the puck up to highly-skilled forwards. Wideman should help.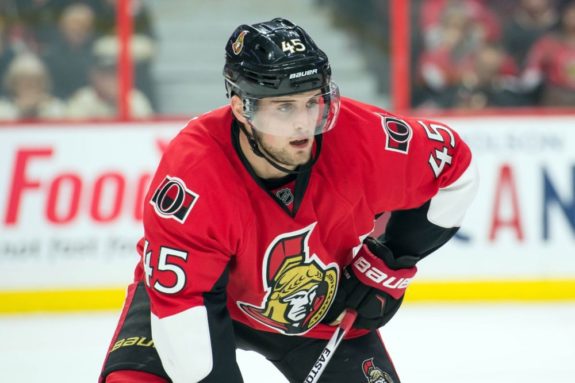 As  Shane Sander, a former contributor and good friend of this site wrote:
"Don't mind this move, don't think most others will either. Helps out depth for a minuscule cost in the long run. If it doesn't work out he's a UFA at the end of the year. Oilers & Chiarelli trying different things to shore up the 'we don't have any exceptional puck movers' thing."
It's likely also not a coincidence that merely days after Hitchcock took the reigns in Edmonton, the Oilers acquired Wideman, who averaged 13;32 minutes and was 2-3-5 on the box scores with a plus-minus – 9 rating. That would have ranked him sixth on the Oilers in points by a blueliner, but tied for the lead in goals. Key here might be his over 47 minutes in power play time where Edmonton will certainly give him a look. Not coincidentally, Hitchcock made one phone call and got Jesse Puljuarvi brought back up to the big club, so we know his opinion carries weight in the organization.
Beyond his puck-moving abilities, Wideman can skate well and is an above-average passer with possession numbers of the positive side of the ledger. He's small, and while his game is vastly different, bigger than Kris Russell and size isn't something we talk about when we talk about Russell's game.
Related: Was Hiring Hitchcock Chiarelli's Best Move to Date?
What Wideman Might Not Be
The knock on Wideman is his consistency. This is not necessarily that game in and game out he's not trying, but that overall, he simply lost his job in Ottawa to younger players. Sens coach Guy Boucher reduced his games and his ice time and that's likely why Ottawa was happy enough to move him on for such an insignificant return.
Wideman might not also be a replacement for what the Oilers already have. Yes, he'll get some opportunity on the power play where no one defensemen (outside of maybe Oscar Kelfbom) has cemented himself, but it's hard to know if the Oilers view Wideman as a better option than a player like Matt Benning.
Could this be a sign that Andrej Sekera is still a long ways away from being ready? Is this an indication that Hitchcock has determined that what he needs he can't get out of the current crop of blueliners on the roster? Are the Oilers not happy with Jason Garrison and Kevin Gravel? It's difficult to know if Wideman can live up to filling any of those shoes but he's going to get an opportunity to try.
"I cannot express how welcoming everyone has been. It's been unbelievable, making me feel very comfortable." @Chris_Wideman following his first #Oilers practice today in Los Angeles pic.twitter.com/Bzmceqrzle

— Edmonton Oilers (@EdmontonOilers) November 25, 2018
What we do know is that Wideman is happy to get a fresh start in Edmonton and the Oilers are happy to have him. Connor McDavid was the first one to reach out to him and perhaps the best player in the world is hoping to get a little help on the power play this season.
And the end of the day, if this Wideman experiment doesn't work, the Oilers can move on. That said, for all of Peter Chiarelli's faults, the one thing this GM seems to be good at is making smaller trades that improve the team. Oilers fans can only hope Wideman falls into that category.