Facing Off is a weekly column debating five of hockey's hottest topics each and every Monday. From current events like trades and hat tricks, to bigger-picture stuff like scandals and expansion — you name it, we're debating it. Albeit, not always with a serious tone. We're keeping this column light, so keep that in mind when reading, and feel free to join in on the fun by leaving a comment.

So I made the mistake of telling the wife-to-be we could get another puppy if John Scott scored in the All-Star Game.
Rookie move, right? I should have known he'd get at least one, with the help of all his friends, but the big guy put on quite the show in nearly netting a hat trick. Good for him, bad for me . . . although I didn't say when!
Oh well, join the club, eh? Two other dads promised puppies for their kids if Bobby Ryan in Ottawa and Cam Atkinson in Columbus scored goals last week, both of whom turned those dreams into a reality. Atkinson more than delivered in his hat-trick performance, while the other brothers were quick to name their future pet 'Bobby!' Sorry Mr. Scott, but I highly doubt our next fur-bearing — a second tiny terrier of the Yorkie variety — will be going by the name of John!
VIDEO: Bobby Ryan's game-winner scores family a puppy https://t.co/eQ3j4WxLxE pic.twitter.com/rZqlw5prxY

— theScore NHL (@theScoreNHL) January 24, 2016
Nevertheless, I do owe Mr. Scott an apology. I had been pretty harsh on him throughout the fan-voting process and even in the fallout of his controversial trade that buried him in the minors, but after reading his piece for The Players' Tribune, I was rooting for the likeable loveable goon throughout the weekend and he definitely didn't disappoint his growing legion of "fans".
John Scott opens up about his controversial NHL All-Star appearance. https://t.co/AT7xsDVvvq pic.twitter.com/xAJqFVzH8U

— The Players' Tribune (@PlayersTribune) January 28, 2016
Granted, Scott was obviously trying harder than most — probably feeling like he had something to prove — but he held his own from start to finish. His 95.9 mile-per-hour slapper in the hardest-shot contest was impressive enough — albeit nowhere near Shea Weber's winning, near-record blast of 108.1 mph — but Scott saved his best for last. For the "big" game!
Lo and behold, he scored on his first shift, converting a perfect set-up that was perhaps planned, before engaging in a playful and clearly scripted scrap with pint-sized Patrick Kane, his former teammate in Chicago. Scott really did it all, even throwing the first hit in All-Star Game history by knocking his little buddy Kane onto his keister to buckled-over laughter from both benches.
John Scott just won my heart for the 324th time this weekend. https://t.co/bgWexnAcgR

— Callüm Fraser (@CallumFraser18) January 31, 2016
But Scott wasn't done there, as he added a legit breakaway goal in the latter half of that Pacific win, roofing a heavy shot on Devan Dubnyk despite a half-hearted stick-lift attempt by Matt Duchene on the backcheck. Scott brought the fans out of their seats with that one — his ensuing smile lighting up the entire building, and solidifying him as the people's MVP in a performance that he and his kids can certainly be proud of.
John Scott strikes again. No. 28 gets his second goal of the #NHLAllStar Game on a breakaway.https://t.co/hJdXtntmNA

— Sportsnet (@Sportsnet) February 1, 2016
The way the Canadiens are struggling to score, maybe Montreal should consider calling up the friendly giant after all? Well, that might be pushing it, but if this was indeed the last we'll see of Scott in an NHL setting, then congrats to him for going out on top.
11 Best Moments of John Scott's All-Star MVP Weekend – https://t.co/RZrVLeupB8 #hockey #THW pic.twitter.com/m3hw5rLhUP

— The Hockey Writers (@TheHockeyWriter) February 1, 2016
https://twitter.com/marcyTHW/status/694005612531859457
Truth be told, I'm both glad and relieved that Scott scored the puppy-commitment goal because the next bet was dependent on THW colleague Sebastian Hedley-Noble going streaking during the Stadium Series game in Colorado later this month. And let's be honest, nobody wants to see that!
Sebastian, who covers both the Avalanche and Florida Panthers for THW, will be in attendance there — reporting live from Coors Field on Feb. 27 — but first he's here to make his regular appearance in Facing Off.
So, did you watch the 3-on-3 tournament? Did you enjoy it? What highlights stood out for you? Anything you'd change about the new format or do you want to see more of the same for next year?
FISHER: I watched it for the first time in a long time — not in its entirety, at least not live, but I PVRed it and caught up on all the highlights. I wouldn't say I was thoroughly entertained, but it was about what I anticipated, which was still a marked improvement from years past in terms of entertainment value. That was thanks in large part to Mr. Scott, a deserving MVP in my opinion for both selling the game, generating interest, and then performing above all expectations.
John Scott scores two goals, is named MVP of All-Star Game the NHL tried to keep him out of https://t.co/DRnISvTyFc pic.twitter.com/SaZGTIKqtv

— Deadspin (@Deadspin) February 1, 2016
Besides Scott's heroics — he truly made the event a success, believe it or not — there was both good and bad. I got a kick out of the chemistry and camaraderie between Taylor Hall and Johnny Gaudreau, with the Battle of Alberta rivals connecting a couple of times, first on a give-and-go finished off by Hall and then on another gift of a drop-pass from Gaudreau following a sensational save at the other end, with John Gibson robbing Tyler Seguin of a sure one-timer goal. That sequence stood out for me, but it was strange to see Hall and Gaudreau "playing nice" together.
Sick save by Gibson, sick finish by @hallsy04. #NHLAllStarhttps://t.co/wZ63hvH6Jy

— Edmonton Oilers (@EdmontonOilers) February 1, 2016
In general, the opening game started out pretty slow and sloppy with the players still looking half-hungover before picking it up a bit. It wasn't a break-neck pace by any means, but it had its moments. By the final, I got the sense that the players were "over it", and how fitting that it ended in a 1-0 game amid cries for more scoring in the NHL. How is that even possible, a shutout in a star-studded 3-on-3 showcase?
Since debuting in 1933, this was the seventh different format for the NHL All-Star Game and it probably won't be the last. The presentation still left a lot to be desired as well, especially the commentary on the Canadian broadcast. Glenn Healy is always a painful listen, but he was actually outdone by Amy Grant, a country singer and celebrity coach for the Atlantic team. She was absolutely awful — sorry, no sugarcoating that — in proclaiming Pekka Rinne the greatest goalie of all-time and picking Jann Arden as her favourite Canadian country artist. Really, Rinne and Arden? Wowzers, that was as sad as it was bad. For the record, neither Rinne nor Arden should rank in the top 10 for either of those categories. But she did kinda, sorta, supposedly get the coach's challenge right in the final, so maybe I should cut her some slack . . . or not!
Takes a miracle to make Pierre seem like the least annoying part of an interview, but congrats to Amy Grant!

— Pete Blackburn (@PeteBlackburn) January 31, 2016
I was way off in my prediction that the Central Division would dominate and defeat the Metropolitan Division in the final. As for the skills competition, it was pretty mediocre aside from Scott's standing ovation, Brent Burns busting out a Chewbacca costume and P.K. Subban doing his best Jaromir Jagr impression to win the breakaway challenge, with some solid hacky-sacking trickery to boot. That Dylan Larkin kid has a bright future too, breaking the fastest-skater record and acquitting himself quite well throughout.
HEDLEY-NOBLE: I don't know about Larry, but I have no problem being honest, especially about the All-Star Game. Yes, I did watch it, both the skills competition (disappointing but that was expected) and the 3-on-3 tournament. In short, while I enjoyed parts of it, I don't know if this is the format to go with, and I am a fan of 3-on-3. Nashville did provide a good atmosphere for the event and that certainly helped quite a bit.
The moments I did enjoy of course consisted of nice plays made by any player from the Avalanche (Matt Duchene) or Panthers (Aaron Ekblad, Jaromir Jagr, Roberto Luongo). They didn't disappoint either. The Panthers represented themselves well, with the Atlantic Division squaring off against the Metropolitan in the first game. Luongo, who was an MVP candidate, turned into a brick wall during both games (shutout in the second). He robbed Evgeni Malkin with a beautiful glove save, immediately leading to a Jagr breakaway, which the "old man" finished off in fine form.
Ekblad also scored in the first game. In the second game, with my eyes on Duchene, he started the scoring off for the Central Division with a sweet pass to James Neal in the slot for their first goal. Duchene would go on to assist on another Neal goal shortly after. So that was all well and good, plus we saw Scott's team win, with him scoring two goals in his first 3-on-3 game, the primary of which came on the first shift nonetheless!
However, something just seemed missing. For me personally, the All-Star Game has not matched the level it set back in the mid-'90s, early 2000s. I don't know all the answers on how to bring it back up, not yet anyway. Overall, it was much better than last year's, and a memorable one with the whole Scott scenario, so that's a step!
What do you miss more about the NHL All-Star Game — live player draft or separate Young Stars Game?
FISHER: I'm breaking the rules and saying both. The player draft has been a hoot in recent years, highlighted by last year's drunken shenanigans. That was must-see TV and really humanized the stars even if their performance the next day left a lot to be desired — I'm looking at you Ovechkin! In case you missed it, Alex the Great was not-so-great in nursing that hangover. But I guess it's understandable that the league wanted to steer clear of promoting that image of its best players belonging at an Alcoholics Anonymous meeting. I bet Gary Bettman was cringing from start to finish — he doesn't strike me as a guy with a great sense of humour — so it shouldn't come as a surprise that the player draft bit the dust. It wouldn't have really worked for the 3-on-3 tournament anyway, and dividing the players by division was the way to go. No real complaints there, but the draft was fun while it lasted. And it's safe to say John Scott got robbed of a new set of wheels.
5 Reasons to Bring Back the Young Stars Game to NHL All-Star Weekend – https://t.co/AHSvy71i2h #hockey #THW pic.twitter.com/byee2aM7j5

— The Hockey Writers (@TheHockeyWriter) January 29, 2016
On the other front, this would have been the perfect year to bring back the Young Stars Game — ideally, as an extension of the 3-on-3 tournament. Heck, they should have given the Young Stars a team in the tournament and made it a round robin spanning two days with the skills competition sandwiched in between. They are giving the Young Stars — Team North America — a spot in the World Cup, so this would have been a great chance for some of them to form chemistry on and off the ice. It seems like a missed opportunity for the league, considering the impressive rookie class this season. The All-Star teams are comprised of six forwards, three defencemen and two goaltenders. Assuming Connor McDavid was healthy enough — he's expected to make his return to the Oilers tomorrow — he could have suited up as one of the six forwards, along with Jack Eichel, Max Domi, Anthony Duclair, Nikolaj Ehlers and Sam Bennett. Dylan Larkin is already on the Atlantic roster, Sam Reinhart is currently hurt, Leon Draisaitl lost his Calder eligibility last season and Artemi Panarin might have been too old for the Young Stars team at 24 (born in 1991). On defence, you've got Shayne Gostisbehere and Colton Parayko as locks, and I'd probably give that third spot to Noah Hanifin or Darnell Nurse. In goal, it's got to be Connor Hellebuyck. Think about that team for a second — McDavid, Eichel, Domi, Duclair, Ehlers, Bennett, Gostisbehere, Parayko, Hanifin and Hellebuyck — they could have won the whole tourney. They certainly would have been fun to watch.
Sadly, the Young Stars Game was scrapped after the 2009 edition transitioned from East-vs.-West into Rookie-vs.-Sophomore. That showcase took place six times, starting in 2002, but the youngsters didn't take it any more serious than the actual All-Stars. Still, I would have revived it to put this group in the spotlight.
HEDLEY-NOBLE: First off, I want to say that something NEEDS to change, regarding the format of the NHL All-Star Game. The games are just not the same as they were in the mid-'90s and early 2000s, I don't look forward to them nearly as much anymore. With that said, I am going to break the rules as Larry did since they need breaking. I would absolutely love to see the live player drafting back in action, as there is a lot of entertainment to be had just by doing that. Though, as Larry pointed out, I don't think it will be making a gracious return anytime soon. Moving on to the Young-Stars Game, I agree with Larry here also and feel that the NHL should have given the youngsters their own team to compete with. Each year more talent comes through the league and it's becoming a young man's game, so it'd be a big mistake not to consider bringing back any aspect of a Young-Stars Game OR team in the future. We'll see how this one turns out I guess . . .
How many NHL captains will get traded between now and the Feb. 29 deadline?
FISHER: It's a strange year, with nearly a third of the league's captains available in some capacity. Realistically, you can probably set the over/under at three actually moving and many insiders would still take the under. The likeliest candidates are Winnipeg's Andrew Ladd, Carolina's Eric Staal, Arizona's Shane Doan, St. Louis's David Backes and Tampa Bay's Steven Stamkos given they are all unrestricted free agents at season's end. Toronto's Dion Phaneuf is likely still available, but the Leafs would need to retain some salary with quite a bit term left there. Ditto for Boston's Zdeno Chara, another name that has been bandied about over the last year. Then there is Columbus's Nick Foligno and Buffalo's Brian Gionta as long-shots as well, bringing the total to nine.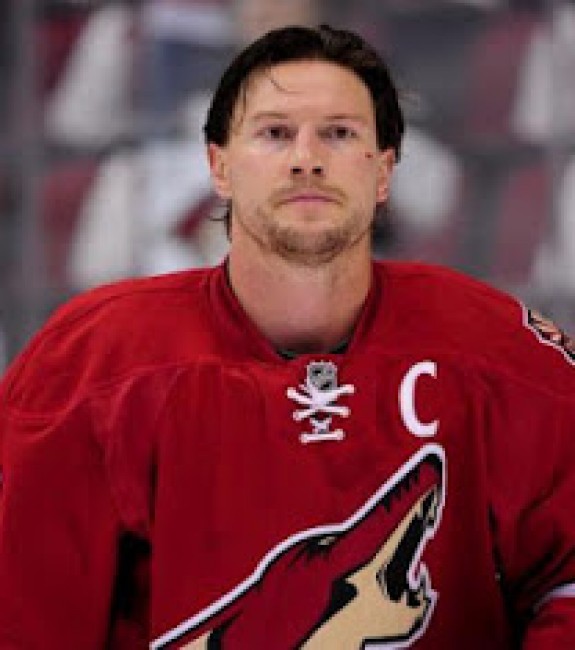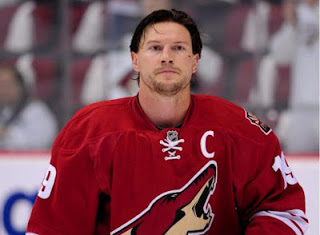 I want to take the over, but smart money is on the under because some of the teams these captains represent are surprisingly still in the playoff race — namely, the Coyotes and Hurricanes. So Doan and Staal might not be as available if those owners and general managers actually want to make a run for the post-season. They probably aren't being shopped as aggressively as they otherwise would be if their teams were bringing up the rear in the standings. I think Backes is safe with the Blues for the same reason, but are the Lightning willing to risk losing Stamkos for nothing if they don't have an extension in place by Feb. 29? The same question must be asked of Staal, considering the return the Hurricanes could likely get for their leader. Ladd is as good as gone in Winnipeg, in my opinion, with the Jets fading from the playoff mix. If somebody wants Phaneuf, then the Leafs will certainly be listening and I do think teams will be interested based on his improved play under Mike Babcock's system. There could actually be a market for Phaneuf this time around, especially if Boston isn't entertaining offers for Chara. The Bruins are in the playoff hunt, somewhat surprisingly as well, and Chara has been productive lately now that he's fully healthy and up to speed again. The Blue Jackets are going to be very active at the deadline and nobody is safe in Columbus, including Foligno by the sounds of it. Expect to see a shakeup there, but Scott Hartnell and some others would be more likely to move. Gionta is a good character guy with a decent amount of playoff experience, so the Sabres might take what they can get for him and turn that team over to the youngsters. Ryan O'Reilly has been a good fit there and could wear the 'C' for Buffalo going forward.
I'm going to live dangerously and say four of those nine captains are traded. Which four? I'll say Ladd, Doan, Phaneuf and Gionta.
HEDLEY-NOBLE: Pretty crazy to think that we are even discussing such a thing. Out of those Larry listed who are most likely to be traded, I'm going to go with Ladd, Phaneuf, Foligno and Gionta. As Larry mentioned, Ladd's time is all but up in Winnipeg. Trading Phaneuf this year would make the most sense to me, with his play on the upswing. Foligno is my dark-horse of the group, because as Larry ALSO mentioned (stop talking so much Larry, jeez) no one is safe in Columbus. Gionta's time with the Sabres has been ticking, and now that they have a solid younger core with more talent and experience than in years past to build around, I think he'll be gone, but to where is anyone's guess.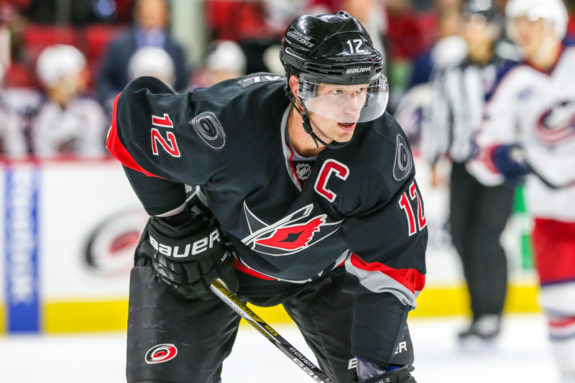 I don't see the Hurricanes in such a negative light as most people do, and believe they aren't as far away from the playoffs as they may seem. Therefore, I say they keep Eric Staal for now at least. Doan, I say negative on him getting traded as well, he's just a Coyotes lifer. If he were to be traded, you'd think it'd have been in the past when Arizona didn't have a shot at the playoffs whatsoever compared to this year. I really want to see Doan compete for a Stanley Cup, but I don't know if that's a good bet to make. I also will predict Stamkos staying put with the Lightning. Finishing it all off, Chara and Backes would be the least likely (of the players listed) to be traded in my opinion, so a definite no on those two guys. Tis a sad day when so many captains are on the market.
How much of Montreal's collapse should be blamed on Michel Therrien? If you were Marc Bergevin, would you fire him right now?
FISHER: Short answers, a fair share and yes, but I've always been trigger-happy when it comes to coaches. I was ready to fire Darryl Sutter right out of the gate this season and I was calling for Bruce Boudreau's head on a couple of occasions. I had Claude Julien on the chopping block too at one point. They all survived and persevered, so Therrien could stand the test of time too, with 32 games remaining in the regular season and a recent vote of confidence from Bergevin. But back-to-back defeats to the league's last-place team, the Columbus Blue Jackets, in a home-and-home heading into the All-Star break, that is inexcusable — simply unacceptable. That has to fall at Therrien's feet as much as it does Mike Condon and Ben Scrivens. That would have been the final straw for me.
Bergevin messed up when he said he wouldn't fire Therrien this yr. Now he's going to have to go back on his word and look like an idiot.

— Todd Leigh Offside (@Totally_Offside) January 27, 2016
Let's face it, this is becoming a total meltdown and it definitely goes beyond Carey Price. Yes, the goaltending has been mediocre at best since he went down for a second time. Yes, losing him has messed with the mental state of the team, affecting both their psyche and playing style. Making matters worse, first-year captain Max Pacioretty is now injured, and top defenders P.K. Subban and Andrei Markov are taking turns getting booed on home ice. Can you say rock bottom? It literally can't get any worse than it is right now. And Price isn't coming to the rescue any time soon — he's not expected back for upwards of another month and, who knows, maybe longer. If the Habs continue to plummet down the standings and playoffs appear out of reach, some believe Price will be shut down altogether for this season, meaning no saviour whatsoever.
Regardless of Price's status, the fact remains that the Habs have been the worst team in the league since the start of December. It's true, look it up. Their record is 6-18-1-0 for 13 of a possible 50 points — yes, 13 of 50. They have just one regulation win in 10 games since the Winter Classic, and also squeaked past the lowly Leafs in a shootout. Yet, the coach is absolved of any wrongdoing? C'mon, it's plain to see that Therrien is failing at his job as much as anybody else and he should be held accountable. If I were calling the shots, I'd be making that change sooner than later — sooner, like yesterday.
HEDLEY-NOBLE: I am not as trigger-happy when it comes to coaches as Larry is, actually I think they are given way too short a leash in a lot of scenarios. Though the situation with the Canadiens has been up and down to say the least. And when you have that type of roller-coaster season, it's hard to put it all on one person, especially when your best player has been on injured reserve for most of the season. BUT they HAVE been pretty terrible of late. The whole Ben Scrivens deal still has me scratching my head. Their record since the start of December is horrendous. It begs the question of, were they overachieving so much in the beginning of the season? Even though I am in the camp of allowing coaches a longer leash, I am also in the camp of "enough is enough." The team needs a shake-up, and that starts with the coach — bring in someone new, end of story.
No words needed. #FireTherrien pic.twitter.com/XVyN1JFvja

— A.Plant (@Pizza3_14) January 27, 2016
If the season ended today, who would get your vote for the five biggest awards — the Hart, Vezina, Norris, Calder and Jack Adams?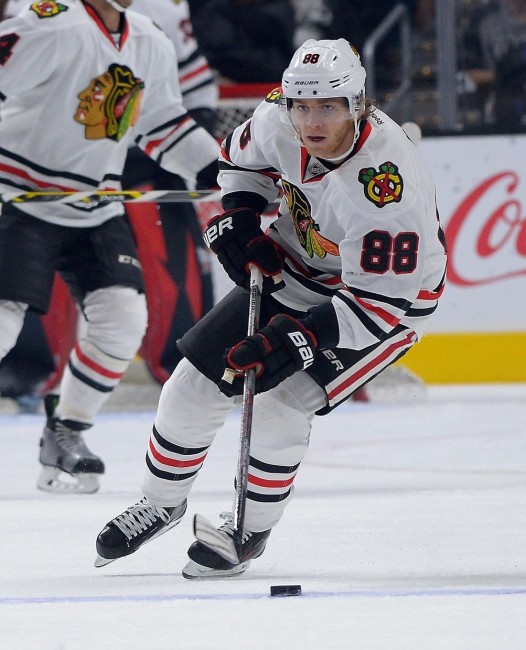 FISHER: The Hart has to go to Patrick Kane, right? How could it not? I don't see a goaltender winning the league MVP two years in a row, so as good as Braden Holtby has been for the league-leading Capitals, I'm going with Kane and it's not even close in my mind. Holtby doesn't come away empty-handed, however. He'd get my vote for the Vezina as top goalie, although I have Corey Crawford a closer second there. The Norris, which goes to the top defenceman, is a tough one right now — tougher than it looks on the stats sheet. Erik Karlsson's offence is off the charts yet again, but this award is about more than just points. Karlsson won it last year and also in 2012, so he can't be completely dismissed, but I'm going against the grain and giving my vote to Drew Doughty. He's arguably the biggest reason for the Kings' resurgence and deserves to get his name on this trophy. The Calder voting could seemingly go a few different directions as well, with Artemi Panarin leading the rookie scoring race, Jack Eichel coming on strong as of late, Shayne Gostisbehere putting his name in the hat as a defenceman, along with goaltender Connor Hellebuyck. Panarin's efforts shouldn't be diminished but, reality is, he's benefitting from playing with Kane, whereas Eichel is generating much of his own offence. Eichel is also five years younger than Panarin — almost exactly five years younger — so I'd lean toward the American phenom who was considered a frontrunner from Day 1, along with his draft rival, Connor McDavid, who unfortunately broke his collarbone fairly early on. The Jack Adams goes to the top coach and, no, Therrien is not getting my vote. Barry Trotz has to be a finalist for getting the most out of a pretty stacked roster in Washington, but a lot of times this award goes to the overachievers such as Calgary's Bob Hartley last year. There are plenty of worthy candidates from that perspective this time around. Julien, to me, has done a masterful job in Boston despite returning to a strangely overhauled lineup. Gerard Gallant has the Panthers leading the Atlantic, and Dave Tippett has the Coyotes in a playoff spot — enough said. Bill Peters has Carolina climbing the standings and knocking on that playoff door, while rookie bench boss John Hynes has the Devils in the mix much to the surprise of most. It's a shame that only one of these six men will be called up to the stage in Las Vegas, but my vote has to go to Tippett. Arizona was supposed to be bringing up the rear and planning to pick local product Auston Matthews first overall in the draft, but Tippett is getting water from this cactus and giving the desert fans a different kind of hope that nobody anticipated from the outset.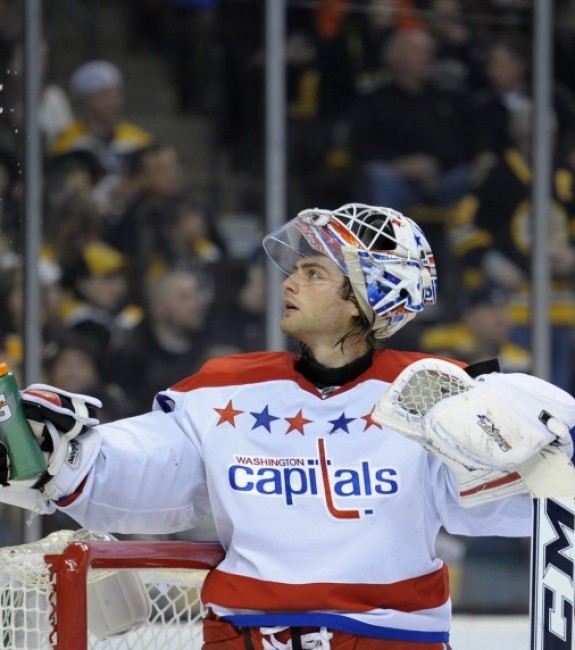 HEDLEY-NOBLE: Easy as pie (sorta). Hart for Kane, no question. The things he does night in and night out for the Chicago Blackhawks is simply amazing. Holtby wins the Vezina as he is playing a huge part in the Capitals' dominance this season. I'm picking Doughty for the Norris as well. Yes, Karlsson has the points and should finish second or third in voting, but Doughty has that all-around game that sets him apart for me. Panarin, no matter how old he is, wins the Calder as he has been playing great hockey the entire season. Playing with Jonathan Toews or Kane on a nightly basis definitely helps, but Panarin by himself is a VERY skilled player and shouldn't be penalized because he plays on a better team. Last but certainly not least, Gallant takes home the Jack Adams for his work with the first-place Panthers. That's right — first place, in the Atlantic Division, that is. Second-place overall in the Eastern Conference right now and not slowing down. Gallant has taken this team literally from the basement to the top, and that deserves the highest praise for a coach, the Jack Adams.
Third Man In
JORDAN DIX (covering the Dallas Stars for THW since February 2015): Kane is certainly running away with the points race, but he's not the Hart winner for me. That goes to Karlsson. I know Kane has been absurd, but in my mind the Blackhawks are still a playoff team without him. The Senators are hanging around the wild-card race despite awful goaltending and a big part of that has been Karlsson. He leads the Senators in practically every meaningful category, including the underlying metrics. The Senators are a lottery team without him.
As for the Vezina, I'm going against the grain here again. Holtby has been great but my vote goes to Luongo, who has been just a tiny bit better with a worse team in front of him. Luongo and Holtby essentially have equal statistics in terms of their GAA and their SV%, but Luongo has two more shutouts and a better save-percentage when facing high-danger shots. Those two are about as close as it gets right now, so whoever stumbles first will likely lose the Vezina race.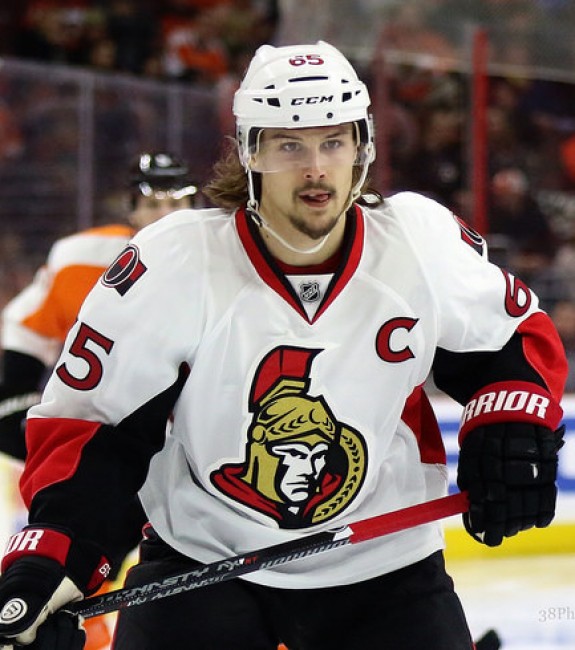 The Norris is pretty easy for me, it goes to Karlsson again. If he's going to win the Hart, he will almost certainly take home the Norris as well. Just the way he drives possession and scoring chances is absurd and his defensive game is underrated. His speed allows him to break up a lot of plays that most defensemen couldn't break up.
Without a doubt, Panarin has the Calder right now, but it is going to be a lot closer than many think. Dylan Larkin will be right there for a couple of reasons. His even-strength play has been just as good if not better than Panarin and there is the age factor. I don't agree with it, but it seems as though they value age in the Calder race. Aaron Ekblad beat out John Klingberg last season despite Klingberg having better overall numbers. Klingberg is a few years older than Ekblad, and Panarin has a few years over Larkin. It might come into play.
The Jack Adams could go one of two ways for me this year. Trotz will certainly have a big chance at it if the Capitals continue on this incredible run. Larry actually mentioned my pick for the Jack Adams and that is Peters in Carolina. The Hurricanes are rising in the standings and if they manage to make the playoffs, he is my clear-cut favorite to take home the award for best coach. I'm not a fan of giving it to whoever's team has the highest PDO a la Hartley and Patrick Roy. Carolina has done a ton of damage despite having bad goaltending and a not-so-stacked roster of players. Peters wins it if the Canes make the post-season.
Bonus Topic
You must be counting down the days until the Stadium Series. I'm jealous, that's going to be a really cool experience. What aspect are you looking forward to most?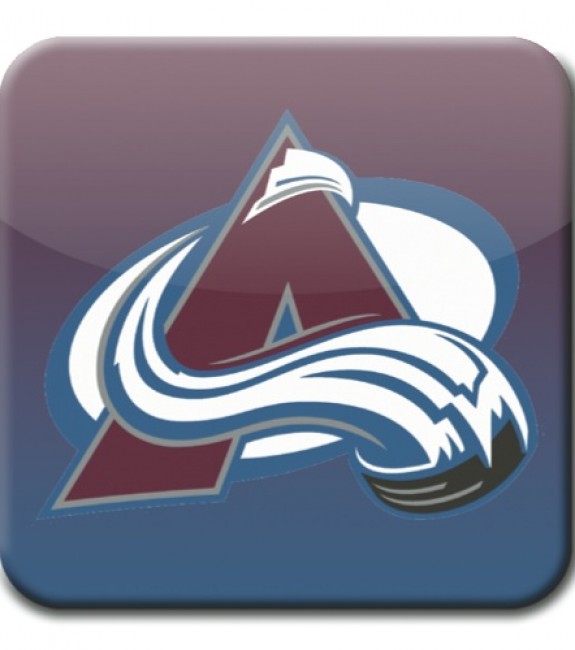 HEDLEY-NOBLE: I am indeed counting down the days — 26 more sleeps! By the way I wasn't aware of any streaking wager, but I am glad I didn't lose this imaginary bet, I have to say! It will be my first outdoor NHL game, so that in itself is pretty cool. I am very grateful to have been given this opportunity and will go represent THW to the best of my abilities for sure. They will be having an alumni game between the Colorado Avalanche and the Detroit Red Wings as well as the regular-season game, both at Coors Field. I couldn't really pick which aspect I am looking forward to most of all since the whole package is going to be amazing. There's going to be two huge points on the line for both teams. Colorado can't get caught up in all the outdoor magic, they must go for the kill! And in the alumni game, those that were fans back when the Avs and Wings had one of the most fierce rivalries in NHL history will get to see some absolute legends of the game (on both sides) for one last time. I'm pumped about every aspect of it. From the new jerseys which I happen to love, to being able to watch Joe Sakic, Peter Forsberg, Patrick Roy, Ray Bourque, Adam Foote, Rob Blake, Sandis Ozolinsh, Claude Lemieux and more in an outdoor game together. I won't be expecting any blood shed like back in the day, but I will be expecting TWO competitive games to say the least!
---
Who won this round of Facing Off? Feel free to weigh-in with your opinions in the comments below. We will be checking in periodically to both defend and expand on our initial answers. If you want to see us face-off over a topic, we're open to suggestions as well.
Sebastian Hedley-Noble is one of THW's credentialed writers, covering the Colorado Avalanche and Florida Panthers since May 2014. Follow him on Twitter: @SebastianHNoble.
Larry Fisher is a sports reporter for The Daily Courier in Kelowna, British Columbia, Canada, and has been an at-large contributor for THW since August 2014. Follow him on Twitter: @LarryFisher_KDC.