The Dallas Stars are off to an excellent 6-2-0 start and for the most part, have played really solid two-way hockey through most of their contests. The worrisome part of this year's Dallas Stars is that their two losses looked all too familiar to people who watched them miss the playoffs last season. Bad turnovers, lost puck-battles, questionable defensive coverage, blown leads and iffy goaltending has been on display during the Stars' first two losses on the season and it is leaving fans feel uneasy. After all, there was a similar fanfare last offseason and that team wasn't able to qualify for the postseason due to those issues. Should the Stars be worried? Let's dig a little deeper into those losses.
@ Colorado, 6-3 Loss
Turnovers were not so much the problem in Colorado, but every other problem from last season resurfaced against the Avalanche. The defensive coverage was awful, as the Stars allowed 14 high-danger scoring chances which ended up being more than half of the total scoring chances given up. When that happens, goals are going to be scored. Four of the six goals against Antti Niemi that night were considered high-danger scoring chances. Now add in some questionable goaltending from Niemi, just days after he stonewalled the Pittsburgh Penguins on opening night. While he faced some high-quality chances, he also faced his fair share of low-danger shots. He allowed two goals from low-danger areas, something he hasn't done outside of that game all season long.

Colorado was significantly more physical and hard on the puck, while Dallas was often easily knocked away. Lindy Ruff had some things to say after the game:
It's disappointing. It's embarrassing, worse than disappointing, It's a 3-3 game with 20 minutes left, that's not good enough. They won the battles and their best players were the best players and ours weren't.
Jamie Benn had similar things to say about their performance:
We had 20 minutes left in the hockey game, and they wanted it more than us and outbattled us, and that pretty much sums it up.
This is a team that had a two-goal lead late in the second period when everything fell apart. The third period was a disaster after the Avalanche tied the game late in the second period with back-to-back power play goals. That is one of the big reasons for concern as the Stars and their fans saw that time and time again last season. Especially against a divisional opponent, those are games the Stars are going to have to win this season to shed the demons from the previous year.
vs Florida, 6-2 Loss
As you can see, so for this season, when it rains it pours on the Dallas Stars. They have given up more goals in their two defeats than they have in all six of their victories. The game against the Panthers was very similar to the one against the Avalance except turnovers were an added element into this one. They turned the puck over 20 times in the loss to Florida and it led to several goals and scoring chances for the Panthers.


Turnovers were the genesis of both of the above goals and both came at important times during the game. The first came while the game was tied and the second came when Dallas had just scored to grab momentum and get within two.
Goaltending was once again an issue, this time with Kari Lehtonen getting the start. He did not give up a low-danger goal, but only one of his three goals against could be considered a high-danger scoring chances. Antti Niemi came in and did not fare much better, although most of his goals against were due to egregious turnovers by Dallas.
The Bounceback
The thing that could be the difference maker for this year's Dallas Stars is how they respond after the demons from last season make themselves known in a game. After the Colorado game and Ruff's callouts, the Stars bounced back with five straight wins and several dominating performances. They host the Anaheim Ducks on Tuesday, a team that is struggling mightily to score. It should be a prime opportunity for Dallas to show its fans that they are not the team they saw last season or in these two losses.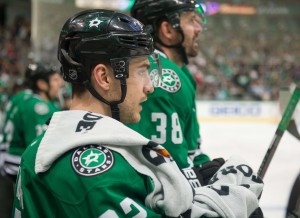 Don't Get Too Scared Yet
While the same issues from last season have been largely apparent in the first two losses this season, that should not give the Stars or its fans a reason to panic at all. For the most part, this team has played incredibly well and has absolutely dominated large stretches of play at a time. It is something to look out for, however. If the Stars continue to get blown out in bad losses and their ghosts of the past haunt them, it could lead to horrendous stretches that the Stars simply cannot afford. It seems like we say it every year but the Central Division is tighter and more competitive than it has ever been this season.
There are two big things to watch out for moving forward. One is how these Stars respond after a loss like this. They had an excellent response after Colorado, we will see if they produce a similar response after Florida. The other thing to look out for is how they lose games. No team is going to win them all and simply put, the Stars are going to lose some games. It would just be more comforting to both the fans and the team to start seeing them lose close games where they play well instead of getting blown out.
Don't panic at all just yet, this team looks to be a strong contender in the West. Just look out for those ghosts.