The NHL draft has always been a game of chance. Every selection is made with diligence and yet the majority of the drafted players will never make a meaningful impact on the organization that selects them. No position exemplifies this truth more than the goaltender. The NHL landscape is littered with the remains of netminders who once upon a time were viewed as the future of their franchise.
No organization understands this more than the Florida Panthers. In 19 drafts the Panthers have selected 19 goalies, six of those in the second round, and zero of them have played more than a single season for the NHL club. For a franchise that must rely on the draft to remain competitive that is a little disheartening. Not only does it mean that you must rely on free agency and trades to acquire a goalie but it also shows a flaw in the organizations draft strategy and/or their developmental strategy.
Luckily for the Panthers their 19 years of futility in the art of drafting goalies is about to come to an abrupt end. There is hope on the horizon and it is embodied by a 22 year old Swede who is considered by some to be the best goalie not currently playing in the NHL.
Rise of the Future Netminder
The changing of the tide occurred during the 2008 NHL Draft when the Florida Panthers selected Jacob Markström, an 18 year old Swedish goalie, with the 31st overall pick. The lanky goalie was the third player selected at the position but was considered the top European goalie in the draft and a potential #1 goalie for the organization.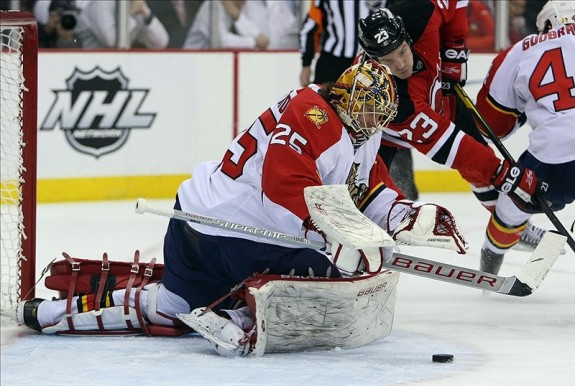 Before Markström was even drafted he was ahead of the proverbial curve when it came to goalies. He had signed a two year contract with Brynäs IF in May 2008 after playing parts of two seasons with its junior squad. He even saw time with the struggling team, playing in 7 games while tallying a 3.12 GAA and a .888 SV%. From that point on his stock began to dramatically rise as he took the starting role for Brynäs IF and ran with it.
In 2008-2009, his first full season with the club, he compiled a 2.38 GAA, .917 SV% and 3 shutouts in 35 games. In that same year he led the Swedish World Juniors team to a runner up finish as he led the entire tournament with a 94.6 SV%.
His promising career carried into the 2009-2010 season where he led the Elitserien in both SV% (92.72) and GAA (2.01) at the age of 20. The temptation to bring Markström to North America proved to be too much and the Panthers signed their prized prospect to an entry level contract.
It didn't take long for Markström to get his first taste of NHL action. On January 23, 2011 Scott Clemmensen went down with an injury in the 2nd period of a game against the New Jersey Devils, opening the door for Markström to enter the game. He ended up giving up two goals while posting the loss and was sent down to Rochester shortly after in order to become acclimated to the North American style of play.
His first season was marred by inconsistencies and an injured knee but he quickly regained form during the 2011-2012 season. Not only did he post a 2.32 GAA with San Antonio but he also played in seven games with the Panthers where he gave everyone a glimpse of what kind of elite goaltender he can potentially become.
The Skills of a Future Star
The first thing you notice about Jacob Markström is his size. At 6'6" and 196 pounds he is the poster child of what goaltending is evolving into. The desire to draft small goaltenders for their superior skill is no longer there as larger goaltenders have become equal in skill as their smaller counterparts. Large goalies such as Pekke Rinne, Carey Price and Jonas Hiller dominate the crease nowadays and Markström looks to continue that trend in Florida.
Even though his size tends to garner the most attention its not his greatest attribute. What sets him apart from the countless other goaltending prospects is his mental strength and confidence. Young goalies are notorious for having fragile confidence that if broken can sometimes never be repaired, but Markström doesn't seem to exhibit that common characteristic. Instead he exudes a calm demeanor which is usually reserved for veterans.
A lot of his confidence comes from his size but that doesn't mean he lacks skill. He is very agile for his frame, moving side to side with relative ease. His positioning is not anything to write home about but it can easily be worked upon and his glove has flashed signs of being above average.
The biggest knock on his game is his recovery speed. With the advantage of his size comes the disadvantage of taking longer to return to his feet which leaves him vulnerable for those brief seconds. He also needs to absorb the puck better on shots as well as keep the rebounds away from the middle of the crease.
What Happens Next
It's hard to say whether or not Markström is ready to take the next step and join the Panthers on a regular basis for the 2012-2013 season. If he were to gain the backup role the question of whether inconsistent playing time will stunt his growth emerges and it is a valid concern. The raw skills are undoubtedly there and by all means Markström looks ready for the NHL but will another year of refinement be more beneficial than sharing time in the NHL where the competition is much better?
That's the question that the Florida Panthers will have to ask themselves for this upcoming season. They know that Markström is their future in the net, they just need to figure out how soon that future should be.