The Edmonton Oilers have just over half a million Facebook and Twitter followers respectively. To summarize the weekend in a nutshell; Winnipeg Jets defenseman Jacob Trouba publicly announced his trade request and every Oiler fan online had traded the young defenseman to Edmonton about half a million times.
There is a potential match between Trouba and the Oilers, but remember the basics of the NHL marketplace; wherever Trouba goes, the price will be high. Jets GM Kevin Cheveldayoff knows he can name his price and eventually get someone to bite. Remember. when the Oilers wanted a defenseman, the price Oilers GM Peter Chiarelli had to pay was Taylor Hall.
Related: Trouba's Agent Kurt Overhardt Pubically Requests Trade
Chiarelli called it the cost of doing business. Considering the Columbus Blue Jackets had to deal a No. 1 center in Ryan Johansen for Seth Jones, and the Nashville Predators and Montreal Canadiens swapped Shea Weber for PK Subban, it is the cost of doing business.
That's the market. When the Oilers inquired about Jones, it speculated the asking price was Ryan Nugent-Hopkins. Whatever the Oilers do with Trouba, the price is going to be sky high. Cheveldayoff knows it, Chiarelli knows it, and any GM inquiring knows it.
There's a Natural Fit for Trouba in Oilers Top Four
There is an obvious fit in Edmonton for Trouba, a young right-shooting defenseman that prefers to play RD, and the Oilers are scarce in RD depth. The 22-year-old Michigan-native is entering his fourth NHL season and trade request gives the Oilers an opportunity to create a truly competitive NHL defense. Trouba scored 21 points for the Jets in 81 games last season and played the third-most TOI for a Jets defenseman. Despite that, he's buried on the right side behind Dustin Byfuglien and Tyler Myers, both of whom are bonafide top-four defensemen in the NHL.
Related: Versteeg, Gryba & Others Get PTO's With Oilers
Overhardt stated in the press release that this isn't about the money, but if we are going to talk about the cost it'll be between $4 to $5.7 million to get Trouba signed to a potential long-term deal. That's the going rate for young defensemen; Adam Larsson ($4.1 million), Oscar Klefbom ($4.1 million), Morgan Reilly ($5 million), Seth Jones ($5.4 million), Dougie Hamilton ($5.7 million) and the list goes on.
Here's what the Oilers defense would look like with Trouba, assuming a forward and picks are used to acquire the defenseman:
| | |
| --- | --- |
| LEFT DEFENSE | RIGHT DEFENSE |
| Oscar Klefbom | Adam Larsson |
| Andrej Sekera | Jacob Trouba |
| Darnell Nurse | Brandon Davidson |
| E. Gryba/G. Reinhart | Mark Fayne |
The Oilers would then have four defensemen making north of $4.1 million, but they'd have their top four locked in for the foreseeable future. Trouba would give the Oilers a smooth skating, mobile puckhandling defenseman that jumps up in the play and acts as a fourth forward on the rush.
The Asking Price Will Be Astronomical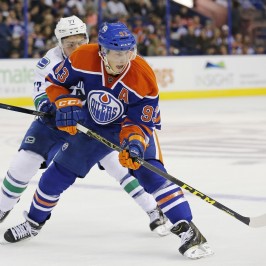 The Trouba camp, led by his agent Kurt Overhardt, have until Dec. 1 to help facilitate a trade or the player will be ineligible to play this season. The Oilers had a similar issue with Mike Comrie. In recent memory, both P.K. Subban and Kyle Turris held out for deals. Subban was able to come to terms with Montreal and Turris ended up getting traded to Ottawa.
Recent trades have proven the point that if you want a high-end defenseman in this marketplace, you'd better be ready to pay. The Oilers have been fleeced in recent deals out of pure desperation. They paid an arm and a leg in trades for Griffin Reinhart, Adam Larsson and overpaid in free agency for Andrej Sekera.
Related: Assessing Jets Holdout Jacob Trouba
Related: Oilers Could Be Suitors For Trouba
The cost will likely come down to the Oilers having to potentially move a Ryan Nugent-Hopkins, Jordan Eberle, Griffin Reinhart or Darnell Nurse. The Jets might take Nail Yakupov as a sweetener but if the Jets need anything, it's a left side defenseman to bolster their group. That means Reinhart and Nurse will jump up on their list. The Oilers were already hard pressed to move either for a solution on defense before they acquired Larsson this summer. The Oilers do have their 2017 first round pick, but if they move it, they won't have a pick until the third round.
Can they afford to move away from the draft table next June? Their cupboards aren't that deep, to begin with. Is it too much of an asking price to move the pick with some top five or ten protection?
Expansion Draft Does Not Halt a Trouba Trade
A lot is being made about the impending NHL expansion draft next summer with the Las Vegas (something) Knights joining the league. The Oilers will have two options to file their protected list for the expansion draft (see table below).
Any player with a No Movement Clause (NMC), and or who decline to waive their clauses, must be protected. On the flip side any first and second-year players, including unsigned draft selections, are exempt, and won't count towards the protected list.
OPTION A

OPTION B
Goaltender (1)

Defenseman (3)

Forwards (7)

Goaltender (1)

Skaters (8)*

* Can protect combination

of eight defenseman/forwards
Where it gets complicated is the rules about who has to be left unprotected; one defenseman and two forwards who've played at least 40 NHL games the previous year, or who played a total 70 NHL games in two previous seasons. Then there is a goalie under contract or with restricted free agent (RFA) status at the end of the 2017-18 season. Any player(s) on long-term injury reserve (LTIR) are exempt from selection.
Related: NHL Expansion Draft Rules
Related: Oilers NHL 17 Player Ratings
Las Vegas will need to select one player from each team to give them a total of; 14 forwards, nine defensemen, and three goaltenders. At least 20 of those players need to be under contract for 2017-18 and they'll have to stay under the cap, currently $73 million. Las Vegas won't be able to buy out any selected players next summer either.
With that said, does this complicate an Oilers trade for Trouba? No, there are two options. The best solution would be "Option B", it allows the Oilers to protect any combination of eight forwards and defenseman. If they traded for Trouba and miraculous didn't lose an RNH, Draisaitl or Oscar Klefbom this is what it would look like:
POTENTIAL OILERS "OPTION B" EXPANSION DRAFT PROTECTED LIST

GOALTENDER (1)

DEFENSEMEN (4)

FORWARDS (4)

Cam Talbot (NMC)

Oscar Klefbom

Adam Larsson

Andrej Sekera (NMC)

Jacob Trouba

Leon Draisaitl

Jordan Eberle

Milan Lucic (NMC)

Ryan Nugent-Hopkins
PLAYERS WITH DEFAULT PROTECTION

GOALTENDERS (2)

DEFENSEMEN (6)

FORWARDS (7)

Nick Ellis

Eetu Laurikainen

Ethan Bear – Matt Benning

Ben Betker – Caleb Jones

Joey LaLeggia – Darnell Nurse

Drake Caggiula – Connor McDavid – Kyle Platzer

Jesse Puljujarvi – Patrick Russell – Jere Sallinen

Anton Slepyshev
Connor McDavid and Darnell Nurse don't need to be protected because they'll both have two years in the league. The same argument can be made for Matt Benning, Drake Caggiula, Jesse Puljujarvi and several others who have yet to reach that third-year pro milestone.
Here's the list of players protected excluded from the list below of unprotected Oilers players for those of you that are curious. The obvious exclusions are the unrestricted free agents (UFA) notably; Matt Hendricks (F), Anton Lander (F), Matt Fraser (D), Andrew Ference (D) and Jonas Gustavsson (G).
The notables on the list include; Laurent Brossoit (G), Brandon Davidson (D), Mark Fayne (D), Griffin Reinhart (D), Patrick Maroon (LW), Benoit Pouliot (LW) and Nail Yakupov (RW). There are some good players on this list and just for argument's sake these players were still here after a Trouba-trade, the Oilers would lose just one of them to expansion.
Here's the list in alphabetical order:
THE UNPROTECTED LIST

GOALTENDER (1)

DEFENSEMEN (6)

FORWARDS (13)

Laurent Brossoit

Brandon Davidson – Mark Fayne

David Musil – Jordan Oesterle

Griffin Reinhart – Dillon Simpson

Taylor Beck – Greg Chase – Braden Christoffer

Zack Kassian – Jujhar Khaira – Mark Letestu

Patrick Maroon – Mitch Moroz – Iiro Pakarinen

Tyler Pitlick – Benoit Pouliot – Bogdan Yakimov

Nail Yakupov
Circling back, Las Vegas will need to select one player from each team to give them a total of; 14 forwards, nine defensemen, and three goaltenders. There are teams deeper than the Oilers that will have to sacrifice much better players than the Oilers have to offer. The team could realistically lose Davidson, Reinhart, Maroon, Pouliot or Yakupov next summer, but if they had a solid top four with the addition of Trouba, would anyone really care?