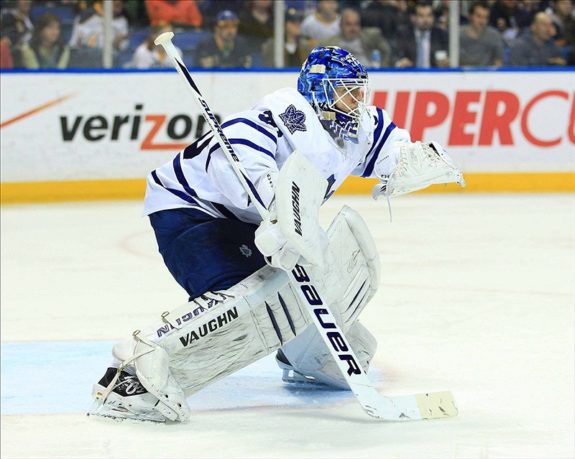 Maple Leafs Panel is a weekly feature that is published every Monday throughout the season here at The Hockey Writers. It's a feature where THW Editor Lukas Hardonk as well as THW Toronto Maple Leafs correspondents Mark Ascione and Stephen Stoneman answer three questions that concern the Maple Leafs each week. To catch up on previous editions, click here.
Question: Head coach Randy Carlyle has been going back and forth between Ben Scrivens and James Reimer thus far. Is it more important for Carlyle to establish a number one goalie and stick with him or continue to ride the hot hand and hope for the best?
Lukas Hardonk: The story of how James Reimer was working out during the lockout while Ben Scrivens actually played professional hockey in the AHL has been told over and over again, so there is no need to go there. The fact remains, though, that their lockout regimens played a difference in training camp, resulting in Scrivens getting the opening night start.
We have seen how Carlyle likes to go back and forth between his goalies which hasn't worked out tremendously well. But what is there to make us think establishing a number one would work any better? Given how close Scrivens and Reimer appear to be in talent, there seems to be no need to choose one and run with him. Both have had solid games while they have also had their off nights. At this point, it only makes sense to ride the hot hand.
Mark Ascione: I do understand the thinking behind having started Scrivens over Reimer; Scrivens has been playing meaningful games in the AHL, so why not use that as an advantage over teams whose goalies have maybe only been practicing during the lockout? But in a short 48-game season where every game has conference implications, Carlyle needs to ride the hot hand, no question.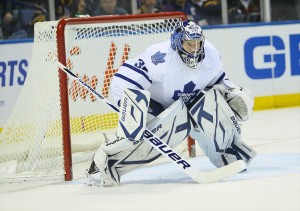 Neither Scrivens nor Reimer is a clear number one over the other, so right from the start you have to go with the guy who is playing better as the starter. It can backfire, of course. But unlike a regular NHL season, a three or five game slide while you let the number one guy work things out can easily drop you to a place in the standings that you can't recover from before the season is done.
Stephen Stoneman: I say you ride the hot hand. I understand that James Reimer and Ben Scrivens are good old pals but this will force them to be fighting for a spot versus just supporting each other. I also think that you have to instil this into the organization. Let Jussi Rynnas, Mark Owuya, Garrett Sparks and anyone else who is coming down the pipe know that if you win, you're in.
I also like that Randy Carlyle is concealing his pick. Let the media speculate all they want, you're the boss and this is one of the last things you can keep to yourself in today's game.
Question: With as many as ten current Leafs players set to become free agents after this season, which player, if any, should GM Dave Nonis focus on re-signing now?
Lukas Hardonk: There is no arguing the fact that the lockout has made things a lot less convenient when it comes to re-signing players in their contract years as the amount of time teams have to negotiate before July 1 has been severely damaged. Lucky for the Maple Leafs─or unlucky depending on what you thought of it─they were able to quickly reach and agreement with Joffrey Lupul. That said, the Leafs now have limited time to re-sign some of their top players before the trade deadline (viewed as a make or break in some situations) and eventually July 1.
Of the players who need to be re-signed, Clarke MacArthur, Tyler Bozak, Carl Gunnarsson and Nazem Kadri are included, the latter two of which will become restricted free agents. That may save the Leafs a little more time when it comes to reaching an agreement with Gunnarsson and Kadri, so the focus should be on MacArthur and Bozak.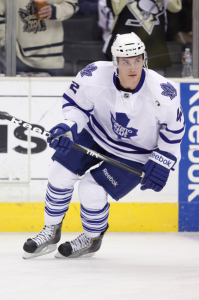 Dwindling the list down a little more, Bozak seems to be more crucial to the team given that the Leafs lack talent at the centre ice position, while James van Riemsdyk could occupy MacArthur's spot on the wing of the second line if an agreement isn't reached in time. Focus on Bozak, MacArthur and the others can be dealt with later.
Mark Ascione: I think it has to be Tyler Bozak. I've been down on Bozak in the past, in part because I felt Brian Burke was overselling the NCAA free agent as gold idea and because somehow Bozak got pegged as a top-line center.
I don't think Bozak will ever be more than a 50-55 point forward. He is not an elite play maker but he's shown he has chemistry with Joffrey Lupul and Phil Kessel─two players the Leafs seem to be committed to long-term. They could absolutely upgrade from Bozak and if they do, he could still be a very good forward on another line or be attractive trade bait. Bottom line, the Leafs remain thin for top-flight centermen. Bozak isn't in that level but he's too valuable to simply let walk as a free agent.
Stephen Stoneman: I know it's early but if Mike Kostka is playing an average of 32 minutes of hockey per game, you'd have to think that he's worthy of a new contract. You'd hate to have him walk after the season, wouldn't you? I know he's played for five AHL teams in the last four seasons but if I'm David Nonis and I see something more coming from Kostka, I lock him for another two or three seasons at a very affordable rate.
Question: Various Toronto Marlies players have appeared in a few games for the Leafs this season. Which player who were regular Marlies employees prior to the lockout have you been most impressed with thus far?
Lukas Hardonk: There are not many people who would have a hard time agreeing on this one. Mike Kostka has managed to hold down a spot on the back-end while Leo Komarov has impressed in the physicality department. Still, no one has played quite as well, or at least not noticeably as well as Nazem Kadri.
With three goals and five points in as many games while playing a third line role (albeit with some power play time mixed in), Kadri has done what almost no one expected of him after he showed up at Toronto Marlies training camp overweight in the fall. As long as he can keep playing as well as he has, Kadri may find himself in the top-six soon enough.
Mark Ascione: Undoubtedly Nazem Kadri. I believe had the NHL started on time, Kadri would have made the Leafs out of camp anyway. But, I think his time with the Marlies, the coaching he's had from Dallas Eakins and now the comfort he seems to feel with Randy Carlyle, the line he's on and the role he's being asked to play, it's all fallen into place for him.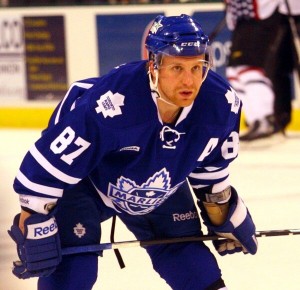 Kadri has taken the ice time given him and seems to be maximizing his opportunities. I won't predict he ends the season with a point-per-game but he certainly seems ready to be a full-time NHL forward; possibly a very good one.
Stephen Stoneman: I'm going with Leo Komarov. This guy was a John Ferguson draft pick in the sixth round in 2006 and he has been a hidden gem ever since. He had nine points in fourteen games with the Marlies before going back overseas to play for Moscow Dynamo. Since joining the NHL and the Toronto Maple Leafs on a line with his Marlies teammate Nazem Kadri, Komarov has done everything but score.
He buzzes around the ice and gets in the face of the opposition when required. He leads the team with nineteen hits in five games. Nineteen hits is good enough for fourth in the NHL behind Ryan Callahan, Steve Ott and Brian Boyle, three guys who are known for throwing the body.
Follow the panel on Twitter: Lukas Hardonk, Mark Ascione and Stephen Stoneman.