The goalie controversy never seems to die in Vancouver.
Goaltending was one of Vancouver's few bright spots last season. Although the Canucks surrendered a plethora of scoring chances, their goaltending tandem of Ryan Miller and Jacob Markstrom kept the team in games in which they were outplayed.
The two goaltenders did it by committee, with both earning equal playing time throughout the latter half of the season. It was expected that the two netminders would continue to split the crease for the Canucks going into the season, especially since both Miller and Markstrom shared similar statistics last season. Canucks general manager Jim Benning appeared to put those suggestions to rest on Monday.
Despite Markstrom's development, Benning says very clearly Ryan Miller is the number 1 goalie in VAN. No 50/50 split of duties forecasted

— Blake Price (@BlakePriceTSN) September 19, 2016
In an interview on TSN 1040, Benning stated that Miller is the undisputed number one goalie, with Markstrom filling in as the backup. The statement came following Markstrom's stellar performance at the World Cup of Hockey, where he backstopped Sweden to a 2-1 win over Russia.
"Ryan Miller is our number one goalie. He's a guy who has the experience; he had a good season for us last year. So let's make no mistake about it first and foremost, Ryan is our number one goalie," remarked Benning.
Being a number one goaltender is nothing new for Miller, who has held down that role for the better part of a decade. However, the emergence of Markstrom should earn the Swedish netminder an even split in playing time entering the 2016-17 season.
The Miller Affair
Even though most Canucks fans don't see Miller as Vancouver's clear-cut number one goaltender, it is easy to see why Benning is still sticking beside his man. Miller was a fifth-round draft pick of the Buffalo Sabres back in 1999 when Benning was a scout for the organization.
Benning brought Miller back into the fold as a free agent prior to the 2014-15 season, signing the netminder to a three-year, $18 million contract. Miller's first two years with the Canucks can be summed up as solid, yet unspectacular.
Benning is the guy in the horror movie who keeps a rotting corpse of Ryan Miller in his living room and talks as if he's alive.

— Wyatt Arndt (@TheStanchion) September 19, 2016
Miller has wowed us with some memorable performances and strong stretches of play. He started 14 of the Canucks' first 15 games to begin the 2015-16 season and enjoyed a stellar month of October. He also stole three of a possible four points for the Canucks in a pair of January road games in New York. Miller stopped 47 of 48 shots in a Jan. 17 win over the Islanders and followed that up by stopping 46 of 49 shots in a Jan. 19 loss to the Rangers.
During his time in Vancouver, Miller also lost his starting job to Eddie Lack after going down with injury, midway through the 2014-15 campaign. He only returned during the playoffs, where he let in five goals as the Canucks blew a three-goal lead in Game Six to the Calgary Flames before losing the series.
He had a strong 2015-16 season, but it is evident that Miller can no longer handle a 60+ game workload. He struggled after starting all but one of the Canucks first 15 games while Markstrom was injured. Miller started in 51 games last season, and shouldn't see his workload increase during his final year in Vancouver.
Markstrom's Time to Shine
Benning nailed home one point during his appearance on TSN 1040.
"I feel we have two real good goalies, and that's the strength of our team."
Despite their shortcomings, the Canucks should have confidence in both of their goalies. Benning had enough confidence in Markstrom to trade away fan favourite Lack, and it worked out wonderfully during Markstrom's first full season in the NHL. Markstrom was also picked as the backup goalie behind Henrik Lundqvist for Team Sweden at the World Cup of Hockey. Lack couldn't beat out career backup Jhonas Enroth for a spot on the squad.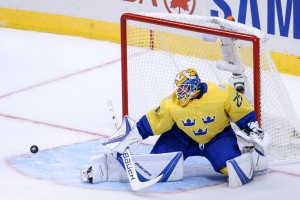 Markstrom was rewarded with a three-year, $11 million contract extension that kicks in next season. Benning showed confidence in Markstrom to take the next step after starting in 30 games last season. After rewarding Markstrom for his strong season, does it make sense to cut back Markstrom's workload for the upcoming season?
Benning has stated that starting goaltenders on his teams generally play around 55 games, which would result in a smaller workload for Markstrom. That should have Canucks fans agitated since Markstrom has only shown improvement, including his performance at the World Cup of Hockey.
Benning preached the patience and understanding that Markstrom has shown during his time with the Canucks.
"He's bought into everything from us, first year sending him down, having Dan Cloutier work with him. He had a real good year and came a long way that year I thought from a technical standpoint. He's a competitive guy. Last year through the course of the year, he played well for us.
Markstrom started his time in Vancouver as a forgotten top prospect, but now he is showing signs of being a number one goaltender. No one would blame Markstrom if his patience with the organization is wearing off.
Could Miller Stay Past 2016-17?
Benning's confidence in Miller begs the question; could the 36-year-old goaltender return following this season?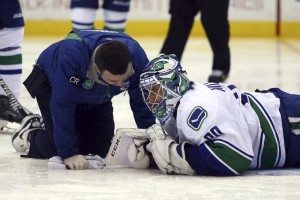 Miller's $6 million/year contract is up at the end of the season, and based on Benning's glowing praise of Miller, is it possible to see the East Lansing native back in a Canucks uniform?
Miller would have to take a significant pay cut from his current salary, especially with Markstrom earning a raise beginning next season. Goaltending is undoubtedly a strength for Vancouver, but at what cost would Benning consider keeping this duo together?
Much will depend on Miller's 2016-17 performance, the goalie market, and how Miller's health holds up. Miller has battled injuries in both of his seasons in Vancouver. Another injury-plagued season could push Miller closer to retirement.
Benning could also be making these comments about Miller to boost his value in the trade market. With Miller nearing unrestricted free agency, Benning could look to move Miller if he is no longer in the Canucks plans around the trade deadline. Perhaps Benning has learned from the Dan Hamhuis/Radim Vrbata fiasco of last season.
For now, both goalies remain in Vancouver as options for starting goaltender. With Markstrom showing improvement, it makes sense to increase his workload. Benning's inability to see it that way is puzzling, to say the least.