By Mike Miccoli, Boston Bruins correspondent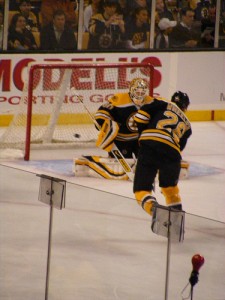 "If I were running the Bruins…"
How many times have you uttered that one this season? Countless, I'm sure. There are a lot of aspects of the Bruins that could be fixed via a trade: more goals on offense, better leadership, consistent energy, you name it.
I wouldn't want to be Peter Chiarelli 90% of the time but for now, that 10% is looking awfully tempting. Below, I've listed some trades that I might make if I had that General Manager title engraved onto my business card. Some trades are downright outrageous, while others might make some sense. I've listed the pros and cons of each trade as well as how the swap would affect each team's payroll.
Keep in mind, these trades are in no way, shape or form any type of rumor—just pure speculation on my behalf. Some of these are half-baked ideas while others were given a bit of thought. In the current rumor mill, there are some players who the Bruins should stay far away from (Ray Whitney and Marek Svatos come to mind first and foremost) and therefore I won't even attempt a trade offer here. I'm thinking of players who MIGHT be able to help the team. Keyword, MIGHT. And as far fetched as an Ilya Kovalchuk swap might be, I certainly gave it a shot. I mean, why not, right? I wouldn't be a true armchair-GM if I didn't.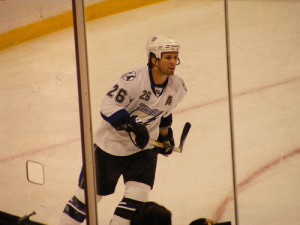 Bruins acquire: Martin St. Louis (5.25 mil cap hit)
Lightning acquire: Blake Wheeler (2.825 mil. cap hit), Dennis Wideman (3.94 mil. cap hit), Zack Hamill (1.35 mil. cap hit) and Boston's 1st round pick
PROS: Overpayment on the Bruins behalf? No actually, based on the way that Wheeler and Wideman have performed so far this season. The speedy University of Vermont grad would look great paired on a wing with any of Boston's top three centers. St. Louis would be under contract for the remainder of this season and all of next at a reasonable rate for one of the top wingers in the league. A model of consistency, St. Louis' longevity is something that the Bruins desperately need right now. The winger has played in 82 games in all but one season since 2002-03—he missed two games in 2005-06, big deal. Most importantly, St. Louis has playoff experience all the way to winning a Stanley Cup.
The deal could work for Tampa Bay too. They'd get a late 1st round selection, more offensive presence on the blue line from Wideman to take the pressure off of Mattias Ohlund and his monstrous contract and they'd be able to swing two forwards with an enormous upside in potential in Wheeler and Hamill. Cutting Wideman loose would free up space needed to re-sign defensemen Mark Stuart and Johnny Boychuk, both restricted free agents and both who should be permanent fixtures on the blue line for future Bruin teams. Plus, I fear that the offseason contract negotiations with soon-to-be restricted free agent Blake Wheeler could go down the same route as the Phil Kessel talks did.  Wheeler could want more money than what Boston is willing to hand out. No surprise to me that I'd keep him as a centerpiece in most of these deals rather than Michael Ryder.
CONS: Martin St. Louis has a no-trade clause. That might be an issue. Also, St. Louis' goal production has been falling slowly with the skater netting only 12 goals so far this season as of Tuesday night. Do the Bruins really need another playmaker, capable of 50+ assists in a season? Not as much as they need a scorer. And if Tampa Bay has seen any footage of Wideman and his inexcusable habit of turning the puck over this season, they might not be too pleased with the way he'll protect the already shaky Tampa goaltending. I wouldn't mind giving up Boston's 1st rounder as long as we still have Toronto's 1st and 2nd picks, though Hamill is still a big question mark. I'm not still not sure what to make him. This trade wouldn't be too likely, though it might be my favorite of the bunch.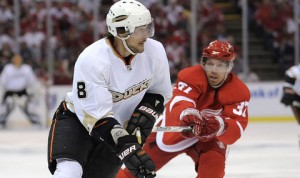 Bruins acquire: Teemu Selanne (2.625 mil. cap hit)
Ducks acquire: Daniel Paille (1.125 mil. cap hit) and Boston's 3rd round draft pick
PROS: Someone would have to go in order for Selanne to make his way to Beantown and Paille would be the odd man out. Byron Bitz and Vladimir Sobotka could prove to be too valuable to give up while the wing position is already crowded on the Bruins' depth chart to trade a defenseman. Selanne is riding out a one-year deal with Anaheim, which could potentially be his last contract before retiring at the ripe age of 39. Paille is a penalty-kill specialist who has helped Boston tremendously this season becoming the top team in the league while shorthanded since his acquisition in October. But in order to acquire a former all-star and NHL MVP in one of his last seasons, the Bruins would have to give up something. Not everything, but something.
Selanne would be brought on similar to the way that Mark Recchi was acquired last season: to provide leadership and score goals. That experiment turned out quite well for the B's, maybe this one would too. The deal would be modeled after the Recchi deal too—instead of giving up two prospects and receiving a high pick in return, Boston could give up a pick and an already established defensive forward. Paille would move directly to Anaheim's penalty kill, which currently ranks 20th in the league, while Selanne would be expected to do everything he can to push Boston toward a championship in what could be his final season in the NHL. Plus, how cool would it be to have Recchi and Selanne on the same team? Fans stuck in 1993 would be in their glory!
CONS: Forget the fact that Selanne is shelved 2-6 weeks with a broken jaw or you know, that he's not the player he once was; I'm actually more concerned with losing Paille. In not even four months with the Bruins, Paille has shown that he can be the Bruin that would replace P.J. Axelsson as the go-to, penalty-killing specialist. I'd like to see what he could do on a multi-year deal going into the season. Paille is one of many restricted free agents set to deal with Boston this season. As far as Selanne goes, do the Bruins really need another iffy winger with a low risk/high reward label added to the lineup? Ironically enough, Selanne would lead the Bruins in goals (16, currently) if acquired today. If that doesn't say a lot about the offense…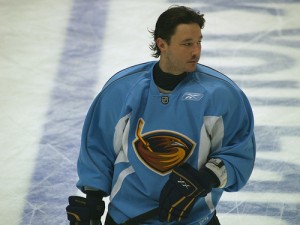 Bruins acquire: LW Ilya Kovalchuk (6.39 mil. cap hit)
Thrashers acquire: RW Blake Wheeler (2.825 mil. cap hit), D Mark Stuart (1.3 mil. cap hit), C Joe Colborne (cap hit N/A) and Boston's (originally Toronto's) 1st round pick
PROS:  It had to be done. With Kovalchuk on the market and the Bruins supposedly very interested in the Atlanta winger, deals based off of speculations have been running rapid along the rumor mill. The Bruins would have to give up an awful lot for a player who would be a rental for the team seeing as Kovalchuk is expected to be the marquee free agent come July 1. Similar proposals from other columnists would add or subtract a prospect or a draft pick, but most speculations are centered around Wheeler and Stuart. Colborne is certainly the wild card in this deal as a highly touted prospect compared usually to Joe Thornton and Eric Staal.
It's a given that Kovalchuk would ignite the Boston lineup and provide the exact offensive spark that the team needs to win. Paired on a line with Savard, the B's could finally boast a lethal one-two punch on the offense. Atlanta would get two proven, young players and more cap room to sign free agents to become a legitimate contender for the 2010-11 season. All naysayers would be silenced once Kovalchuk starts scoring and winning for the B's.
CONS: Holy cow—that's a lot to give up for the former 1st overall pick in 2001 who would be playing in 21 games, not including the playoffs, before he becomes a free agent. Especially given that the Toronto pick acquired in the Kessel deal is easily a top-five selection, potentially even a number one or two pick depending on how the lottery goes. Plus, if he does become a free agent, he'll likely demand a huge contract leaving Boston no choice but to not place a bid. So then what? Boston gives up a lot for nothing (unless of course, we see a Cup).
Kovalchuk to Boston isn't likely for a number reasons, but how sweet would it be to get him here?  If the Bruins really wanted to try and sign him, I'm sure they'd find a way to move some players around in the mix but it's just way too complicated to even begin to think about it.