The trade deadline is fast approaching and the New Jersey Devils are still in the thick of the playoff race, just a few points from a wild-card spot. Should the season's trajectory go downhill, the Devils could – and should – certainly sell. If the team continues to win convincingly and decide to buy, they certainly have assets for transfer. If that time comes, what would the Devils want?
The team's scoring is right near the bottom of the league and goal suppression seems to be moving lockstep. Some players have continued to play at a high level, while others are struggling to hold their spot in the lineup. That being said, there are three clear roles that the Devils lack: a top-six center, a top-four left defenseman and a defensively responsible winger.
Current Situation
For years, the Devils have lacked a true number one center — though Travis Zajac appeared close at times. Their top-two centers for the last four years, Travis Zajac and Adam Henrique, are average second line talents, yet the two are both deployed heavily on gameday. Zajac is 20th in ice time among centers (at even strength) but is 56th in points per game at his position. Henrique's gap is less drastic: 41st in ice time, 7oth in points.
Should they each play full seasons, Zajac is on pace for 48 points and 43 for Henrique. That is too low for a top-line center and, in today's NHL, barely enough to be considered second line quality. Zajac may be worthy of a pass because he has proven crucial to the team both as a two-way presence and on special teams. His 54.2% faceoff win rate and stellar possessional play make him that much more important to the Devils. On most teams, Zajac would be a second line center.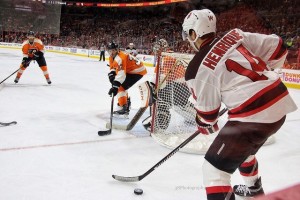 Henrique, on the other hand, still has not proven that he is a natural center. The Ontario native starts more than 48% of shifts in the offensive zone – second on the team among regular forwards – but is still mediocre when it comes to creating chances. That could be driven in part by his weak faceoff ability: his 2016-17 mark of 49% is a career high. Perhaps a move to wing, where goal scorers are preferred, would revitalize Henrique's play. As a center, Henrique should not be playing in a team's top-six.
What is needed?
If Zajac stays on as one of the team's top-six centers then Henrique should either bump down to the third line or become a winger. That leaves an opening in the top-six for a new anchor.
One way to look at the vacancy is to decide what type of player is most needed for the role. With that, most of today's top-line centers come in three crude varieties:
a stick-skilled center who can feed his linemates (like Evgeny Kuznetsov, Connor McDavid and Alexander Wennberg);
a defensive stalwart who specializes in skills besides scoring (think Patrice Bergeron, Anze Kopitar and Jonathan Toews);
a powerful center who is physical and wields a potent shot (Jeff Carter, Eric Staal and Ryan Getzlaf, for example).
There are some who do not fit any of those molds – some superstars are able to play their own style – but for the most part they fall into the above three. Assuming Zajac remains in the top-six, he most clearly embodies the second type, meaning that general manager Ray Shero should look to add a creative or powerful center over another defensive specialist.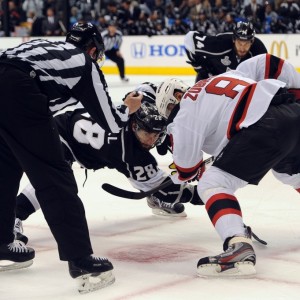 In general, there are clear advantages to both playmakers and power forwards, but the Devils would probably be better off with an imposing center added to the top-six. First, the team suffers from a clear lack of size and physicality in the top-six. For every Connor McDavid there's a Milan Lucic; for every Tyler Seguin, a Jamie Benn.
The Devils do not have any such player who can take the body in the top-six which leads to lost possession and a delayed defensive transition. In addition, the team has a good deal of playmaking ability with wingers like Taylor Hall and Michael Cammalleri able to make plays. Having a powerful finisher to crash the net would help to bury those oft-misplaced chances created by Hall and Cammalleri.
That said, while the Devils would perhaps be better off with a power forward, the reality is that they desperately need another center who can get the team scoring goals again, no matter the playing style.
Potential Internal Fixes
Shero ultimately has two ways to go about addressing the problem — promoting someone from the inside or looking outside of the organization for a solution. The Devils have several potential fixes under the first option with an abundance of prospects and draft picks that could make it to the top of the lineup in the future.
Pavel Zacha
Starting with the most obvious name, Pavel Zacha could someday be a fixture in the Devils' top-six. The Czech forward was drafted in 2015 and is only 20-years old. His February hot streak – nine points in 13 appearances – was certainly encouraging, but most of it took place when he was playing the left wing. Zacha, like most young players, still struggles with the speed of the game as well as consistency.
Last 13 games:

Zacha – 9 points
Henrique – 9 points
Hall – 9 points
Palmieri – 8 points

— Devils Insiders (@DevilsInsiders) February 19, 2017
Zacha is currently on pace for 22 points in 70 games: not great, not bad. That mark says little about his potential but a good deal about how NHL ready he is. Past data shows that many rookies put on fluke performances and never again achieve that level of play while other data shows players skyrocket in development and turn into mainstays. At 20, Zacha has not shown enough to be considered a future fixture as one of the team's top centers, but he does offer promise as an NHL player.
John Quenneville
Of the team's other centers, John Quenneville offers the most immediate opportunity to fill a vacancy in the top-six. Quenneville was drafted 30th overall in 2014, at the time touted for his intelligence on the ice. His post-draft season in WHL's Brandon was poor — the Devils expected an improvement from his 2013 season but instead got a fallback performance. The next season, Quenneville became one of the WHL's better scorers, potting 100 points in 78 games (playoffs included).
Since his breakout, Quenneville has become a top talent for the Albany Devils, with 37 points in 48 games. That output is good for first on the team and top-30 in the AHL, though Quenneville is one of just a handful of under-25 prospects in that group. His two-way play and stunning hockey sense have played major impacts on the Devils' playoff hopes. Quenneville might not always play a flashy game or offer break-neck speed, but he has all the makings of a future NHLer.
Others
Aside from those two, there are several other talented centers waiting in the wings, including Michael McLeod, Nathan Bastian and Brandon Gignac, but it's far too early to start appointing any of these players as future stars. None of them have even played Devils hockey yet at the NHL or AHL level. The difficulty with prospects, of course, is the inherent risk of stagnating development, so expecting 18- and 19-year olds to someday carry the team is a fool's errand.
Potential External Fixes
Shero could also search outside the organization for a remedy at center. It's practically unheard of to see a top-flight center available for trade (Ryan Johansen was a major exception), but it seems that there could be some on the move this season. If that happens to be the case, Shero could be a busy man as he once again tries to find another piece to the puzzle over the trade market.
Matt Duchene
The biggest name being thrown around lately is Colorado Avalanche Matt Duchene. Once one of the league's top playmakers, Duchene has recently had a noticeable dip in production, with fewer than 60 points in each of his last two seasons. Nonetheless, he is the Avalanche's highest paid player and is falling short of expectations. Given his current role as the leader on a sinking ship, Duchene could be on the outs in Denver, with Sportsnet's Elliotte Friedman going as far as to say that he thinks the center will be traded.
Obviously, Duchene would arrive in Newark as the Devils' best center and perhaps one of the best to don the red and black. Despite playing in a low-scoring era, Duchene has managed two near-point-per-game seasons in his seven-year career. At just 26-years old, the Ontario native surely has his best days ahead of him.
One major snag when it comes to prying Duchene out of Denver would be the asking price, rumored to be a first round pick, a good young defenseman, and a top prospect. The Devils are likely to have another high draft pick in 2017 and may prefer holding it over trading it. Further, the only defenseman who fits the second criterion is Damon Severson, who at this point in time is all but untouchable. Shero can give up on a talented prospect because of the team's draft pick glut, but the other two demands are far too steep at the moment.
Martin Hanzal
Another center that could be available either through trade or free agency is Martin Hanzal. A longtime Coyote, Hanzal is a pending unrestricted free agent and seems unlikely to reach an agreement with Arizona. Since the Coyotes have fallen out of contention, the imposing center has been unable to avoid trade speculation.
ICYMI, INSIDER TRADING (🌏): @DarrenDreger, @Real_ESPNLeBrun & @TSNBobMcKenzie on Shattenkirk, Hanzal, Eaves and more https://t.co/FZ94s5zYgV pic.twitter.com/h0rvtqC0EL

— TSN Hockey (@TSNHockey) February 24, 2017
The Czech center's size is off the charts: 6'6 and 225 lbs., but it's what he does with that size that makes him a revered talent. His on-ice physicality and defensive play are impressive, and he is able to find the back of the net and set up for teammates. On top of that, Hanzal is one of the league's premier guys on the faceoff dot, winning 55% of draws in the last four seasons.
His biggest knock is his susceptibility to injury. Over the past seven seasons, Hanzal has appeared in just 73% of a possible 517 regular season games.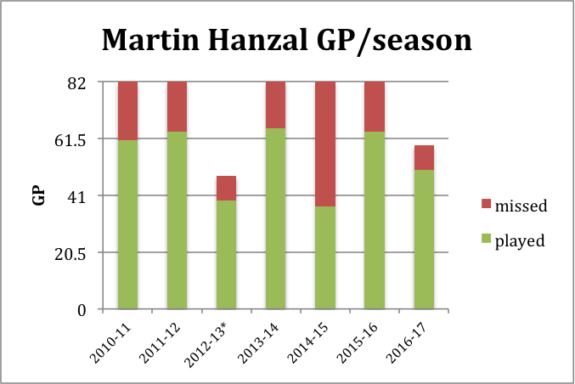 It will certainly be difficult to justify such an expensive signing when that player consistently misses 20+ games each season. Acquiring Hanzal could be worthwhile if the Devils could limit his minutes, something that the Coyotes never attempted to do while he was with the club.
As a scorer, Hanzal struggles to stick out, primarily because of his injury-laden seasons. As a second-line center in Arizona seeing a ton of special teams time, Hanzal's production is rather pedestrian. His career high in points is 41 and 13 of those were on the man advantage. Looking at his production at a per-game level, however, tells a different story. Prior to this season, Hanzal was playing at a 50 point pace before injuries derailed those successful campaigns. Below is a chart that shows just how many points Hanzal left on the table each season by missing time.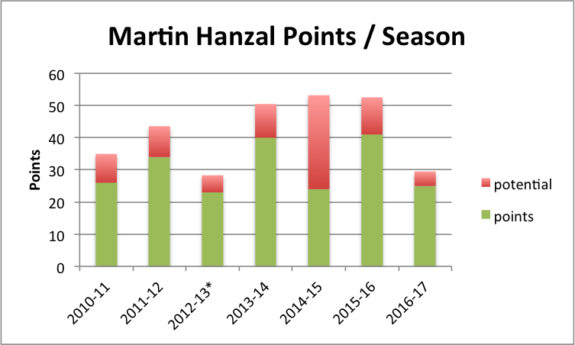 If Hanzal can play a full 82 games and put up 55 points, he very well could be a larger, more offensive gifted version of Travis Zajac, which would give the Devils two very strong centers down the middle.
The Draft
Finally, there is the draft. The Devils are sitting pretty right now given their current league standing (24th in points). A lottery win could propel the franchise retooling process to new heights, but the seventh-place team has just a 6% chance of winning the first pick in the 2017 NHL Draft.
In this year's NHL Draft, there is no generational talent like Connor McDavid, Jack Eichel or Auston Matthews. That said, two talented centers – Nico Hischier and Nolan Patrick – are jockeying to go first overall.
Playing for a high-octane Halifax squad in the QMJHL, Hischier is a finesse player. Much like fellow Swiss statesman Timo Meier, also a former Moosehead, Hischier relies on his own scoring ability before setting up plays. Given his shot and stature, he may end up converting to right wing at the NHL level.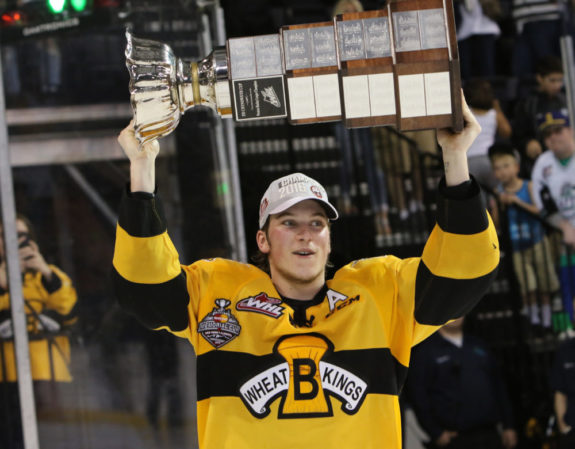 The popular alternative to Hischier, Patrick, is a north-south skater for WHL's Brandon and has NHL-ready size. Perhaps unsurprising given their common experience in junior hockey, Patrick plays hockey like Quenneville does, relying on a 200-foot game and hockey sense to create offense. He doesn't project to be a scoring wizard, but his all-around play puts him a similar mold as Jordan Staal.
Over the last few years, the Devils have proven that they are in dire need of a center. They could try to develop one from within and take advantage of the cost-controlled nature of prospects, or they could look outside of the organization for a fix. No matter how they do it, the Devils will struggle to contend without capable depth down the middle of the ice.