The New Jersey Devils swept their season series against the Calgary Flames on Tuesday night with a 3-2 victory in front of their home crowd at Prudential Center. After sweeping their three-game Western Canada road trip, the team returned to Newark in hopes of keep their six-game winning streak alive. Fan attendance was up last night as 13,096 filed into the arena, which was 1,549 more than those who attended their prior home game on Oct. 30 against the Columbus Blue Jackets.
I arrived at Prudential Center early enough to see a slow string of players head out of the locker room for their pre-game soccer tradition. Jesper Bratt, Tomas Tatar, Nico Hischier, and Jack Hughes among others all made their way into the tunnel and formed their circle as the ball was tossed from player to player. The guys were loose joking around with each other, and overall the energy was high.
A small group of eager fans lined up behind the barrier hoping for some pregame fist bumps and to sneak a peek at their favorite players. On their way back to the locker room Hughes, Hischier, and Jesper Boqvist took time to take a photo with one young fan who was with his father.
To no one's surprise, Vitek Vanecek led his team out for the game, while Calgary head coach Darryl Sutter made the surprising move to start 32-year-old Jacob Markstrom, even though he played the prior night against the New York Islanders. The stage was set for an intense game as one team looked to keep their winning streak alive, while the other was desperate to finally jump back into the win column. It was an unexpected first period as the Devils struggled early.
An Embarrassing First Period in Newark
Ahead of the club's Nov. 5 matchup, Flames defenseman Rasmus Andersson talked about needing to play a physical game against the Devils. Through two games they had registered 67 hits with Trevor Lewis accounting for 10. Tuesday night's game started with a bang as the physicality was evident from puck drop. The noises of bodies crashing along the board echoed throughout the arena as Flames forward Nazem Kadri leveled forward Fabian Zetterlund, while Dawson Mercer dodged a big hit from Dennis Gilbert.
---
Latest News & Highlights
---
The Devils did not register a single shot on goal in the first 11 minutes of the game until forward Michael McLeod finally tested Markstrom with 8:58 left in the opening frame. By the conclusion of the period New Jersey only managed to earn five shots on goal. Overall their passing was sloppy and the Flames had the Devils on their heels. Vanecek faced 14 shots in the first 20 minutes and made 13 saves allowing only one power play goal.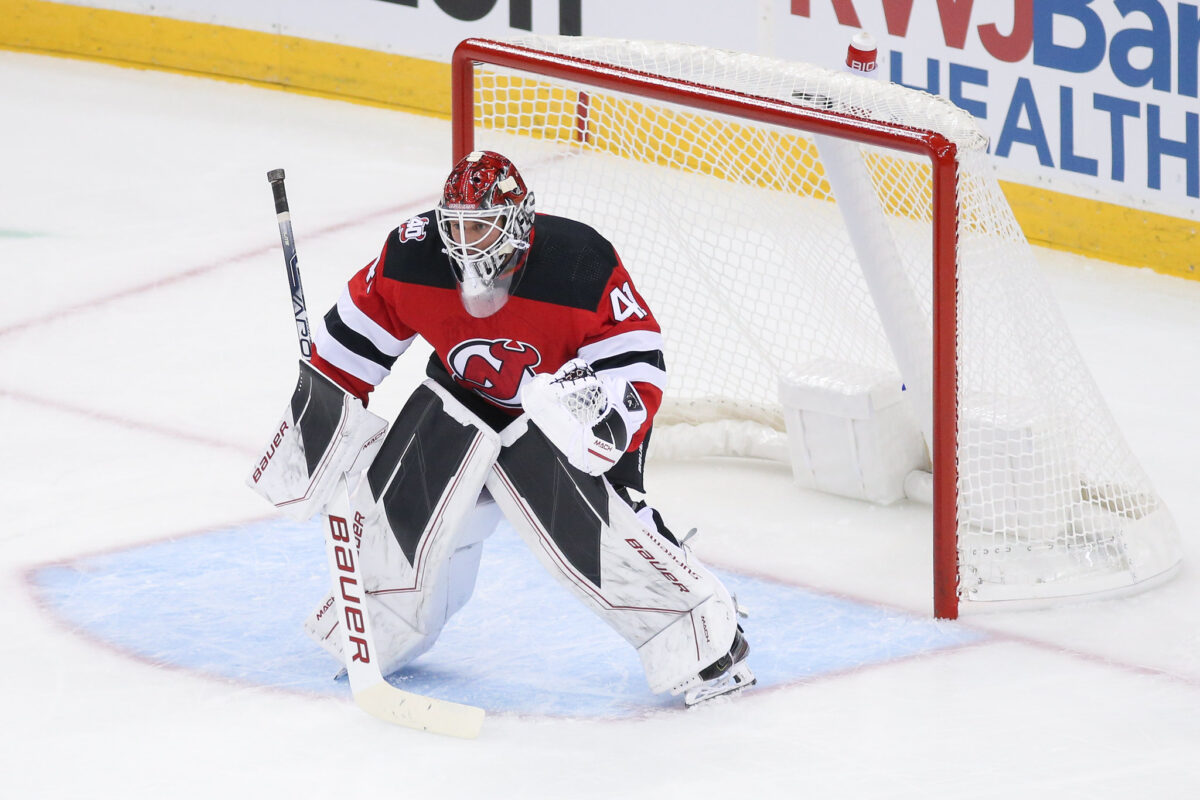 "It wasn't pretty for sure," Hischier said after the game, "It wasn't our best game, I think we didn't have our legs the first period. To be honest, it was an embarrassing first period, but hey, we found a way and came back, at the end, if you can win those games, it's huge."
For a second consecutive game, the Devils conceded the first goal to the Flames, and more specifically it was Kadri who once again celebrated it. Playing from behind does not seem to bother the Devils though, as they are 5-0-0 this season when their opponents are the first to light the lamp.
Ruff's First Intermission Message
If the Devils were hoping to keep their winning streak alive, something drastic was going to need to change between the first and second periods. When head coach Lindy Ruff made his way to the podium and began fielding questions, I made sure to ask what the message was during the first intermission.

"We really talked about playing our game," he said. "We weren't connected, our defensemen weren't tight with our forwards and our forwards weren't coming back and being tight with our defensemen. That little bit of space in between allowed [Calgary] to come out of the zone pretty easily. We talked about getting back on top of them and bringing our defensemen down on top of their wingers, and not letting them out of the zone. Making our high forward responsible for anybody that wanted to come out of the middle of the ice, and I thought our forwards did a good job and our defensemen got down the walls, and we kept a lot of pucks alive and created a lot of opportunities off our forwards' pressure."
The Devils scored two goals in the second period to not only tie the game but also establish a lead. Defenseman Ryan Graves scored his third goal in five games, while Dougie Hamilton scored a power play goal and his first since Oct. 18 against the Anaheim Ducks. The club put 10 shots on net in the middle frame and began to look like the team fans have been accustomed to watching these past few weeks.
Devils Continue to Make a Statement
To quote Jackie Redmond of NHL Network, "What in the devil is going on?"
The Devils' first big test of the 2022-23 season was all the way back on Oct. 28 when they hosted the Colorado Avalanche, and Ruff's squad aced it as they earned a 1-0 victory over the defending Stanley Cup champions. Days later the team traveled to Western Canada, one of their biggest challenges every season, and earned a victory in every single game.

Beating the Flames at Scotiabank Saddledome was an impressive feat for Ruff's team. As MSG Networks statistician, Nick Cahill, pointed out, the last time the Devils swept Calgary was the 2010-11 season, and that was when the club only played teams from the Western Conference once a season. It was none other than Nico Hischier who secured the win for his team on Tuesday night when he scored in the third period. Earning two victories against the Flames made a statement and is another early test the team has passed.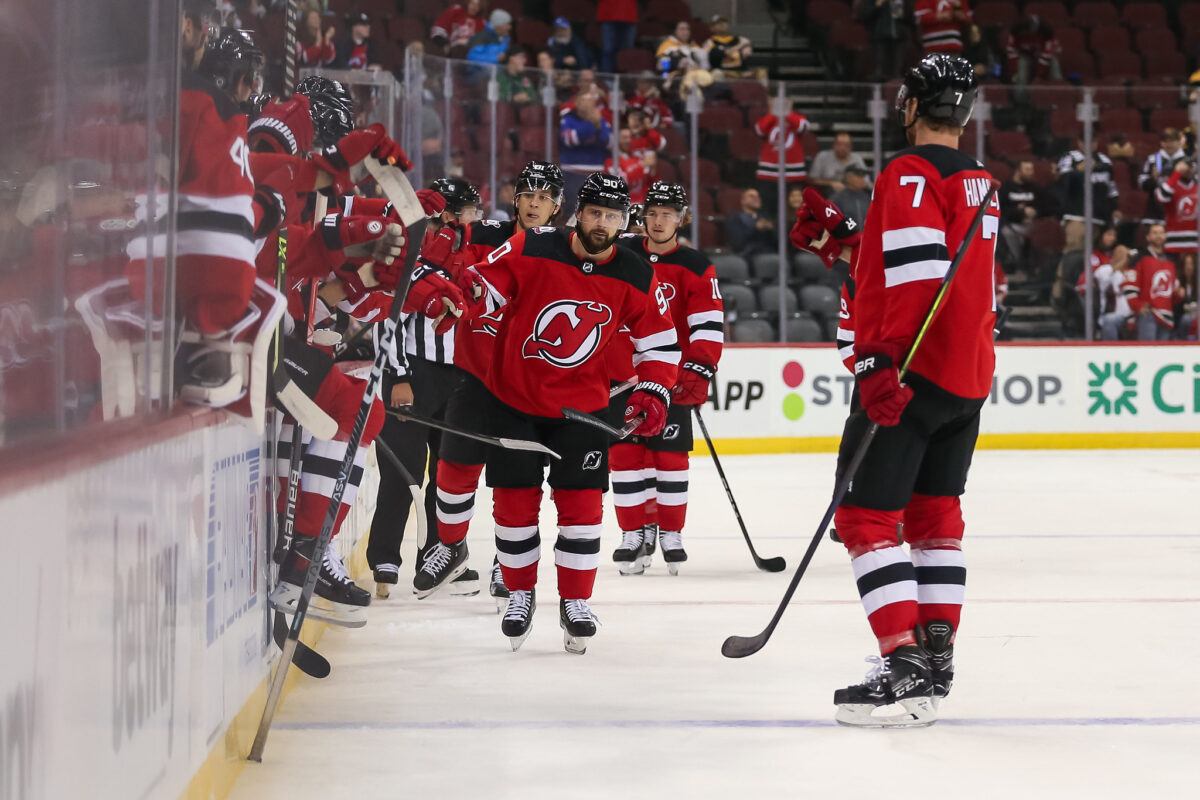 Ruff has continually talked about finding different ways to win a game and his team continues to win in a variety of ways, whether it's putting 53 shots on goal, playing from behind, or having special teams lead them to a victory. The team's play since the season began has been exciting for fans to watch as they are 9-1-0 in their last 10, have a road record of 5-1-0, and a home record of 5-2-0.
Related: Devils' Offensive Numbers Show Plenty of Promise
The Devils are off today, but will be back on the ice on Nov. 10 to host the Ottawa Senators, who have struggled to start the season. Hischier continues to impress and lead by example as he has four goals and four assists in his last seven games. Both he and Tatar will be entering Thursday's contest on a five-game point streak. Make sure to follow me on Twitter for all the latest news as New Jersey continues their three-game home stand.
---