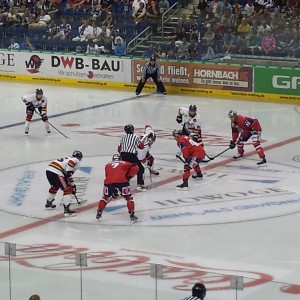 As a hockey fan have you ever thought about why your favorite player jumped ship from North America to one of the premiere professional leagues in Europe? Player agent Darryl Wolski sheds some light on why North American pros jump ship and head off on a transatlantic journey.
Let's say you're at the end of your NHL deal and you've gotten looks, but you they keep sending you down to the AHL year after year. You've thought about the Euro option but when is the right time to go? Darryl explains, "A lot guys get frustrated and decide to go to Germany, Sweden or Russia. They feel that they can have a better opportunity for a career and make more money." Wolski also noted that every situation is different.
Wolski represents 2006 NHL Rocket Trophy Winner Jonathan Cheechoo who now plays with the Medveščak Zagreb in The KHL. Before the KHL, Cheechoo spent his entire career in North America so coming from North America to Croatia which is home to the Zagreb wouldn't be a big deal if you were single. Cheechoo's off-ice transition was unique as Wolski explained, "They have a two-year old son so it will be a real eye-opener for him. You'll have the language barrier for sure. The food issue barrier may not be a problem."
Many players want to play in a league that resembles the NHL. Wolski mentioned that Finland or Germany are most like the NHL. "The DEL (Germany) has the most imports per team and most of them  are Canadian or American.  The North American game translates better to Finland. The ice surface and the style of play and the way the players are coached is closer to the North American style." stated Darryl.
When you're in North America, players have the luxury of picking their leisure activities. Darryl explained the lack of things to do in Europe, "In North America we have 24-hour McDonalds, 24-hour Subways and movie theaters with 16 theaters. A lot of those places in Eastern Europe have not developed to how we live our lives here in North America."
When a player finally says yes to Europe and squeezes their life into a suitcase most of them go over with a mindset that they can get back to the NHL. The player agent relayed his message about how every player shares that dream, "I think everyone has the belief that they can get back into the NHL if they're 21-years-old or 34-years-old. You always have to believe that you can play at that level.
The agent plays a pivotal role in an athlete's life and supports their families in whatever way possible. That's why before a player goes overseas Wolski and his Company, 2112 Hockey, lends their support ensuring a smooth transition including matters such as tax issues and insurance. "A lot of guys do their own research too. A lot of them talk to other players about the league and how this was and how was that." stated Darryl on how players use each other as resources.
So it's fair to say that if you're a player looking to go overseas look no further than Darryl Wolski at 2112 Hockey. You'll be in good company too as he represents 2006 NHL Rocket Richard Trophy winner forward  Jonathan Cheechoo and 2006 1st draft pick of the San Jose Sharks Defenseman Ty Wishart along with many other players who have skipped across the pond to compete.
Follow Ted onTwitter  @bauerhockeydude
Follow Darryl Wolski