With the 2018 NHL Trade Deadline fast approaching, it's time we take a trip down memory lane. The Edmonton Oilers will have a handful of players they'll be looking to move on or before Feb. 26. Unless they can come to terms on an extension with Patrick Maroon, you can bet the Oilers will be shopping him.
The 29-year-old will likely be the team's biggest available trade chip. It's expected Oilers general manager Peter Chiarelli will also move Mark Letestu and Mike Cammalleri. After that, you could see some creative moves with some younger players like Anton Slepyshev or Drake Caggiula being moved.
All that aside, how have the Oilers performed over the years at the deadline? You'd be surprised to know the Oilers have hit more home runs than strikeouts over the year. So what are some of the best trade deadline deals in Oilers history?
Let's take a look.
Chiarelli Steals Maroon from Ducks
To Edmonton: Patrick Maroon
To Anaheim: Martin Gernat, 2016 4th-Round Pick
Never trade a player at a low point, and never give up too early on a player. Ironically, we're not talking about a Peter Chiarelli mistake; we're talking about a steal in his favor. At the 2016 trade deadline, the Oilers snagged Patrick Maroon from the Anaheim Ducks for struggling defense prospect Martin Gernat and a fourth-round pick.
Related: Patrick Maroon & the Trade Deadline
Maroon finished the year on a line with Connor McDavid and put up 14 points in 16 games. Last year he scored 27 goals, and he is on pace for 21 goals this season. All in all, Maroon's proven to be a valuable power forward for Edmonton.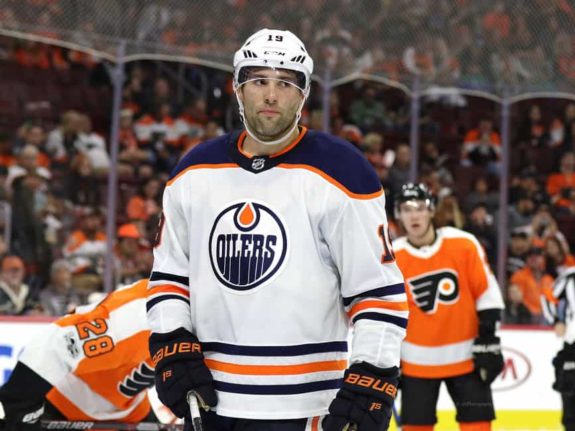 The best part is that the Ducks retained $500,000 per year in salary, and they've got cheap production out of the now 29-year-old. Gernat never played an NHL game for the Ducks. He played just five games for their AHL affiliate and is now playing back home in Slovakia.
The Ducks used the fourth-round pick on Sault Ste. Marie Greyhounds forward Jack Kopacka. The 19-year-old projects as a bottom-six scoring forward at the NHL level.
Edmonton Turns Penner into Klefbom
To Edmonton: Colten Teubert, 2011 1st-Round Pick (Oscar Klefbom), 2012 3rd-Round Pick
To Los Angeles: Dustin Penner
At the 2011 trade deadline, the Oilers sold Dustin Penner to the highest bidder. In return, the Los Angeles Kings sent Edmonton a package built around a defenseman who was struggling to develop in Colten Teubert. They also attached two picks; a first in 2011, and a third in 2012.
Related: Don't Worry About Oscar Klefbom
Edmonton would use the 19th overall pick on Oscar Klefbom and the 90th pick on Daniil Zharkov. The latter never amounted to much and didn't come over to North America. However, Klefbom has established himself as a young up-and-coming top-pairing defenseman. He might not be a No. 1, but Klefbom's proven to be a solid No. 2 for the Oilers.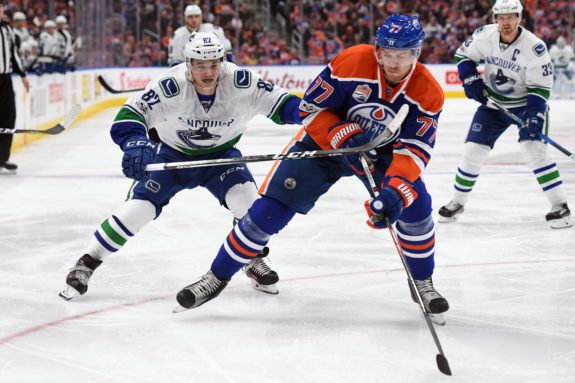 Penner would become a complementary player for the Kings, winning a Stanley Cup with them in 2012. In 117 games he put up just 37 points for the Kings. He'd retire after the 2013-14 season, which he split between the Anaheim Ducks and Washington Capitals.
Wrongfully or rightfully, the Oilers' defense is built around Klefbom. The 24-year-old is leading all Edmonton defensemen with 22:44 in ice time and is signed to a very cap-friendly contract through 2022-23.
Oilers Acquire Dwayne Roloson
To Edmonton: Dwayne Roloson
To Minnesota: 2006 1st-Round Pick (Trevor Lewis), 2007 3rd-Round Pick (Spencer Machacek)
At the 2006 trade deadline, the Oilers were in the race for one of the final playoff spots in the Western Conference. The problem, however, was Edmonton needed a goalie. Their tandem of Jussi Markkanen and Ty Conklin averaged 3.10 goals against per game (GAA). After acquiring a 36-year-old Roloson, they'd improve to a 2.50 GAA.
Related: Looking Back at the 2005-06 NHL Trade Deadline
Edmonton would go on a Cinderella run all the way to Game 7 of the Stanley Cup Final. Roloson would post some stellar numbers through the playoffs with a 2.33 GAA, and a .927 save percentage (SV%) through 18 games. Edmonton fans will always have to wonder what might've happened in 2005-06 had Roloson not been injured in Game 1.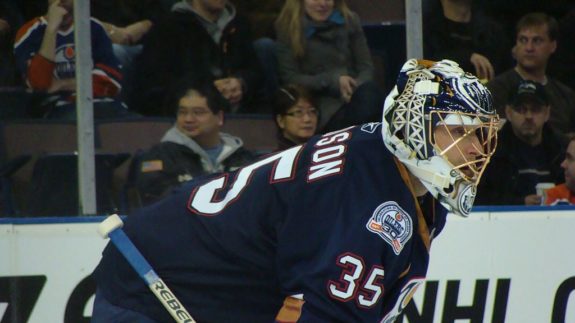 Minnesota ended up moving the picks they got from Edmonton. They used this pick to acquire Pavol Demitra before the 2006 NHL Draft. The Wild also traded the third-round pick to the Atlanta Thrashers (now Winnipeg Jets) for Petteri Nummelin. Roloson would go on to play 193 games for the Oilers during some lean years compiling, a 78-82-24 record.
Oilers Acquire Future Captain Jason Smith
To Edmonton: Jason Smith
To Toronto: 1999 4th Round Pick (Jonathan Zion), 2000 2nd Round Pick (Kris Vernarsky)
Remember all those years the Toronto Maple Leafs were trying to win a Stanley Cup in the early 2000's? Well, they sure gave up quite a few talented young players to chase the dream. One of them was a 25-year-old defenseman named Jason Smith.
Related: Oilers 2006: The Stanley Cup That Got Away
A former first-round pick of the New Jersey Devils, Smith was moved to the Leafs during the 1996-97 season. He played two seasons for Toronto before they flipped him to the Oilers. Smith would play eight seasons for Edmonton and be a defensive stalwart for the team.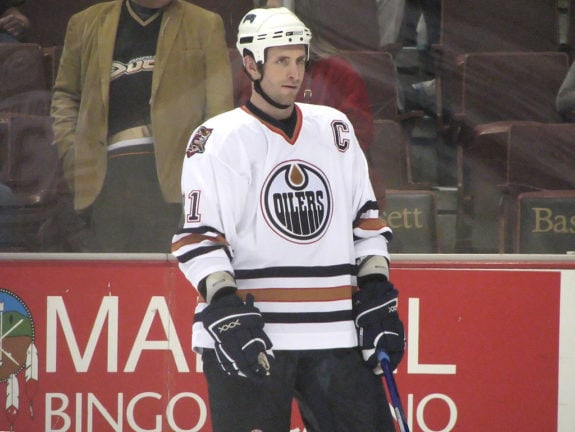 He consistently averaged nearly 21:06 in ice time over the span of 542 games with the Oilers. Smith was a mainstay on Edmonton's penalty kill (PK) as well. Smith finished his Oiler career ranking 18th in games played. Smith would succeed Doug Weight as Oilers captain for five seasons.
Jonathan Zion never played a game in the NHL. He played 44 games in the AHL. Kris Vernasky played 17 games in the NHL, and none of them were for the Leafs. He also spent time in the ECHL, UHL, and IHL. When you think about how close the Leafs got, especially in 2002, you have to wonder if Smith would've helped that defense.
Other Notables
We've hit four key trades that Edmonton was able to swing at the deadline. It hasn't all been bad, as you've seen. In reality, the Oilers have been able to make more good moves than bad at the deadline over the years. As you'll read below, Maroon, Klefbom, Roloson, and Smith weren't the only significant pieces they've picked up at the deadline.
Here's a couple of other notables that Edmonton swung at the deadline over the years.
Oilers Acquire a Starting Goalie in Tommy Salo
To Edmonton: Tommy Salo
To NY Islanders: Mats Lindgren, 1999 8th-Round Pick (Radek Martinek)
After losing Bill Ranford and then seeing Curtis Joseph out the door, Edmonton found a young Tommy Salo available at the 1999 trade deadline. Salo would go on to play 334 games for the Oilers and sits third all-time in games played in franchise history. He also sits third in most regular season wins with 147. Only Grant Fuhr and Bill Ranford have won more games than Salo in an Edmonton uniform.
Oilers Trade Aging MacTavish for Marchant
To: Edmonton: Todd Marchant
To  NY Rangers: Craig MacTavish
With the New York Rangers gearing up for their 1994 Stanley Cup run, they traded away a promising young two-way player in Todd Marchant. He was just 20 years old at the time and would go on to play 10 seasons for the Oilers and sits 11th in franchise history for most games played at 678. Marchant will go down in history for scoring the overtime winner in Game 7 of the Western Quarterfinals against the Dallas Stars.
Edmonton Acquires Doug Weight from Rangers
To Edmonton: Doug Weight
To NY Rangers: Esa Tikkanen
A year before the Oilers got Marchant; they got Dough Weight. In two years, they turned two aging players in Esa Tikkanen and Craig MacTavish into two solid pieces for their future. Weight was just 22 years old when the Oilers acquired him, and he would captain the team for two seasons. He became a premier playmaker in the league and set a career high in points with 104 in 1995-96.
Bruins & Oilers Swap No. 1 Goalies
To Edmonton: Geoff Courtnall, Bill Ranford
To Boston: Andy Moog
At the 1988 trade deadline, the Oilers would trade Andy Moog to the Boston Bruins. They'd get forward Geoff Courtnall and Ranford in return. Courtnall would play just 12 games before his rights were traded to the Washington Capitals for Greg Adams. Ranford went on to succeed Grant Fuhr as the Oilers No. 1 goaltender. He led Edmonton to a Stanley Cup in 1990 and won the Conn Smythe Trophy in the process. Ranford sits first in games played by an Oilers goalie (449) and second in wins (167).
Edmonton Oilers regular contributor providing insight on all things Oilers including club history, prospect profiles, trade breakdowns, and everything else in between. Check back regularly for new and exciting content. Follow on Twitter @SanderTHW.