In an Edmonton Oilers news and rumors update, Stuart Skinner gets the start in goal despite being pulled in Game 3. Meanwhile, Mattias Ekholm talked about this being an opportunity for the team to take a stand, Zach Hyman is questionable to play, and there's talk about splitting up Connor McDavid and Leon Draisaitl.
Skinner is Back in Goal for the Oilers
Stuart Skinner was asked about getting back in the net for the Oilers after a disappointing Game 3. He responded, the highs feel high and the lows feel low, but it's about staying level-headed and not getting too emotional. The same goes for himself after having a game that wasn't likely his best. He noted, "I'm looking forward to playing tonight, it will be a good challenge."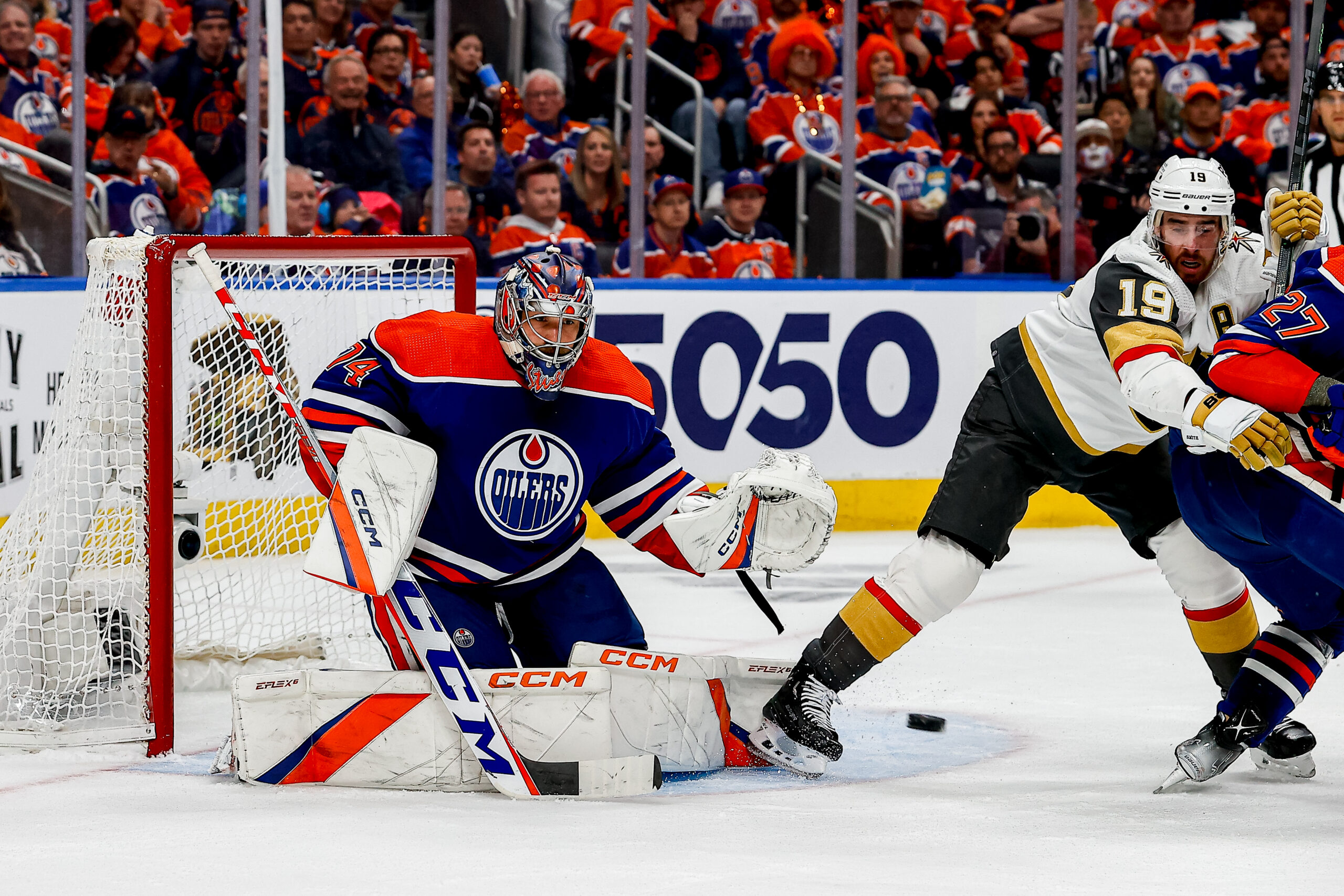 Skinner talked about how the Golden Knights have been very heavy around the net and that he has to be better at making sure that they eliminate second chances for Vegas. He says he and the coaching staff worked on his getting comfortable with more traffic around him and crashing the net.
Ekholm Calls This An Opportunity to Take a Stand
Down 2-1 in the series, defenseman Mattias Ekholm noted that Game 4 would be a "great opportunity for us to make a stance as a team." They weren't happy with their last effort and in their home building, they plan to put together a big performance at a key time in the series.
When asked if consistency is an issue defensively, he said the team did a good job of doing that in Game 2, but that they need to be more consistent and do a better job. He doesn't care how the Oilers win, just that they get the win and even the series. He noted that their 5-v-5 play needs to be improved because they can't necessarily rely on the power play. The Oilers barely got any opportunities in the last game to go on the man advantage and 5-v-5 play will make the difference.
Is Zach Hyman Injured?
Zach Hyman didn't practice on Tuesday and there was no word from head coach Jay Woodcroft on Hyman's status for Game 4. Hyman was limping around the ice for the last two periods of the Oilers' 5-1 blowout loss in Game 3 and it was clear he was hampered by a hit that he took from Nic Hague. Hyman took a high hit from Brayden McNabb in a game in the series earlier too that he didn't like. It's possible the lingering effects of those two hits, along with other shots he's likely taken during the playoffs leave him questionable for Wednesday.
---
Latest News & Highlights
---
This could be why there's talk the Oilers may go 12-6 with the extra forward and Darnell Nurse said of Hyman's potential injury, "People are playing through a lot of things. He was out there battling and trying to work his hardest for the group. We need to pick up that same effort all around him."
Is It Time To Split the Top Line?
Considering how big Game 4 is for Edmonton, one of the key decisions will undoubtedly be what the coach does with Connor McDavid and Leon Draisaitl. Is it best to stack them on one line or split them up and balance the offensive attack? Daniel Nugent-Bowman of The Athletic notes it's time for the Oilers to spread out the offense, especially considering the lack of five-on-five success the top stars have had.
Related: Oilers' Ceci/Nurse Pair Needs to Be Split & Ceci Needs to Be Dealt
He writes:
But for as electric as McDavid and Draisaitl have been in the playoffs, they haven't had nearly the same level of success at five-on-five against Vegas. The Oilers are getting outscored 3-2 with McDavid on the ice; it's a 3-0 disadvantage with Kane skating.

source – 'Why Oilers stars Connor McDavid and Leon Draisaitl are better off apart vs. the Golden Knights' – Daniel Nugent-Bowman – The Athletic – 05/09/2023
Against the Los Angeles Kings and their two elite centers, it was a different story that Woodcroft could exploit matchup-wise. The Knights are four lines deep and he argues one high-powered won't be enough against the Golden Knights.