To You My Non-Hockey Fan Love,
This is an open letter I am writing to you because simply put hockey season is coming around and I want you to be apart of it with me. This is why I believe you should honestly care about my favourite team this season, the Edmonton Oilers.
Now before you start to groan about the Oilers and how when everyone hears the name Oilers and looks at you like a cursing sailor who speaks profanity, Oilers and hockey are two words that are going to be going together like peanut butter and jelly over the next few years.
You see Edmonton hasn't been bad, they have been down right atrocious for almost going on a decade.
After making a Cinderella run to the 2006 Stanley Cup Finals where they ultimately lost in the seventh and deciding game in dramatic fashion to the eventual champions the wheels fell off the bus.
Edmonton has essentially been a basement dweller since that Stanley Cup run with the words hope, promise, rebuild and change being thrown around in every sentence to groans to every Oilers fan when management has failed to deliver.
"Fire Everybody!"

"Our management sucks!"

"Missed the playoffs and he STILL got a promotion?!"

"My grandma could do a better job…"
– Every Oilers fan over the past decade
---
 Out With The Old In With The New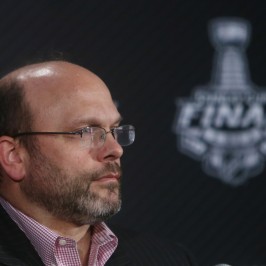 Well the old management group is more or less out the door and a new GM (Peter Chiarelli) and new coach (Todd McLellan) are making the decisions and are two reasons this season is going to be different and why things are finally on the up and up in Northern Alberta.
Both these guys have a winning pedigree with Hockey Canada.
Ever heard of the Olympics? Well Chiarelli was on the management team that won a gold medal in 2014.
World Championships? McLellan won the 2015 World Championships with two Oilers playing key roles on a line with some guy named Sidney Crosby who's arguably the best player in the world.
As an Oiler fan for over two decades I can tell you there are some things you will want to care about as I hope to make you as crazy as the rest of us in Oil Country.
So when you hear me jabbering on about the Oilers this season here are some things you should know and care about:
(And no we won't use any fancy stats or fancy mathematics for you to get lost in)
---
Who The Heck Is Connor McDavid & Why Is He So Important?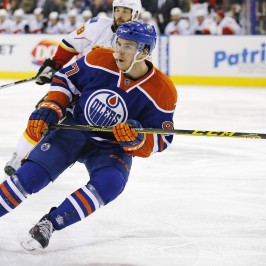 Get ready because you are going to hear the name Connor McDavid ALOT, and when I mean ALOT, I mean can't walk five feet in any hockey arena without someone just whispering the name McDavid under their breath.
Every year the NHL has a draft with new stars coming into the league, every once in a while one of these stars is a generational talent.
Think Michael Jordan, LeBron James, Wayne Gretzky or Hulk Hogan.
These are all names that you associate as the best in their sport (Yes — I understand wrestling is not a real sport).
That's what people are already doing with McDavid.
An Edmonton player has NEVER won the Calder Memorial Trophy for rookie of the year, McDavid is as good as a shoo-in to be the first in an organization that has the names Wayne Gretzky, Mark Messier, Grant Fuhr and Paul Coffey some of the biggest names in the history of hockey let alone the Oilers.
Add McDavid to all the young talent in Edmonton already and you have an offensive juggernaut in the making.
---
When Things Are Good In Edmonton, It's Exciting!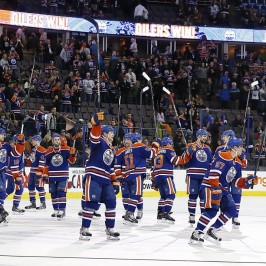 If you haven't already watched the first video in this post, go back watch and come back.
As you can see when things are good in Edmonton, it's really exciting and did we mention that it gets LOUD?
How loud?
During the 2006 Stanley Cup Playoffs the Oilers had to bring in a secondary goal horn because the crowd noise drowned out the original goal horn, this is what gave Edmonton that signature touch during that run.
The current group has the capacity to make the Oilers home arena Rexall Place one of the loudest and rockin' arenas in the NHL this season.
People get really excited in Edmonton and fans are already in a frenzy for the pre-season because of the stellar summer the team has had with all the trades and free agents they've brought in.
If everything goes right you'll be watching one of the most exciting teams in hockey playing on your television on a weekly visit.
By the way, what size shirt do you wear?  We'll have to get you fitted for a couple new Oiler t-shirts, and a jersey or two.

---
No More Rebuild! (AKA No More Being God Awfully Bad And Hopeless)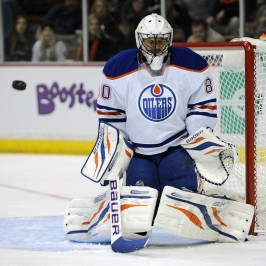 Sometimes your reaching when you make pre-season predictions and everyone writes the Oilers off before the season even starts year after year.
Then again the Oilers are generally playing meaningless hockey by December, sometimes November (let's be honest because all relationships are built on honesty am I right?).
Edmonton has been so bad over the last few years that they've essentially had a new coach every season and in four of the last six seasons they've selected first overall in the NHL Draft, that has never happened before.
The closest thing was when the Quebec Nordiques drafted three 1st overall picks in a row between 1989-1991.
Thus when your awfully bad it's because you have some pretty horrendous players.
To be brief the goalie in the picture to the left couldn't stop a beach ball, Edmonton had a lot of these players.
The Oilers will never again be as bad as they were when this happened. (Still haven't shown you the jersey thrown on the ice incident yet)
Now the Oilers have 3-4 top line players that can be stars on any other NHL team. Those guys are named Taylor Hall, Ryan Nugent-Hopkins, Jordan Eberle and McDavid himself.
Edmonton also has two young stars on forward in Leon Draisaitl (arguably one of the best players in junior hockey last season) and Nail Yakupov a guy who like McDavid was also drafted 1st overall (2012).
The rebuild is essentially over and the Oilers are soon to start challenging for the playoffs which is a huge thing when you consider how terrible they have been.
Darnell Nurse and Griffin Reinhart are two young defensive prospects who will play this year in Edmonton for stints and are future stars, same with Oscar Klefbom.
These are all names you NEED to know, we'll name drop the rest of them later on.
Did I mention we have McDavid now?
---
Good Times Are Ahead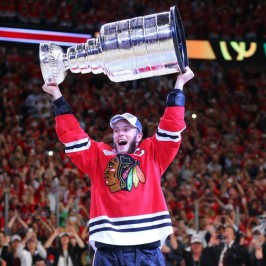 For the first time when people mention those words again; hope, promise, rebuild and change it actually has some real meaning this time.
There is a sense of real hope that Edmonton will climb out of the basement and play some exciting games this year. So much so that people are already comparing this new rising core to the Wayne Gretzky-led glory days of the 1980s when the Oilers won five Stanley Cups in seven years.
At center the Oilers are developing what could turn into one of the leagues best one-two punches at center ice with McDavid (whoops… I said his name again didn't I?) and Nugent-Hopkins.
Hall has 30-goal potential, something that is quite an achievement in today's NHL (it's a lot of goals).
Cam Talbot gives Edmonton it's best goaltender they've had in almost twenty years (scroll to that Bryzgalov picture again if need be).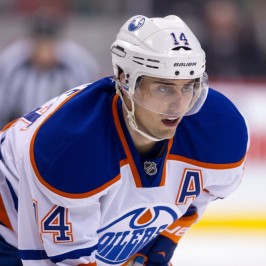 All in all Edmonton probably won't make the playoffs this year but not finishing dead last is going to be something worth celebrating.
This team is a few years away from becoming a Stanley Cup contender just like the Chicago Blackhawks, Pittsburgh Penguins and Boston Bruins before them. All of these teams had lean years before turning into NHL powerhouses and eventual champions.
The lean years are coming to an end and your just about to hop on the train at the right time.
Soon enough we'll be sitting in our living room decked out in Oilers garb (the dog too) watching Edmonton playing playoff hockey.
Like I said at the start, hockey season is coming around and I want you to be apart of it with me. This is why I believe you should honestly care about my favourite team this season, the Edmonton Oilers.
Good times are ahead.
Signed,
Your Love — An Oilers Fan
Edmonton Oilers regular contributor providing insight on all things Oilers including club history, prospect profiles, trade breakdowns, and everything else in between. Check back regularly for new and exciting content. Follow on Twitter @SanderTHW.