The Oilers finished their season with a loss, and General Manager Peter Chiarelli wasted no time in having his end of season press conference. Overall, the 2015-16 campaign came with its share of disappointments. Not having Connor McDavid healthy the whole season for one, and finishing in draft lottery contention yet again (despite some minor improvements), to name another. But Chiarelli, like most realistic hockey minds, understood that this was likely going to be playoff-less season, even though the hope was that the team would take some steps forward.
Chiarelli on the team's season: "I went into this with open eyes. I knew there would be heavy lifting. I knew you don't turn it around in a season. I didn't like losing all these games. So you go into this expecting the worst, hoping for the best. It wasn't completely surprising, but I did expect better."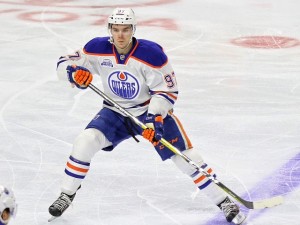 So now the question is, what will take to get better? A healthy roster for one, but take a look around the league and you'll see teams dealing with all kinds of injury woes. It's the overall depth of an organization that allows them to power through. The Oilers have been rebuilding for years, but are still shallow in so many key positions, which is a huge reason why they've struggled so mightily. It terms of personal, Chiarelli and his management group will have to take a long, hard look at what kinds of changes might be necessary.
Chiarelli on making changes to the core: "There's a whole bunch of ways to make changes and I guess no one is untouchable, expect maybe a couple of guys. As a manager you've got to look at everything. It's unacceptable to be where we're at. The bar was pretty low and I want to be better than that, and what we have now isn't good enough."
You would assume that Connor McDavid and probably Leon Draisaitl are among the few untouchables. I would add Taylor Hall to that list. He's a polarizing figure (I still don't really know why) in Edmonton, but trading a top-10 winger is a really hard deal to make in my opinion. Obviously, with a big need on improving defence, Hall is their best asset, but it would leave a hole they will have trouble filing. If you insist on trading Hall, you have to get a legitimate number one defenceman who is young and contract controlled. Otherwise, no.
Chiarelli on Yakupov: "Nail is still a valuable asset to our organization. He's a good player. It hasn't worked out here if you compare him to other players of his pedigree, but he's got some game still and he's young, so we're not just going to give him away."
The problem with Yakupov is that you know his market value is extremely low, and although he's worth more, he just won't garner much. The Oilers will lose the trade, unless it's part of a bigger package with other pieces involved. I would have loved to see it work out for Nail in Edmonton, but it just seems as though there's a disconnect between him and the organization. If they don't plan on giving him a real shot to succeed, they have to accept the fact that they will get a low return for him.
Chiarelli on how to fix the blueline: "I'd like to upgrade our defence. I guess I could trade our pick. We have a surplus of forwards and we've got a lack of defenceman."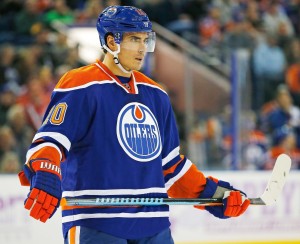 If the Oilers somehow win the draft lottery, I think they should take Auston Matthews and move Ryan Nugent-Hopkins. Would you get more in a deal for Matthews? Yes, but he's an NHL-ready centerman, and a big body, and if you're going to keep three centers, I'd rather have Matthews. But, I do certainly understand the logic of trading the first overall pick, because that would fetch a great return. Question is, will it be what they really need? We already know the Coyotes wouldn't trade Oliver Ekman-Larsson (so they say). In any case, I liken this to the possible Hall trade. It has to be a real bonafide number one defenceman who will be there for the long haul, and nothing less.
Chiarelli also mentioned that there is a spot opened for a back-up goalie. He was pleased with some areas of improvement, like the teams' goals against average, and possession numbers. He definitely wants to see more size in the lineup, especially considering the division they're in. By just looking at the standings, you would assume that the Oilers are just as terrible as they've always been. But I like the addition of a guy like Patrick Maroon, and McDavid has proven that he's just as good as advertised.
Peter Chiarelli isn't afraid of making changes. Because this team has been out of the playoffs for so long, you'd have to think that emotions have subsided, and there won't be any irrational decisions. Now speaking of McDavid, Hall among other players, endorsed his leadership on and off the ice, sparking the predictable captaincy question. I personally don't think McDavid is too young, and having the visible leadership established is part of the much-needed consistency in Edmonton. If he's not ready, then you wait. But if he is, then give it to him before the season starts.
Conclusion from today: Connor McDavid will be Edmonton's captain next season; at least one core player will be traded for a Dman.

— Mark Spector (@SportsnetSpec) April 10, 2016
Obviously handing out the "C" is the last priority right now, because there are more pressing issues. But this is McDavid's team, and if the coaching staff believe he can handle it, then go for it. As for the potential trades, well you know they're coming. We don't know who is going, especially since we don't know the draft position yet. But expect this summer to be interesting in Oiler land.
(All quotes courtesy of Peter Chiarelli's press conference on Edmonton Oilers.com)
Marcy, a former hockey player, is a hockey correspondent on CTV News and TSN radio. She began her career as a Sports Journalist in 2009 and has been part of The Hockey Writers since 2010, where she is currently a senior writer and editor.