The New York Rangers have never been shy in their pursuit of big-name talent. Over the years, the club has acquired the likes of Marcel Dionne, Mark Messier, Eric Lindros, Jaromir Jagr and Rick Nash via trade while inking Guy Lafleur, Wayne Gretzky and Brad Richards as free agents. No name is too big for the big market New York Rangers. Therefore, the ideas being put forth that the Rangers will entertain trading Rick Nash and subsequently use that available cap space to pursue Steven Stamkos this summer shouldn't be dismissed outright. Yet Ranger fans should probably hold onto their Rick Nash jerseys and steer clear of any red, white and blue Stamkos sweaters they might find on E-Bay or some less reputable websites.
Rick Nash
First, let's talk about the Nash trade rumors. Elliot Friedman of Sportsnet.ca, while appearing on Hockey Night in Canada, discussed Nash reporting that he has submitted his 12-team list of clubs he would agree to be traded to, per the terms of his partial no-trade clause. He also said, "there seems to be a little bit of smoke to this one," in terms of the potential of a trade. And as we all know, where there's smoke there's fire. But in this case, I'm going to have to pour some cold water on this inferno.
Simply because Nash submitted a list of teams he would agree to be traded to doesn't mean the Rangers would seriously consider trading him. Nor does it mean that there are teams lining up to inquire about Nash. In the case of players with partial no-trade clauses, it's standard for clubs to request that list in advance of the new league year. That way if another team does call about the player, his club knows whether or not it's even worthwhile to engage in trade talks. Or, if that player's club decides it's time to move on, they know which teams they can call to gauge interest. It doesn't necessarily mean the team is committed to dealing the player away; it means the team is keeping its options open.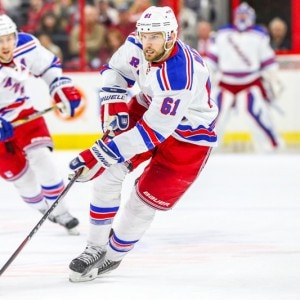 As Friedman also suggested, it may be difficult to find another club willing to take Nash's full cap hit of $7.8MM per for two more seasons. Last summer when the Leafs dealt Phil Kessel to Pittsburgh, Toronto retained $1.2MM of his $8.0MM cap charge in order to make the deal go through. Additionally, at age 32, it's likely Nash's days as a viable 40-goal scorer are likely over. At this point in his career, he's more of a 30-goal guy and $7.8MM is a lot of coin for, at best, 30 goals.
Another impediment to a possible Nash trade is the value the Rangers see in his on-ice contributions. Friedman stated that the team "felt that Nash played hurt and that affected his totals and I think they do look at it and say if he's healthy next year he could be much more effective." Obviously, the Blueshirts are a better team when Nash is healthy and productive. Even if his days as an elite goal-scorer are gone, a 30-goal guy who plays in all situations is an important player for a club that still has Stanley Cup aspirations. If they dealt him, the Rangers would likely not be able to replace him easily.
A more likely outcome is retaining Nash to start the season. If all goes according to plan he'll help the team challenge for the Cup. If the team doesn't feel it is a legitimate contender they can always look to move him at the trade deadline, hopefully after Nash has reestablished some value. Assuming the league approves plans to expand into Las Vegas as expected, they could wait until after the 2016-2017 season and leave Nash exposed in the expansion draft.
Steven Stamkos
Now, onto Stamkos: After Friedman's report, Sportsnet.ca colleague John Shannon sent out a tweet suggesting that subtracting Nash's contract could put the Rangers in the middle of the bidding war for Stamkos. History would support this belief. Who would be surprised if the Blueshirts chased the biggest name on the free-agent game board? That type of move seems to be in their DNA. But the reality is that even if Nash and his entire cap hit were moved, Stamkos' value on the open market would far exceed what the Rangers will be able to spend. Unless the team finds a way to move more salary, Stamkos won't be coming to Manhattan.
But what if they did? What if by a stroke of luck another NHL team took on, say, Dan Girardi and most of his cap charge? Wouldn't Stamkos look good in a Rangers sweater?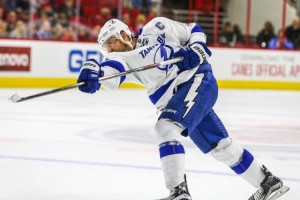 Appearance aside, signing Stamkos is simply too much of a risk. First, the issues with blood clots has to be concerning. Chris Bosh may have to retire from the NBA with the same condition. Blood clots forced Pascal Dupuis into retirement earlier this season. This is a real concern and there are no guarantees he returns at all.
Second, though Stamkos is just 26 today, his next contract will almost assuredly pay him top dollar beginning with his age-27 season and through his age-33 campaign. Top dollar right now is in the $10.0MM-a-year range. Currently, Anze Kopitar, Patrick Kane, and Jonathan Toews reside in that neighborhood but Stamkos should be moving in this summer. That's a lot of a club's salary cap space for one player. If you're going to make that commitment the player had best be among the game's elite through at least a vast majority of that contract.
Kopitar and Toews are among the sport's top two-way players. Not only can they put points up for their respective squads but they are also among the best shutdown centers today. If they saw a dip in their scoring totals they would still add value to their clubs in other ways. Kane and Stamkos derive most of their value from the offensive side of the ice. Any regression in their production would severely impact their value.
Consider this: Using Hockey Reference's Play Index tab, since 1990, there have been 229 seasons in which a player has tallied at least 40 goals. Less than half (101) have come from players 27 or older. Worse yet, only 42 times has a player produced a 40-goal season at 30 or older. Only eight players have multiple 40-goal seasons after reaching 30 years of age.
If we open up this study to look at goal-scoring rates with 0.49 goals-per-game serving as the standard, there have been just 49 seasons in which a player maintained that rate or better through at least 60 games.
At the very least this information demonstrates that players reach their peak production by age 26 and begin their descent from there. It would then suggest that Stamkos is entering the decline phase of his career and that his best days as an NHL goal scorer are likely behind him. Since putting the puck in the net is his calling card, investing top-dollar for a declining one-trick pony is a risk the Rangers simply shouldn't take.
Native Southern Californian who somehow adopted the New York Rangers as my favorite team. I've written for quite a few websites during my days as a blogger including: Inside Hockey, Ranger Nation and SNY.tv. By day, I work as an operations manager.