The Kessel Trade: What A long, strange trip it's been…
On one of the last days of summer, 2009, the Boston Bruins shocked their fans and hockey analysts alike by agreeing to deal their young sniper, Phil Kessel to Toronto for three future draft picks. The young RFA was immediately signed to a five-year, $27 million deal as the centerpiece of Brian Burke's refurbished Toronto squad.
I recall feelings of disbelief and anger. That the Bruins hadn't received a tangible player in return was ludicrous – we were a Cup contender, we deserved (and needed) better. Who knew what pedestrian players the picks would bring years down the line…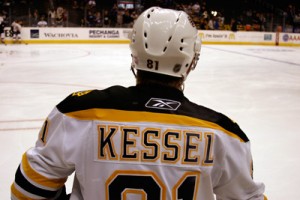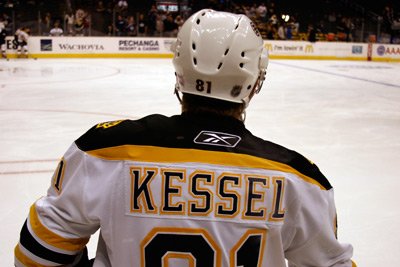 Kessel was coming off a year where he proved to be one of the best young marksmen in hockey, scoring 36 goals while the B's took home first place in the Eastern Conference regular season standings. Despite their unfortunately early exit, the B's were expected field a contending team the following season and Boston looked to resign their 21-year-old star.
However, Phil the Thrill seemed less interested in reciprocating Boston's interest. There were other issues – Kessel notoriously balked at extended gym workouts and rumors surfaced of a considerable lack of toughness and drive. In any case, the two sides couldn't come to agreement – particularly with Boston having their backs against the salary cap wall. Enter several franchises – including the Rangers, Wild, Predators and GM Brian Burke's Toronto Maple Leafs.
Burke had made several earlier attempts to acquire Kessel, including an offer at the 2009 NHL Draft, where he promised the 7th overall pick and puck-moving defenseman Tomas Kaberle for the swift winger. Miscommunication between Chiarelli and Burke led to the disintegration of the agreement but it didn't stop the Maple Leaf's truculent GM from coveting the B's talented kid.
After months of failed negotiations with #81, the Bruins cut their losses and began shopping him around. Despite worries about the trade coming back to bite him, Chiarelli again found a willing trade partner in Burke. Under the threat of an offer sheet, the B's GM held firm, affirming that any offer sheet would be instantaneously matched by Boston, forcing Burke and other suitors to bid higher. Eventually, on September 18, a deal was reached, sending Kessel to Toronto for the Leafs' first- and second-round picks in 2010 and first rounder in 2012.
A confident Burke told reporters the day after the trade, "Bringing Phil Kessel aboard, it's a statement to our players that we intend to be competitive right away, and I think he gives us a dimension that we need." It was generally assumed that the Leafs could be a contender for a playoff spot, particularly with the addition of the dynamic young scorer, but Leaf Nation and the organization seemed to have unrealistic hopes. Burke inferred the team was ready to make it, saying "We think this team is good enough… we believe we're good enough this year to make the playoffs, and that's our goal."
Burke, who'd won a Stanley Cup with Anaheim in 2007, was undertaking what would be the most difficult task of his career in righting the ship of floundering Toronto. Instead of following the traditional draft-oriented "rebuild," with a Leaf franchise that hadn't been to the postseason since before the lockout, he scoffed: "the Pittsburgh model or the Ottawa model, where you pick in the top three [of the draft] three years in a row, that was a pre-cap model. With the enhanced free agency, you should be able to assemble a team." Instead, he would jump-start the process with a Re-Tooling that would cut the time down considerably. The acquisition of a talented but established youngster like Kessel was a key component of that "abridged" rebuild.
Meanwhile, in Boston some lauded and some condemned the trade. Some considered it the coup de grace for Chiarelli and his management team, and perhaps the Bruins' Stanley Cup aspirations. Others saw it as a necessary outcome of a prolonged contract struggle that the B's couldn't fiscally handle. Many saw the deal as inevitable, but thought the return insufficient given the immediate needs of the team.
Nonetheless, the Bruins and Maple Leafs went to the season for better or worse with the fruits of the offseason trade. Neither team started particularly well, but the Maple Leafs sat in last place in the league with one win and six points in twelve games before Kessel returned from injury for his Toronto debut.
In the end, the Bruins' inconsistent season earned them a trip to the conference semis yet again but they were upended by Philadelphia in seven games (after leading 3-0). However, there was optimism in Bruin Nation, as an awful season by the Buds' had left them out of the playoffs, near the very bottom of the standings, granting Boston the second overall pick in the 2010 draft to go along with the 32nd overall.
Fans in Boston were ecstatic. The Kessel trade had earned them the right to select one of the two gems of the 2010 draft, dynamic forwards Taylor Hall and Tyler Seguin. When Hall was selected first, an eager Chiarelli made no qualms about taking Seguin, a dynamic ten-tool center who oozed intangibles.
With their second-rounder they took two-way forward Jared Knight, an excellent young player in his own regard. The Bruins used their own first-rounder to trade for power-forward Nathan Horton and grinder Gregory Campbell, both of whom would become key players in a revamped Bruin club.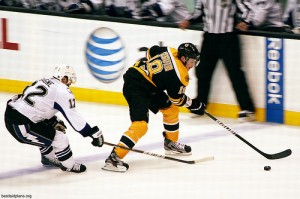 With the selection of Seguin, the first scathing reviews of Burke's decision seemed to come into the limelight. Analysts, with hindsight aplenty, argued that Burke's choice to buck the trend of normal rebuild paths was foolish and may have set Toronto's ascension back into contention by years.
Neither team entered 2010-11 heralded. Most saw Toronto's outlook as bleak, if not as particularly dismal as the previous season and in Boston, experts perceived their depressing and demoralizing loss to Philly as evidence of systemic leadership and management issues. They were considered a decent team, but with their issues and their lack of a truly dynamic offensive talent, not a significant Cup contender.
Both Toronto and Boston saw 2011 much more favorably than 2010… Toronto was able to parlay some decent play into playoff contending and Boston won their division, advanced through the postseason and, well, you know the rest…
Still, ownership of Toronto's 2011 first-rounder was Boston's. Happily earning their second consecutive top-ten pick (via TML) the Bruins were again in the position to select a true franchise cornerstone. With glee, a vindicated Chiarelli walked to the draft podium in St. Paul and selected defenseman Dougie Hamilton.
It's pretty easy to see who the victor is in this deal. Despite Knight and Hamilton being complete unknowns at this point (in terms of their eventual contributions) and even Seguin being a relative question mark, the Bruins now own an embarrassment of riches developing in their organization… and have claimed their first Cup Championship in almost forty years. The Leafs, on the other hand, while still retaining the most productive player (thus far) in the deal, have yet to make the postseason and look at a player in Kessel whose production relative to time-on-ice is significantly lower than when he signed the deal.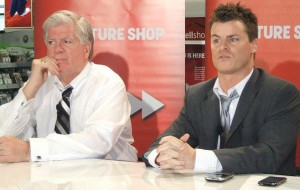 While hindsight is always 20/20, it's easy for this analyst (albeit undeniably partisan as he is) to simultaneously extol Chiarelli and judge Burke. Brian Burke has a record of making some excellent blockbuster deals and always working hard to earn the best players for his team. But his actions were extremely shortsighted. Even if, as he said he believed, the Maple Leafs were a team that could have contended for inclusion in the postseason, they were nowhere near contenders for the Cup.
By offering up his first rounders, Burke was leaving himself and his franchise open to a devastating hit. If his team faltered (as in fact, it did) there would be no recourse, no salvation found in the draft. His belief in the saving grace of free agency was also flawed, as teams were beginning to resign their elite players earlier to protect against aggressive opposing offers, making it more difficult to sign quality players to fill the gaps in his roster.
It's also just to question targeting Kessel, a player with an extremely questionable set of intangibles, to jump-start the moribund Leaf organization. Despite his dynamic toolbox of skills, Kessel was and is known for having significant character issues, and as I mentioned earlier, work ethic which rivals all but the laziest protozoans.
Burke's desire for a quicker fix has unfortunately cost one of the NHL's most venerable franchises significant hardship. It unequivocally dismisses the idea that mediocre franchises can hope to skip the painful years of a rebuild and go straight to success. Every championship team since the draft and the majority in the past decade was built through the draft. It's a lesson that Burke will not soon forget.
In any case, for Bruins' fans, they have now reached the end of a period of particular glee. Without future early draft picks to look towards, they will have to be satisfied with their championship and hope that the kids are alright, developing into the future of this franchise.
Seguin has taken obvious strides toward excellence. He has all the tools of a proto-superstar and seemingly needs only the time and patience to succeed. Knight is one of those driven young men who perceive even a minor challenge as a chance to excel. Hamilton is a cerebral big man with a rounded game that will only get better under the tutelage of Coach Claude Julien and captain Zdeno Chara. These fruits of the Kessel deal, along with the encouraging growth of youngsters Jordan Caron, Ryan Spooner and Maxime Sauve among others leave Bruin fans salivating in discussions of the future. With tremendous young talent at the NHL level to match, Bruins fans can realistically envision more Cup runs in the immediate future and beyond.
Who would have thought, on that balmy Friday in late September 2009, that the fruits of that deal would yield the Bruins a Stanley Cup and more prospects than the organization can handle? It has indeed been a long and strange trip – a dream which the B's and their fans half expect to groggily rise, disappointed in the truth beyond Kadath. Now with Hamilton in the fold, reality sinks in. It's been a fun trip. Don't wake me up.